Ahoy, mateys! If pirates your kids be, then pirate crafts we have for ye!
Whether your child is obsessed with Peter Pan, knows every installment of Disney's "Pirates of the Caribbean", or just enjoys a good ole' high-seas swashbuckling adventure, you're going love these pirate crafts for kids. The 17 listed below are perfect for the tiny pirates that have commandeered your home, your classroom, or your children's birthday party.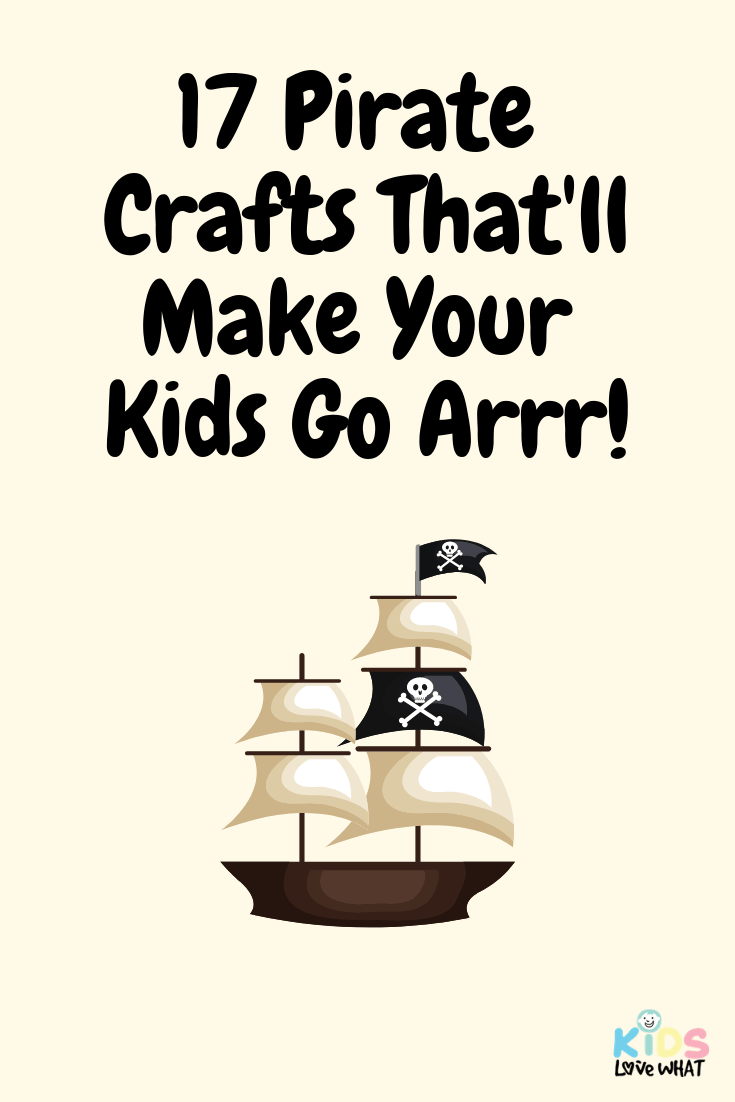 There are plenty of crafts here that feature pirate puppets to play with, ships to sail, Jolly Rogers to fly, and of course, a parrot for your pirate's shoulder. Some of the pirate ships can actually sail on water! But don't worry – there are a few ships that are meant to stay in dry dock and will never taste the salty sea. And did you know that there are skull and crossbone-shaped hole punches out there too? Investing in one will definitely help you make batches of Jolly Roger flags for parties!
So from Captain Hook to Captain Jack Sparrow, from Blackbeard to Bluebeard, check out these 17 fun pirate crafts to make your home or classroom a little less landlubber and a lot more seaworthy!
1. Talk To The (Pirate) Hand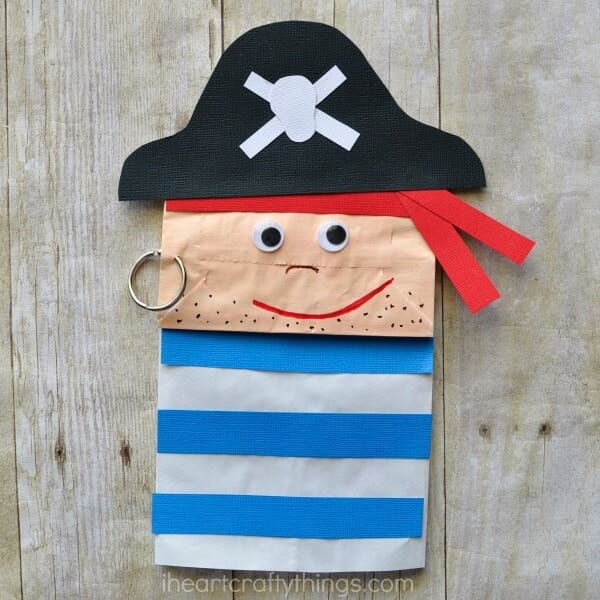 Image source: I Heart Crafty Things
National Talk Like A Pirate Day may be September 19, but why stop there? With this little brown paper bag pirate craft from I Heart Crafty Things, your mini deck swabber can talk like a pirate all year long! With simple cut-and-glue instructions, it couldn't be easier to make. Your child can customize the pirate to look just like themselves – or a new friend. Using a 3-ring binder clip will save your favorite hoop earrings from being drafted into service.
2. The Good Ship Cutie Pie
Image source: The Best Ideas For Kids
Even if you don't live near the ocean – or any major body of water – your child can create their very own seaworthy vessel with The Best Ideas For Kids. Cutting up a pool noodle into donut-like pieces forms the body of the ship, which is small enough to set sail in any bin filled with water. This works out perfectly for playing pirates on snow days. Hoist up the Jolly Roger with some foam sheet cut-outs and prepare to be boarded!
3. Polly Want A Cracker
Image source: Molly Moo Crafts
Any pirate worth their weight in buried treasure wouldn't be seen without a trusty parrot on their shoulder! Using empty toilet paper rolls, Molly Moo Crafts shows you how to make both the pirate and the parrot so the set is complete. With googly eyes and colorful feathers, this parrot looks like it could fly away, and will definitely capture the imagination of your little pirate enthusiasts. But no worries – this parrot will stay safe and sound in your home and won't require any actual crackers!
4. We Pirates Three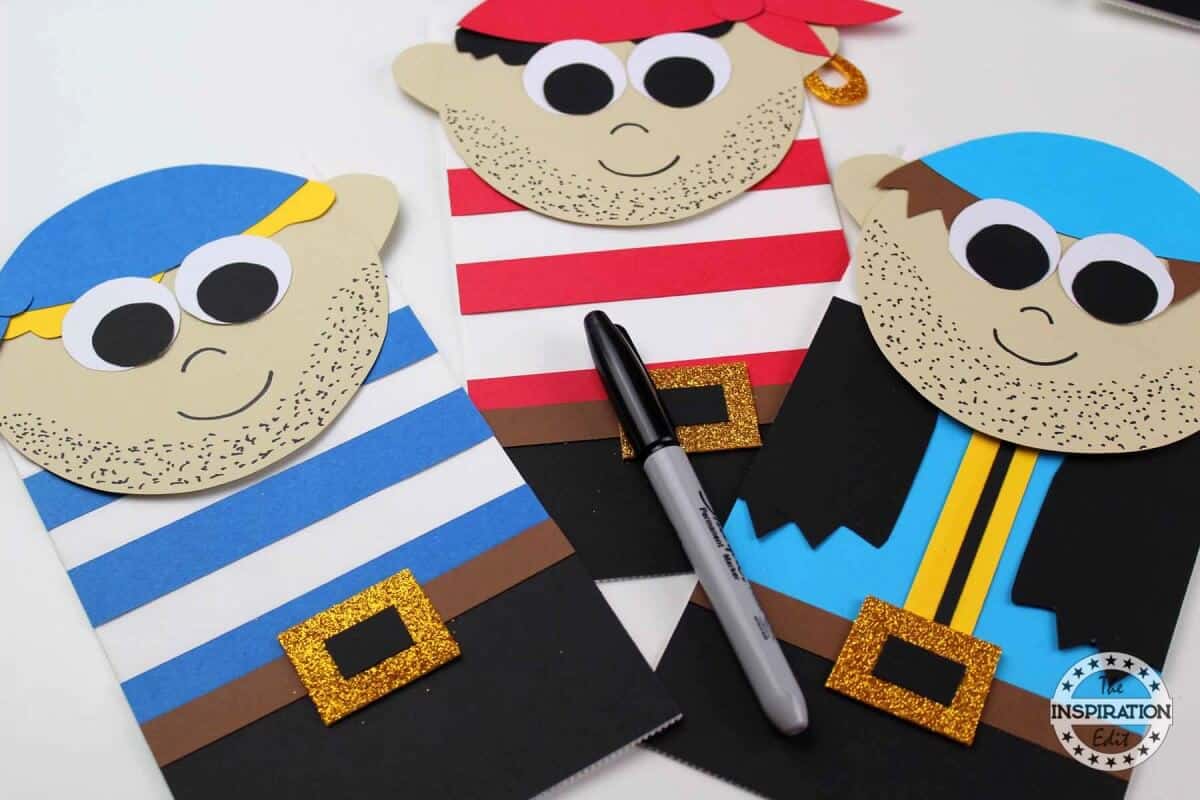 Image source: The Inspiration Edit
For a more involved paper bag pirate craft – with free downloadable templates – check out these little guys over at The Inspiration Edit. Gold glitter cardstock makes belt buckles and earrings that sparkle like pirate's treasure! Have your child choose their favorite color for the striped shirts and headscarves. You can even make pirates look more like your child with cardstock to match their hair. After you've made several of these, your child will have enough for an entire pirate ship crew!
5. Hoist The Jolly Roger
Image source: Glued To My Crafts
How will people know that your kids' pirate ship is a pirate ship without a Jolly Roger flag? Remedy that with this quick and easy – yet super adorable – craft stick pirate flag from Glued To My Crafts. A little paint and a little glue will get you started. This craft couldn't be easier, and is a definite must for all pirate ships! If your tracing or cutting skills won't hack it for the skull and crossbones, the blog has a link to buy a hole punch that will do the job.
6. A Spoonful of Pirate
Image source: I Heart Crafty Things
Shiver your timbers – that is, wooden spoons – with this pirate craft from I Heart Crafty Things! No need for fancy cutting skills or templates here – the shapes you need to make from cardstock are quite straightforward. Little ones can hone their fine motor skills by using a permanent marker to dot some stubble on the pirate faces. Even though these wooden spoon puppets are scoundrels of the high seas, they are just too cute to cause any real trouble!
7. Round And Round The Pirates Go
Image source: Kids Craft Room
When your kids have those chubby cheeks that you just can't help but gobble up, you'll need some pirate faces to match. These cutie pies from Kids Craft Room are adorable enough to decorate the house for, say, a pirate-themed birthday party or for the bedroom of a kid obsessed with pirates. Using a wooden background makes these guys a little sturdier than your typical craft, giving them a bit more durability for playtime – or to give out as party gifts as the guests leave!
8. A Sea Of Pirates
Image source: Non-Toy Gifts
This pirate ship craft from Non-Toy Gifts is so easy to make you can assemble an entire fleet in one afternoon! By folding the painted paper plate in half, the pirate ship will be able to stand on its own – perfect for pirate-themed party table decorations. Paint the plates ahead of time and let them dry, then pre-cut all the other pieces and bring them to school for a fun class activity. Let the students personalize their boats by writing their names on the paper plates!
9. Simple Pirate Craft
Image source: Crafts On Sea
If you have really young kids, or you need to make a brown paper bag pirate quickly and without buying new materials, check this out at Crafts On Sea. With little more than a bag and a black Sharpie, you can still make fun and silly hand puppets for even the youngest scallywag in the family. The best part of this craft is that since it's so simple, it's really easy to make a lot of them in a short amount of time – perfect for a puppet show on the high seas!
10. Sail The Seven Seas
Image source: Red Ted Art
Save up those wine corks for a cute rainy day pirate activity! Click over to Red Ted Art for a materials list and instructions on how to assemble these tiny pirate ships that actually float on water. The creative minds at the blog have some excellent tips and tricks for making sure your child's boat is steady, sturdy, and seaworthy. This pirate craft is perfect for spring or summer afternoons when you will be spending an afternoon at a duck pond or lake. Sail away!
11. Walk The Plank Pirate Ship
Image source: Glued To My Crafts
Whether you need a great decoration for a birthday party or something quick that even toddlers can get messy with, you can't go wrong with Glued To My Crafts' pirate ship made from Popsicle sticks. Since pirate ships are supposed to look well-used, the painting part of this craft isn't exact. In fact, the messier the better! And this can be assembled very quickly, since there is little more to do than paint and cut.
12. Hidden Treasure
Image source: Schooling Active Monkeys
Here's a great pirate craft that uses up some of those leftover rhinestones and colorful plastic gems from other projects. If you have tons of plastic coins or game coins laying around, those work, too! Once you've assembled your treasure, click over to Schooling Active Monkeys for their best slime recipes, which you can use to "hide" the treasure. Since your kids are probably begging to play with slime anyway, you might as well put it to good use and add an activity that will keep them busy, right?
13. Pirate Handprint Craft
Image source: Crafty Morning
When it comes time for your little pirate to share gifts with loved ones, look to Crafty Morning for this adorable and sweet handprint art project. Little kids just love using their hands to make a mess, so they won't be disappointed here. With four fingers painted black and printed upside-down, you have an instant black beard. Add a few extra touches for the face and you're left with a personalized, custom-made pirate card that your child can sign (if they are old enough) and give to Mom, Dad, Grandma, Grandpa, or anyone else they think is worthy of joining their pirate crew!
14. Look Out, Peter Pan!
Image source: The Inspiration Edit
There are times when any generic pirate will do. And then there are times when your family absolutely needs one famous pirate in particular: Captain Hook. And whether he's going to chase around Peter Pan and the Lost Boys or lead a crew of other paper bag pirates, The Inspiration Edit has just the template you need to get started. But this Captain Hook is too cute to be a bad guy! (Tick-Tock Croc not included.)
15. Pirate Ships For Landlubbers
Image source: The Relaxed Homeschool
Maybe it's too cold to sail a pirate ship outside. Or maybe you need a pirate craft that you can hang on the fridge instead of setting out to sail. Whatever the case may be, The Relaxed Homeschool has the perfect pirate craft for little kids. Bamboo kabob sticks allow the ships to be used in puppet shows, or to demonstrate a ship sailing on the high seas while you and your child read their favorite pirate book!
16. Easter Pirates
Image source: Craft, Learn & Play
Not all families are the traditional pastel types when it comes to Easter eggs. So if your children are more eye patches and hoop earrings than baby chicks and bunnies, click on over to Craft, Learn & Play for their clever and creative pirate-themed Easter eggs. Once you've drained the raw eggs, all you really need are some markers and pirate stickers. Check out the blog page for expert advice on emptying eggs as well as decorating the shells to look like pirates.
17. Peg Legs
Image source: Red Ted Art
Kids will absolutely love these sweet little finger puppets! With the instructions from Red Ted Art, you'll be inspired to make round pirate puppet crafts that kids play with by using their fingers as the pirates' legs. The nice thing about this craft is that you can make two of them as easily as you make one, allowing your child a puppet per hand. Have an entire class or birthday party? Set up the pieces ahead of time and allow the children to customize the puppets and then watch them create a swashbuckling adventure!