Mermaids capture our imaginations because they are beautiful, mysterious, fantastical creatures that dwell in a place humankind has still not fully explored: the oceans. Legends and myths about half-people/half-fish have been around for ages; but it's the modern incarnation of these beings as magical that has caused them to rise in popularity among kids.
And because they've been around for so long, it's hard to call mermaids a "fad," but if it seems like they have become more ubiquitous than ever before, you're not wrong. These days kids and adults alike can indulge their mermaid love with any number of household products and fashion items.
The 24 mermaid crafts for kids listed below will absolutely help feed the cravings for all things mermaid in your child's life. There are a few easy peasy crafts that are perfect for birthday parties or after-school activities, as well as slightly more advanced projects you can do with your child — or to surprise your child! And if you are allergic to glitter, fear not: a lot of these crafts involve zero glitter.
So bust out the blues and greens, because you're about to encounter some sea-worthy mermaid crafts!
1. Calming Mermaid Craft For Kids
Image source: Rhythms Of Play
Even mermaids need help calming down sometimes, and this DIY sensory bottle from Rhythms Of Play is just the thing. There's plenty of glitter inside to keep your child's gaze glued to the gentle fall of colors and shapes in the water. Just shake it up and watch it go. Works great to help kids focus on a task, fall asleep, or to soothe their overstimulated nervous systems. Any kind of empty water bottle or tight-sealing jar will work for this, so no need to run out and buy something fancy. This would be a great accessory to your kids mermaid bedroom!
2. Magical Mermaid Wand
Image source: That Kids Craft Site
In case you didn't know, mermaids are magical. That's a fact. And so any mermaid worth their weight in seashells needs a magic wand. Help your own child create something gorgeous and personal by making it a special treat to choose the ribbons, tulle, and twigs for this magic wand from That Kids Craft Site. If you're hosting a mermaid-themed birthday party, set out long streams of ribbons in a variety of colors so that all the mer-guests can make wands that are special to them personally.
3. Easy Mermaid Party Decorations
Image source: Create Play Travel
While you're hosting a mermaid-themed birthday party (see #2, above), you're going to need the help of some cute little mermaid friends for decorating. Create Play Travel has a free printable template that the guest of honor can decorate themselves before the big bash. Or, have each guest decorate one to make an awesome mermaid birthday collage that your child can keep forever! Tape or glue these to toothpicks to stick in cupcakes, birthday cakes, or any other treats you're serving. Or write guests' names on them as place settings. These little mermaids will make a big splash!
4. Swim Like A Mermaid
Image source: Hello Wonderful
Ok, so these mermaid crafts from Hello Wonderful don't actually swim; in fact, putting them in water would be a big mistake! However, clicking on the link WILL take you to a free printable template that you can use to start your child's deep sea adventure. Will they make a mermaid that looks just like them? Or their best friend? Maybe everyone can make one at a playdate and then swap. Glue the finished pieces to blue construction paper for an undersea tableaux full of magic and wonder!
5. Hand Puppet Mermaid Craft
Image source: I Heart Crafty Things
Sometimes kids want to play mermaid without spending all that time squeezing into a costume that they'll only have to take off again later. (And, let's face it, sometimes parents don't have the patience for that, either.) When that time comes, I Heart Crafty Things has a wonderful solution: paper bag mermaid puppets! And while the one over at the blog looks a lot like a certain Disney mermaid, you can, of course, customize your child's with their own hair and skin color, as well as their favorite colors for the shell bra and tail. 
6. Crafty Mermaid
Image source: Glued To My Crafts
By using curved craft sticks instead of plain straight ones, you and your child can make mermaids with more realistic shapes to their bodies. With inspiration from Glued To My Crafts, these simple wooden sticks transform into beautiful mermaids with just a little bit of help from construction paper, markers, and glitter glue. Add a magnet to the back for party favors, glue them to blue paper for refrigerator art, or stick a looped ribbon to the top to hang them up over your child's bed!
7. Sparkly Seashells Mermaid Craft
Image source: Woo Jr
You don't need fancy jewelry-making tools to craft these elegant mermaid-inspired seashells: just a few shiny sequins. If you don't have the right-shaped seashells from your last trip to the beach, most craft stores sell them by the bag. Ready to go? Great! Click on over to Woo Jr for directions on how to turn these plain old things into soft and romantic pieces of art. They are a quick, easy, and affordable way to brighten up your bathroom, your child's dresser, or a special corner of your summer beach rental.
8. Handheld Mermaid Friend
Image source: Red Ted Art
For mermaid-lovers who might be a little bit scared of the dark, nervous about the first day of school, or somewhat hesitant for their first sleepover, Red Ted Art has this darling mermaid craft you can make quite easily. Don't let the sewing scare you away: there's a free printable template so that all you have to do is print, trace, cut, and stitch together. The stitches don't even need to be perfect, just good enough to hold everything together. The doll is small enough to fit into your child's hand, and soft enough to offer comfort when they need it the most.
9. A Mermaid With Feet
Image source: Make And Takes
Feet may not be the first things that come to mind when you think of mermaids, but with this craft from Make And Takes, maybe they should be! Start with whatever color paint your child loves best for the mermaid's tail: something inspired by the sea, or something bright and beautiful. Once the footprint is done, fill in the mermaid's upper torso, hair, and face. If your child feels up to it, they can do that part themselves. Otherwise, they can always help glue on rhinestones once the paint dries. Despite the foot, this mermaid won't walk away!
10. Jewels Of The Sea Mermaid Craft
Image source: Creating Creatives
No need to go diving for treasure with Creating Creatives' DIY mermaid necklace! Simply upcycle some empty (and clean) egg cartons and grab the paint and markers. The link has excellent instructions and a video that will teach you how to turn a simple recyclable into a beautiful necklace fit for a mermaid prince or princess. Make sure to have plenty of paint colors and bead types handy so that all the mermaids in your family can design a necklace that touches their hearts!
11. Under The Mermaid's Spell
Image source: Totally The Bomb
For a different take on mermaid-themed magical wands (see #2, above), check out this cool style over at Totally The Bomb. You don't even need to collect starfish or shells for this: the site contains an affiliate link to buy fake starfish online, and your nearby crafting store likely sells bags of paint-ready shells. Before you get started, be sure to read all the instructions at the blog, as there is some excellent advice and hacks for making this as easy on yourself as possible.
12. Mermaid Craft For Bookworms
Image source: Red Ted Art
Whether you and your child are making your way through a pile of picture books about mermaids, or you've got a middle grade reader on your hands who just discovered "Real Mermaids Don't Wear Toe Rings" by Helene Boudreau, you'll need some mermaid-themed bookmarks. Red Ted Art takes everyone's favorite origami corner bookmark and adds a splash of mermaid to make it sing. Be sure to make enough of these to mark the pages of all the books your child is reading at any given time!
13. Evidence Of Mermaids
Image source: Projects With Kids
Here's a mystery for your mermaid-loving child to solve: who could have left these bits of scales around? (Answer: a mermaid!) With advice from Projects With Kids, you can easily make a bunch of these to hide around the house, the backyard, or bring to the beach. Of course, you can always set up plenty of painting supplies and Sharpies so that your children can craft these themselves. Maybe one will become a lucky stone tucked away in a backpack for a family travel adventure, or a whole birthday party can make them and then swap!
14. Catch A Few Rays Mermaid Craft
Image source: Sugar Spice And Glitter
The most iconic mermaid statue in the world (Den lille Havfrue) resides in Copenhagen, Denmark, lounging on a rock by the water and awaiting her love. In this spirit, create your own sun-drenched Little Mermaid with a sweet craft from Sugar Spice And Glitter. The blog has a free printable template, so all your children have to do is color. Hang them up in your windows and there will be no doubt that your house is full of mermaids! 
15. Rockin' Mermaid Craft
Image source: Red Ted Art
A little-known fact about mermaids is that they really know how to rock! Red Ted Art shows you how with this darling paper plate mermaid craft. Don't worry if you can't draw a thing; the blog has a free printable template you can use. This is a particularly inspired craft for very little kids who just want to color, because a grown-up can easily finish the assembly. Once everything is in place, the pint-sized artists can rock the day away with this moving, interactive mermaid craft!
16. A School Of Mermaids
Image source: Projects With Kids
Going back to school doesn't have to feel like walking the plank for your children, and it doesn't have to cost you an entire pirate's treasure. Projects With Kids shows you how to whip up a batch of your own DIY school supplies, including book covers, pencil holders, and pencil toppers. All mermaid-themed, of course! There's even a free printable template you can use for the tails. Don't be intimidated by the supplies list: this craft is refreshingly easy to do. Your child can happily show off these unique and awesome mermaid school supplies and become the envy of all their friends!
17. Mermaid "Pearls"
Image source: Cutesy Crafts
If you've been inside any craft store lately, you've no doubt seen these perler beads. Perhaps one of your children has come home from a birthday party with a small pack of perler beads to craft at home. Or maybe these are completely brand-new to you! Whatever your perler bead situation, if you want to make a sturdy and gorgeous mermaid craft, click over to Cutesy Crafts for mermaid patterns. Perler crafts make excellent keychains, magnets, swapping items, and party gifts for guests. 
18. A Mermaid's Tale
Image source: Glued To My Crafts
The tail is the most iconic part of a mermaid, so celebrate this aquatic appendage with a craft stick mermaid tail from Glued To My Crafts. This simple but fun project works great for kids of all ages, but especially for toddlers and preschoolers because there's not much to do other than color and glue. Teach kids about patterns with the wavy lines in rows, or help them pick out and learn colors. The tail itself is a triangle, also a teachable moment for you and your very little ones. And when they're all done, these are easy to hang up or stick to the fridge.
19. Mermaid Egg Craft
Image source: Adventure In A Box
Do mermaids lay eggs? Well, they're half-fish, so…maybe? Even if your family is firmly #TeamMermaidsDontLayEggs, you can still have fun making these mermaid-style eggs. Adventure In A Box has all the inspiration you need to get started crafting some shiny and shimmery sea-colored clay eggs that will look great decorating your bathroom, adorning your garden, or keeping your child company on top of their bedside table. The jewelry and sticker sections of your local craft store should provide you with a treasure trove of decorating supplies so that each egg comes out completely one-of-a-kind!
20. Folded Paper Mermaid Craft
Image source: Pink Stripey Socks
If you don't happen to have origami paper laying around the house, no worries: Pink Stripey Socks has an affiliate link you can click on to purchase a pack online. Once you have some square-shaped, easily-foldable paper ready to go, the blog shows you step-by-step how to make the folds that will turn this blank page into a mermaid friend. You will need to draw the mermaid's face, but that is definitely something your child can do! Once you get the hang of it, you'll be able to make an entire party's worth of origami mermaids in no time at all.
21. Popcorn Cup Mermaid Craft
Image source: Red Ted Art
Whether it's your family's first viewing of Disney's "The Little Mermaid" or your hundredth, make it a special night with these mermaid popcorn holders from Red Ted Art. There is, of course, a free printable template you can download. Let your children color their mermaid tails before you cut them out to make life easier for everyone. The blog shows you in close-up photos how to fold the tail together and tape it shut. Now you're ready to kick back on the couch with your own cup of popcorn and be part of Ariel's world!
22. Gorgeous DIY Mermaid Tail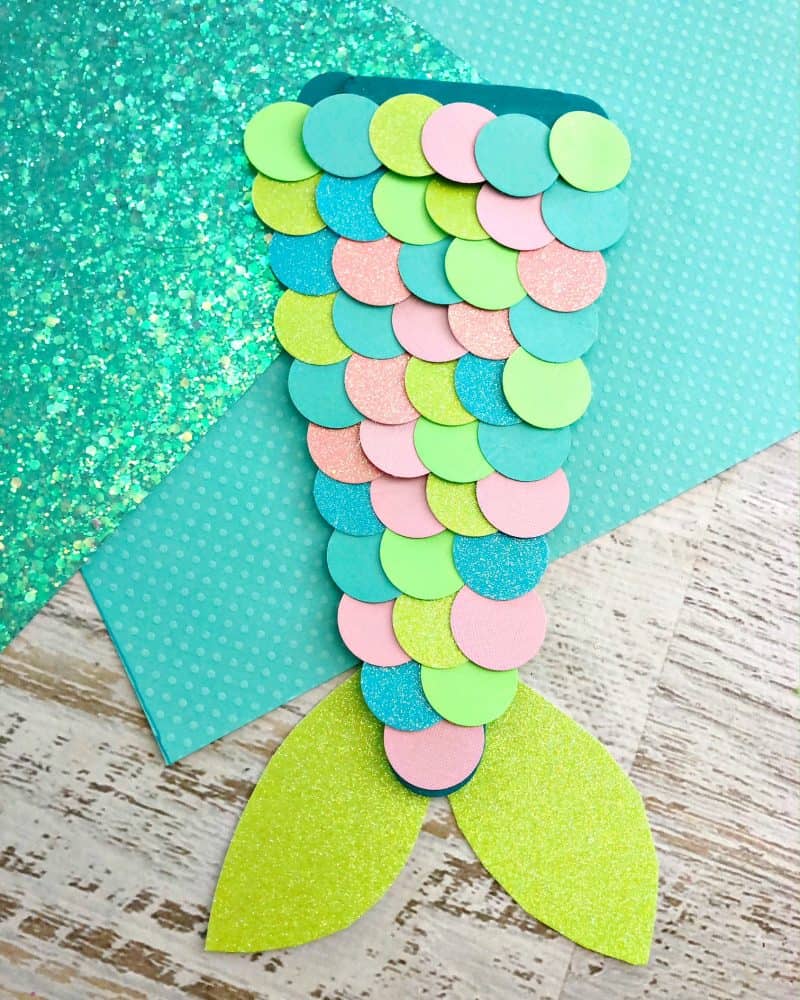 Image source: Stylish Cravings
Whether you need an activity for an older mermaid-lover's birthday party, or you just want to make something beautiful, Stylish Cravings has this easier-than-it-looks craft. A half-inch circle hole punch makes quick work of your mermaid-colored cardstock, and wavy craft sticks provide a sturdy frame. Your child can give these to loved ones as a very special way of saying, "Thank you," leave them as a surprise for friends to find — or, make a dozen of these and string them up as some of the most beautiful party bunting your guests have ever seen!
23. Mermaid Slime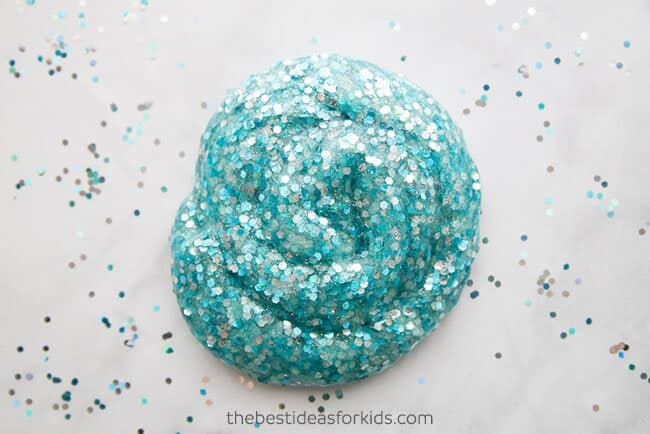 Image source: The Best Ideas For Kids
Unless you've been living on Mars, you know that the slime craze for kids is still raging on with no end in sight. If you're not averse to glitter, help your child make their own mermaid slime with this recipe from The Best Ideas For Kids. The blog has some slime facts your kids may (or may not) be interested to know, as well as a link to biodegradable glitter for those who love the stuff AND love going green. Hey, if you're going to have yet more slime in the house, you might as well make it pretty, right?
24. Shiny Happy Mermaids With No Hands
Image source: Glued To My Crafts
Wooden spoons are an amazing crafting material for creating instant puppets. With their round heads and long bodies, the shape lends itself well to that of a person or creature. At Glued To My Crafts, they've made wooden spoons into mermaids with the help of some felt, markers, and glitter. (You can use glitter glue.) Be sure to stock up on plenty of different colors of felt and glitter, so that everyone can make a mermaid that looks just like them, or that has a tail in their own favorite colors. It's mermaid puppet show time!