Just when you thought it was safe to go back to crafting…it is! All of the 26 shark crafts listed below provide shark-infested, harmless fun for your children or students, allowing them to explore the fascinating world of sharks terror-free.
Going to the beach? Enjoying Shark Week as a family? Or taking a field trip to the local aquarium? All of these shark crafts are "fin-tastic" for getting kids excited to learn about sharks! As they cut and glue, they can learn what the different types of fins are called and how they help sharks (and other fish) swim through the water. They can make the hammerhead craft below and learn about sharks with different features.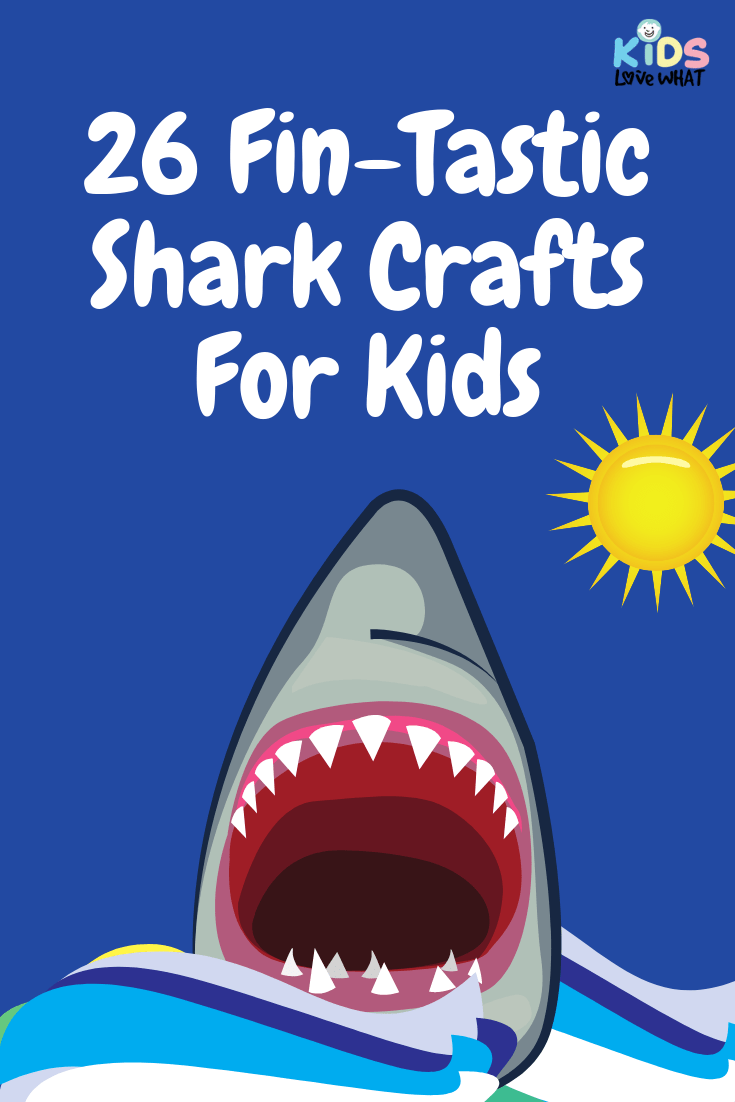 For children terrified of beaches and going in the water, these crafts are a great way to provide some gentle fun and let them feel more in control of their fears. And if your kids are easily frightened by anything with sharp teeth, simply round the edges of the teeth for any of the crafts listed below. Otherwise, make sure you check your living room or kitchen before you step one toe in there — your child's shark may be lying in wait to eat you up!
1. Daddy Shark, Doo-Doo-Doo-Doo-Doo-Doo
Image source: Arty Crafty Kids
For Father's Day, birthdays, or whenever your kids want to express their love for Dad, Arty Crafty Kids has this great little daddy shark card! Blog members can download the shark template for free, but the shapes are pretty straightforward if you aren't a member and want to try your hand at tracing and cutting them out yourself. The 3D mouth is not scary at all, and opens up to a nice little (very little) spot where your baby shark can write a short message (or scribble) of love.
2. Easy Moveable Shark Puppet
Image source: The Soccer Mom Blog
Print out the materials list from The Soccer Mom Blog and make sure you get everything you need to make these chomping shark puppets! Whether you're celebrating Shark Week, heading to a beach house for the summer, or hosting an undersea-themed party, this puppet is bound to inspire hours of fun! With the movable open-and-close mouth, watch your kids try to take "bites" out of their friends and siblings. But don't fret – even the shark's teeth are made of craft foam, rendering them completely harmless!
3. Yarn Weaving Shark Craft
Image source: Kids Craft Room
For a shark craft that's definitely not the same old same old, click on over to Kids Craft Room for this amazing woven project! The steps are pretty similar to paper plate dream catchers you may have made with your children or students before, but here you add plenty of grey paint, googly eyes, and, of course, shark fins and teeth. The result is a craft unlike any other, one you'll absolutely love to hang up somewhere special. Just make sure you don't get caught in this net!
4. Simple Toilet Paper Tube Shark Craft
Image source: Glue Sticks And Gumdrops
Empty toilet paper rolls are a staple of any self-respecting craft supply kit, and with these easy-to-follow instructions from Glue Sticks And Gumdrops you can turn one into a sweet little shark. Cutting a triangle out of one end automatically gives you both an open mouth and the shark's tail. All that's left to do is add some white paper teeth, googly eyes, and a few drawn-on gills. That's it! So easy, and you wind up with a cute shark craft on those days when your own little chompers feel like painting and creating. 
5. Sharks Swimming In Slime
Image source: A Night Owl
Why should sharks be left out of the current slime craze? With this craft from A Night Owl, they don't have to be! Glitter glue and toy sharks make this craft so super easy you'll find yourself doing this with your kids all summer long. Using baking soda and contact lens solution for the other slime ingredients make this slightly less worrisome than the typical Borax recipe. Then, just add sharks! Stick them into the glittery slime, save them in a jar, or add other tropical fish and plants for an entire DIY, stress-free coral reef.
6. Hungry Sharks And Bookworms
Image source: Hey Let's Make Stuff
Hey Let's Make Stuff has a clever and sharky little twist on the usual corner bookmark craft. But don't worry — this shark won't eat up the pages! These bookmarks make excellent party favors or party activities, rainy day projects during the summer, or class activities for end-of-the-year celebrations (to encourage summer reading). Heavier paper help make these a little sturdier so they can withstand being taken out and put back on again and again. Perfect for your children's first chapter books, or for their favorite shark-related picture books.
7. A Shark Ate Me!
Image source: Glued To My Crafts
These shark photo frames are an excellent and fun way to preserve photos from summer vacation, your child's first trip to the beach, or family day at your local aquarium. Click on over to Glued To My Crafts to find everything you need for a very silly and sweet project, from the materials list to the straightforward instructions, which even the least artsy parent can do. The blog even has a free downloadable template you can print out to make cutting out each piece a whole lot easier for everyone! What did you do on your summer vacation? Got eaten by a shark!
8. Wearable Shark Craft
Image source: Glue Sticks And Gumdrops
Here's a straightforward shark-related craft that you can make in no time with your child. Over at Glue Sticks And Gumdrops you'll find this clever and creative — yet simple — construction paper headband and shark fin that your child can wear. You'll be done before you can queue up the theme to "Jaws," and your child will be able to maximize their time running around as a shark! Are you a teacher whose class is about to go on a field trip to a local aquarium or marina? This is a great activity to get everyone excited to see the less-scary-than-they-think friends!
9. Little Cutie Shark Craft
Image source: Kids Activities Blog
You absolutely do not need a ton of fancy crafting materials to make this cute paper plate shark craft from Kids Activities Blog. However, if you are planning this as a class project or for a birthday party activity, you'll definitely need to stock up on paper plates, as each craft uses up three of them. Beyond that tiny note to keep in mind, all you need for the rest is plenty of grey paint, googly eyes, scissors, and glue. Nothing to it! This craft is just great for summer camp groups or daycares with toddlers and preschoolers, because they can all help out by painting the pieces grey.
10. Book Shark
Image source: Simplistically Living
Simplistically Living has a free shark fin image you can download and print out for making this bookmark. Resize the fin as big as you want, and add some glitter glue to the bottom for a sparkly water effect. Kids of any age can paint a craft stick — something to match the sea, or their favorite color — and glue that onto the back of the fin. It's a simple but fun craft that can be done with very little prep or special materials.
11. Shark In A Bag
Image source: Crafts On Sea
Fans of paper bag crafts will love this shark project from Crafts On Sea! There's a lot of cutting going on here, so it's great for kids who want to try out their scissor skills to cut curves and circles, or for kids who need some fine motor skills development. Little hands that aren't quite up to all that cutting can glue on the pieces (with a little guidance!) to make the shark's fins, mouth, or teeth, or they can just color some black circles for eyes. Whatever your child is able to do, they will have fun making this (harmless) sea predator.
12. Shark Feet
Image source: Glued To My Crafts
It's amazing how versatile a child's footprint can be! With this creative inspiration from Glued To My Crafts, you and your child can make adorable shark art by painting their feet grey. Little toes make such cute shark tails! Depending on your child's painting skills, either you or they can add triangle-shaped fins and glue on giant googly-eyes. Use markers or crayons to add waves and other little fishies in the sea. The finished craft is not only a unique piece of art to hang up on the fridge, but it's a forever keepsake of your child's footprint!
13. Free Printable Shark Craft
Image source: Picklebums
Click on over to Picklebums for a full page of free shark printables that you can easily turn into puppets! Really, all you have to do is have your children or students paint some craft sticks — or, make things even easier by buying a pack of craft sticks that are already colored. Cut out and glue on the sharks, and that's it. You're done! Head's up: the free printable comes with a sheet of lyrics to the "Baby Shark" song, so if you've finally gotten it out of your head, it'll be right back!
14. Frilly Paper Shark Craft
Image source: I Heart Crafty Things
Cupcake liners come in more than just the supermarket packs of yellow, pink, and blue. If you can't make it to the craft store for grey or silver liners, click on the links provided by I Heart Crafty Things to purchase some online. (While you're there, click the link for a white chalk marker to draw the waves on the blue cardstock.) This craft makes a great class project because it can be prepped ahead of time by cutting as many of the pieces ahead of time as you can. 
15. Quick Paper Plate Shark Craft
Image source: The Relaxed Homeschool
Is your beach day a wash because of rain? The Relaxed Homeschool has your back with this paper plate shark craft that can be easily made using things you probably have around the house. Besides paper plates, all you need is construction paper, glue, and scissors. No fancy cutting, no heavy cardstock, nothing you need to order online. Because of all this, the craft is also perfect for classrooms on days when outdoor recess isn't going to happen because of a rainy day — or snow if you want to bring the beach inside during the winter!
16. Shark In The Water
Image source: JDaniel4's Mom
Summertime means swimming — beaches, pools, lakes — and all the water-based paraphernalia that goes along with it. Grab one of those foamy blue pool noodles and make this shark craft from JDaniel4's Mom! While the photos may make it seem like this requires a lot of fancy cutting and design work, it's really quite easy once you click the link and read the instructions. The site also recommends that this makes a fantastic puppet, so why wait until summer to have fun with sharks?
17. Stick To This Shark Craft
Image source: Our Kid Things
Up to your eyeballs in craft sticks? Click on over to Our Kid Things for a unique take on craft stick projects! While these art supplies may not seem to lend themselves to the shape of a shark, the blog has some clever ways to paint and glue them together that'll make you say, "Of course that's a shark!" Kids can paint the sticks blue, cut triangle fins out of construction paper, or just "help" glue everything into place when the paint is dry. Add a magnet to the back, or glue a looped ribbon to the top to hang it up in your child's window.
18. DIY Hammerhead Shark Craft
Image source: Crafty Morning
When you absolutely, positively need a more unique shark craft that will truly stand out, check out Crafty Morning's 3D hammerhead project. Like actual hammerhead sharks, this one is really interesting and fun to look at. And you and your child can make it, no problem! No fancy materials or equipment required; just an upcycled empty paper towel roll that you've already saved. This unusual creature may look tough, but your child will absolutely adore it once it's ready. And it makes a great jumping-off point for going to the library to check out books on hammerheads and what makes them so interesting!
19. Chompy Shark Puppet
Image source: Easy Peasy And Fun
Even if it's been a while since you folded one of these fortune-tellers (aka cootie catchers), Easy Peasy And Fun will remind you with step-by-step illustrated instructions. The generous crafters at the blog even provide a free downloadable template you can print out on regular paper so that your shark design is already in place. This one is an absolute must-make for birthday parties, as the kids can make their own and then chase each other around in a feeding frenzy! 
20. Shark-Cream Cone
Image source: Hello Wonderful
While you are saving empty toilet paper tubes (see #4, above), be sure to visit Hello Wonderful for their clever take on the shark craft. Cardstock paper rolled into a cone shape makes an excellent tail for this 3D project that looks ready to swim through the ocean! This one can stand on its own on top of shelves, office desks, or window sills. Or perhaps it can sit on your child's night stand to protect them, because even monsters are scared of sharks!
21. Keychain Shark Craft
Image source: Crafty Morning
Perler bead crafts seem to be everywhere these days, and it's not hard to see why: you assemble them like a puzzle into the desired design, then iron them so the heat bonds each bead together to create a solid piece. Crafty Morning shows you everything you need to make perler bead shark-shaped keychains, a wonderful idea for an ocean- or beach-themed birthday party take-home gift. A pegboard definitely helps, and make sure you have the correct ironing paper so you don't ruin your iron. Just don't let these eat your keys!
22. Wide-Mouthed Shark Craft
Image source: Glued To My Crafts
How wide can a shark open its mouth? With this project from Glued To My Crafts, your child's shark can open up as wide as a craft stick is long! Three craft sticks painted grey and glued into a triangle shape magically transform into a swimming shark that's ready to feast. By mounting it on a piece of blue construction paper or cardstock, your child can add waves, fish, undersea plants, and all kinds of other ocean creatures!
23. Catch Some Sun Shark Craft
Image source: Buggy And Buddy
Sharks may live underwater, but there's no reason they can't enjoy a little bit of sunshine! Click on over to Buggy And Buddy for this inspired suncatcher craft that features everyone's favorite large fish. Tissue paper and clear contact paper are staples of any suncatcher craft, and the blog link provides you with a free printable shark-shape template if you so desire. Tape it up to a sunny window in your living room to show off your child's creativity, or hang it up in the window of their bedroom to transform it into an underwater world!
24. Read All About It Shark Craft
Image source: I Heart Crafty Things
Sharks are grey, so why not upcycle some grey newspaper into this craft from I Heart Crafty Things? The newsprint really pops against a light blue or turquoise background, and the shape of the shark rising up out of the water is stunningly eye-catching. Educational bonus: see if your child can read any of the words in the shark you've cut out. (If your child is easily frightened by the sharp teeth, simply round the tips when you cut them out.) Hang this up somewhere everyone will see it and be startled!
25. Rock Shark…
Image source: Sustain My Craft Habit
For children and families who love collecting rocks, here is a nature-based shark craft that everyone will love. Sustain My Craft Habit has super clever and creative ways to paint flattish, triangular rocks into awesome shark art. The blog even contains a link to their favorite rock-art paint brand. Make an open-mouthed shark face (with great big teeth and eyes!) to stand up at the water's edge for a super cool summer photo shoot. Take the rocks home and keep them as a souvenir from your fun family summer vacation!
26. …Roll Shark
Image source: Hello Wonderful
This sweet and smiling shark friend is easy to make once you head over to Hello Wonderful for the materials list and instructions. By folding a piece of cardstock in half, you instantly create a 3D, moveable shark craft! Kids can cut or tear up blue tissue paper and glue it on (perhaps with help). The cutting required is a little bit advanced for toddlers or preschoolers, but might work for kids in first grade. Roll with it, sharkey!