Coffee filters make natural crafting supplies. And chances are you probably have a whole pack of them somewhere in your kitchen! They are an amazingly versatile item to use because they are round, absorbent, and easy to cut. Markers plus water equals Impressionistic-style works of art when done on a coffee filter. Watercolor paints – those ubiquitous childhood must-haves – spread and run together to form unique patterns and swirls.
When the kids are stuck inside due to rain, coffee filter crafts can be used to cheer them up by making umbrella suncatchers or bright yellow suns. Celebrate the colors (and critters) of spring with coffee filter ladybugs, snails, bees, butterflies, and of course, flowers. In winter and fall you and your child can use coffee filters to make tree ornaments, a winter wonderland, and even spooky little ghosts for trick-or-treaters.
Finally, some of these crafts put coffee filters to extra special use as ballerina tutus, angel gowns, doves – even the entire solar system.
Whatever the occasion, the season, or your child's interests, there is certain to be a craft listed below that you will enjoy creating together. Because most of the crafts involve running colors together these are ideal for toddlers and preschoolers, who finally get to color outside the lines!
1. Butterfly In The Sky
Image source: One Little Project
A perfect little kids craft for spring, you can help your own hungry caterpillars blossom into beautiful butterflies with this coffee filter craft from One Little Project. By adding water and folding the kid-decorated coffee filters just-so, you can create a gorgeous tie-dye effect on beautiful butterfly wings. Pipe cleaners not only hold the finished piece together but do double-duty as the antennae. These look gorgeous when you make a whole batch and hang them from the ceiling!
2. On Pointe Coffee Filter Craft
Image source: The Best Ideas For Kids
Because coffee filters are very thin, they develop a certain delicateness when you use them to make crafts. The Best Ideas For Kids takes that delicate quality to a new level by turning them into sweet ballerina tutus. If you can't draw a ballerina, don't worry – the blog has free templates you can download and cut out. Simple add the tutu as the ballerina's skirt, and et voila! You have an instant, custom, gorgeous decoration for the bedroom of your favorite little prima ballerina.
3. Look Out Below!
Image source: STL Motherhood
Aside from filtering coffee, coffee filters are also great at catching just enough air to slowly parachute down to the ground – if you launch them correctly. Over at STL Motherhood you'll find the ridiculously easy instructions for helping your child create a little person and a little parachute to play with. All you need are two pipe cleaners and a coffee filter. That's it. That's all. No spending money on one-time-use supplies from the craft store. Nothing fancy. No mess. Just a simple toy that kids can enjoy watching as it glides back down to earth.
4. Give You My Heart
Image source: Simple Fun For Kids
Remember those valentines you used to make by folding a piece of paper in half and cutting it oblong so that when you opened it up it looked like a heart? Well, take that idea and update it a little! Simple Fun For Kids has a great way to make sweet and vivid watercolor hearts with coffee filters. Mount them on cardstock for class valentines since coffee filters come in great big packs. Or take the idea from the blog and tape them up in windows as suncatchers!
5. Suncatcher Flower Coffee Filter Craft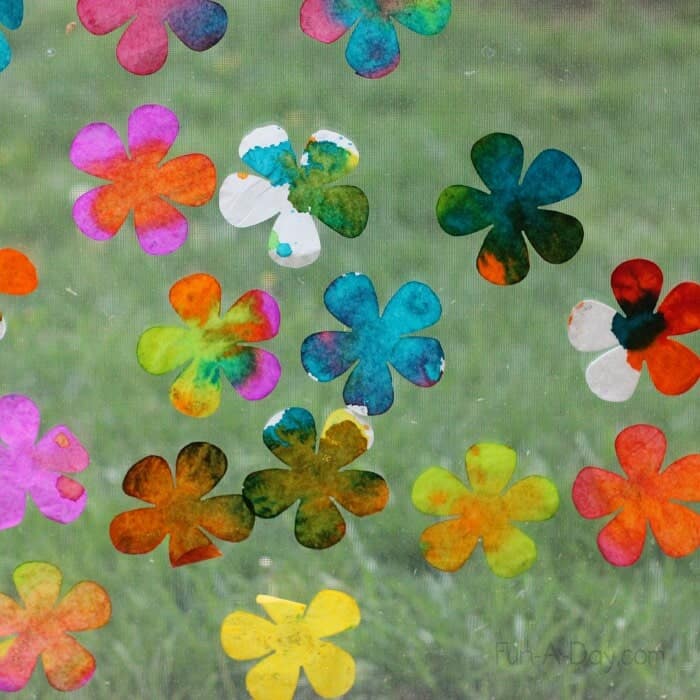 Image source: Fun A Day
Daisies, sunflowers, tulips – celebrate all the shapes and colors of spring with a house (or classroom) full of coffee filter flowers! If you don't have a die-cut machine, pre-cut the flowers by hand by tracing from a printout. For a classroom activity, have the kids cut out their own flowers. When they're ready, Fun A Day has some really good advice and instructions on helping children add all the colors of the rainbow. They can learn all about colors and patterns, but they think they're just having fun!
6. Non-Stinging Jellyfish
Image source: Happy Hooligans
This coffee filter jellyfish craft is absolutely perfect for a wide variety of kids' activities and interests. You can create an undersea world in your living room or classroom; you can make these in anticipation of a big trip to your local aquarium; learn together about different habitats and ecosystems; or hang a bunch from the ceiling to tickle little living room SCUBA divers! Googly eyes make these jellyfish too cute to be scary. Happy Hooligans has everything you need to get started!
7. Coffee Filter Mega Color Craft
Image source: Kids Steam Lab
Kids Steam Lab describes this coffee filter craft as "minimal mess," which is music to most parents' and teachers' ears. The magic lies in the simplicity of the activity: cutting out three circles and painting them in primary colors. The coffee filters are transparent enough that you can let kids have fun experimenting with overlapping the circles to make secondary colors. Or overlap all three and see what happens! For the "minimal mess" part, check out the blog's Easy Clean Up Tips.
8. Give Your Kids The Stars
Image source: Fun A Day
Coffee filters lend themselves well to this fun and educational craft for kids. Fun A Day emphasizes process over perfection in their instructions so that this project remains preschooler-friendly. Using markers helps you achieve details such as the land masses and oceans of Earth and Jupiter's red spot. When the coloring is done, let the kids use a spray bottle filled with water for a soft, watercolor effect. Then blast off with your children to explore the Solar System!
9. In My Beautiful Balloon
Image source: Inner Child Fun
Brighten up any rainy day with these clever hot air balloon coffee filter crafts from Inner Child Fun! The coffee filters are already perfectly shaped for the balloon: give your child some watercolor paints in a shallow tray and let them create swirls, patterns, designs, or even their own initials. Glue sticks help the dry, finished "balloons" stick to windows while wiping off easily when you're done; mix acrylic paint with dish soap for an easily washable way to paint the baskets. What a clever way to create suncatchers for your windows!
10. Roses Are Red (Or Blue, Or Yellow…)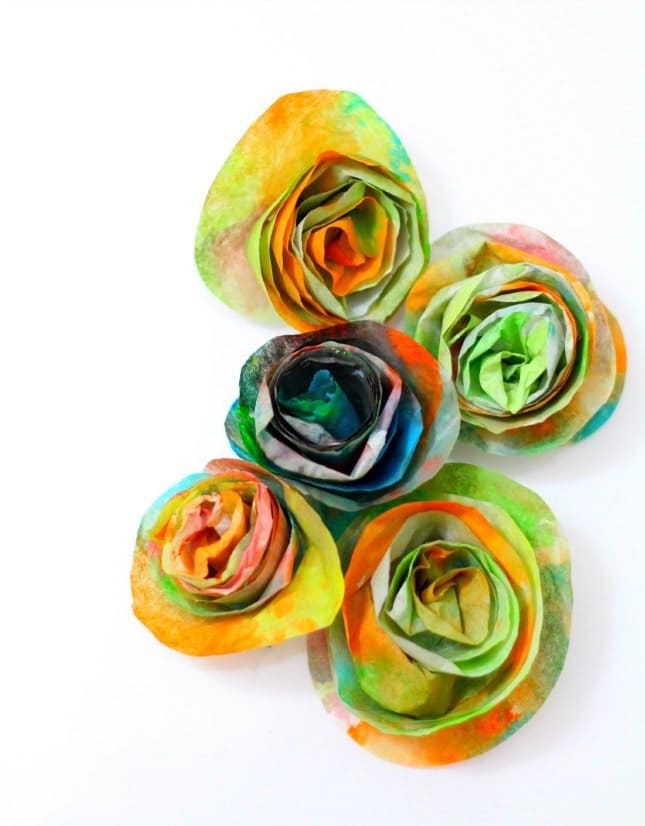 Image source: Kids Activities
Surprise a loved one with this bouquet of custom designed roses! After using watercolors to turn plain coffee filters into colorful works of art, click on over to Kids Activities to watch their video on how to turn them into roses. The more colors your child uses, the prettier the bouquet! Or stick with certain color themes and paint the coffee filters ahead of time to turn this into a class activity or birthday party craft.
11. Ladybug Coffee Filter Craft
Image source: Non-Toy Gifts
If it's springtime and your little ones are coming home from preschool with a new flower craft everyday, you'll definitely want to mix things up with some ladybugs for your "garden!" Non-Toy Gifts has a super cute idea that's also really easy and fun. Since the entire coffee filter needs to be colored red, this craft is ideal for toddlers and preschoolers to hone their fine motor skills by coloring as much and as big as they want! Find more cute ladybug crafts for kids here!
12. Umbrella Coffee Filter Craft
Image source: Sunny With A Chance Of Sprinkles
You know those days when the rain starts before you wake up, keeps going all day, and feels like it'll never end? Thanks to the fine minds at Sunny With A Chance Of Sprinkles, now you can celebrate those days instead of lamenting the lack of sunshine! Stick them to living room windows as a reminder that the sun will be back. This adorable coffee filter craft is certain to make your kids smile brighter than the sun!
13. Coffee Filter Dove Garland
Image source: Inner Child Fun
For parents, teachers, and caregivers who love free printable templates for their crafts, head over to Inner Child Fun. Their dove shape stencil looks super sweet when you trace and cut it from a coffee filter. Go ahead and make several of them, then follow the site's instructions for stringing them together to make a garland. This project looks great in bedrooms or strung around the perimeter of a classroom. What better way to encourage a child's imagination to take flight!
14. Fringe Benefits
Image source: The Pinning Mama
It's easy to add flair to any kid's craft with these colorful tassels from The Pinning Mama. You and your children can make entire rainbows of tassels, alternate colors, or teach your child how patterns work (early math skills!). String them up from a fireplace mantel, hang in windows, or attach these to any construction paper artwork for an extra touch of color and whimsy. Or tape a bunch together in a circle to make a colorful pompom for your fridge! If you are a rainbow lover, then you must check out our list of 37 bright and colorful rainbow crafts for kids!
15. A Snail's Pace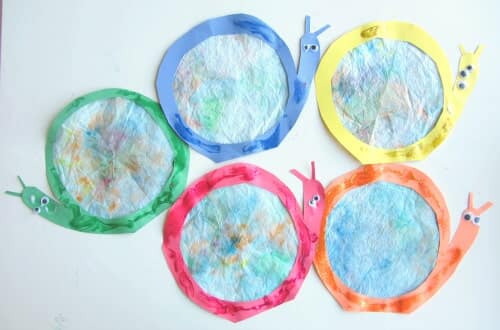 Image source: No Time For Flashcards
When the weather warms up, kids love to head outside and explore. There's just something about kids and critters. Over at No Time For Flashcards, they totally get it. After the children come back inside – and wash and sanitize their hands! – set to work with this sweet coffee filter craft. The "shells" are easy to cut out from construction paper, and you can cut a wide variety of colors for a kaleidoscope of snails!
16. Coffee Filter Apple Craft
Image source: Mom To 2 Posh Lil Divas
Even if you live in a place where apple picking isn't a fall activity option, you can celebrate the season with Mom To 2 Posh Lil Divas' coffee filter apple craft. Maybe you want to celebrate back to school? Then this project is perfect! Cut out the apple template ahead of time – they don't need to be perfect! – and then have your child color in their apples on a coffee filter, using red, green, and yellow markers. These look great on the walls of a classroom in September! Extra: Go here for more apple crafts for kids!
17. Coffee Filter Snowflakes
Image source: One Little Project
These snowflakes are as precious and unique as the children who make them. Washable markers and a water dropper are the tricks to this easy winter craft over at One Little Project. Besides color and pattern inspiration, you can find some very helpful tips on making these as pretty and kid-friendly as possible so that everyone can have fun being creative. No winter? No problem! Make a bunch of these and hang them from the ceiling for an instant winter wonderland any time of the year!
18. The Colors of Fall
Image source: Reading Confetti
Perhaps you live in a town that turns bright with fall colors every year, your neighborhood streets alive with bright yellows, oranges, and reds. Perhaps you live in a warm climate that's green all year long. Either way, have fun welcoming in the season of back-to-school and Halloween with this clever little craft from Reading Confetti. An empty toilet paper roll serves as the tree trunk, and your child can use their favorite reds, oranges, and yellows to color the turned "leaves" of a coffee filter.
19. Coffee Filter Turkey Craft
Image source: Kids Activities
If you have a salad spinner in your kitchen, you're halfway to making this silly and adorable Thanksgiving craft. The brilliant, easy-clean-up idea comes from the geniuses at Kids Activities, who are just as eager as you are to clean up a ton of messy paint everywhere. A flattened coffee filter is the perfect shape for a turkey's tail, and some construction paper makes up the rest of the bird's head, beak, and legs.
20. Under The Sea
Image source: A Little Pinch Of Perfect
Three words: free printable templates. A Little Pinch Of Perfect has your back with undersea creature stencils that you can use to create an entire ocean adventure with your kids. Let them use sea colors on the coffee filters – blues, purples, greens – and then glue on the precut sea creatures. Put them all together and the result is a beautiful kaleidoscope of ocean life that you can use to teach kids about the wide variety of creatures that live underwater!
21. Boo! I Scared You!
Image source: Happiness Is Homemade
Want to be known as the house with the best and most creative treats this Halloween? Then stock up on Tootsie Pops and white coffee filters, and head over to Happiness Is Homemade for these spooky little coffee filter ghosts! These are pretty straightforward to make, so your kids can definitely help out (if you trust them with a Sharpie). If your child's school allows treats in the classroom, these make really awesome crafts for Halloween parties – as if the kids aren't going to get enough candy!
22. Busy Little Bees
Image source: Non-Toy Gifts
Bees are popular with kids, and it's not hard to see why: the bright stripes, the tiny wings, and of course, the honey they make! All you need to make these sweet little non-stinging bees are a few crafting staples: wooden clothespins, pipe cleaners, paint, and of course, coffee filters. The painted coffee filter is pinched in the middle to create instant bee wings. Make sure to click on Non-Toy Gifts for the tutorial on this project that will keeps kids busy as bees!
23. Shake A Tail Feather
Image source: Glued To My Crafts Blog
For children who won't be bound by certain color themes, check out Glued To My Crafts Blog for this polychromatic bird craft. The secret here is to use paint dotters, which create the effect of different colored feathers all over the peacock's tail. Use construction paper for the rest of the peacock's body – cut out the pieces ahead of time and let your child glue them on when the paint on the coffee filter dries. Then go and strut your stuff!
Related: The 93 Best Zoo Animal Crafts For Kids, Compiled In One List
24. Here Comes The Sun
Image source: Look! We're Learning
Another wonderful rainy day craft! This bright yellow sun from Look! We're Learning will be just the thing to cheer up your own little sunshine. For the youngest artists, there is absolutely no need to stay inside any lines or draw perfect shapes: scribble scrabble definitely encouraged here! Fill up an entire flattened coffee filter with yellow and then glue it onto a sheet of paper to add the sun's rays. Tape it to the wall to remind your child that the sun will come out again!
25. Your Little Angels
Image source: Faithful Little Hands
Children's handprints form the basis of many a crafting project. With this project from Faithful Little Hands, your child can trace the wings of angels. Using a Popsicle stick as the body and coffee filters as the angel's dress, you have a simple keepsake Christmas ornament. Every year your child can measure their hands against the angel's wings and see how much they've grown since last Christmas! These crafts are a beautiful way to celebrate your child's creativity with homemade ornaments for your tree.
26. Coffee Filter Basketball Craft
Image source: Look! We're Learning
LeBron James, Steph Curry, Kevin Durant – if these names get tossed around your house with any regularity, you absolutely need to check out Look! We're Learning's coffee filter basketball craft. It's really easy to make and looks amazing when mounted on a piece of construction paper or cardstock in a contrasting color. These are perfect for a sports-themed birthday party or an indoor project when it's too cold to shoot hoops at the local playground.