The 4th of July is all about celebrations: fireworks, barbecues, picnics, and parades. Whether you are off on a family vacation, hosting out of town relatives, or just spending quality time with your kids, Independence Day crafts make this holiday extra special for everyone.
Some of the 4th of July crafts listed below are great for days when summer rain storms hit and the kids want to stay inside: they're quick and easy to set up, yet provide tons of fun for children. A few of the projects are perfect for taking to town parades or community picnics: show them off and raise them high!
Others are a little bit more involved, but the results are spectacular and meant to be displayed for the whole neighborhood to see. And of course, some of these 4th of July crafts for kids are so messy that they are best done in the backyard with the sprinkler on for a quick clean-up!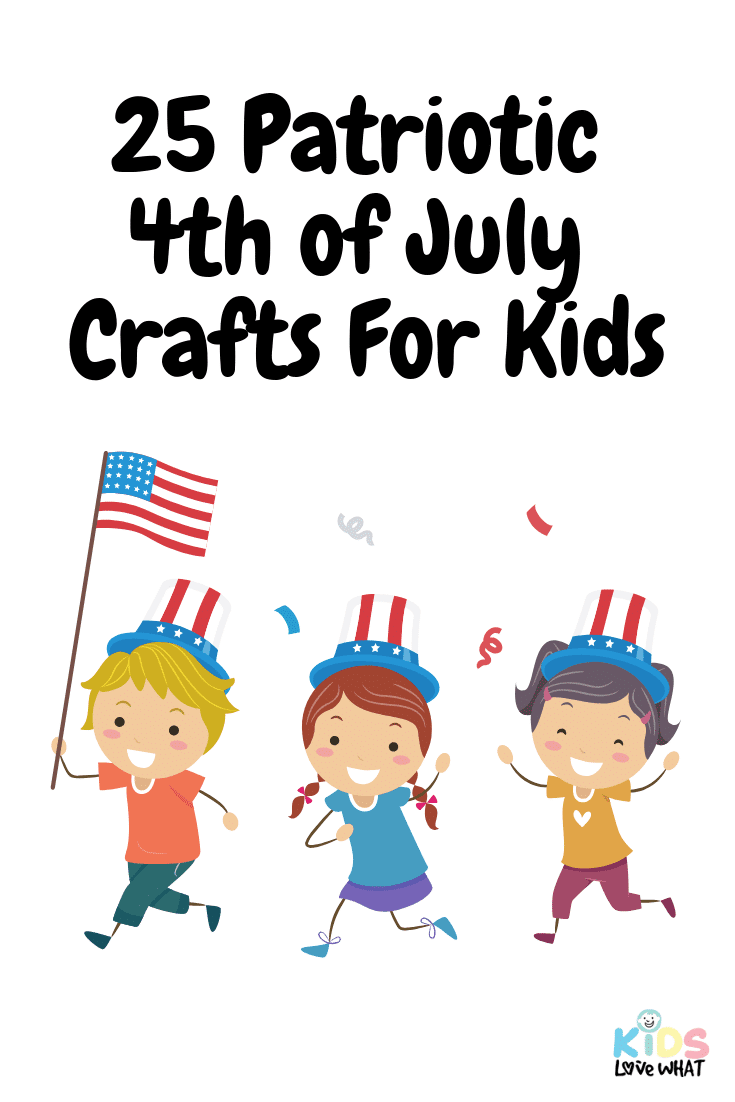 And it's not just stars and stripes crafts listed below. Check out the easy peasy Statue of Liberty costume, the American bald eagle art, or the Uncle Sam project for more inspiration. However, if it's fireworks you want, fireworks you got – check out the many fireworks crafts on this list for a magical 4th of July celebration!
1. Star-Spangled Lanterns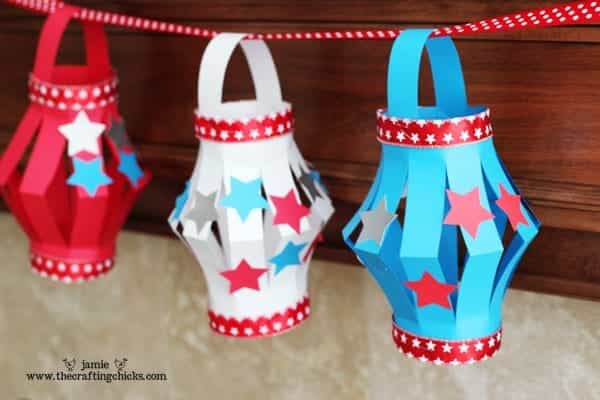 Image source: Crafting Chicks
Fireworks won't be the only things brightening up the summer night! With these paper lanterns from Crafting Chicks, your children's art can be part of the festivities. If you don't have a star-shaped hole punch, patriotic stickers will work just fine. Make several in red, white, and blue, then string them together with a stars-and-stripes ribbon or red and white twine. Since there are no actual lights in these, they can be hung anywhere!
2. All-American Mini Windsock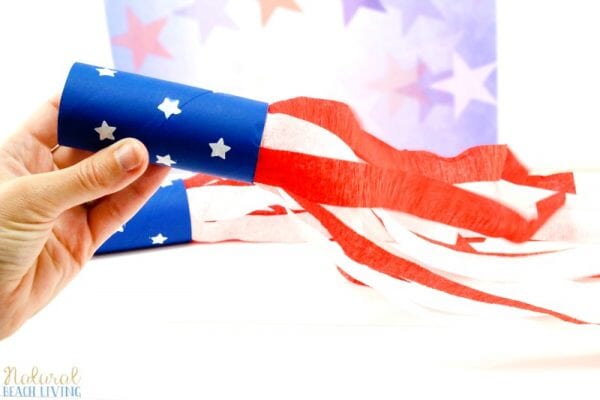 Image source: Natural Beach Living
Crepe paper is standard at most parties, so stock up on red and white rolls to make this smaller version of a windsock. Make sure you save some empty toilet paper rolls as well! Natural Beach Living has bright photos of how to make this 4th of July craft with your kids. The finished product is small enough to fit in their hands so the streamers can wave in the air using only kid power. Or maybe the children will be inspired to hold one aloft and see how fast they need to run to make it fly!
3. Give A Hand For The Fireworks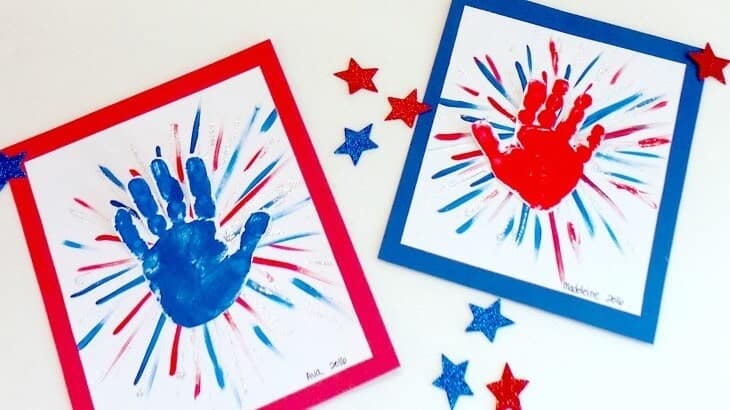 Image source: Ava's Alphabet
Since kids are going to make messes anyway, you might as well put them to good use with this handprint-based fireworks art project from Ava's Alphabet. Cardstock backing and glitter glue add excellent details to an already eye-catching craft. For this patriotic work of art, you and your kids will have to work together, so do this at a time when you're not already in the middle of setting up a backyard picnic.
4. Red, White & Blue Slime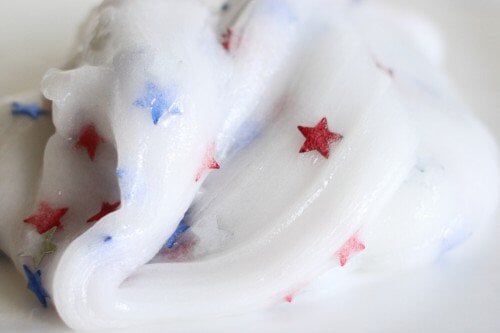 Image source: I Can Teach My Child
If you're not all slimed-out at home, check out I Can Teach My Child's recipe for a 4th of July version of the kid-fave. The three ingredients can be bought in bulk so that you are fully prepared to make the gooey stuff at a moment's notice. And it doesn't take that long to put together, either – just in case your children have the patience of, well, children. The slime can be stored for a few weeks if you want to make this ahead of 4th of July activities.
5. 4th Of July Painted Rocks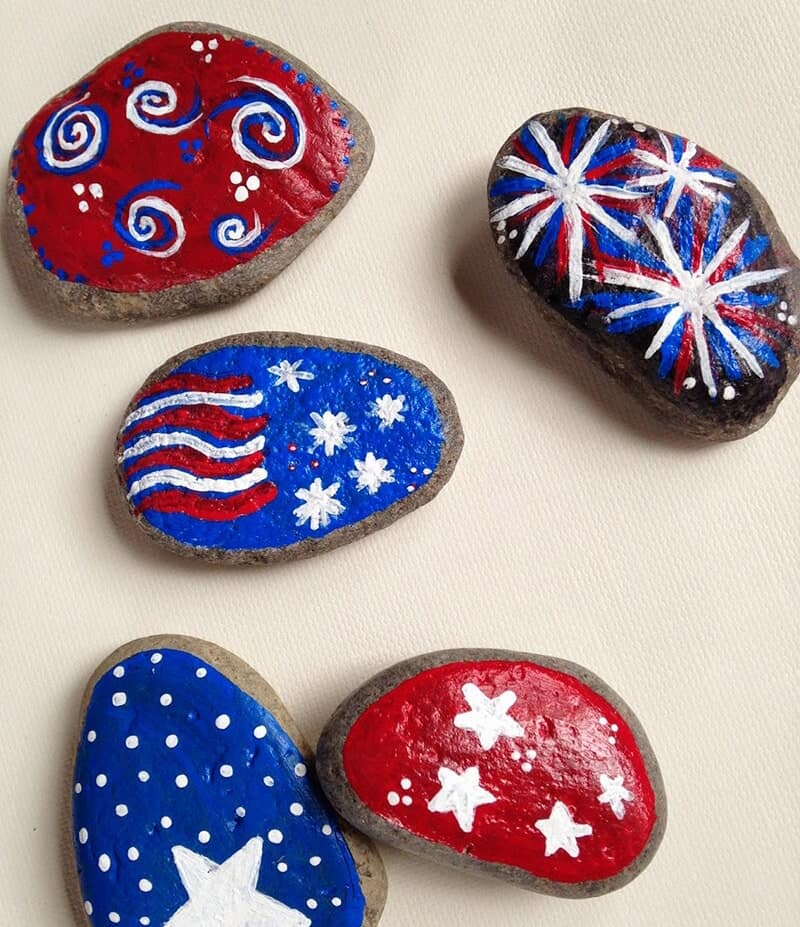 Image source: Thrifty Nifty Things
Long summer walks that yield collections of flat, hand-sized stones don't have to end when you get back in the car to drive home. Just look at the gorgeous painted rocks featured at Thrifty Nifty Things! With red, white, and blue tempera paint and some paintbrushes of varying sizes, the whole family can spend a late summer evening decorating for 4th of July. Set these out on your front porch, circle a backyard tree, or line them up on a windowsill.
6. Messy Fireworks
Image source: I Can Teach My Child
Take advantage of the kids being outside in the sprinklers and pools by setting up this super fun but super messy 4th of July art project. I Can Teach My Child has really useful tips for making the most of shaving cream and food coloring – outside, of course, where the inevitable mess will be easier to clean up. With an entire baking pan full of shaving cream, there will be plenty for everyone to get at least one turn.
7. Uncle Sam Wants YOU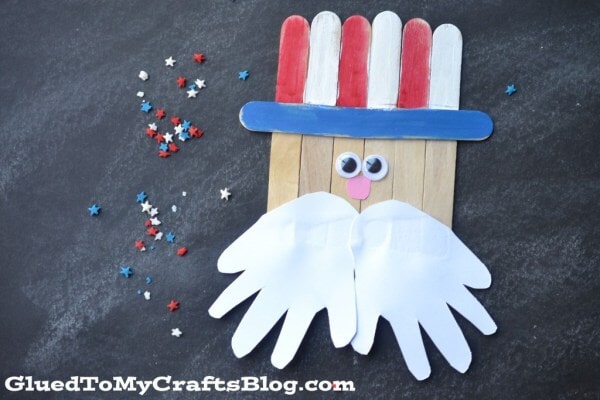 Image source: Glued To My Crafts
When the Popsicles are all eaten, don't throw away the sticks – clean and save them for a sweet and patriotic popsicle stick kids craft. Click over to Glued To My Crafts for the clever inspiration behind this national icon. Children's hands are the perfect size to trace a beard onto white construction paper, and a pair of googly eyes add a hint of silliness. These are so fun to make that you'll have an entire army of Uncle Sam's in no time!
8. An Earful Of Fireworks
Image source: Crafty Morning
This q-tip craft from Crafty Morning is just like the snowflakes you might make in winter, or the skeleton craft for Halloween. But with some red and blue paint, you can easily add a 4th of July twist to this classic kids craft. Against a black background, the bright colors really come to life! Dip the cotton swabs in the paint with enough time to let them dry, then let the kids make as many patterns and arrangements as they like. Thankfully, the fireworks your child creates won't scare the dog or bother the neighbors!
9. Fourth Of July Jewelry For Kids
Image source: Buggy And Buddy
Everyone wants to look their finest for the big 4th of July picnic, and your child can get all gussied up with jewelry crafts from Buggy And Buddy. There are no expensive gemstones, or even plastic costume jewelry to keep track of: just blue beads and straws with red and white stripes. Make longer ones for necklaces or shorter ones for bracelets (or anklets). The link has a couple of ideas for patterns you can follow, or just let your child get creative!
10. A Swirl Full Of Stars
Image source: Earning And Saving With Sarah Fuller
If you have piles of paper plates leftover after the barbeques, grab some scissors, paint, and markers and gather the children to make these fun swirly projects. Earning And Saving With Sarah Fuller shows you how easy it is to make something beautiful out of such simple materials. And though the kids will stay busy with the coloring part, cutting the swirl might require grown-up help. When it's finished, hang them up and watch them twirl in the breeze!
11. You're A Grand Old Flag
Image source: The Resourceful Mama
Hurrah for the flag of the free! Help the little citizens in your family make these kid-sized American flags out of craft sticks, paint, and star stickers to take to your town's parade. Over at The Resourceful Mama you'll find step-by-step instructions to get these just right. While the ones in the photos look too perfect to be real, the craft itself is deceptively easy to do (even if your child doesn't line up the stars just so).
12. Out Of The Oven Fireworks
Image source: The Kindergarten Connection
The dog days of summer are usually far too hot to even think about turning on the oven. Thankfully, you don't need to cook with these cupcake liner fireworks from The Kindergarten Connection. Just stock up on red, white, and blue papers and some glue. Hand your child their favorite pair of safety scissors, and watch the 4th of July come to life in your house! This fireworks craft is easy and fun and there's zero baking required.
13. An All Natural Flag
Image source: Non-Toy Gifts
While you are on your outside summer hikes collecting rocks (see #5, above), gather up a few twigs, too, so you and your child can make an American flag craft. Non-Toy Gifts shows you how easy it is to make such a memorable national symbol. Hang it up somewhere everyone can see and enjoy, then store it well so you can reuse it every 4th of July. This craft also makes a great summer gift for the new friends your children make on vacation!
14. DIY 4th Of July Suncatcher
Image source: Gift Of Curiosity
For a 4th of July kids craft that will have all the neighbors envying your house, head over to Gift Of Curiosity for these American flag suncatchers. Cut out squares of red, white, and blue tissue paper ahead of time and be sure to cut enough for everyone to make at least one full flag. Using clear contact paper eliminates the need to let any glue dry – just hang these up in your front room windows when they're done!
15. Make Your Own American Flag Shirt
Image source: Pure Joy Home
If you are visiting out of town family this summer – or if out of town family is coming to you – help the next generation make their own keepsakes with these flag shirts from Pure Joy Home. This is a wonderful 4th of July kids craft for gaggles of cousins that don't get to see each other much, as they can take home and wear the finished product long after everyone has said goodbye.
16. Wrapping Up The 4th Of July
Image source: Eighteen 25
Knitting in the summer seems counter-intuitive when it's a billion degrees and you don't want all that yarn in your lap. Instead, collect some scraps of yarn in American flag colors and check out this gorgeous star at Eighteen 25. Kids can help wrap yarn around the pieces of wood before a grown-up hammers them together in a star shape. Hang it up on your wall, your front door, or in a window to show off your patriotism AND your crafty side!
17. Can't-Miss Liberty
Image source: Buggy And Buddy
When you need a break from all the stars and stripes projects, check out Buggy And Buddy's clever Statue of Liberty craft for kids. It's the simplest way to make a costume before your family heads out to a parade, picnic, barbeque, or fireworks display. An empty toilet paper roll makes for a perfect kid-sized torch, and a paper plate makes a regal crown for your pint-sized Lady Liberty. Light the way to America's shores!
18. Patriotic Salt Painting
Image source: The Best Ideas For Kids
The Best Ideas For Kids has a free fireworks template that you can print out and use to make an all-American salt painting. This low-key 4th of July craft looks stunning when it's done, but you don't need to hover over your kids while they make it. If you are new to salt painting, the link lists very easy to follow instructions with photos so that you can get started immediately. This'll take some time to dry, so think about starting it July 2nd or 3rd if you want it up on the 4th.
19. A Bottle Full Of Stars
Image source: JaMonkey
Where is the rule that says snow globes are only for winter? According to JaMonkey, snow globes are fun all year long! (Or, in this case, glitter globes.) Shake up your 4th of July crafts with these sparkly projects. Red, white, and blue ribbon tied to the tops make for a dainty touch. Make sure you screw the tops on tight because your kids will no doubt spend all night making their own fireworks by shaking these up!
20. Rockets' Red Glare
Image source: Fantastic Fun And Learning
This may be news to you, but kids love things that they can project at one another. It's true. That's why the clever minds at Fantastic Fun And Learning have a quick and simple 4th of July craft in the form of a straw-based rocket launcher. The best part of this project is that even older kids will want in on the fun. Set out a variety of pipe cleaners and construction paper so that everyone can customize their rocket launchers before they attack one another!
21. Fourth Of July Wreath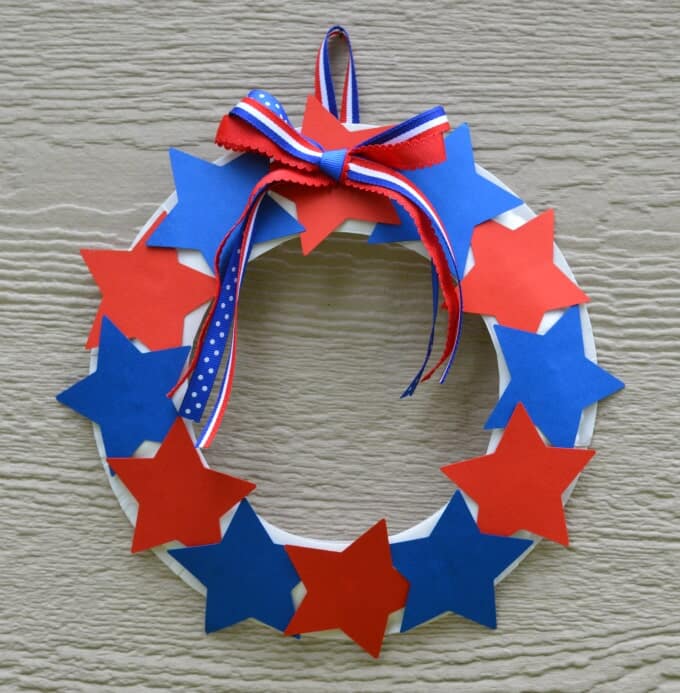 Image source: The Resourceful Mama
Take advantage of paper plates' natural wreath shape with this patriotic kids craft from The Resourceful Mama. A little bit of all-American ribbon and some construction paper go a long way when you and your child create your next favorite front door hanger. Tip from the website: make your bow really POP by using multiple ribbons together. Kids can practice their scissor skills over the summer, or just glue the pre-cut stars on in their own pattern!
22. Pom Pom American Flag
Image source: MomDot
You don't need to blow your entire summer budget on 4th of July kids crafts when you take advantage of this free printable from MomDot. Bags of pom poms don't cost much at the craft store and neither does regular school glue, assuming you don't already have that at home. This pom pom craft is absolutely perfect for kids to hone their fine motor skills by staying inside the lines and putting the colors in the right spots. Then again, a messy flag is cute, too!
23. That Summer Glow
Image source: KC EDventures
Summer daylight lasts a long time, but if you're letting your kids stay up late to see fireworks you'll absolutely need to help them make this awesome 4th of July craft. KC EDventures is clever enough to show you how to make these surprisingly simple projects that even big kids will crave. When the sun's gone down but the fireworks haven't started yet, the kids can stay busy running around with these patriotic glowing bottles!
24. Not Scary Sparklers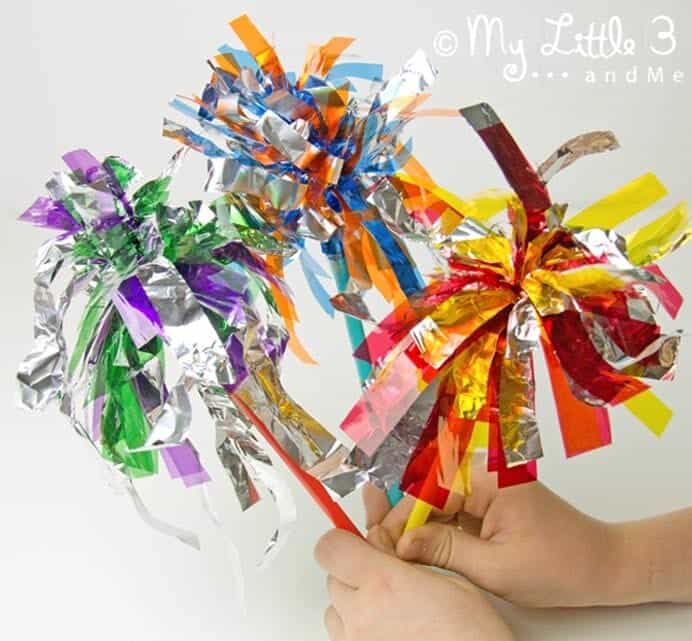 Image source: Kids Craft Room
For kids who are too little to hold sparklers, or kids who may have sensory or emotional issues that won't let them enjoy real sparklers, Kids Craft Room has an amazing and colorful alternative. Don't think too hard about these or worry about perfection – they are hard to mess up. They look so cool that you can encourage your child to make a whole bunch and stick them by the handful into mason jars for bright picnic table decorations!
25. Baldy The Eagle
Image source: Fun Handprint Art Blog
While your child's hands are covered in paint (see #3, above), why not make one of the most iconic of American symbols – the bald eagle? By looking at the example on Fun Handprint Art Blog, even the hand-drawn eagle's head shouldn't be too difficult for parents, no matter your drawing skills. This craft will spend all summer nesting on your refrigerator for certain!