Kids and dogs are a match made in playtime paradise. Dogs are sweet and soft, perfect companions for children across cultures. The sight of a child hugging a dog will melt the heart of even the most cynical grump. All that sweetness is almost too much!
If you have a pet dog at home, some of these crafts can be customized to match: Brown Bag Dog Puppet, Cardboard Tube Dog Craft, and Who's That Dog? are among a few you might enjoy. Other crafts are based on famous dogs in pop culture, like "101 Dalmations," Max from "The Secret Life Of Pets," or the "Puppy Dog Pals" on Disney Jr. And if your house is strictly pet-free, crafts like Talk To The Hand, Newspring Puppy Puzzle, and Fetch A Stick Doggie will be a fun way for your kids to create the dog of their dreams to "play" with whenever they want.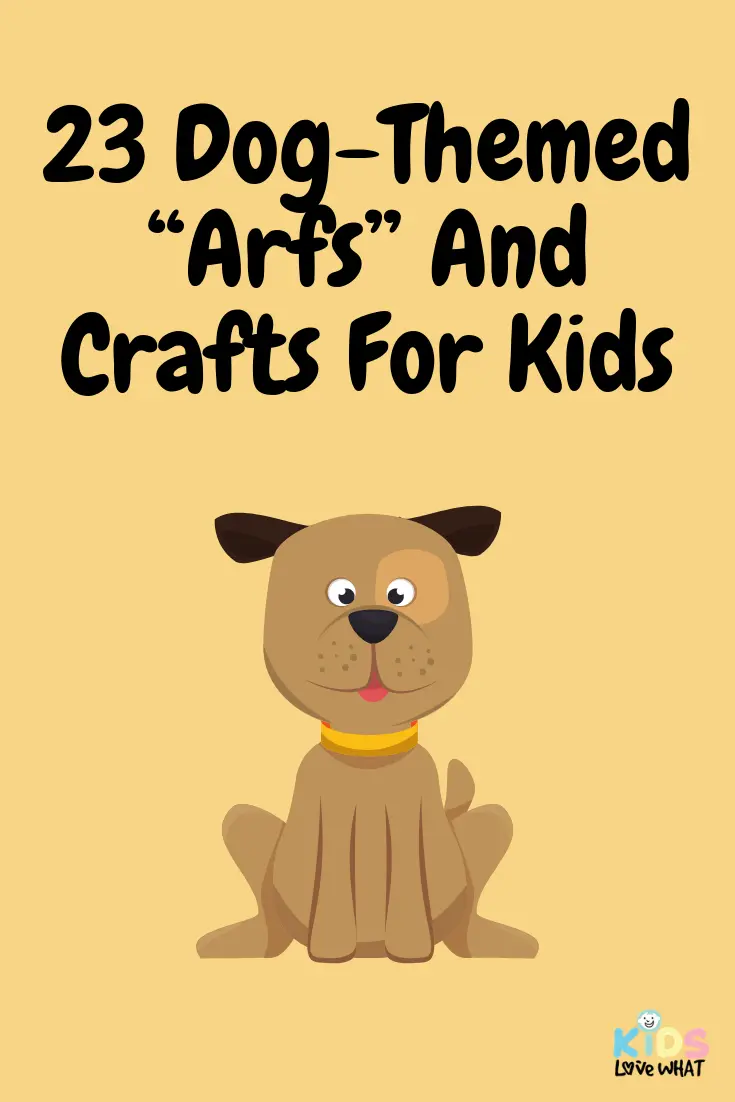 No matter which crafts you choose, your child will absolutely love helping you make a new four-legged friend. No walking, no mess, no shedding fur to worry about with these crafty canines! Just a whole lot of fun, screen-free together time. 
1. Paper Doggie Craft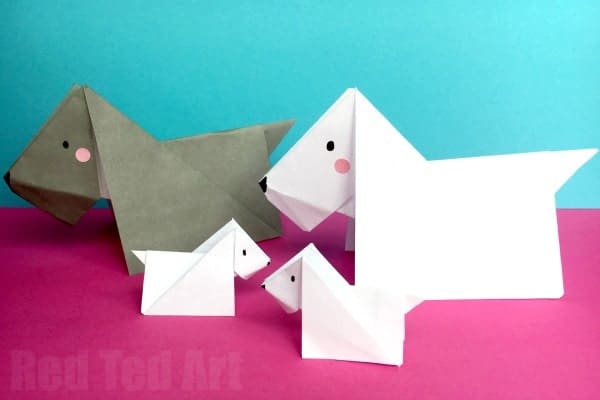 Image source: Red Ted Art
Origami is a great craft to do with kids because all you need is paper, yet you can make nearly anything your child is obsessed with this week. Red Ted Art has a video you can follow to make these silly little Scottie dogs with big, floppy ears. Different sizes of paper will yield different size dogs, of course. Got an entire litter of children in your house? Make a big mama dog and a whole bunch of puppies! They look extra cute when there are a lot of them set up together.
2. Puppy Love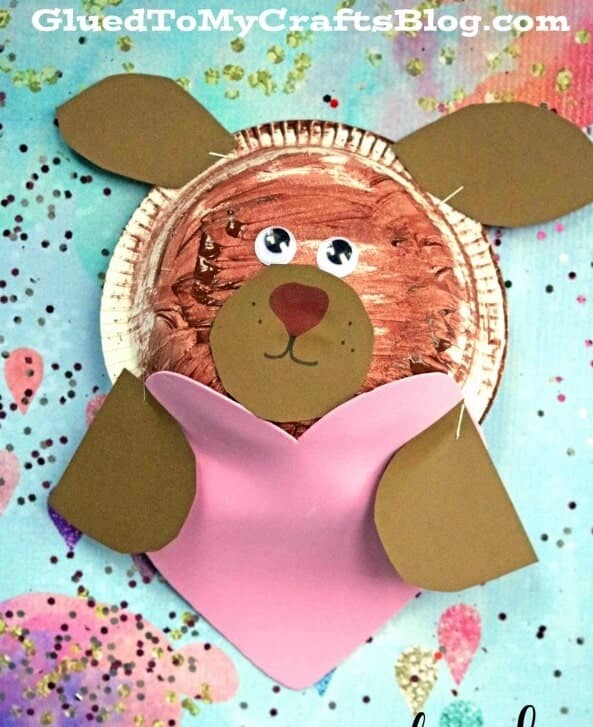 Image source: Glued To My Crafts
Paper plate crafts are fine, but if you're ready to step up your game, try this paper BOWL dog craft from Glued To My Crafts. It's really not complicated, but it'll be a nice change from giving your kids another plate to color. This project is ideal for parents who think they lack crafting skills but want to make something a little "extra" with their kids. Nothing here has to be picture-perfect, just adorable! And with a big heart cut from craft foam, your child has a darling gift for a loved one on Valentine's Day.
3. Brown Bag Dog Puppet
Image source: The Inspiration Edit
This little doggie already has its tongue hanging out, ready to give your child tons of glittery kisses! Check out this adorably long-eared pup from The Inspiration Edit to find out how to assemble your child's new favorite puppet. Once the dog is placed on a hand and starts talking, those ears will flop around and look even more adorable. If you're reading books about dogs with your kids at bedtime, this is a must-make addition to your evening — let the dog puppet tell the story!
4. A Puppy For Christmas
Image source: Glued To My Crafts
Glued To My Crafts' "Santa Paws" project is cute-upon-cute: your child's handprint becomes a doggie's body! With the thumb as the tail and the four fingers as the dog's legs, all you have to do is add the head — and the blog has a free printable you can download for that. As the blog says, this craft is an instant keepsake to bring out and put up with all your other Christmas decorations every year. Feeling generous? Give it to a grandparent or teacher as a sweet and personal holiday card. 
5. Cardboard Tube Dog Craft
Image source: Easy Peasy And Fun
This dog craft from Easy Peasy And Fun goes above and beyond merely painting an empty toilet paper roll. With their added-on heads and legs, these pups look ready to run and play! You can customize each project you do based on your family dog, a beloved movie character, or even a dog that your child wishes they had. And you do it all on the cheap and without a lot of hassle. These look great in classrooms, too, so if you're a teacher just have your students bring in as many empty toilet paper rolls as they can and get painting.
6. Newsprint Puppy Puzzle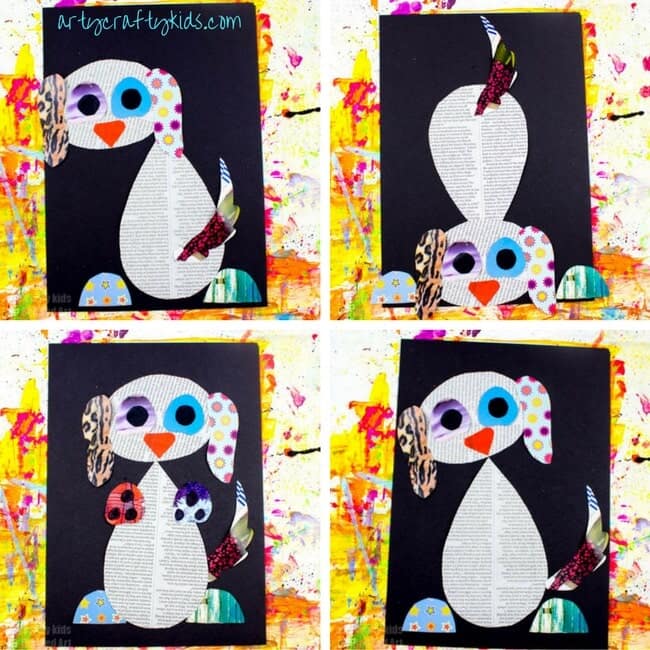 Image source: Arty Crafty Kids
Puppies and children are made for each other, especially because both creatures can hardly ever sit still! Here's a brilliant idea from Arty Crafty Kids that allows your human puppy to direct some of that energy towards a fun creative project. Use the free printable template to trace and cut the various pieces onto newsprint, wrapping paper, or any other colorful and fun paper you have around. Then have your child arrange the shapes into different playful puppy poses! See how many your child can come up with; see if they can remember where the ears and eyes go. With so many ways to arrange the puppy, this is definitely a value craft to try.
7. Big Face Dog Craft
Image source: Look! We're Learning
Whether or not you have a drip coffee maker at home — or if you drink coffee at all — be sure to pick up a pack of coffee filters on your next trip to the supermarket so you and your children can make this darling craft from Look! We're Learning. Since this requires barely more than simple coloring skills, even toddlers can "help" with their death-grip scribbles on a flattened-out coffee filter. As with almost all other kids' crafts, the less perfect this turns out, the better. The doggie is already super sweet with that big round face!
8. Easy Toy Story Dog Craft
Image source: The Chirping Moms
Having children means that chances are pretty good you've seen at least one of the "Toy Story" movies. If Woody, Buzz, & Co. are regular guests in your home, you simply must make this paper chain Slinky. Over at The Chirping Moms you'll find easy peasy instructions for putting this beloved toy together yourself: if you know how to make a paper chain, you're already halfway there. Once you've got all the links together it's simply a matter of adding a friendly face and an accordion-folded tail. You've got a friend, indeed!
9. Fat Little Doggies
Image source: The Craft Train
If you have some balloons leftover from a party, visit this link at The Craft Train for a wonderfully fun idea on what to do with them. No helium needed! Decorating balloons can be a special treat for kids because of the unusual shape and texture of markers on latex. Even better, blow up a bunch of balloons before your party and set out trays of Sharpies in a rainbow of colors, along with clear tape and pre-cut ears and tails, and make this a fun, creative activity for all your child's friends.
10. Rock Star Dog
Image source: The Inspiration Edit
Even if you can't draw a stick, The Inspiration Edit has help for you in making these painted rock dog crafts. Try tracing the dog face on a flat sheet of paper first to get your hands used to it. Once you've got the hang of it, a white Posca pen is perfect for drawing the face into a flat-ish stone. When that's ready, you can let your children color in the rest, or do it yourself — either way you'll find it's much easier than you realized. Place these outside your front door to welcome visitors, on a windowsill, or on your child's nightstand.
11. Adoptable Puppies In A Box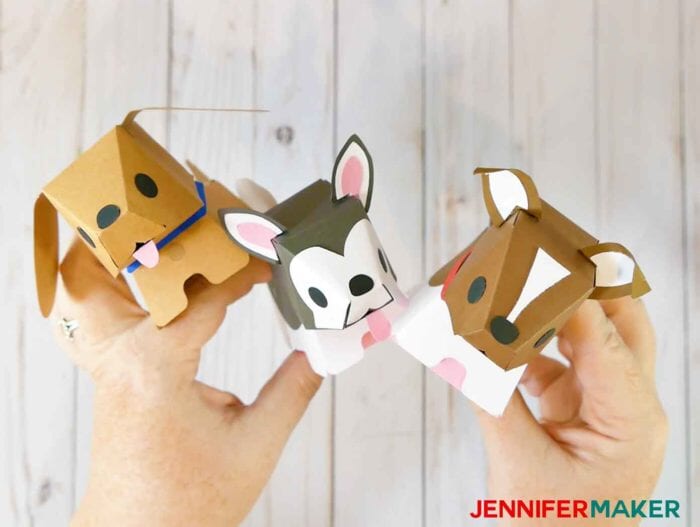 Image source: Jennifer Maker
If you have a Cricut at home, you'll find this squee-worthy dog craft super easy to print out and make. Even without a Cricut, you can print on cardstock and hand-cut the pieces yourself. Sign up at Jennifer Maker to get the template you'll need. Each doggie has a box base, a body, a head, and various extras like eyes, tails, and ears. Even if you pre-cut each piece yourself, this project is probably best for older kids who can follow the folding and assembling instructions, or for you to do yourself as a surprise for younger children.
12. Talk To The Hand Dog Craft
Image source: Red Ted Art
Can dogs actually talk to us? These puppy hand puppets from Red Ted Art definitely can! You don't need much for this project, and the link gives you photographed step-by-step instructions for making a set of instant-friends with your child. And hey, who says you need to stick with the natural colors of dogs? Why not make pink dogs, or purple with yellow spots! The sky's the limit for this creative craft that is a wonderful alternative to screen time on rainy afternoons or sick days home from school. 
13. 101 Dalmation Dog Crafts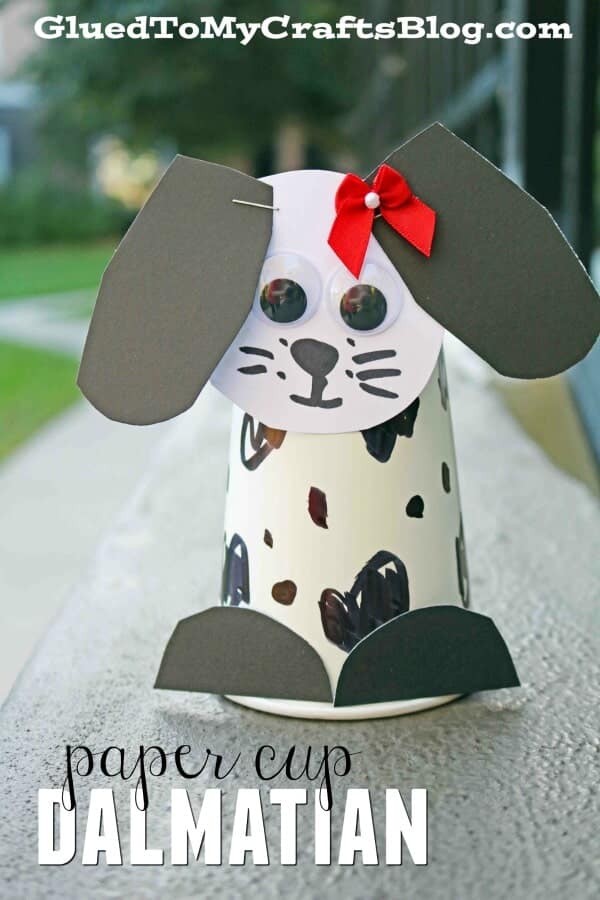 Image source: Glued To My Crafts
Even if you don't make 101 of these darling little Dalmations, they'll still be some of the sweetest crafts you ever do with your child. Glued To My Crafts has a list of easy, affordable materials and straightforward instructions for bringing this little pup-pup to life in black and white. If your child is participating in a junior drama club production of "101 Dalmations," these make fantastic wrap party gifts for cast and crew because they can be customized with or without bows of whatever colors you love.
14. Bow WOW Valentine Dog Craft
Image source: Easy Peasy And Fun
A dog's love is unconditional, so why not make handmade doggie valentines to share your love this year? You can download a free printable template from Easy Peasy And Fun, which shows you just how adorable these doggie-shaped valentines can be. Each valentine opens up to reveal whatever sweet message you or your child write (or scribble) inside. Don't feel like making one for each student in your child's class? Save these for teachers, aides, siblings, babysitters, or grandparents. It's a personal touch that will make any loved one's tail wag with delight!
15. Fetch A Stick Doggie
Image source: Our Kid Things
Our Kid Things has such an adorable little puppy dog craft, you'll fully expect this guy to wag his tail as soon as he's complete! It's a fairly simple project to make, and can be done in just a few minutes (minus glue drying time). If you're hosting a toddler or preschool play date — especially one with lots of other kids — this feisty fella can be prepped ahead of time by gluing the craft sticks together before everyone arrives. This way all the kids have to do is draw a face and glue the eyes, nose, ears, and tail. 
16. Paper Plate Puppies
Image source: The Chirping Moms
Among the many dog-themed tv shows that little kids are currently obsessed with is "Puppy Dog Pals" on Disney, Jr. If that one is being played on a loop in your home, check out The Chirping Moms' clever craft. It's more than just painting a paper plate; it's making special sponge stamps and adding big, floppy ears. Whether your child prefers Bingo or Rolly, or doesn't have a favorite, they can celebrate these canine brothers with a special craft to keep and treasure!
17. Clifford The Big Red Dog Craft
Image source: Crafty Morning
Clifford's love for Emily was SO BIG that he grew more than any ordinary dog! Crafty Morning has just the project for the children in your life who have a great big love for that great big red dog. It's actually not that complicated to make, and kids can help out by painting a paper plate all red. (Make sure you have enough red paint on hand!) Stick this to the wall by your child's bed so that they can sleep tight next to Clifford.
18. Bookmark Dog Craft
Image source: Red Ted Art
Those times when your children manage to tear themselves away from devices and pick up actual physical books may be rarer than you'd like; but readers are readers, and most readers need bookmarks. These folded paper corner bookmarks are easy to make and to customize; Red Ted Art has a puppy bookmark made to look like the doggie emoji. (If British paper sizes confuse you, click here.) Who knows, maybe these bookmarks will inspire your children to read more!
19. Tubular Dog
Image source: Crafts On Sea
Whether you need more Dalmation crafts (see #13, above) or more doggie valentines (see #2 and #14, above), this one is easy as pie. By upcycling empty toilet paper rolls, you are ready to make these sweet, spotted friends for Valentine's Day or any occasion. Click on over to Crafts On Sea to learn how to get these just right for your child's class or dog-themed birthday party. The paper heart spots are so darling that these will be a huge hit wherever they go!
20. Keepsake Paw Print
Image source: Crafty Morning
Immortalize your child's paw (foot) print forever with this project from Crafty Morning. Maybe paint your child's big toe a bright, fun color different from the rest of the foot so it looks like the dog has a ball to play with. When the paint dries, simply draw on the face, collar, and ears. You've got yourself an instant, easy, inexpensive keepsake of your child's foot when it was still small enough to fit on a single sheet of paper!
21. Geometric Dog Craft
Image source: My Mommy Style
This dog craft over at My Mommy Style is both educational and fun. The link tells you what shapes you'll need to cut out ahead of time (unless you are helping kids with their scissor skills, in which case you can draw the shapes for them to cut themselves) so that your child or students can assemble them together to make a puppy. As they work, ask them to identify each shape and, if you've used a different color for each piece, what the colors are. 
22. Who's That Dog?
Image source: Red Ted Art
Sometimes kids are kids, and sometimes kids are doggies. For the latter, help your puppy create these colorful masks from Red Ted Art. No advanced art skills necessary, as there is a free printable template you can use to trace the mask and ears out of a paper plate. Bring your puppy to the craft store and let them pick out the paint colors that match their inner doggie. Some glitter will add just the right amount of sparkle to make this mask really POP, and a hole punch and stretchy band make this wearable all day long.
23. Secret Life Of Dog Crafts
Image source: Craft Create Cook
With this DIY craft based on "The Secret Life Of Pets," Craft Create Cook helps you show your child the value of making something themselves rather than always spending money on more, more, and more plastic toys. Kids will see that not everything has to be shiny and electronic to be fun! Sometimes making things yourself gives you the satisfaction of a job well done, as well as a new friend to make you smile. And because this Max is made from a paper plate, it's easy enough to hang up by your child's bed or in their cubby at school.