Little kids love princesses. There's something about the idea of living in a castle, having a fairy godmother, and wishing on a star that's just magical. If your child is currently in the princess phase and wants to live and breathe princess life at every moment, you will appreciate this list of over 20 crafts that you can do together.
There are plenty of sparkles, gemstones, and colors in the activities below. You'll also find a few that include printable downloads and even unofficial Disney princess fun that will appeal to older kids (and maybe a few adults too).
Princess crafts are fun for everyday imaginative play or creative hands-on activities, and make a great group activity for a birthday party. Several are perfect for budget activities. We even found a few for holidays, like the Glam Princess Inspired Easter Eggs. Gather a few basic craft supplies like acrylic paint, popsicle sticks, and glitter glue and you're ready to get started. Many of these are open-ended activities, so you can set your child up with the supplies you have on hand and see what they come up with. The hardest part might just be choosing which of these princess crafts to do first.
1. Sparkly Disney Princess Slime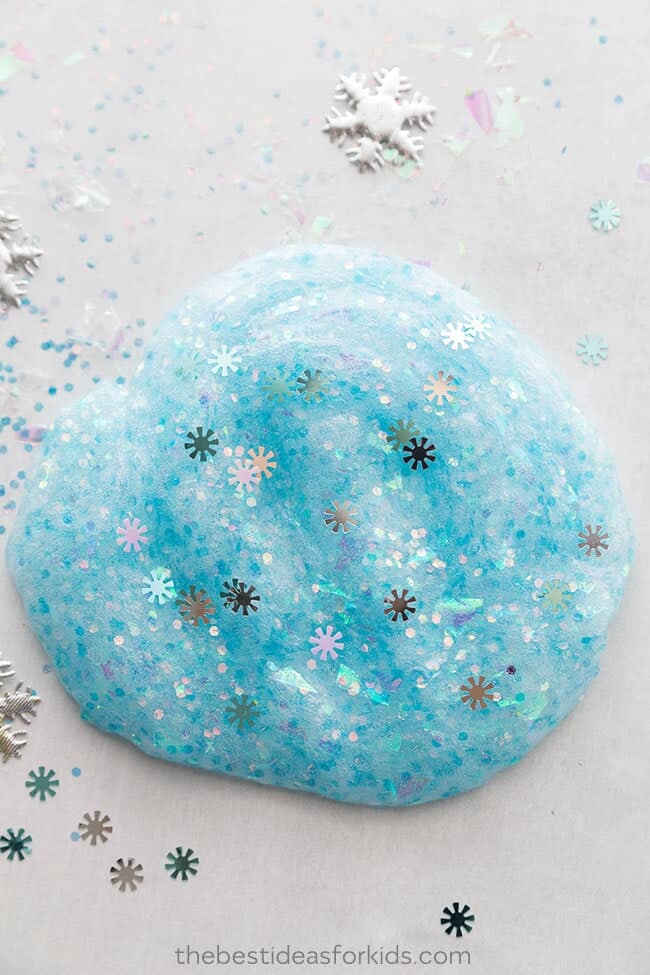 Image source: The Best Ideas for Kids
Who is your child's favorite Disney princess? Learn how to make princess slime to match each princess's iconic color scheme from this tutorial by The Best Ideas for Kids. Choose Belle in elegant gold and add red silk roses. Try Ariel in mermaid green and add a few mini seashells. Make classic Cinderella blue and use craft pearls. Or add the newest princess Elsa to your sensory play and add tiny snowflake confetti. Once you've tried these recipes, create your own for other princesses too.
2. Pipe Cleaner Princess Tiara
Image source: Stylish Cravings
Every princess needs a sparkly crown. Help your little princess dress her best for Halloween or everyday play. This adorable princess tiara from Stylish Cravings is made from pipe cleaner and hot glue. After you've followed the steps to assemble the shape, be sure to add plenty of plastic gemstones. This would be so fun for a princess-themed birthday party craft. Each guest could make their own tiara to wear and then take home as a party favor.
3. Glam Princess Inspired Easter Eggs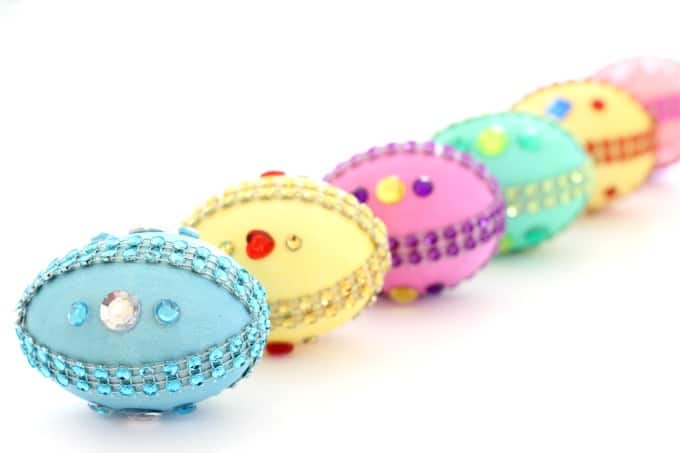 Image source: Fun Money Mom
If you're looking for something creative beyond the classic Easter egg dying activity, these Disney princess Easter eggs are so cute. Fun Money Mom shares a simple tutorial to decorate your child's Easter eggs like Cinderella, Belle, Aurora, Rapunzel, Tiana, and Snow White. Each egg is dyed in the princess's iconic color, add rhinestone trim and gems to coordinate. These eggs are so pretty that you'll want to save them for next year too.
4. Mini Fairy Princess Wands
Image source: Creative Family Fun
This small and colorful magic wand from Creative Family Fun is intended to be used as a reading pointer for early readers, but it can be used for all kinds of imaginative play too. Turn this into an open-ended craft project and let your little princess decorate her own wand. Start with a colorful craft stick or stain one using dye. Embellish the wand with a big sparkly star at the top and other gems down the handle. Have fun and you may end up making one for every book.
5. Wooden Star Wands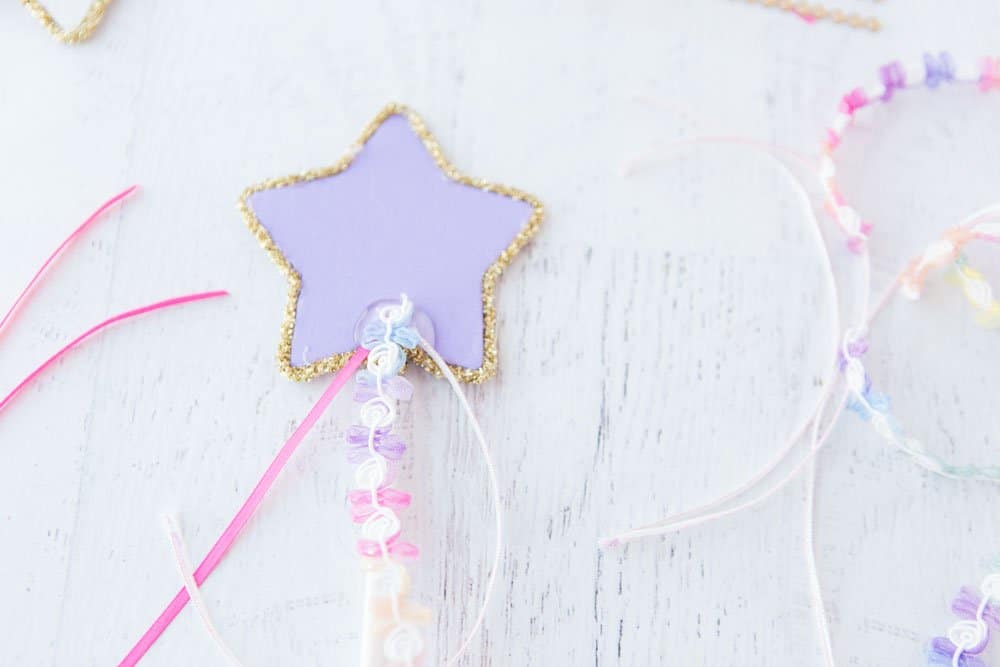 Image source: Made to Be a Momma
To make a magic wand that's a big bigger, try this tutorial from Made to Be a Momma. It has a large wooden star on a handle and plenty of long streamers to wave around. The stars can be painted in any color to match your princess's favorite outfit. Embellishments of ribbon and rhinestones help make each one unique. This tutorial recommends using hot glue, so supervise kids closely for safety.
6. Paper Disney Princess Dresses
Image source: Hot Hands Bakery
One of the things that makes each Disney princess so iconic is the dresses. Each one has a unique style and color scheme that they're recognized instantly. Hot Hands Bakery has a set of templates you can download and print onto colored cardstock to make eight different dresses. Once you cut and assemble the dresses, they can be used for birthday party décor and games or wall art for the playroom. They might also work with paper dolls.
7. Blinged Out Magic Mirror
Image source: The Pinterested Parent
This pretend mirror is perfect for any little princess to play with without worrying about it breaking. The Pinterested Parent has a easy-to-follow tutorial that starts with cardboard for the frame and aluminum foil in place of glass. Once the shape is put together, it can be decorated with big, plastic gemstones, glitter, or whatever craft supplies you have on hand. For added fun, have your child paint their portrait to put inside the mirror reflection.
8. Royal Princess Hat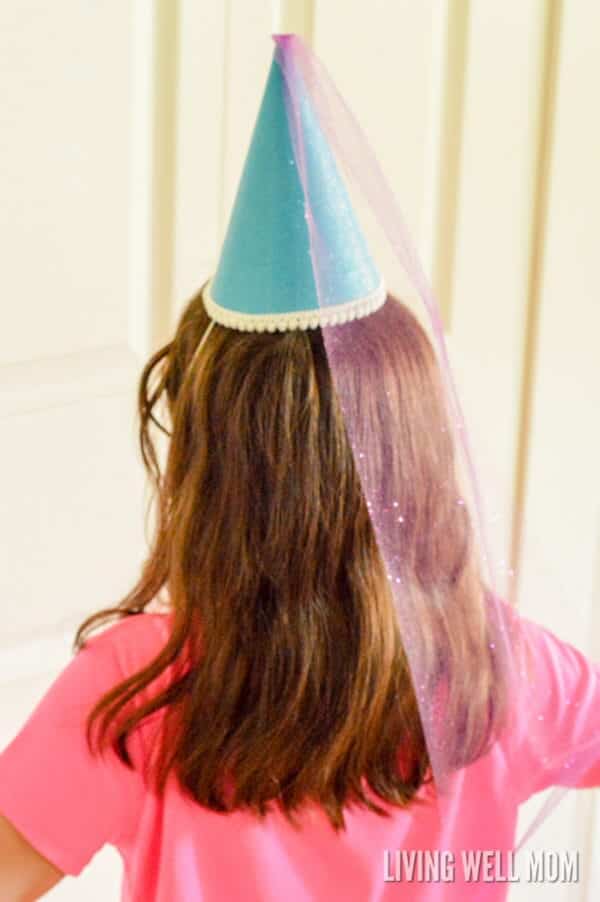 Image source: Living Well Mom
For a princess-themed birthday party, turn plain party hats into fancy princess hats like you might find at a Renaissance festival. Living Well Mom uses one party hat is used as a template to make coverings from construction paper, wrapping paper, felt, or even flexible craft foam. Let your party guests decorate their own hats with ribbon, stickers, and markers. Add a length of tulle to each one to finish. Your party guests will love wearing these and they make fun favors too.
9. Princess Belle Paper Plate Dress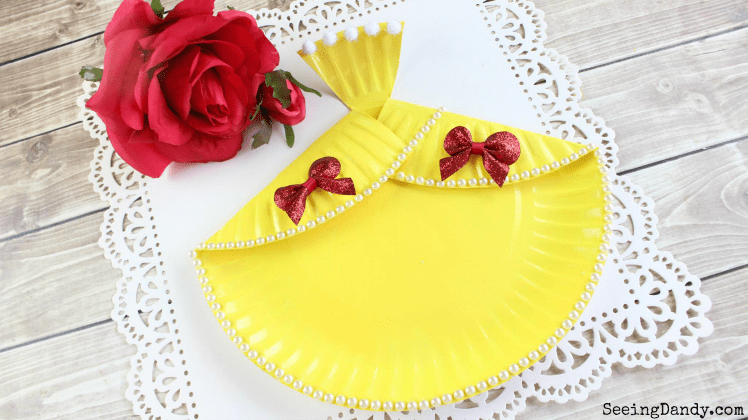 Image source: Seeing Dandy
"Beauty and the Beast" is a classic Disney film that became popular all over again with the live-action remake. Belle's beautiful golden dress is easily recognized and Seeing Dandy has a fun idea for making it from a paper plate. The tutorial is simple, but the result is stunning. With a few cuts, some paint, and scrapbook kit embellishments your child will be thrilled. This would be fun to make on a rainy day while watching either version of the movie.
10. Easy Princess Ribbon Wand
Image source: Somewhat Simple
This princess ribbon wand from Somewhat Simple is so easy that you can make it in about five minutes or less. Long strands of ribbon in any color combination are attached to a dowel for each wand, similar to those used by ribbon dancers in gymnastics competitions. Don't be surprised when your princess uses it to wave and twirl around the house. This project is sure to spark some creativity and imaginative play time.
11. Glittery Bangle Bracelets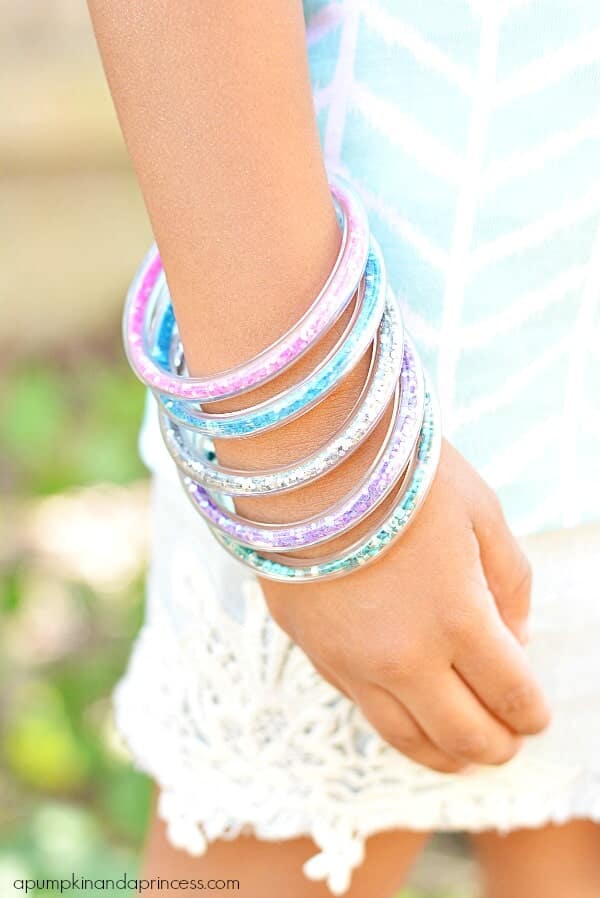 Image source: A Pumpkin and a Princess
Glitter is a must for just about every princess craft. There's something about sparkly jewels and pastel colors that little ones are drawn to. This bangle bracelet tutorial from A Pumpkin and a Princess will appeal to every child who loves glitter. These are inspired by jelly bracelets that were popular in the 90s and made from vinyl tubing that can be filled with glitter, beads, sequins, or other tiny craft items. Make a few or a lot and mix and match colors.
12. Princess Playdough And Accessories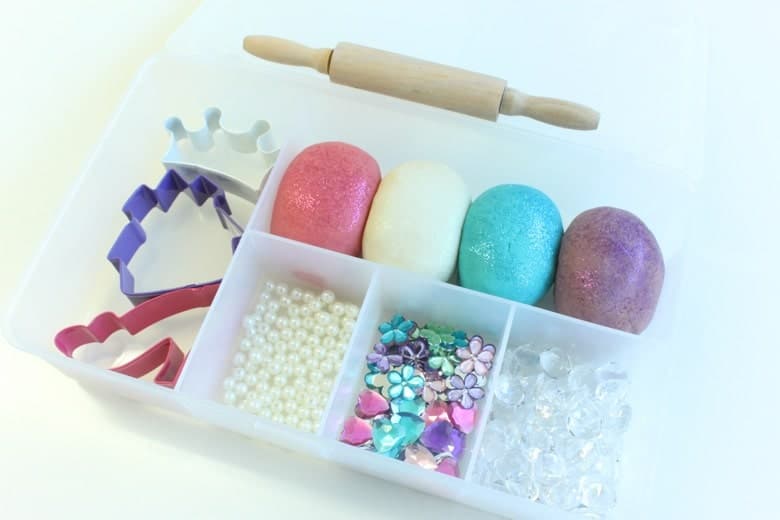 Image source: Mama Papa Bubba
This craft from Mama Papa Bubba is fun to make and then fun to play with afterward. Start by making a few batches of no-cook playdough in pretty pastels. You can even add scents or glitter. For the accessories, find princess-themed cookie cutters, beads, gems, and a few kitchen supplies like a rolling pin and plastic knife. This makes a fun preschool activity for indoor play and can also be given as a gift.
13. Disney Princess Perler Bead Magnets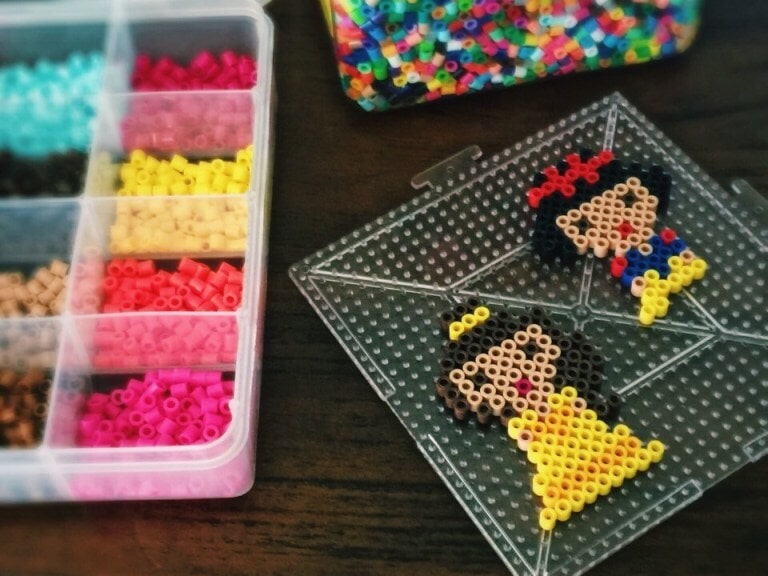 Image source: Domestic AF
Perler beads are a fun craft supply because you can make them into almost any design. The plastic beads are laid out on a grid base and then melted with an iron. Domestic AF has a template you can download with over a dozen princesses so you can choose your favorite. To turn the finished characters into magnets, simply hot glue a magnet strip onto the back. They can also be attached to a keychain or used as play dolls.
14. Simple Paper Plate Princess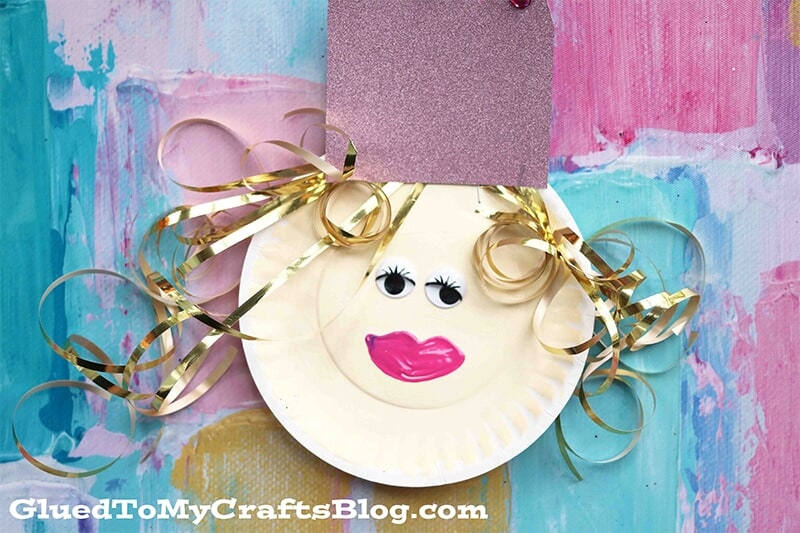 Image source: Glued to My Crafts
Does your child imagine themselves as a princess? With this paper plate princess craft from Glued to My Crafts, you can help your child create a custom princess that looks just like them. Choose the hair color, skin tone, and other facial features. Add ribbon hair and a cardstock crown with plenty of jewels. This would be a fun activity to do before or after reading a princess storybook together or at a party.
15. Disney Princess Corner Bookmarks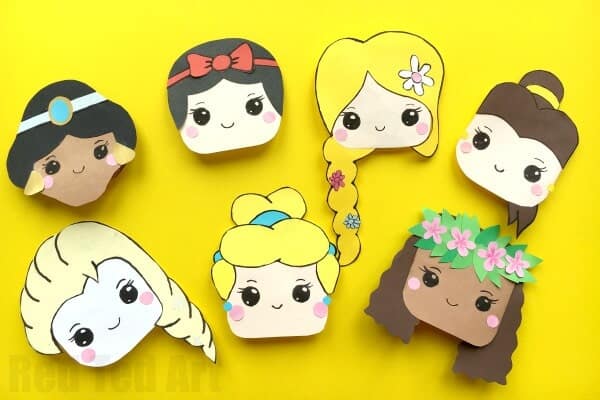 Image source: Red Ted Art
Corner bookmarks are fun to make. They're basically a triangle that fits over the corner of a book page to mark your spot. These adorable bookmarks from Red Ted Art are the happy, smiling faces of Disney Princesses. Follow each video tutorial to learn how to fold the paper into a corner, then how to trim the shape and draw the princess faces. These are completely freehanded, so feel free to change them up and make them your own.
16. Princess Clothespin Dolls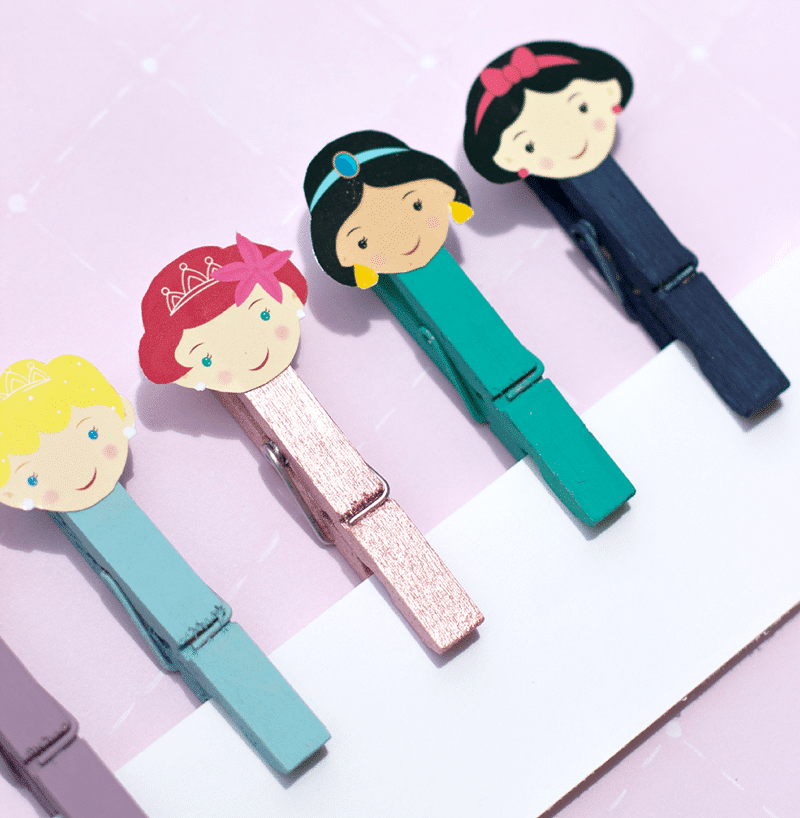 Image source: Time Out with Mom
Clothespin dolls are small enough that your princess can carry them around in their pocket. Time Out with Mom has a tutorial for making them with regular clothespins, but you can also use the old-fashioned variety. Each princess is made by painting the clothespin and gluing the paper faces on. You can download the printable faces on the blog. These are so simple that your child will love making and collecting them all.
17. Make Your Own Paper Bag Princess
Image source: Crafts on Sea
Paper bag puppets are a classic kids activity and you can turn one into a princess with just a few craft supplies. Crafts on Sea has this fun tutorial for preschoolers. Let them do most of the activity so they can practice cutting and gluing. They can even draw a face and glue the paper hair in place. After the glue is dry, this princess can be the star of a puppet show.
18. Paper Tube Castle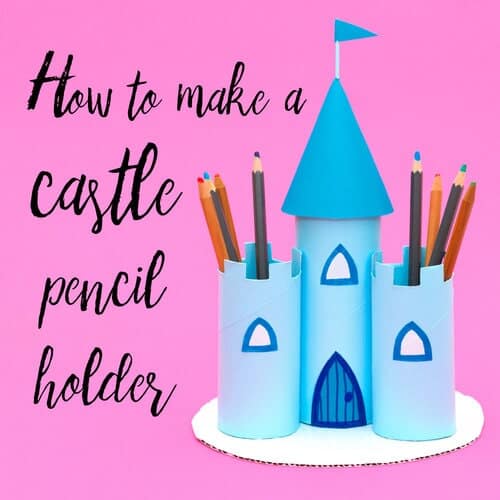 Image source: Doodle and Stitch
This pretty princess castle is made from toilet paper tubes and doubles as a pencil holder for your child's desk. This cute project from Doodle and Stitch has detailed step by step photos to show the process from cutting and gluing the cardboard to drawing details like doors and windows. You can also follow along with a video if you prefer. The end result is fun for organizing, but could also be used to play with the clothespin princess dolls above.
19. Natural Princess Dress Art
Image source: Mother Natured
Each of the Disney princesses in this art project from Mother Natured is unique and stunning. The artist takes plain coloring pages of princesses and uses them as a tracing template for the arms, legs, and faces. Then the dresses are filled in with nature elements. Take a walk with your children and collect flower petals, leaves, bark, and other items. Try to match colors or let your child explore creativity with whatever you can find.
20. Popsicle Stick Castle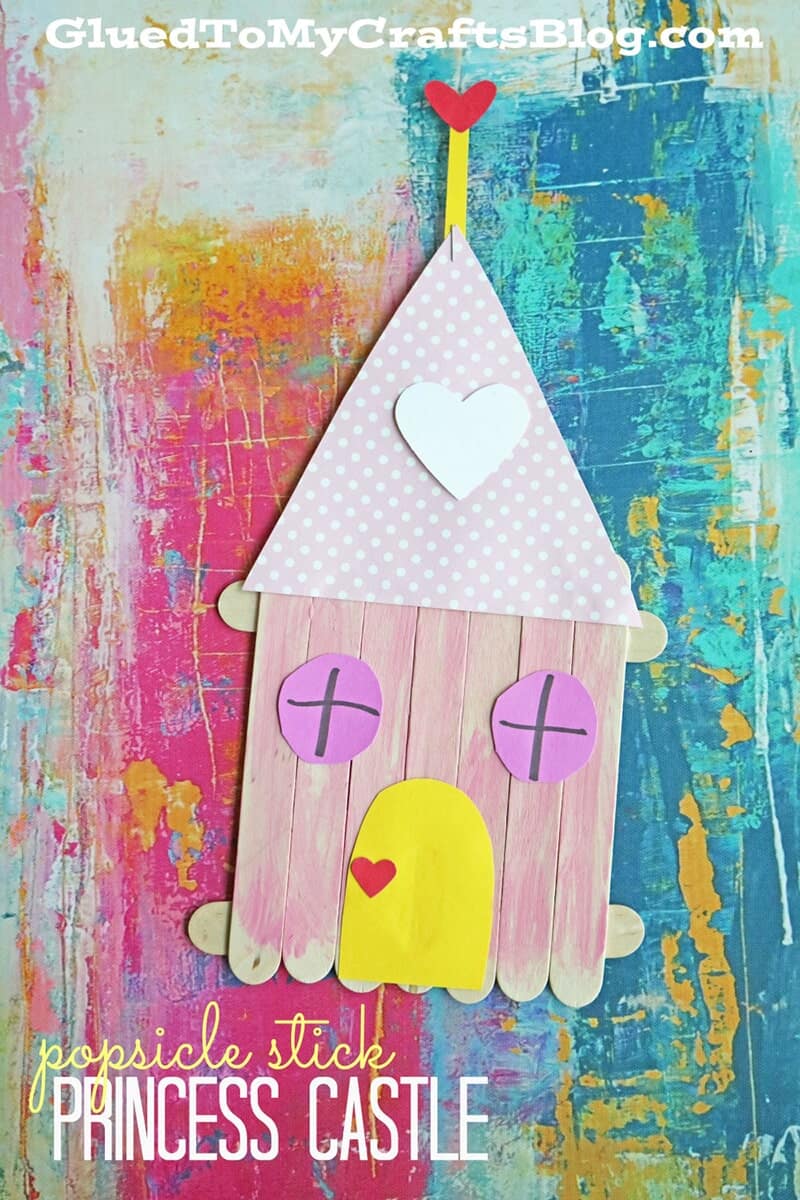 Image source: Glued to My Crafts
For a fun and inexpensive craft idea, create this castle made from popsicle sticks by Glued to My Crafts. The base for this castle is a set of popsicle sticks glued into a square. Set up a craft station so your kids can paint the popsicle stick square and embellish them with paper to make a roof, door, and windows. They can add all kinds of extra fun with glitter and gemstones.
21. Silly Putty Princess Slime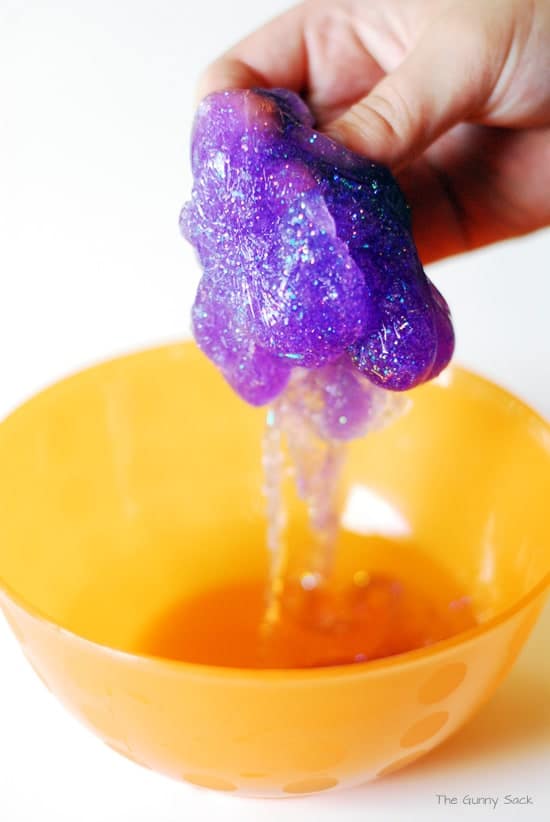 Image source: The Gunny Sack
Whatever you choose to call this – silly putty, slime, or flubber – you can be sure that your kids will want to make enough for every color in the rainbow. There are just two ingredients, glue and borax, so this is really fast to make. Any basic school glue will work, but glitter glue makes it extra fun and colorful. It comes in a wide variety of colors, but if you only have white, you can add a few drops of food coloring. Find out how to make this over at The Gunny Sack.
22. Ben And Holly's Little Kingdom Wand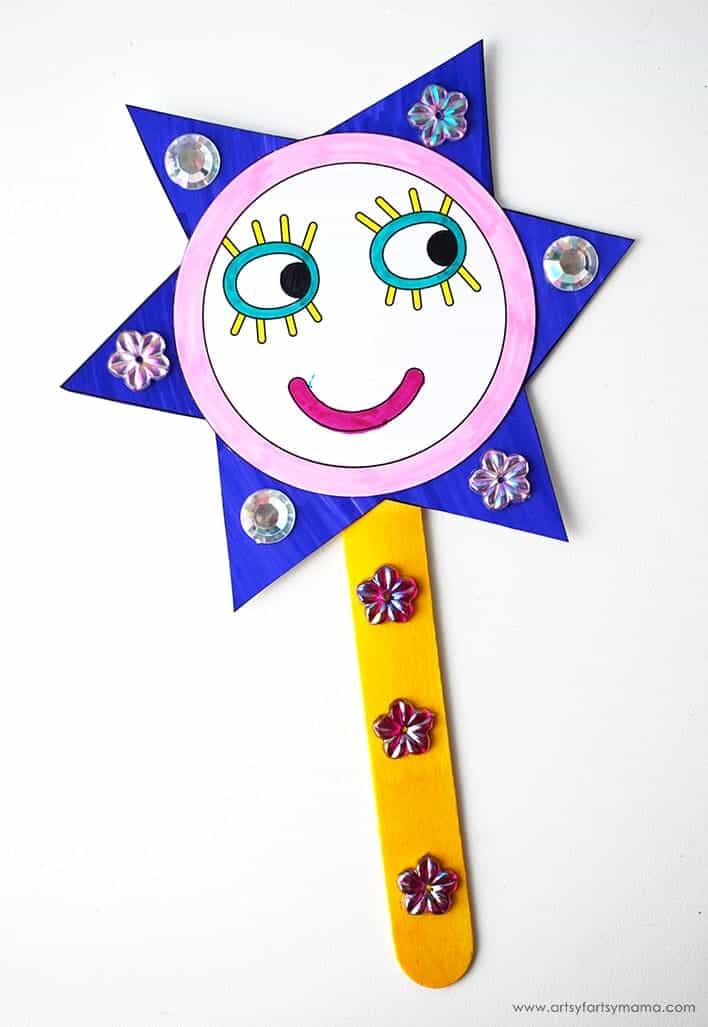 Image source: Artsy Fartsy Mama
Does your preschooler watch Ben and Holly's Little Kingdom? If you, you'll want to download the wand template and make this fun craft from Artsy Fartsy Mama. Let your child color and cut out the star and smiley face. They can also decorate it with stickers and gems. Attach the star to a popsicle stick and you've got a fun craft for a birthday party or a prop for imaginative play any day.