Bathrooms may not seem like the most obvious place to find inspiration for arts and crafts. But trust me, there are some great crafts that kids can make from things like empty shampoo and conditioner bottles, toilet paper rolls and even dental floss! These are just some of the many bathroom items that can be used to create unique and fun crafts that children will love to decorate and play with.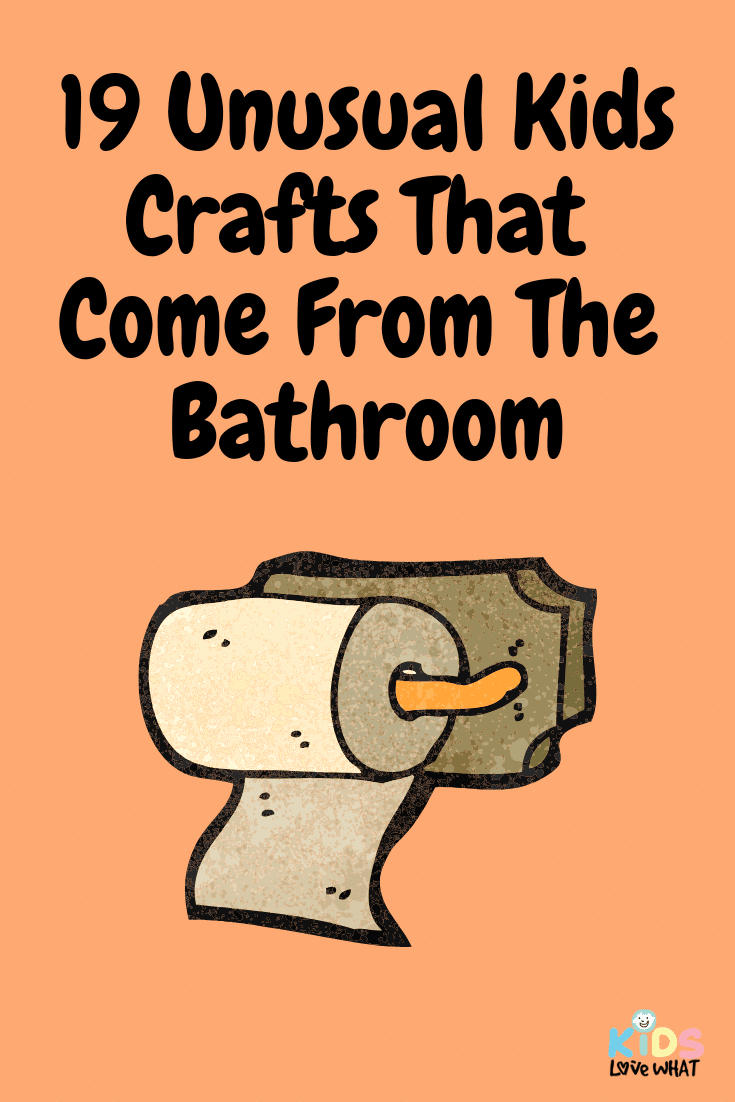 With a little bit of paint, some tough scissors, and a few other everyday household items, your kids will be able to find creative ways to use up all of those empty bottles, TP rolls, and toothpaste boxes. Kids' imaginations can run wild creating their own toothbrush holders and bathtub caddies. Out of glue just when the kids are begging to make (more) slime? Head to the bathroom and use shampoo or bar soap instead! Give toddlers and preschoolers some dental floss and Cheerios to practice fine motor skills.
These crafts are perfect to make all year-round and even better for those rainy days when everyone is stuck inside. And who knows? Maybe the kids will start washing their hair without being asked, just to get to those empty shampoo bottles!
1. My Own Toothbrush Holder
Image source: Mom Always Finds Out
Rather than using an old cup to hold your child's toothbrush, let them make their own with this simple craft from Mom Always Finds Out. The only item you may not have on hand is a double-sided suction cup; otherwise, this is a quick and easy way for kids to make something for themselves that will get them excited to use their toothbrushes! Let each child make his or her own, or have each child make their own mark on one holder for everybody.
2. Snack & Floss Necklace
Image source: The Pink Lab
Round cereal quickly strings onto dental floss to make a quick, easy, and edible necklace. Little pretzels, round cookies, or Life Savers work, too. Upgrade your child's necklace by grabbing a sewing needle and use the dental floss like thread to string together dried fruit or popcorn for a healthier version, like this one by The Pink Lab.
3. Rinse, Repeat, Hold
Image source: Made In Mommyland
Empty shampoo bottles are given new life with the help of some paper, scissors, and paint. Hang them outside the tub for a great way to contain bath crayons and smaller bath toys. Or bring them into a craft room to organize markers, pencils, scissors, and paintbrushes. Older kids can use stencils to craft intricate patterns and designs or little kids can enjoy scribbling with paint brushes: check out the excellent examples here at Made In Mommyland.
4. No Excuses Slime
Image source: Fun With Mama
Slime, slime, everywhere is slime. If you've finally emptied your stock of Elmer's glue, or you don't keep Borax on hand, Fun With Mama has a simple recipe for creating slime using little more than shampoo (and when you use up all of your shampoo, use the bottles to make organizing holders mentioned above!). This isn't for kids in a hurry, though: it will need to be put in the freezer for a couple of hours before it's ready to play with.
5. Monster Tissue Box
Image source: Giggles Galore
Empty egg cartons and googly eyes add a monsterly face to an empty tissue box. Over at Giggles Galore they use rectangular tissue boxes as "Tattle Monsters," that love to eat kids' tattles! Let your littler ones decide how many eyes the monster should have, or let preschoolers practice scissor skills by cutting out the sharp monster fangs. For monsters made from square tissue boxes, head over to DesignByAWilks. What will your child's monster look like?
6. Moo, Oink, Woof!
Image source: It Happens In A Blink
If monsters aren't your kids' thing, you can still make use of those empty tissue boxes. It Happens In A Blink has great instructions for helping your child make adorable little piggies, cows, and doggies. With little more than glue, pipe cleaners, and some colorful scrap paper, kids can enjoy a day on the farm. What a fun addition to "Old MacDonald Had a Farm" for the little ones! Head over to The Pinterested Parent for instructions on making a barn for all of those cute animals.
7. The Sound of Music
Image source: Buggy And Buddy
Toilet paper rolls are excellent for crafting – they have so many uses! With the help of some basic supplies that you probably already have on hand – wax paper, rubber bands, pencils, and paint – you can turn these simple pieces of cardboard into musical instruments with directions from Buggy And Buddy. Make several to start a band! Tape several toilet paper rolls together for a longer instrument – old paper towel rolls come in handy, too. Ask your kids to play their favorite songs, or march in a parade around the house!
8. Fireworks Year-Round
Image source: Arty Crafty Kids
Who says fireworks are only for Fourth of July or New Year's Eve? One of the easiest crafts to do with empty toilet paper rolls is to simply cut one end into strips and let your child make a fun mess dipping it into paint for fireworks-inspired art. Arty Crafty Kids has pictures and instructions for this colorful activity that even the youngest artists can enjoy. Add photos of your latest family vacation or famous landmarks to teach your child world geography!
9. Go Fish
Image source: Meaningful Mama
This fishy can't swim in the sea (or the bathtub), but it's an adorable addition to your family's arts and crafts repertoire! Little ones can make their own Nemo or Dory; for older kids, have them look up different species of fish and try to recreate their favorites with paint and markers. Meaningful Mama has the list of household supplies and step-by-step instructions for this cute fish craft that will keep the whole family inspired! (Tie some dental floss to a pencil for an easy fishing rod!)
10. Minecraft Creeper
Image source: Kids Activities Blog
The Minecraft trend is still going strong, especially among grade schoolers. With a few toilet paper rolls and a small cardboard box, your gamer can create one of the most iconic characters from Minecraft: the creeper. This awesome idea from Kids Activities Blog makes a great rainy day project, Screen-Free Day project, or birthday party activity. It's so quick and easy, your child will have an army of creepers in minutes! If you don't have craft paper, duct tape or pictures from magazines will do just fine.
11. Winter, Spring, Summer, Fall
Image source: Non Toy Gifts
The creative minds at Non Toy Gifts have two ways to make trees for all four seasons of the year: using glue, cotton balls, colorful paper, and some paint, or strips of colorful paper and glue. Either way, these sweet trees burst with color while teaching little ones about the natural cycle of trees through each season. Toddlers can practice their cutting skills, while preschoolers can practice gluing cotton balls into place and painting them in the colors of the season.
12. Cotton Ball "Egg" Shells
Image source: Fun At Home With Kids
Little kids love to smash things, right? Grab a bag of cotton balls and head to the kitchen for this fun sensory activity for kids! Fun At Home With Kids has a "batter" recipe of flour, water, and food coloring. Once it's ready, give your child permission to make a mess as they completely coat the cotton balls in the colorful batter you made together. A few minutes in the oven, and the cotton balls are ready to smash open!
13. Cotton Ball Owl's Nest
Image source: A Dab Of Glue Will Do
If you have piles of construction paper just laying around and a bag of cotton balls in your bathroom, you have almost everything you need to create this adorable owl nest! With simple instructions from A Dab of Glue Will Do, even the least crafty parent will be able to help their child make sweet baby owls and their cozy little nest. Grade school aged kids can help with the owls' eyes, noses, and feathers, while toddlers and preschoolers will love stretching and gluing the cotton balls!
14. Cotton Swab Writing
Image source: The Stay At Home Mom Survival Guide
This is such a great q-tip craft for kids of all ages! Toddlers can practice fine motor skills, preschoolers can trace the alphabet, numbers, or easy sight words, and grade schoolers can write bigger words or entire sentences. The Stay At Home Mom Survival Guide has some inspired tips for setting up this deceptively easy – but potentially messy – craft. Have several swabs on hand for different colors or different words. Kids will love trying out such an unusual writing tool, and parents will love how educational this is!
15. Safer Blow Darts
Image source: Thats What Che Said
The brilliant minds over at Thats What Che Said show this as an outdoor activity, but it's easy and safe enough to play indoors, as well. With a few containers, some straws, and a whole lot of cotton swabs, let your kids take aim with this variation on blow darts. Add numbers to the containers to create a points system, or place containers all around the room for an easy obstacle course. Let older kids measure different distances and see how hard they need to blow in order to reach farther and farther away!
16. Them Bones Q-tip Craft
Image source: Westchester Woman
This one makes a great Halloween craft for younger grade schoolers – kindergarten to second grade. Make it any time of the year if your kid is a future doctor or loves to learn about the human body. Or perhaps your child is obsessed with skeletons thanks to the movie "Coco." Whatever the case may be, this super easy q-tip craft features little more than cotton swabs, paper, scissors, and glue. Westchester Woman has the inspiration for the cutest (and least scary!) skeleton your child will ever love!
17. Year-Round Snow
Image source: Little Passports
Whether you want an easy craft for a snow day at home, or you just miss the snow during those sweltering summer months, this craft is a crowd pleaser for kids and adults alike. With a few dabs of glue, some scissors, and a whole lot of cotton swabs, your family can create beautiful snowflakes in minutes thanks to Little Passports. Make different designs to teach younger children how no two snowflakes are alike. Hang them up with dental floss to turn any room into a winter wonderland!
18. Bathtub Armada
Image source: The Boys Of Boys
Ivory soap has long advertised itself as being so pure it can float in water. Take advantage of this awesome feature by letting your children create sailboats for the bathtub! Carve them up, add a straw for a mast, and then sail them, race them, or create an epic sea battle! Use plastic knives to keep little people from accidentally cutting themselves. Even older kids can have fun with this one – in or out of the bath!
19. Smooshy, Smashy
Image source: Happy Hooligans
It's called "Ghost Mud," but there's nothing scary about this simple two-ingredient recipe! If you can't possibly handle another round of slime-making, try this with ingredients you definitely have at home. According to the wizards at Happy Hooligans, because this is made with soap, it definitely smells good. Kids will love squishing it all together. Make it as dry or sloppy as your kids want, then scoop it up like ice cream! (Just remind little ones not to eat it!)