Acorns are associated with autumn nearly as much as pumpkins, colorful leaves, and warm apple cider. They're easy to collect anywhere there are trees, and they lend themselves quite well to a variety of arts and crafts.
The list below contains 18 ideas for how to turn your child's collection of acorns into beautiful art. From super simple projects such as Easy DIY Acorn Craft to more complex and intricate ones like Happy Puppets Acorn Craft, there's plenty here to keep your child busy all from the first day of school until the last day of Thanksgiving break.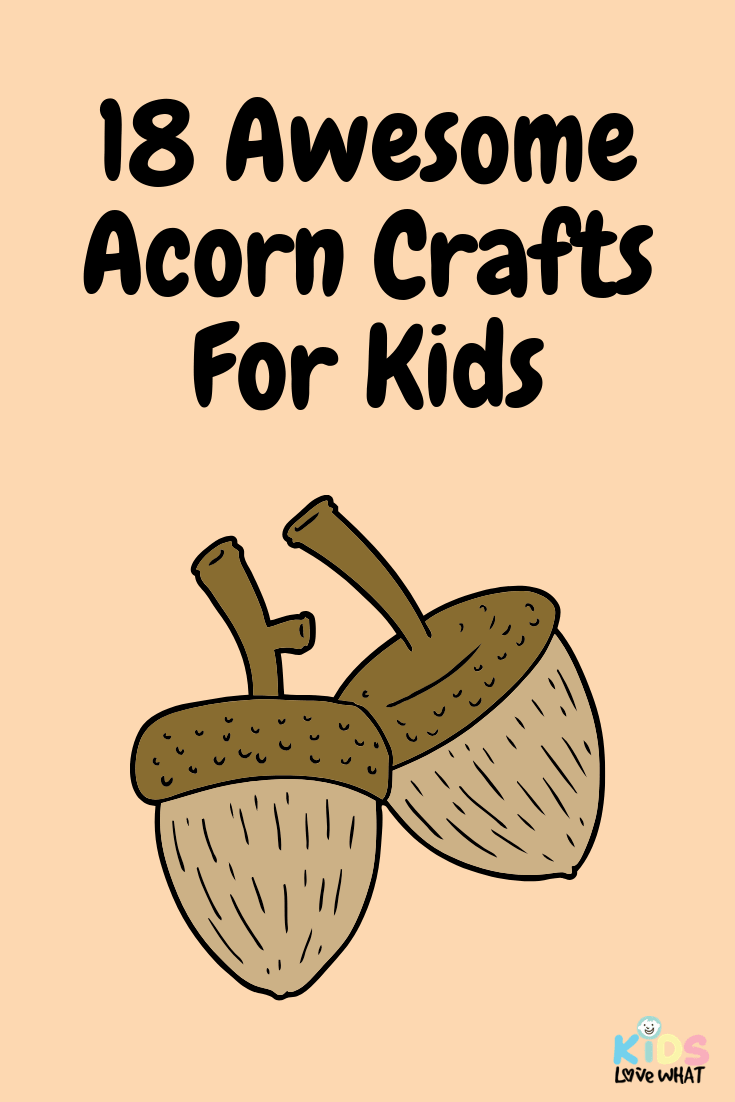 Some of these crafts involve coloring the acorns into vivid hues, such as Toadstool Acorn Craft, which is a fun way to brighten up a rainy weekend afternoon. And some of these crafts, like Picture This Adorable Acorn Craft, involve lots of acorns, so make sure you and your child stock up!
Projects such as Fine Motor Skills Acorn Craft ironically involve no acorns at all, so if you live somewhere without acorn-dropping trees, you can still get in on the fun. But whatever you choose to make, these are great ways to spend some quality time with your children creating beautiful things.
1. The Acorn Doesn't Fall Far From The Tree
Image source: Molly Moo Crafts
Start with some wooden peg dolls and a handful of acorn caps, and you've got all you need for a "super" fun craft! All your child requires is their imagination to turn these simple items into a family of superheroes. Molly Moo Crafts shows you how to get going on this project that you and your child will absolutely enjoy working on together. Make your own family, make an imaginary family, make your child's favorite movie family — the possibilities are as boundless as your child's creativity!
2. Free Acorn Craft Printable
Image source: Glued To My Crafts
On those rainy fall days when no one wants to go outside, head on over to Glued To My Crafts and print out this free acorn template. A little watercolor, a little glitter glue, and a couple of googly eyes later, and no one will miss the outdoors. Print out several copies so when the kids are done painting with watercolors, encourage them to try different colors of glitter glue, markers, or crayons. Who can create the funkiest acorn? The most colorful? A rainbow acorn? Can the kids make enough acorns to plant an entire forest?
3. Wearable Acorn Craft
Image source: Rhythms Of Play
Grown-up help is definitely required for this Rhythms Of Play acorn craft, but it's totally worth it for these gorgeous, unique necklaces. Colorful, beautiful, individual — this is a craft everyone can get behind. Younger children can help pick out marbles and acorns; older children can help assemble; and teens and grown-ups will need to do the drilling and hot gluing. (Don't have a drill? The blog has an affiliate link you can click to purchase one online.) Make matching family necklaces, give them out at parties, or sell them at craft fairs and farmers' markets!
4. How An Acorn Becomes A Strawberry
Image source: Crafts By Amanda
Children — especially the much younger ones — are fascinated when one thing can turn into something completely different. You can encourage this sense of wide-eyed wonder with this project from Crafts By Amanda that takes ordinary acorns and turns them into strawberries. No fancy transfiguration spells required: just paint, glue, and inspiration. Stick a magnet on the back to make these crafts handy to keep around. And hey, if your child wants to believe that you turn acorns into strawberries with magic, then who are you to say otherwise? *wink*
5. Rollin' With The Acorns
Image source: Crafts On Sea
While you might be familiar with the painting technique that utilizes marbles and paint in a tray, here's a clever and autumnal twist: acorns! As Crafts On Sea shows you, it doesn't take much to get started. In fact, part of the fun can be going for a nature walk with your child to collect acorns of different sizes for the craft. If you'd like a printable acorn template to trace and cut out, the blog has a link to some online. And because this craft requires little more skill than lifting a tray, this can be enjoyed by children of almost all ages and abilities.
6. Keepsake Acorn Craft
Image source: Glued To My Crafts
Quite often, the best crafts you can do with your child are the ones that become instant keepsakes you hold onto forever. Take this one from Glued To My Crafts: it has your child's handprint immortalized in time, plus the age they were when they made it. There's a free printable template you can download that already includes the sweet poem, which will 100% not make you cry at how big your child is getting already. No crying at all. Keep this somewhere special and, again, don't cry at the too-swift passage of time.
7. Easy, DIY Acorn Craft
Image source: Craft Create Cook
For a fun acorn craft that doesn't require tons of special materials or tools, click on over to Craft Create Cook for this simple yet adorable paper plate project. Most of the supplies are things you might already have at home, or else can find quite easily at a nearby store. Preschoolers and kindergartners can practice their painting skills because once you cut out the acorn shapes, there aren't any lines to stay inside. Let your children help you mix up different shades of brown as well, to stimulate their color learning.
8. Toadstool Acorn Craft
Image source: Twig And Toadstool
Fall is the perfect time for family walks in nature, whether you have mountains, forests, plains, or city parks nearby. While you're out there together, be sure to encourage your children to collect as many acorns as they can for this darling craft from Twig And Toadstool. When you get home, gather up red and white paints and set to work helping your little ones craft these charming toadstools. The bright colors will look fantastic as a dining table centerpiece or fireplace mantel decoration. And, this can start a conversation in your family about the things that are part of nature and how they all work together in an ecosystem.
9. Fine Motor Skills Acorn Craft
Image source: Kids Craft Room
Lacing projects — in which children use their own hands to "lace" up a piece of cardstock with yarn or string — are wonderful for developing those early fine motor skills. And for kids with limited fine motor abilities, a little bit of help and encouragement from a loving adult will boost their self-confidence immensely. Kids Craft Room has this lacing project that is also a handprint acorn craft, making this one a long-afternoon project that will keep kids busy for a while.
10. Picture This Adorable Acorn Craft
Image source: Crafts By Amanda
Hand-crafted picture frames are the perfect way to create a personal and special gift for someone you love. They are also easy and inexpensive! Over at Crafts By Amanda, you'll find some tips and advice for making your own acorn picture frame even more special and unique.This craft is also a great reason to go for a long fall hike with the whole family! Bring along a small basket or container and ask your child to pick up as many acorns in as many shades and sizes as they can find.
11. Happy Puppets Acorn Craft
Image source: Glued To My Crafts
Here's another free printable template from Glued To My Crafts to get you started making this sweet and smiley acorn puppet. This project does require some supplies you may not have at home, so be sure to read the entire materials list before getting started. It's well worth the trip to the craft store, as the finished products are destined to become a new family favorite! These make great items for the school craft sale, or for puppet shows in your living room.
12. Versatile Acorn Craft
Image source: Adventure In A Box
For a craft that works as hard as you do, check out Adventure In A Box's 5-in-1 pom-pom acorns. Any type of pom-poms will do: buy some at your favorite craft store or make your own (there is a DIY pom-pom link at the blog). Once you have a whole bunch of pom-pom acorns, the clever minds at the blog offer five suggestions for how they can be used, from jewelry to educational counting games. If you have a play date coming up, make as many of these as you can so that all the children can create their own games and fun.
13. Colorful Flowers From Acorns
Image source: Crafty Morning
If you live in an area where the acorns are more almond-shaped than round — from, say, a chestnut oak or a California live oak — then Crafty Morning has a project just for you. These gorgeous flowers are straightforward to make, but they are definitely not boring. Encourage children to pick out colors, paint the acorns themselves, and design their very own flowers in whatever patterns they can imagine. Before getting started, make sure you have more acorns than you think you'll need, so no one runs out mid-flower!
14. Tear It Up With This Acorn Craft
Image source: No Time For Flashcards
Now, HERE'S a craft, courtesy of No Time For Flashcards, that kids of all ages will love to help make! If they can hold a marker, they can make this. If they can tear up paper, they can make this! No coloring inside the lines, no tracing, no cutting (unless they are a bit older and want to practice scissor skills by cutting out an acorn shape). Just scribbling and ripping. That's it! This is a great project to bookmark for when you have used up most of the brighter colors in a construction paper pack and want something fun to do with all that leftover brown.
15. Mismatched Buttons Acorn Craft
Image source: Glued To My Crafts
Glued To My Crafts comes through with yet another free printable template to download for this squee-worthy acorn craft. If you can't find enough brown buttons around your house, most craft stores sell bags of mismatched buttons (often by color), or you can find them online. Don't worry about covering the entire acorn cap; simply encourage your child to do their best. This is a great craft for practicing hand-eye coordination in preschoolers or for kids with a more diverse range of fine motor abilities.
16. The Colors Of Fall Acorn Craft
Image source: Crafts By Amanda
Use up scraps of paper with this stunning acorn craft from Crafts By Amanda. It's actually much easier than you may think from looking at it, and that's part of this project's charm: you get a whole lotta artsy bang for your relatively small time and energy bucks. This is a great acorn craft for a class project or for a fall party in the classroom. Made by all your students, these will look truly amazing hanging up all over the classroom walls.
17. Handy Dandy Acorns
Image source: Crafty Morning
If your kids love having their little hands painted for craft projects, then click on over to Crafty Morning for this cute one! Show your preschoolers or kindergarteners how white paint mixes with the brown to make a lighter brown or beige color, which you'll be using for the nut of the acorn (aka your child's hand). Leave some brown paint as-is for the cap. And that's it! A fun, easy craft that everyone can enjoy making, and which looks great up on fridge doors.
18. Round-Shaped Acorn Craft
Image source: Glued To My Crafts
No need to try and trace an acorn when you can simply use the naturally round shape of a paper plate to get you started! Glued To My Crafts shows you how you can take a simple paper plate, a piece of construction paper, and your child's handprint to make this straightforward and darling acorn craft. This can be clipped up anywhere for a quick fall decoration or kept somewhere safe as a reminder of your child's precious handprint at this age.