For the developing mind, there is perhaps nothing more exciting than being able to captivate an audience with a display of extraordinary magic. For a child, the concept that they can perform real magic tricks for their friends and family is an exciting one. And who knows? They just might be the world's next great illusionist, performing their incredible act at opera halls all over the world.
Okay, so we admit that the chances of your kid becoming a world-famous magician are slim. But the best magic kits for kids still manage to engage your child with exciting activities while encouraging their intellectual development and basic motor skills. It seems like just about every child, boy or girl, goes through a 'magic phase', and presenting them with an all-inclusive magic kit is the best way to start them on their magical path.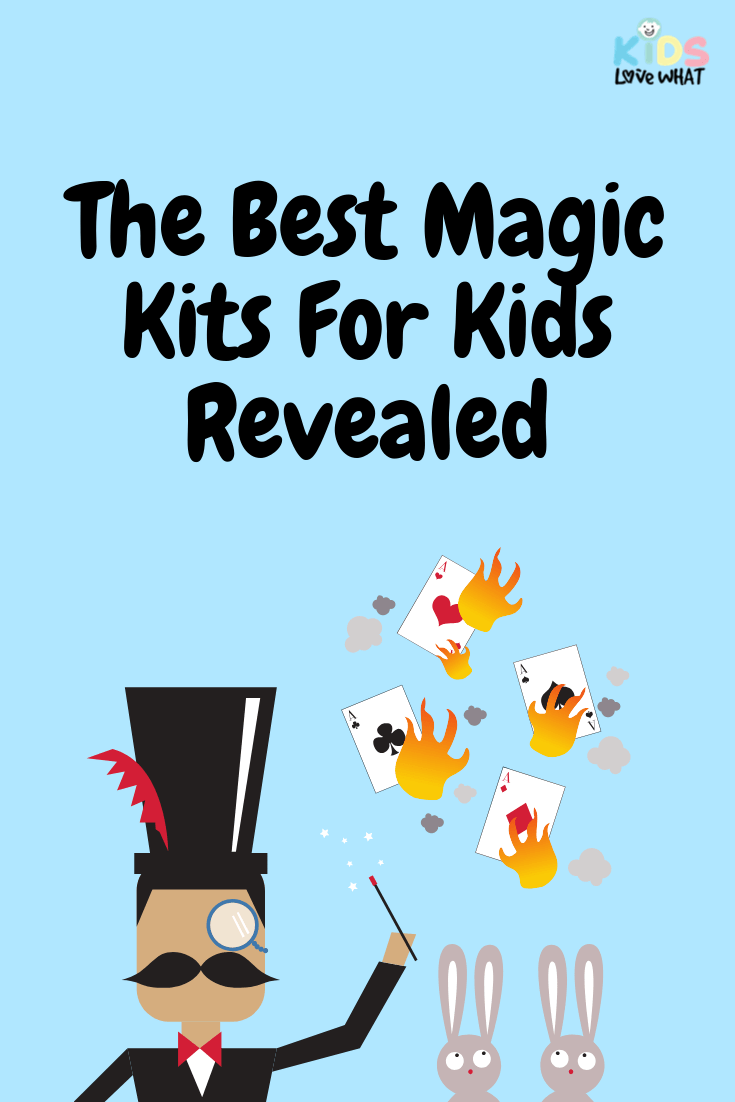 We've analyzed dozens of the best-selling magic kits online to come up with a detailed list of the best magic kits for kids. What follows is our summary of the top 7, followed by a full rundown on how we came to our rankings and how you can choose the best magic set for your kid.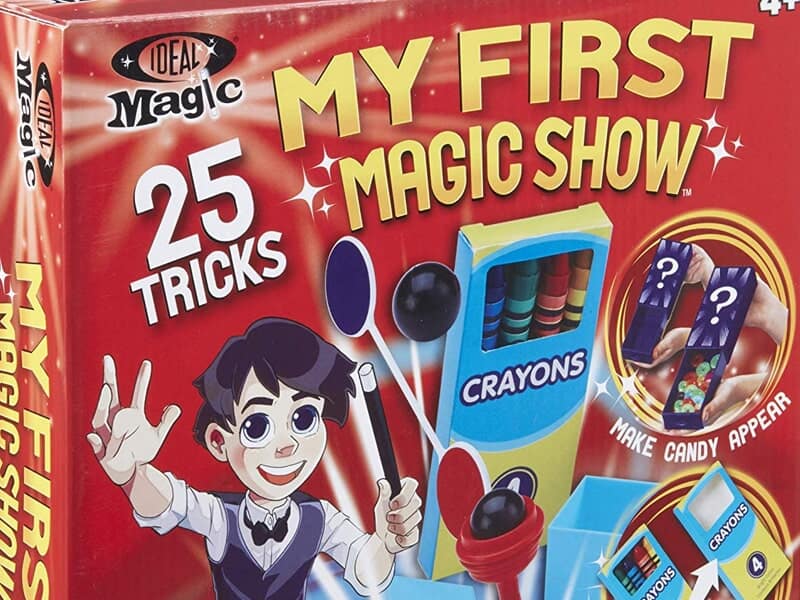 Unlocking the mystery and allure of performative magic is now as easy as diving into a single action-packed box full of fun, mystery, and enough tricks to keep the aspiring musician busy for hours at a time. The My First Magic Set by IDEA includes everything that a kid needs to familiarize themselves with the world of magic, over 25 tricks in all. Some of the tricks even utilize nifty little reusable props that make the show that much more enjoyable.
For our money, the coolest trick in this kit is the ability to make an entire box of crayons travel instantly across the room. Or perhaps your child would be more interested in making a coin disappear before everyone's eyes. No matter what the specific interest is, you and your child are sure to find something that will both entertain and dazzle.
Buying a toy magic kit from IDEAL is a pretty good bet according to our own research. They have been making toys for over 100 year now, from board games and strategy games to building toys. In that time they have a developed a reputation for creating some of the most well-loved toys that also serve your child's mental development in their most formative years.
While the instructional DVD is a great touch that is super helpful, some of the tricks might be too difficult for 4 year olds (the lower suggested age limit for this kit).
What we love: Informational DVD teaches you how to do every trick
What we don't: Some tricks might be a bit complicated for 4 year olds
With even more tricks and props than the kit we mentioned above, the MEGA MAGIC Tricks Set for Kids might be one of the most comprehensive beginners' magic kits for kits that you can find anywhere. With a bit of instruction and practice, children from ages three and up will be able to perform magic just like the professionals, wielding their top-secret tricks in order to dazzle and mystify the living room audience.
The Mega Magic kit includes over 100 tricks and activities in all, and every one of them includes a full 2-page instructional description and step-by-step illustration to make sure that your kid will be able to learn everything. If that's not enough, there is also an instructional DVD that makes it even easier to unlock the secrets of magic.
One of the neat little features that make this kit a great value is the fact that it doubles as both an organizational carrying case and as an on-stage performance aid, storing tricks and props for when they are needed while keeping the audience's attention focused on the illusion at hand.
Adults will appreciate the handy QR codes located at the corner of each instructional page. These will allow quick access to the relevant instructional video online, if you choose to access them that way.
The contents of this magic kit are plentiful, but the tricks themselves are somewhat simple. This is a kit that would be great for 3, 4, & 5 year olds, but any kid older than that might need something a little more challenging to keep their attention.
What we love: Over 100 tricks and magic props are included
What we don't: More appropriate for younger children (3-6)
After reviewing a magic kit that has over 100 tricks (see #2 on our list) some shoppers might think that a kit with only 10 tricks might seem like a bit of a rip off. With the MELISSA & DOUG Deluxe Magic Kit, you are not only getting great bang for your buck, but you are also purchasing from one of the most reputable toy manufacturers in the industry.
If you've spent any significant time on our site, then you might know how well regarded Melissa & Doug is around here. We tend to talk them up pretty heavily for no other reason than the fact that their toys are durable and non-toxic, but the truth is, they've got a lot more going on for them than that. Their toys are engaging, educational, and usually more well-made than any of their competitors.
But what kind of reviewers would we be if we just leaned on our own assumptions here? We were still eager to have a close look at the Deluxe Magic kit to see how well it stacks up.
The honest truth is that this is one of the more durable magic kits on our list. As can be expected from most Melissa & Doug products, all of the tricks are made from real wood, which is not only more long-lasting but usually safer than plastic because of the lack of harmful chemicals.
Best thing about buying from Melissa & Doug is hands down the 100% Happiness Guarantee.
What we love: Solid real-wood construction instead of cheap, breakable plastic
What we don't: No directions! You have to go online to figure out the tricks
We kicked off our review of Magic Kits for Kids with a different product from IDEAL, the My First Magic Kit which featured 25 kid-friendly tricks that were ready to go out of the box. Now we are looking at the bigger, better, and more amazing "big brother' to that smaller kit. With a massive 100 tricks included, this ties another product for the most feature-packed magic kit that we looked at.
Unlike the My First Magic Kit, the Spectacular Magic Suitcase features a number of tricks and props that are more engaging for slightly older children (Recommended 8+) as opposed to the more simplistic tricks aimed at 3 to 5 year olds.
The inclusion of a black performance table is going to make your kid's magic show seem even more professional by giving them a sleek and easy-to-see space to display their various tricks and illusions.
It is important to note that the 'suitcase' part of the Magic Suitcase is just a black-colored cardboard box. While it does the trick (pun intended) it is not likely going to last more than a few performances knowing how kids are. While it is possible to build your own suitcase style box to hold everything, it might have been nicer if they simply made it a bit sturdier.
Also, for some of the tricks you will need to gather some common household items.
What we love: Lots of tricks and props for a great price
What we don't: The suitcase magic box is simply a black cardboard box so it isn't super durable
While we are not as familiar with 3 BEES & ME as a toy maker, we are officially excited to see what kind of great toys come out of them in the future. We were so impressed by the great value offered by their Deluxe Magic Kit that we are pretty much sold on the brand as a source of old-fashioned affordable fun.
The kit includes 75 tricks, which is a respectable number for the price but not quite as many as some of the other toy magic kits on our list. It is a lot of the same tricks that you will see in other kits; in fact, this classic collection of tricks represent some of the oldest and most respected magic tricks in the book … a perfect place for a passionate beginner to start their career in the dark arts of illusion.
What we like most about the collection of trucks in this Jumbo Magic Kit is that it includes a bunch of tricks that any kid (aged 6 & up) should be able to jump into right away, without having to spend too much time learning the ins and outs of the trick itself.
One strange thing about this kit is that the instruction manual is incredibly tiny, like, microscope-level tiny. Most users might need a magnifying glass to properly read the instructions for each trick if you aren't able to figure them out on your own.
The 3 Bees & Me Jumbo Magic Kit does include a 60-Day money-back guarantee, which is a nice bit of insurance against a toy market that is flooded with inferior products. Though we have a feeling you aren't going to have to use it.
What we love: Lots of ready-to-perform tricks that don't require a lot of practice
What we don't: The instructions are written in tiny ink on a small piece of paper
Designed and managed by the legendary professional magician Jim Stott, the 'My First Magic Kit' for Kids is a simple and easy-to-grasp introduction to the world of magic performance. While it has less tricks and props included in the kit, each trick is very easy to understand and perform, even for the younger audience. In fact, the reduced number of tricks might even be one of this product's strengths, as Jim seems to have focused all of his attention on a smaller number of tricks, leading to a considerable increase in overall quality.
Hands down out favorite thing in the box is the Magic Coloring Book. We didn't think that it was going to be of much value, but it turns out that it is one of the most beautifully designed and fun-to-use coloring books that we have ever seen included with a magic kit.
A great bonus to customers who purchase from Jim Stott is a series of 9 SECRET EBOOKS that are available online. Customers will be able to learn the secrets of one of the industry's most well-respected performers, which would otherwise cost $75 if purchased separately on Amazon.
While this is a great starter kit for the child who is looking to get into magic, you shouldn't expect it to last very long. Most of the components are made of a somewhat flimsy plastic, which we expect would start wearing down with continual use. Our best advice is to use this kit as a jumping off point, then, when your child is slightly more advanced, upgrade to a more durable kit.
What we love: The included Magic Coloring Book is an unexpected treat!
What we don't: Tricks & props are made of a somewhat flimsy plastic material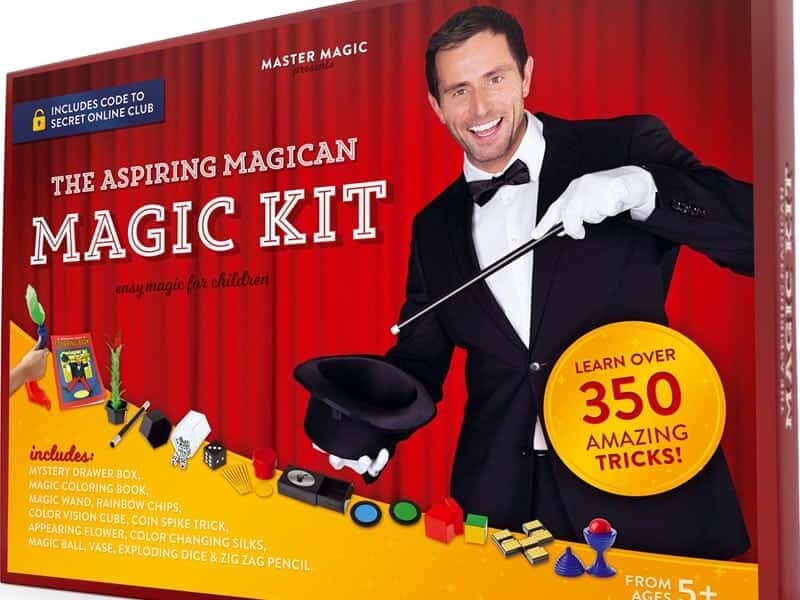 With over 350 different magic tricks included in the box, the MISTER MAGIC kit is by a significant margin the most comprehensive magic kit on our list. For any parent who is looking to encourage their child's interest in magic in a big way, there might be no better kit to go with. This might be surprising considering that this whole kit is still coming in at under thirty bucks. That's hardly more expensive than the average price for this kind of toy, so it certainly does feel seem like a great deal.
Increasing the already impressive value is access to three separate full-length E-books, "Modern Coin Magic" by J.B. Boro, "Encyclopedia of Card Tricks" by Jean Hugard, and "The Expert at the Card Table" by S.W. Erdnase. The sheer amount of magic and trickery that is detailed in these electronic books is staggering, and is probably enough to take any young musician from "aspiring" straight to "advanced".
Here's the thing that you need to know about The Aspiring Musician Magic Kit. While it advertises "Over 350" different tricks, you shouldn't expect 350 different props or toys inside the box. In fact, the contents of the box only include a couple of dozen tricks. So what happened to those three hundred and something other tricks?
We can't be absolutely certain, but it seems that the "350" number is in reference to all the tricks that are also included in the E-books that come with the purchase. Either way, there is a lot of good stuff in those e-books, so it isn't a matter that has us worried.
What we love: Includes three great e-books on magic
What we don't: The claim of "350 tricks" seems to include the tricks listed in the books. Many of these experiments require accessories and props that are not included in the kit itself.
Buyer's Guide: What To Look For In A Magic Kit For Kids
It shouldn't take a crystal ball to know what to look for when shopping for a comprehensive magic kit for your boy or girl. Finding the perfect magical toy is all about matching up age and interest with a kit that that works best for the child that you have in mind.
After pouring through the reviews and comments, we've arrived at a pretty good understanding of exactly what it takes to make a great magic kit, and conversely, the things that make some magic based toys not worth your money.
What follows is a brief guide to help you find a magic kit on your own. Afterwards, we're going to tell you what we think could be the Best Magic Kit for Kids in 2023.
Recommend Age Rating
It doesn't matter what kind of toy you are looking to buy. It could be a video game, a set of building blocks, or an electronic keyboard … every product that is intended for children is going to have a recommended age rating.
Most commonly, these ratings are based on how hazardous the product is to children in different age groups. As an example, babies and toddlers ages 0 to 3 are at a particularly high risk of choking on small parts and components. Until a child is old enough to understand the dangers of choking for themselves, they should be playing with toys that don't fit in their mouth. This not only makes them safer but provides the parent with considerable peace of mind.
As far as magic kits are concerned, the recommended age rating can range, anywhere from 4 years and up. Generally, the kits designed for the 4, 5, & 6 year olds feature less tricks and larger pieces, as well as illusions that are easier to both understand and perform.
As a child grows and learns more about magic, it might be time to upgrade them to something a little more advanced. The truth is that no matter how old your child is, they might be ready for a kit that is slightly beyond their age range as long as the appropriate adult supervision is in place.
Magic Kits for Kids: What's in The Box?
By scrolling through our reviews, you might have noticed that the images associated with these magic kits are somewhat difficult to decipher in terms of what is actually included in the product packages.
Most magic kits like the ones featured on this review include a set of ready-to-perform tricks. Among these are such easy-to-perform classic illusions such as the disappearing coin or the segmented pencil or the exploding dice. Some kits will also include important style accessories like magic wands, hats, capes, & scarves.
If a magic kit includes a display box for your child to perform magic on, it is likely a simple re-positioning of the package box. While these are usually made from standard cardboard, they provide an adequate staging area for your child's performance until they graduate to a larger stage.
So what kind of tricks and illusions should you look for in a magic kit? Here are a few of the most common favorites:
Magic hat with secret compartment
Magic drawer box
Disappearing coin trick
Exploding dice
Disappearing dice
Handkerchief Vanish
Mystery Card Deck
Coin through glass
Top secret vanishing kit
Three card monte
Magic card levitation system
Three shell game
And a lot more that we don't even have time to list …
"Props" & Magic Performance for Kids
One thing that all of these magic sets have in common is that they include a number of ready-made tricks in the form of useful props. Whether this is a bouquet of flowers hiding inside of a magic wand or a coin inside of a secret mirror-lined container, "props" are a great way to start performing magic right away, with little or no practice.
Keeping your child engaged is important to getting the most out of your magic kit. When a child has to spend too much time trying to figure something out, it is likely that they will lose interest. By choosing a magic kit with a lot of good prop tricks, you are likely ensuring that they will be able to enjoy it without too much effort.
Magic Kit Construction Materials
As you can expect from any kind of toy, there are considerable differences in what these magic tricks and props are made out of, and the construction materials used have a very obvious effect on how durable the final product is. Also as usual, there does seem to be a link between how affordable the kit is and what kind of materials it is made out of.
Plastic is by far the most common material used to make the tricks and props necessary for these magic kits. It is lightweight, inexpensive, and easy to manipulate, which is why it is pretty much the standard. The obvious downfall is that plastic is not very sturdy, especially in toys at this price range. For many of the plastic components in these kits, it wouldn't take more than a single misplaced step to totally squash the toy.
Wooden magic toys are much harder to find, which is why we appreciate just about any product that comes from the folks over at Melissa & Doug. Their magic kit, featured above, utilizes real wood for the construction of their accessories. Not only does this mean that they are likely to last a lot longer than their plastic counterparts, but they are also healthier, both for the environment and for the child.
Frequently Asked Questions (FAQ)
Q: Is Magic a healthy hobby for my child?
A: It is a natural and beneficial instinct to want to protect your child from toys that are not good for their development, but fortunately, magic kits are one of the best toys that you can get for your kid. As opposed to the bright, addictive screens of electronics and video games, magic kits encourage children to use their own mental ingenuity and creativity to perform exciting illusions.
Not only does the performance of magic tricks stimulate activity in brain regions that are essential to a child's development, but it also serves as a valuable social exercise in that it provides a child with an entirely new way to interact with the children and adults around them.
Q: Are any of these magic tricks dangerous for kids to perform on their own?
A: You can rest assured that there is nothing inside of these magic kits that can be considered inherently dangerous to the child, as long as you are paying attention to the recommended age limit. Because there are a lot of small pieces involved with some of the more advanced kits, there can be some choking hazards for toddlers and young children.
However, none of these tricks involve batteries or power of any kind, so they are actually quite safe if they are being used properly.
In any case, the safest way for your child to play is if you have taken the time to examine the toy and its included components for yourself to make sure that they aren't going to pose any kind of threat to your child.
Q: Is it true that magic kits are more geared towards boys than girls?
A: The idea that magic performance is just for boys is an outdated idea that needs to be eliminated from our collective consciousness. The truth is, magic tricks are so much fun because of how they work to universally astound and confound. That is, they take advantage of our expectations of the physical world to surprise us to the point of giddy confusion. There is no gender bias is how a good magic trick makes us feel, so why should there be in who gets to perform the magic?
The Verdict: Best Magic Kit For Kids In 2023
We did our best to narrow our list down to the top 7 magic sets for kids, but it wasn't easy. There are literally hundreds of different magic kits available online, and it would be close to impossible to go through each and every one of them to crown a "best of" victor.
For our money, the best all-around magic kit is the Melissa & Doug Magic Kit. We adore the wooden construction and think that this is likely the most durable magic kit on the list … something that could very well be in your family for a very long time.
However the budget-conscious shopper should take more interest in the Ideal Magic Spectacular Magic Suitcase. For the low price, it is pretty impressive that it includes over 100 tricks and illusions. The plastic components might not last as long as wooden ones, but it is a great deal for so many hours of quality entertainment for your kid.