There is something magical about the bright, innocent simplicity of a good, old-fashioned ball pit. Unlike the hi-tech toys and screens that are so popular these says (even among infants and toddlers) ball pits provide an open-ended play experience where there are no rules to worry about. It is simply a world of color and movement and texture, and for a developing child, sometimes nothing is more exciting.
The best ball pits for kids are simple, easy to operate, and best of all, quite affordable. What they are not however is hard to come by. In fact, there are so many different ball pits available online that it is almost impossible to keep track of them all. Selecting one for your own infant or toddler, then, might be causing you more trouble than it's all worth.
We're here to narrow the field by presenting you with a best-of-the-best countdown of the top ball pits on the market. Later, we're leading a brief exploration into what kind of things to expect of a good ball pit, and, in some cases, how to avoid getting a bad one.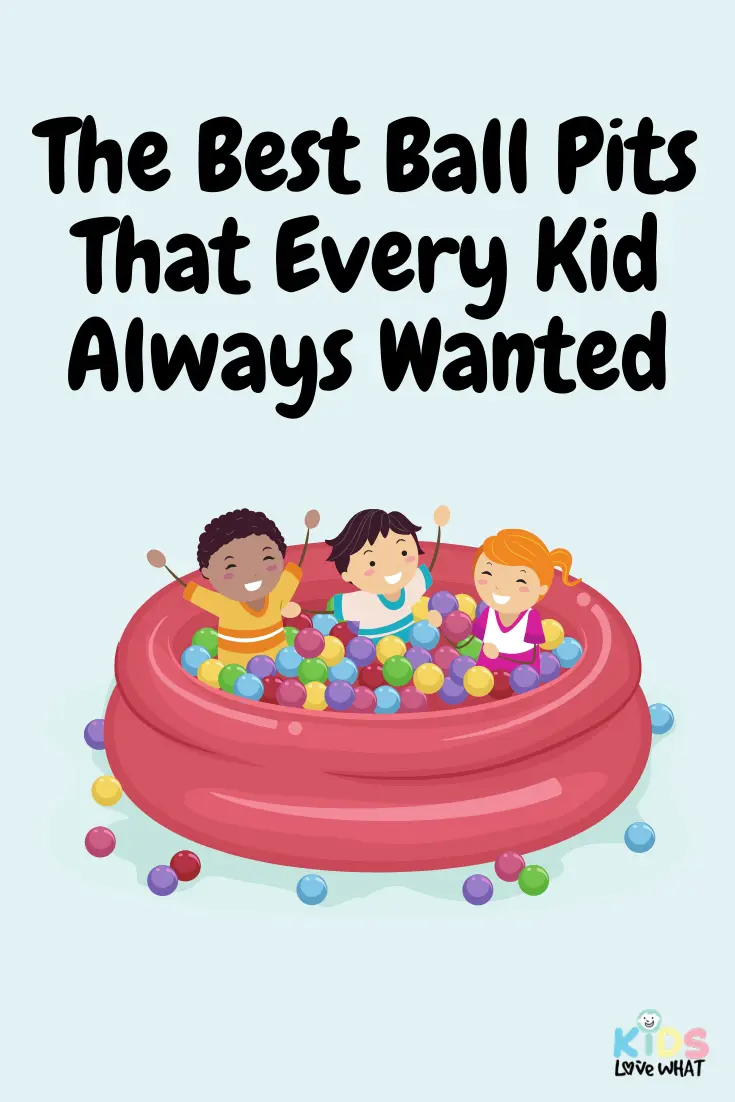 When it comes to ball pits, you are going to be hard pressed to find one that is as brightly colored and vibrantly designed as the 5pc set from Hide N Side. These are the same folks that have been making some of the best play tunnels on the market, so it is no surprise to us that their full 5 piece set is nothing short of awesome.
Here's what you're getting with the Hide N Side Set: firstly, a four-sided egg-shaped tent with doubles as a Velcro-ball bullseye target and a great napping area. Take one of the tunnels out the side door and you will find yourself in the open-topped cube unit, a nice break before taking the final tunnel out to where the pop-up ball pit with basketball hoop awaits. The only thing that you really need to get the best out of this set is several hundred pit balls, but don't worry; we will have some suggestions for those later in the review.
Hide N Side is one of the few play set companies to offer a money-back guarantee on the craftsmanship of their products, so in the case that an issue does arise, it certainly doesn't hurt to have them on your side. From what we understand, the customer service over there is pretty decent.
What We Like: A huge, full-featured ball pit with great colors and design
What We Don't: Velcro strips can start to peel off the included Velcro balls

Here is something a little different … a cotton and elastane blended foam ball pit with a removable cover. Super soft and sufficiently deep for any child or toddler, this might be one of the most comfortable ball pits that we have seen. Unlike the flat-bottomed ball pit play tunnel sets that only have a thin piece of fabric across the bottom, the Wonder Space Deluxe Pit is lined across the bottom with dense, lush foam that protects from impacts.
Now there are a few things that you need to know about the Wonder Space Deluxe Pit if you have already made the purchase. For one thing, this is a memory-foam type product that is shipped in a compacted state to save on space. For this reason, it can take as many as four days for the pit to return to its full size, but worry not, it will get there.
During this same period there will also be a significant amount of off-gassing, which is simply the concentrated aromas from the foam escaping the product over the course of a few days. After that, the smell will not be nearly as strong.
World-conscious consumers will be happy to know that the mostly cotton construction makes this one of the more ecologically sustainable ball pits on the market, as opposed to the pits that are made of manufactured materials.
What We Like: Very soft, plush, and comfortable
What We Don't: It takes a few days to puff back up to its real size

The remarkably low price and easy-to-assemble construction of the Kiddey Ball Pit are reason enough for us to go ahead and crown it as the best all-around bang for the buck. Right out of the box, this is one of the easiest and most frustration-free pits that we found.
The whole thing is a pop-up style, which means there doesn't need to be any mucking about with support poles like on some of the tent-style ball pits that take a lot longer to set up. Storing the Kiddey Ball Pit is just as easy, as the whole unit folds down into a disc that is hardly more than a few inches thick. From there, a carrying case with handle makes it even more convenient for playtime on-the-go.
All you have to worry about at that point is the balls, which sadly but expectedly are not included in the purchase. The manufacturer recommends a maximum of 400 balls, but even at this level you will notice some of them coming tumbling out of the entryway, especially with multiple kids in play.
The only drawback to the Kiddey Ball Pit is that the wire frame not particularly rigid. This is most likely one of the trade-offs of the crazy low asking price, but you might want to keep in mind that the metal frame can get bent out of shape if it is being transported improperly.
What We Like: The most affordable ready-to-play, full-size ball pit on the market
What We Don't: Metal wire frame is easily bent under significant pressure

This little pop-up baby ball pit might be a bit smaller than most of its competitors, but it certainly is one of the lightest and most portable. The reduces size makes it ideal for babies under close supervision, who will have a grand old time bobbing about among a sea of plastic balls.
Alternatively, the Eggsnow Kids' Ball Pit can be used for non-ball activities, such as highly-recommended dry-sensory play. For example, young toddlers playing with the texture and feel of things like sand, rice, and leaves, while remaining contained in a smaller and easy-to-clean space.
We're actually a bit surprised by how sturdy the memory steel is on this pit. Usually, this is an area where many manufacturers have a tendency to cut corners in construction quality. The opposite seems to be true here, as the steel frame is more bend-resistant than many other ball pits in the same price range.
The lightweight construction of this pit is both a blessing and a curse, as it is light enough for most youngsters to flip over if they lean into any of the walls with all of their weight.
What We Like: A small & simple pop-up ball pit that is perfect for babies
What We Don't: Prone to tipping over if a kid falls into the walls

Unlike the other Kiddey Ball Pit that appears on this top ten list, the Egg-Shaped variety (of an unknown product name) is significantly taller and has the benefit of being enclosed on all sides. For this reason, it is really more of tent than the other Kiddey ball pit is.
One of the immediate benefits of being fully enclosed is that the kid can bounce around in there as much as they want and not have to worry about plastic balls going flying across the room in every direction, which is sometimes the case with smaller, shallower ball pits. Of course this is given that the roll-up flap door is closed … otherwise the 6" lip at the bottom of the door is only high enough to keep a few hundred balls contained.
Two large mesh windows do a great job of keeping this play tent nice an cool, even under the sunlight of a warm summer day. However, if you are planning on using this ball pit outdoors, you should make sure that it is placed on a surface that is soft and smooth, such as grass or sand. Rocks and sticks with sharp edges can tear through the floor somewhat easily, and once the fabric is torn, duct tape is the only thing that really works.
What We Like: A roomy, fully-closable play tent / ball pit for kids
What We Don't: Polyester floors are thin enough to be easily torn by rocks and sticks

The last ball pit on our list is much more than just a ball pin, in fact, it happens to be the biggest and bounciest pit that we looked at, and the fact that it is inflatable only makes it more unique.  The Blast Zone Magic Castle Bouncer is big enough for 3 kids to be bouncing around at once, and mesh safety walls help ensure that they're not going to just go tumbling out.
While the size of this ball bouncer is considerable, it is small enough to fit beneath the roofs of most standard homes. This means that it is just appropriate for the play room as it is for the back yard.
Construction quality should be at the forefront when spending this much on a bouncy castle. That last thing that a parent wants is to have their brand new bouncer punctured by an unseen branch or piece of debris. Fortunately, the Blast Zone Magic Castle is made from the same commercial vinyl that the bigger bouncy castles are made of, so you can count on it to hold up against most outdoor surfaces without receiving any damage.
A small warning, however: some users have reported that the vinyl surfaces can become quite hot to the touch in direct sunlight, so consider setting up in an area with partial shade if it's going to be a hot day.
What We Like: The most deluxe bouncy ball pit on our list
What We Don't: Vinyl surfaces can become pretty hot in direct sunlight

If there is one thing that you don't want to forget, it is picking up a few packs of plastic pit balls to go along with your kid's brand new ball pit. After all, that special birthday or holiday simply won't be the same if you forget about the plastic balls. In fact, none of the ball pits or play tents that we have looked at come with their own balls, so it is best to think ahead.
Depending on the age of your kid, there is a pretty solid chance that they will try, at some point, to put one of these pit balls in their mouth. While they won't succeed, any normal parent might wonder whether or not it is safe for their child to be sampling the plastic. Turns out that Click N Play has got us all covered on this front, seeing as how every plastic ball is made from BPA free, lead free, Phthalate free plastic material. And if you don't know what those things are, just trust us when we say that they're bad.
Each ball is designed to withstand a weight of about 90 pounds, which means that an average toddler or child playing on top of a greater number of these balls will be hard pressed to crush any of them. It also means that Dad might want to hold off on hopping into the ball pit, as he might turn them all into little colorful pancakes.  
What We Like: Remarkably durable crush-proof pit balls are non-toxic and brightly colored
What We Don't: We just wish they came included with the ball pits!
The Amazing Benefits Of A Ball Pit For Your Kid(s)
If you're still on the fence about whether or not to get your own kid one of these awesome ball pits, then kindly let us relieve you of your uncertainty. Ball pits are one of the best toys that you can get for your developing toddler for more reason than one, and we think we might be able to convince you of why.
One thing that every parent will admit is how little time they find for themselves, especially when they are trying to raise a very young child. The constant attention and care that is needed to raise a child can be a real drain on the parents, who often time don't even get the chance to enjoy a brief sit-down. This is where ball pits come to the rescue!
Ball pits are a unique, immersive kind of play that takes place within closed walls, meaning that you don't need to worry about your little one wandering off. They wouldn't want to anyway, considering all the fun they will be having in that sea of brightly colored plastic orbs.
Here are some of the other benefits that come with the purchase of a kid's ball kit:
Practice with color and pattern recognition
Basic motor skills training
Full-body exercise
Totally safe & non-toxic play environment
How To Choose A Ball Pit For Your Toddler Or Baby: A Consumer Buying Guide
It's time to dive a little deeper into the pit, so to speak, of the topic at hand. Kids' ball pits might be a slam dunk for just about any kid who isn't too big for it, but that doesn't mean that it is easy to tell them apart. This can make shopping for a ball pit something of a chore.
Below, we're sharing some of the criteria that we looked at when examining these toys, as well as some of the more pertinent knowledge points that you should keep in mind when shopping for a new ball pit for your toddler.
Age Limits & Weight Limits
Your real starting point is considering how old your child is and what kind of ball pit is going to be appropriate for them. Most of the ball pits that we featured here are designed for infants and toddlers, though some, like the Blast Zone Magic Castle, can support children who are a little bit older.
While infants might enjoy bobbing about in a shallow pool of balls, it is perhaps not until toddler-hood that a child has the physical coordination to really enjoy the pleasures of the ball pit.
For the large part, there is no real age limit on most of these pits. Rather, the more important limit to pay attention to is how much weight the plastic pit balls can handle before they collapse inwards. Most of the pit balls available online are rated for about 90 pounds of pressure, though it is possible to find stronger pit balls from specialty providers.
Stationary vs. Foldable Ball Pits
There are two basic construction design for ball pits, stationary and foldable.
Stationary Ball Pits are well exemplified by the Wonder Space Deluxe Ball Pit. This is a foam-based pit that has a solid shape, and although it can be "smooshed" to a certain extent, it is not intended to be folded down and put away. Instead, it would be tucked into the side of the room and the play balls would be left inside.
Foldable Ball Pits are both more common and more affordable than the stationary variety, because they don't need to have as solid of a structure. This means thinner, cheaper, lighter components that can be folded down into small circles for easy transport. This is the real benefit of the foldable pits … you can take them just about anywhere.
Height, Width, & Depth
Toddler ball pits come in all sorts of shapes and sizes. Because many of them are collapsible, it is possible to get a pit that can fill the whole living room, simply because it can be put away at the end of the play session.
Remember that the deeper a ball pit is, the more plastic pit balls it will take to fill. We'll talk more about how many pit balls it takes further down in the guide.
Construction Material
With a few exceptions, most ball pits for kids are made from manufactured synthetic material like polyester or nylon, with some amounts of steel or aluminum forming the framework of the tents. These materials vary greatly in durability, so making a thorough investigation into how thick the fabric is, especially along the floor of the pit.
In today's age, you can be confident that the product you are getting is safe and non-toxic, but just to be safe, it doesn't hurt to look for an indication that the pit is BPA free.
Frequently Asked Questions (F.A.Q.)
Q: How many balls do I need for my new ball pit?
A: In most cases, the amount of pit balls required to fill your ball pit to the recommended level is printed either on the packaging or presented alongside the product info online. These numbers are calculated using the most standard ball size, which is about 2.3 inches in diameter.
We might also mention that it never hurts to get more pit balls than you think you will need, considering the likelihood that more than a few of them are going to get accidentally crushed in one way or another.
Q: Are plastic pit balls easy to clean?
A:  Instead of wiping each individual pit ball with a cleaning rag, we might recommend using some kind of pool or large basin where you can submerge each ball in a solution of soap and water, followed by a rinse of in a separate vessel of clean water.
Make sure that all the pit balls are properly and thoroughly dried before putting them back into their storage bag as leftover moisture can lead to bacterial growth.
Q: When is a kid too old for playing in a ball pit?
A: The answer to this question goes back to the question of weight limits on the pit balls. Because let's face it, even full grown adults like us would love to dive into a deep pool of shiny plastic balls, if only they were strong enough to support our weight without collapsing in on themselves.
You'll know when your kid has outgrown their ball pit, because you'll suddenly start going through a lot more pit balls.
Conclusion: Best Kids Ball Pit In 2020
Since we have not yet found a ball pit that is sturdy enough to support the weight of us full-grown adults, we are going to have to use a bit of imagination to determine our top pick of the day … the best ball pit around.
We'll break it down by age group. For the younger infant, parents are going to want a product that really protects their child from hazards while keeping them safe inside of a reliable enclosure. To this end, there is no better ball pit than the Wonder Space Deluxe. It is luxuriously padded and well encloses, which means that infants will be more than safe when placed inside with a few plastic balls.
That infant, however, is going to grow, and with this growth is going to come increased energy and mobility. This is when the party starts, so to speak, and you are going to need a bigger, cooler ball pit in order to keep up. For the developing toddler, we recommend the Hide N Slide 5 pc Ball Pit. It is the most full-featured pit kit on our list, and the inclusion of two different tent enclosures makes it more of a super-fort than a simple ball pit.