At some point or another in a child's formative years, they are going to experience the universal desire that every kid gets to go off and build a fort. This is an important stage in a kid's life, as it signals that they are ready to start exploring their mind and imagination in their own personal space. Play tents are a convenient extension of this natural desire, and allow for all the best parts of a fort to exist upon a small patch of playroom carpet.
The best play tents for kids are not just imagination boosters. They are valuable tools that can help teach kids about privacy & personal space. In fact, compelling research has explored how forts and personal spaces allow children to experience their first level of control over their environment, which is an important part of preparing them for the realities of the adult world.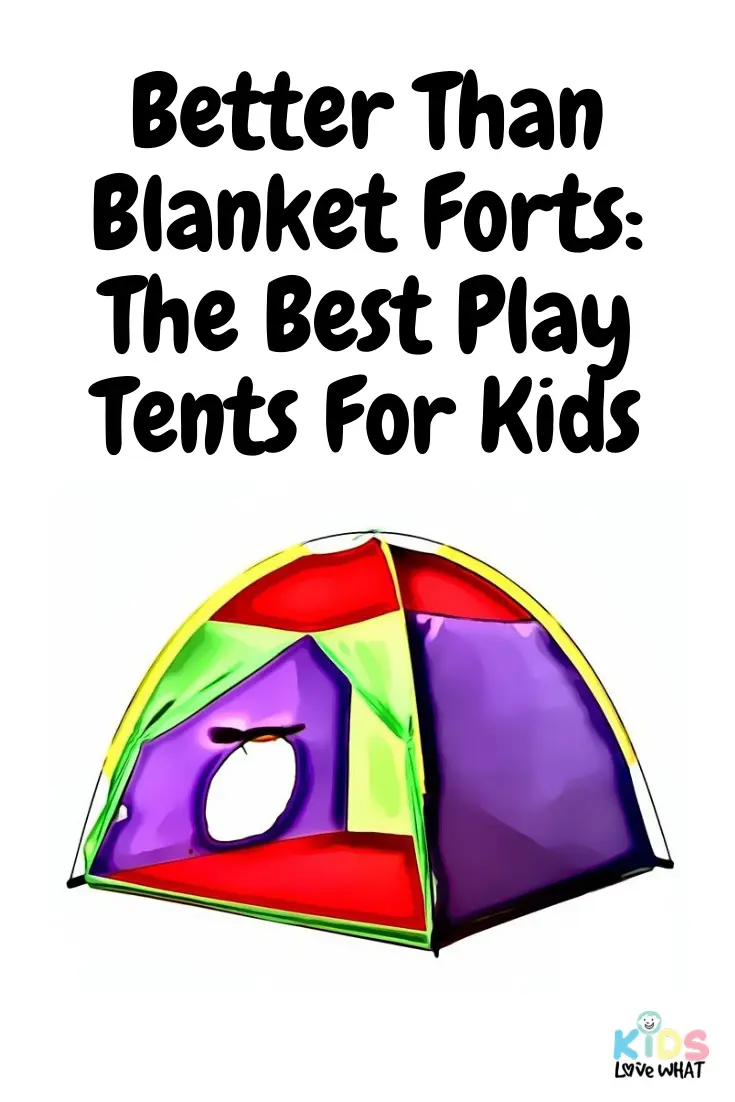 There are hundreds of play tents out there, so we've decided to make it a little easier. We're counting down some of the best play tents on the market, breaking it down by both what we like and what could be improved. Afterwards we're presenting our guide on How to Choose A Play Tent for the young one in your life.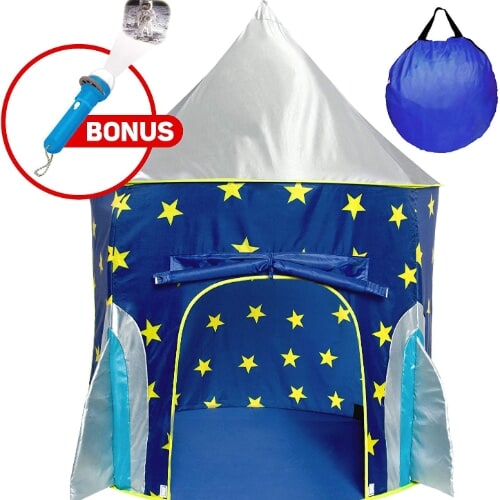 One of the most popular make-believe destinations for children is the fantastic world of space travel. It seems that the moment we as human beings are able to tilt our heads up towards the sky, we start dreaming about what it would be like to walk among the stars. Kids are particularly enchanted by this dream, and giving them a chance to explore it with a rocketship-shaped tent is a great way to encourage their passion and stimulate a lifetime of scientific curiosity.
The USA Toyz Rocketship Play Tent, however, is much more than that. Practically speaking it is a great enclosed playplace for all sorts of activities, from nap time to sleepover flashlight duels. A kid-safe polyester construction and a roomy 51" X 40" floor diameter make this one of the most versatile play tents in this price range.
There's no question that no matter what kind of imaginary adventure your kid goes on, things are likely to get more than a bit dirty. The Rocketship Play Tent is easily cleaned with a washcloth and a bit of warm soapy water, though the shape & frame make it unsuitable for the washing machine.
Like a lot of play tents that are this affordable, the support poles have a tendency of tearing through the base material after significant amount of use, so don't expect this to become a pass-down heirloom or anything.
What We Like: An awesome space-themed play tent that is affordable and versatile
What We Don't: Over time the support poles wear on the base fabric and can lead to some minimal tearing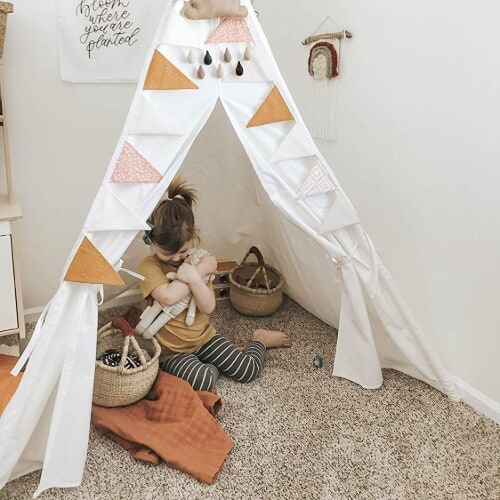 Because of its super-lightweight construction and smaller footprint, the Foldable Teepee play tend from Little Dove has quickly become our number one pick for the best portable play shelter for on-the-go children. Whether it is a day at the beach or a holiday weekend at grandma's place, this lightweight and foldable tent travels really well in the car, or if you are simply moving it from room to room.
Other than being in the fun and imaginative shape of a teepee, one of the really unique things about this play tent is that it is made of 100% natural canvas material, which is totally non-toxic and safe for children. This is opposed to some play tents that have been manufactured overseas with toxic and/or unsafe chemicals and synthetic fabrics. Parents can rest easy knowing that there also is a significantly reduced fire hazard with a natural material like canvas.
Assembly is not that difficult, but it will take the help of a parent or adult to get it all setup. This is for almost no other reason than the teepee stands at 5 feet tall, which is a bit bigger than the age group that this is designed for. Also, every teepee comes with a link to an instructional setup how-to video to help anyone who is having difficulty.
Our only issue is that the tri-pole construction is not the most stable, especially against wind. This makes this product more suited for indoor play than outdoor except on calm sunny days.
What We Like: Canvas material is 100% natural and non-toxic
What We Don't: Slightly unstable against impacts and wind

This vibrantly colored play tent from Alvantor is one of the most exciting-looking play tents, inciting an immediate sense of playfulness and adventure for any child or toddler. It has a large footprint big enough for 3 to 4 kids without crowding, and has two separate entrances including one crawl-through circular port that makes connecting several of these play tents together a breeze. It is also designed to work with compatible play tunnels from the same manufacturer, so be sure to look up other accessories made by Alvantor.
While kids will appreciate a space of their own to dream, nap, or play, parents will appreciate a fiberglass pole construction design that is just like a real tent, leading to a greater level of tightness and stability. In other words, once you have it set up it is unlikely that you will have to do much adjusting.
There's a little mesh window on two of the upper panels. Not only is this an additional form of ventilation and airflow, but it gives the parents a way to check in on their little ones without disrupting playtime or naptime.
What We Like: Bright colors make this an exciting invitation to playtime
What We Don't: Setting up the support poles can be a little tedious the first time around

One of the reasons that play tents are so popular among children is that they provide one of their first experiences with personal privacy. This is the same reason that clubhouses and forts have been an essential part of almost any childhood. As kids grow up they start to desire private spaces where they can stretch their imagination without the all-watching eyes of their parents (who are in actuality not that far away).
The Club House Play Tent by Pacific Play Tents takes the convenience and affordability of a modern play tent and imbues into it the style and excitement of an old-school clubhouse, just like the one that you likely had with your friends back in your own childhood. The wood-board print is an exciting throwback, and gives this tent the immediate feel of an awesome play space for both girls and boys.
A pair of tunnel-port flaps makes this tent adaptable to many of the play-tunnels that are on the market, meaning that you can actually use it in conjunction with products made by other brands.
One of the most common complaints about these tents is that the fabric tears too easily. This is not the case with the Club House Play Tent, which utilizes a 190T 70 denier polyester weave. It's not going to last forever, but it is slightly more tear resistant than some of the competing play tents on our list.
What We Like: Fun clubhouse graphics are printed right onto the fabric
What We Don't: Easily knocked over; could benefit from a few DIY stabilizing lines

We should start off by saying that the single biggest advantage of having a fully-inflatable play house is that there is zero assembly required. Simply connect the tent to any standard size box fan (not included unfortunately) and click it on, and within a few minutes you have a fully-functional imagination zone that is unlike any other play tent on our list.
Not only is it inflatable, but the AirFort also features one of the largest internal footprints in its class. This means that there is plenty of room for whatever kinds of activities your kid likes to get into, from a secret action figure conference to an imagination-fueled trip to the rings of Saturn.
Being able to select from 8 different colors and patterns is a pretty cool feature. Most of the tents we looked at came in only one style, so this provides a much-needed sense of personal style for your youngster.
Unlike the other products the AirFort doesn't have any doors or windows. If it did, the inflation part wouldn't work very well. To get in and out the child simply lifts the edge of the fabric and crawls through. This also means that if the fan goes out, your child is not trapped inside of a closed piece of fabric. In other words it is much safer that you might initially think.
What We Like: Fast setup and large floor plan make this well-worth the price
What We Don't: Inflation is powered by a standard box fan, which is not included

No matter what culture a child comes from, the dream of becoming a fantasy princess is universal among young girls. Why shouldn't it be? Your little girl is the princess of your kingdom, and as such deserves a royal play place where she can develop her imagination and build important self-confidence skills that will help her achieve her full royal potential later in life.
The footprint is a little smaller on this princess castle, but this is actually even more ideal for a kid's room or play place where they will be playing or napping by themselves. It is a cozy little tent that will no doubt make you kid feel like they have the privacy they need, as well as the ability to escape into a world of fantasy whenever they feel the need.
Setting up the Princess Castle is pretty easy. Most of it simply pops up into place, then all you have to do is insert a few fiberglass support poles to add a bit of stability. It is certainly not more stable than the other tents that we reviewed, but for the purposes of sprucing up a kid's room it does the job just fine.
The pop-up memory spring frame is a handy thing for set up, but folding it back down into the carrying case is more of a challenge. Be sure to check out the linked assembly video to save yourself some time and hassle.
What We Like: A very affordable play tent with glow in the dark stars
What We Don't: Folding it down can be somewhat complicated … a product video helps explain the proves

Folding pop-up play tents have become more and more popular in recent years because of how easy they are to setup, and the Knight Castle Play Tent from Play 22 is one of the best examples of the style. We will admit that there seem to be dozens of play tents with the very-same pop-up construction style, but this one might just be our favorite.
A playful but detailed medieval print design turns this simple tent into a fully functional castle tower, so the young knight or princess can have a place to observe the workings of their kingdom from a secure and cozy location.
There are three extra-large windows, perhaps the largest windows of any of the tents on this page. This is a great way for parents to keep a close eye on their kid's adventures while not being to nosy or obtrusive. They also serve the important and more obvious purpose of ventilation, keeping the inside of the castle nice and cool even under the heat of the summer sun.
Our only slight complaint is that this isn't a true pop-up tent, as there is a bit more assembly required even after the main compartment has spring into shape. The support poles need to be attached to the inside of the tent, which can be somewhat difficult if an adult is trying to get in there to set things up.
What We Like: Extra-large windows and cool medieval castle graphics
What We Don't: Installing the interior support poles can be frustrating.

Every family has at least one little space warrior in it, and the best way to make sure that their imagination only continues to grow is to provide them with a safe, portable, and private space where they can live out their wildest outer-space adventures. The ImpiriLux Rocket Ship Play Tent is perfect to this end, as it provides a highly detailed yet impressively simple place for your child, boy or girl, to play, nap, or simply pass the time.
What we love most is the bright and colorful graphic design. Inside and out, your child will have no doubt that they are entering a real life spaceship that is orbiting high above the planet earth. It even has spaceship controls printed onto the tent floor, which is an awesome idea that we haven't seen before on the several other space ship tents that we looked at. It is also a two-man cockpit, so cooperative playtime is even easier.
The ceiling of the tent features images of recognizable planets like Jupiter, Saturn, and Mars. This makes it possible to use the ImpiriLux Rocket Ship Play Tent as a tool to familiarize your kid with space, science, and the wide world around them, preparing them for a lifetime of astronomical curiosity.
The only drawback to all this awesomeness is that this text is a bit more expensive than the other play tents that we looked into.
What We Like: Awesome space-print graphics simulate a 2-person cockpit
What We Don't: Slightly more expensive than the other models

One of the most appealing things about the Sorbus Kid's Foldable Teepee Playhouse is how aesthetically pleasing it is for not just kids, but for the design-conscious adult as well. A pattern of bold but simple rugby stripes in an unassuming grey color means that this is a playhouse that will likely look great in any room of the house. And, seeing how easy it is to setup and transport, don't be surprised if you find your kid moving this thing around the house and yard all on their own.
While we happen to love the grey, this model also comes in pink, blue, and plain white, giving you even more options to match your kid's play tent to the design of the room around them. No more obnoxious clown colors ruining the Feng Shui of the living room; the Sorbus teepee is one of the most stylish playhouses that we could find.
Best feature however is no doubt the 100% natural canvas and pine construction. There are no toxic chemicals or synthetic materials here to worry about, like harmful flame retardant chemicals that have sometimes been found in kid's tents.
There is one problem with the Sorbus Teepee that we feel inclined to mention. The bottom of the three stabilizing poles are quite slippery against hard floors of any kind, and there are no non-slip covers to prevent it from sliding all over the place. Overall it is a great teepee, but we recommend picking up a few rubber slide-stoppers to place on the bottom of the tent poles.
What We Like: Very visually appealing for any room in the house
What We Don't: The wooden poles tend to slide around on hard floors

It sure is refreshing to see a new style of construction on one of these play tents. The Sunnyglade Princess Playhouse is unique in that it utilizes a hexagonal shape with six open walls separated by tent poles. Translucent lace drapes can be used to shut off any individual wall, providing pretty good shield against bugs and mosquitoes. The whole thing looks like a real princess chamber … a real elegant affair that any little girl is sure to love.
Electric star shaped likes are included that can be strung up from the upper support poles, providing an experience and glow that is nothing short of magical.
Just looking at this tent might give away the fact that it is not particularly easy to assemble. Upon unboxing as seeing how many individual pieces there are it is not uncommon to get a bit overwhelmed. The truth is that the included instructions are actually quite easy to understand, and once you read through them you will know exactly how to proceed. All in all it took about 15 minutes to get this set up for the very first time, but we expect that it would become easier with subsequent setups.
What We Like: Elegant open-wall design with beautiful hanging star lights
What We Don't: Slightly more complicated setup than on the other play tents
Buyer's Guide: What To Look For In A Play Tent For Kids Or Toddlers
Not everyone enjoys shopping online as much as some people do, so arming yourself with the appropriate information and specifications can help reduce the time you have to spend browsing through product listings. Finding the best play tent for your child is as easy as comparing a few simple factors against what you already know about your child, so you don't have just click 'order' on the first passable product that you see.
What follows is a brief stroll through the world of kid's play tents where we will give you all the information you need to make an informed purchase.
Shape & Style
As you might be able to discern after scrolling through our guide, there are a number of different construction styles for these play tents that affect the way they are setup and broken down, as well as how they look and perform when they are in use.
Here is a basic rundown of the different types of play tents:
Pole Tents are what you will think of when you imagine a regular old camping tent. In this style, two or more fiberglass poles are threaded through sewn fabric loops and connected to metal grommets on the corners. This allows the tent to be self-standing. Usually, these kinds of play tents are a bit shorter than the others but tent to handle better against outdoor conditions and wind.
Semi-Pop-Up Tents utilize shaped metal rings that hold a circular shape, both on the bottom and higher up on the tent. This is what allows this style of play tent to maintain a cylindrical shape. Then, additional fiberglass support poles are inserted into the walls and roof panel to extend it upwards, creating the iconic peak of a castle or rocket ship. Depending on the brand these can be either really easy to set up or more difficult. The upside is that they are significantly taller than other types of tent.
Inflatable Play Tents are less common in the marketplace, but we have a feeling that we are going to be seeing quite a few of these in years to come. By attaching an everyday box fan to the side of one of these tents, an electric-powered draft is able to hold up the shape of a little igloo-looking dome. Kids can enter by simply lifting the fabric where it meets the floor, and crawling right in.
Box Style Tents take advantage of a system of poles and elbow pieces to create a stick-style frame, around which a single shaped piece of fabric rests. These are usually a bit more time consuming to setup, but they can also have some of the biggest footprints our of any play tents.
Teepee Playhouses, inspired by mobile dwellings of the Native Americans, have become increasingly popular because of their chic style and easy-to-setup three (or four) pole construction. While they aren't as large as the other styles of play tent, they are great for tucking into playroom corners or even in the living room.
Fabric
When you are buying a play tent for your kid, most of what you are buying is just a big piece of fabric. After all, this is what forms the overall structure of the playhouse, and as such is one of the most important aspects that should be investigated prior to purchasing.
While tent materials have become a lot safer over the last few decades, there are still some products on the market that are made from toxic materials, or in some cases fabrics that have been treated with fire-retardant chemicals that have been shown to cause illness when ingested.
The best playhouses for kids no longer use such harsh chemicals, however synthetic fabrics are still the material of choice. This is because they are remarkably lightweight and inexpensive to produce. It is also possible to put these materials through a screen printer before being sewn into shape, allowing for the fun printed graphics and designs that you see on these tents.
Some of the teepee style play tents on our list have gone a different way, however, by making their tents out of 100% natural materials. Woven cotton and wool become canvas, a strong natural material that is not only more tear resistant than synthetic, but also lacks any of the artificial ingredients that can be found in other tents.
Graphics & Design
The incredible designs that are available on play tents these days put our old blanket forts to shame, but we are excited to be able to have such customizable prints to make our little ones happy. With everything from detailed space-scapes to magical kingdoms, tents are no longer just plain old shelter, but rather a fully immersive experience.
Castles, space ships, and princess' chambers are only a few examples of what is available in a realm of printed tents that we featured here.
Ventilation
If you are setting up your child's play tent outside, it is important to ensure that you are achieving an adequate level of ventilation, simply so it does not become too hot inside the tent. For this reason, most play tents have at least one window, though some have as many as five.
Big windows are a great way to keep everything cool, as well as give you as the parent a way to keep a casual eye on your kid's playtime without being to nosy about it.
Frequently Asked Questions (F.A.Q.)
Q: Are Kids' Play Tents Machine Washable?
A: Although there might be a few exceptions out there, we didn't find any kid's play tents that were fully machine washable. The biggest reason for this is that these tents are often sewn into shape with support poles on the inside of the fabric. This makes fitting them into a washing machine particularly difficult, not to mention the added danger of the poles ripping through the fabric.
Fortunately however they are quite easy to clean. In most cases all it takes is a bit of warm soapy water and a washcloth to remove any dirt or food stains that have accumulated over the course of playtime.
Q: Are These Tents Hard To Set Up?
A: The difficulty of setup varies significantly from product to product. The different styles of play tent are completely different in the way that they go together, so you can expect the assembly process to be different as well.
If you are worried about the difficulty of setup, be sure to check YouTube for official product videos, which quite often feature a segment on how to get the tent set up.
Conclusion: The Best Playhouses and Play Tents in 2020
If there is one thing we can relate to, it is the childlike-desire to become an astronaut and, quite literally, reach for the stars. For this reason we think that the ImpiriLux Rocket Ship Play Tent is most likely the one that is going to please the biggest number of children out there, no matter what their culture or gender. Quite simply, everybody can enjoy a good space adventure.
However we're not stopping there. We are presenting a special honor to the Original AirFort, the only inflatable play tent on our list. The real advantage here is having a play fort that can be simply rolled up when not in use. A simple, quiet box fan is all it takes to inflate it, making it one of the easiest options for portable playtime.