As more and more parents and teachers are waking up to the real importance of a science-based education, the demand for toys and activity kits that stimulate a sense of scientific curiosity has gone way up. The result is a market that seems to be flooded with great STEM (Science, Technology, Engineering, Math) based toys and tools.
Seeing as how 93% of STEM-based occupations have wages that are well above the national average, it is no wonder why so many parents, aunts, & uncles are surprising their little ones with scientific toys like microscopes.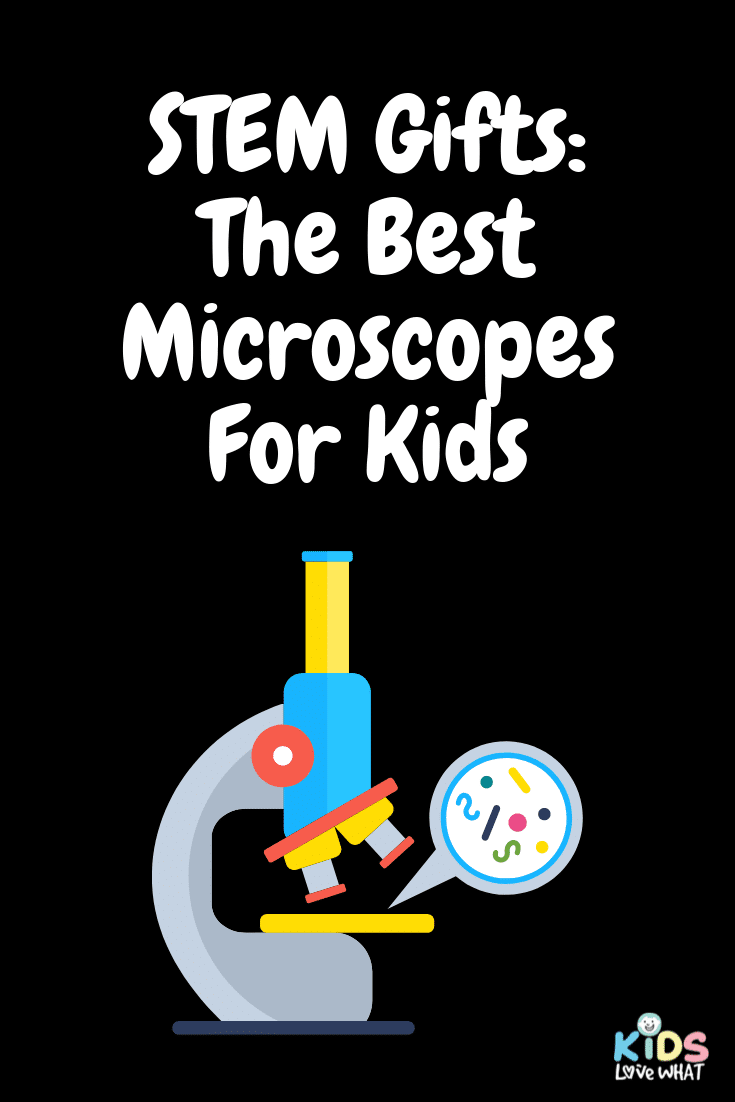 The best microscopes for kids are not just educational; they are also immediately engaging and surprisingly easy to operate. They range in technological capability from toddler-level simplicity to lab-level curiosity, so it is possible to find the perfect model for the specific kid that you have in mind.
We're counting down some of the best microscopes for kids in the middle to high school age range, as well as a few microscopes specifically designed for those who are just a bit younger.
5 Best Microscopes for Kids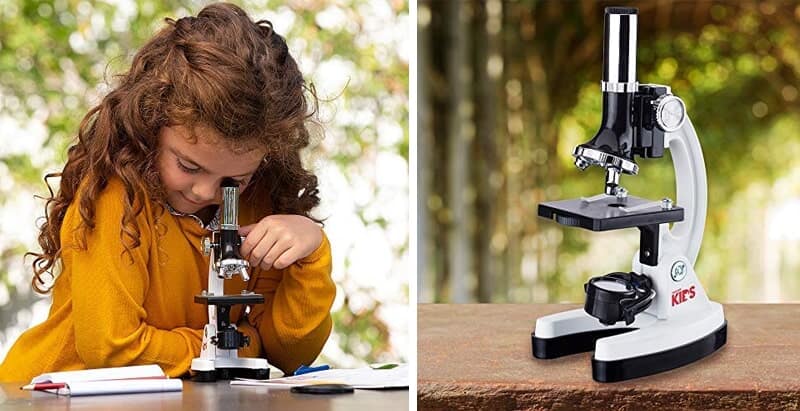 A great beginner microscope is one that is going to have a lot of features, accessories, and built-in activities to keep your child actively engaged for long enough to learn or experience something amazing. The AmScope Kid's Beginner Microscope has all of this and a lot more, and also happens to include one of the best microscope carrying microscope carrying kit out of all the products on our list.
The magnification levels are more than acceptable for an entry level kid's microscope. While the focus adjustment isn't as finely tuned as you would need for university study, it is more than adequate to see individual cells, and in some cases nuclei. When you pair this kind of performance with a staggering list of included accessories (think slides, cells, liquids, and other fun science stuff) what you have is a near-complete laboratory that will keep your kid's mind as sharp as a tack, even during summer vacation.
The AmScope Microscope also happens to be one of the most affordable science kits that we looked at. This means that they made some tradeoffs with construction materials and went with a cheaper plastic for the base. It's not quite as sturdy as steel by seems to get the job done.
Also, it would be nice to have gotten some instructions to go with all these accessories!
Critical Specifications:
Magnification Range: 120X-1200X
Accessories: 52-piece
What we love: Lots of parts, features, and accessories for a low price
What we don't: Doesn't come with detailed instructions or any kind of guide book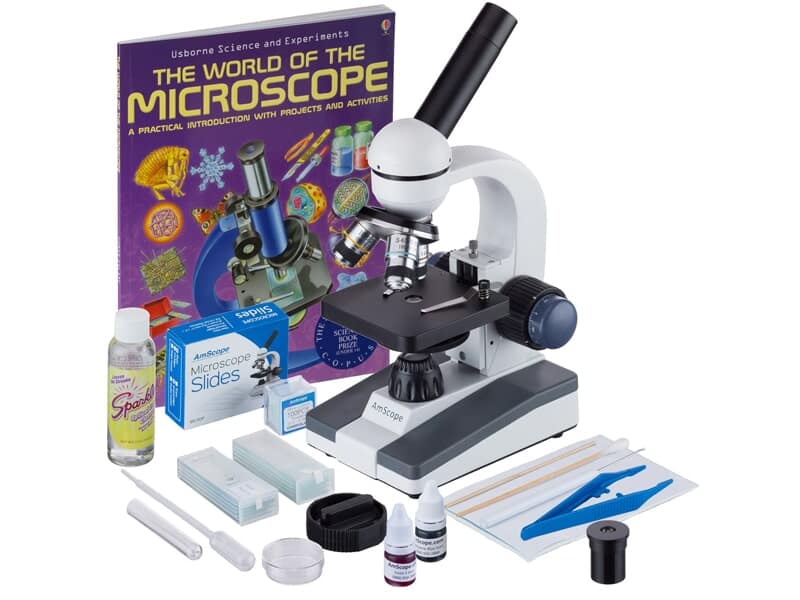 Everything we thought that was lacking from the AmScope Beginner Microscope Kit is present here, in the slight upgraded (and slightly more expensive) Portable Student Microscope Kit. This is a slightly larger microscope with more features, higher quality accessories, and what we think is one of the most easy-to-comprehend science guidebooks that we have seen this year.
The built-in LED bulb is one of the more significant design upgrades from the Beginner model, and provides a brighter and more constant light source that doesn't wiggle or move around when the microscope is bumped into.
This is a microscope that is more suited to an engaged or interested student in middle school or high school. It has clearer magnification and improved clarity over its predecessor, and the all-metal body is sure to stay strong over years of study.
The focus range is a little low for a study microscope; however with a little bit of patience it is possible to always achieve a decent image.
Critical Specifications:
Magnification Range: 40X, 100X, 250X, 400X, 1000X
Accessories: Slide Preparation Kit & Detailed Activity Book
What we love: A full-featured science kit with included educational guide & activity book
What we don't: Focus range is a little low, but acceptable for high school level study.
If you're looking to get your child into some educational STEM-based activities, then going with a product made by one of the most reputable scientific organizations on the planet is certainly not a bad way to go. The Dual LED Microscope Kit from National Geographic allows the user to observe the world from two different vantage points … micro and macro.
With two different lighting options (from above or from below) it is possible to examining everything from the nucleus of a cell to the visible contours of a cool rock you found. This dual-ability to view different sized objects makes this one of the coolest and most versatile science toys on our list.
The kit doesn't end with just the microscope. A 50-piece accessory kit includes everything your little scientist needs to run a complete brine shrimp experiment, as well as a detailed user guide and plenty of blank slides and covers to perform your own experiments and observations.
Critical Specifications:
Magnification Range: 20x, 50x
Accessories: 50-piece kit with slides, covers, a guidebook, and a complete brine shrimp experiment
What we love: Includes a complete, ready-to-go experiment right out of the box
What we don't: Not enough magnification for high-school level study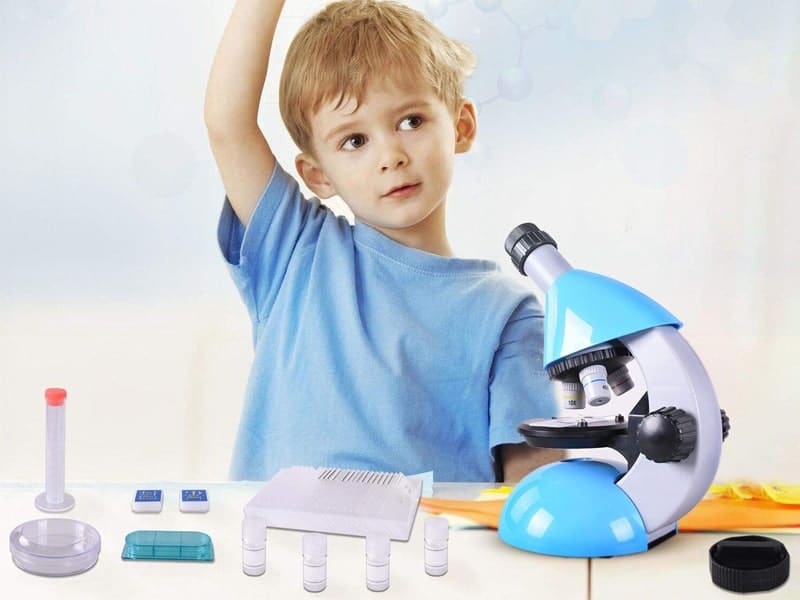 This is quite simply one of the coolest looing beginner level microscope for kids. With a light-blue chrome style finish and a sleek, compact construction, this is precisely the kind of stylish STEM toy that will grab your kid's attention and then hang on to it.
The rotatable microscopic head provides a pretty impressive number of different magnification settings, especially when you consider that this is one of the less expensive microscopes that we looked at.
While the Elecfly Microscope (manufactured by ECOOPRO) doesn't come with any pre-set activities or experiments, it does include an instructional manual that is simple enough for most kids of reading age to understand. In this way they should be able to craft their own experiments, as well as make new observations about the incredible world around them.
It is important to note again that this kit is set up to perform the classic brine shrimp observation experiment, however, the brine shrimp kit is not included and needs to be purchased separately. Fortunately it only costs a few bucks and you can likely get it in the same shipment.
Critical Specifications:
Magnification Range: 40x, 64x, 100x, 160x, 400x, 640x
Accessories: 50-piece science kit with slides, petri dish, dropper, and more
What we love: A stylish microscope for a good price
What we don't: Doesn't include any experiments or brine shrimp kit
While thus far we have seen an impressive collection of full-sized microscopes, the MicroBrite from Carson is small enough to fit in the young adventurer's pocket, ensuring that it is always ready for the next adventure or scientific outing. Any time your kid wants to take a closer look at the world around them, they can simply bust out this bad boy and have a look. What's more, the Carson MicroBrite is usually sold for less than ten bucks, which allows it to take the "Most Affordable Microscope" crown for the day.
Every Carson product is backed by their limited 1 year warranty, which will cover any defects in workmanship if you happen to find any. However, considering how well-received and reviewed Carson's other products are (telescopes, binoculars, etc.) we can safely assume that you are going to be covered for well longer than a year.
The lack of accessories and included experiments puts this microscope in a slightly different class … more of a stocking stuffer than a specialty present. But no matter who the recipient, you can rest assured that this little portable microscope will keep them busy for hours on end.
Critical Specifications:
Magnification Range: 20x, 40x
Accessories: 2x Specimen Slides
What we love: Very small, lightweight, & affordable
What we don't: Doesn't have great magnification due to the reduced size
Best Microscopes For Preschoolers & Early Elementary
Because of the small, breakable glass pieces that come with most student microscopes, they are often not appropriate for slightly younger children. Fortunately, it would be unfair to deprive your preschooler or elementary age student from enjoying the magic of scientific discovery.
The following is a brief look at a few microscopes that are specifically designed for a slightly younger audience.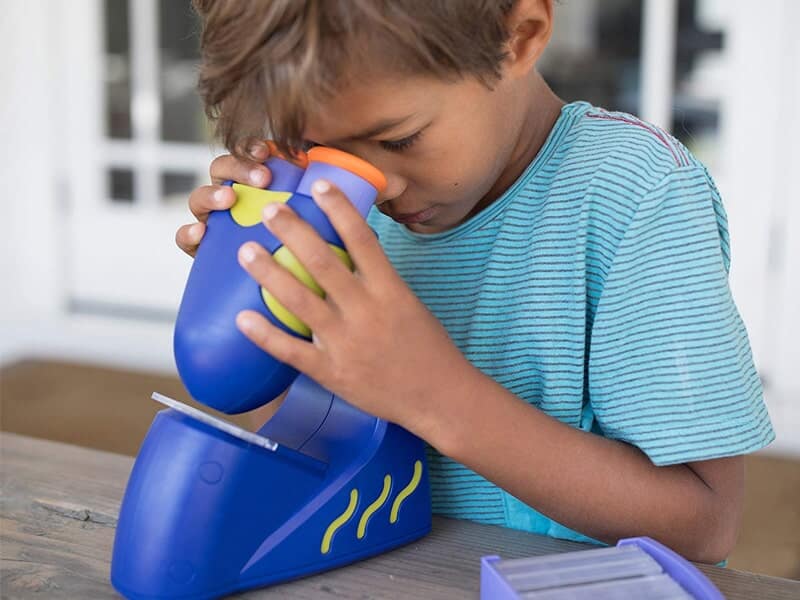 It seems like the younger kids are getting all the coolest toys these days. Here we have a microscope that is not only built with a bright, playful color scheme that kids will love, but it also features pre-loaded voice guidance from none other than Bindi Irwin, daughter of the late & legendary Steve Irwin. While this is sure to make a great gift for any elementary aged child, I can personally name a few adult professional scientists who wouldn't mind having a talking microscope.
Now with a mere 5x magnification, we obviously aren't looking at a real microscope in the literal sense of the word. Instead we have a microscope-inspired toy that teaches the joy of scientific observation through picture slides … small slides of plastic that mimic the real slides of traditional microscopes. While you can't actually see the interior of a cell, for instance, you can quite easily see a magnified image of one. This is the perfect way to introduce younger children to microscopes without all the expensive components that are usually required.
The built-in quiz mode is the favorite around our house, and will no doubt keep your kid glued to the scope for hours at a time.
Critical Specifications:
Magnification Range: 5x
Accessories: 20 slides with various facts and questions
What we love: A great way to introduce young children to the concept of a microscope
What we don't: Not technically a "real" microscope … more of a picture viewer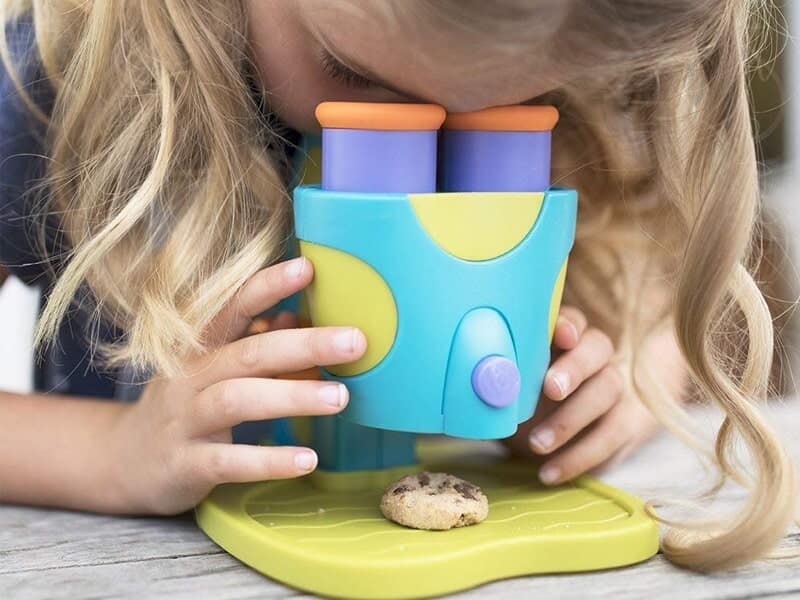 You might not realize it, but in the toy industry, awards are kind of a big deal. Toys and toy companies that take home the most prestigious prizes are sure to catch the eyes of parents worldwide, especially when these prizes are awarded specifically for how good they are for the child.
Check out some of the awards that the Geo Safari Jr. by Educational Insights has wrangled up since its release:
Parent's Choice Silver Award
Oppenheim Toy Portfolio Gold Seal
Toy of the Year – Finalist
So how exactly does a toy rise to the top of the charts, so to speak? The first step is by providing children with a valuable educational opportunity, usually in a way that makes it both exciting and engaging for them. The Geo Safari Junior does this by allowing children as young as 2 years old the opportunity to examine their world in a whole new way. A simple 8x magnification stand and battery powered light are the only real elements to this beautifully simple science toy. By placing any item on the viewing pad the child can have a closer look at the stuff that makes up their day to day world, whether it is a sample of soil from the playground or a bite of their lunch.
Critical Specifications:
Magnification Range: 8x
Accessories: None
What we love: A reliable, award-winning toy microscope to introduce kids to science
What we don't: Doesn't come with any slides, objects, or guidebooks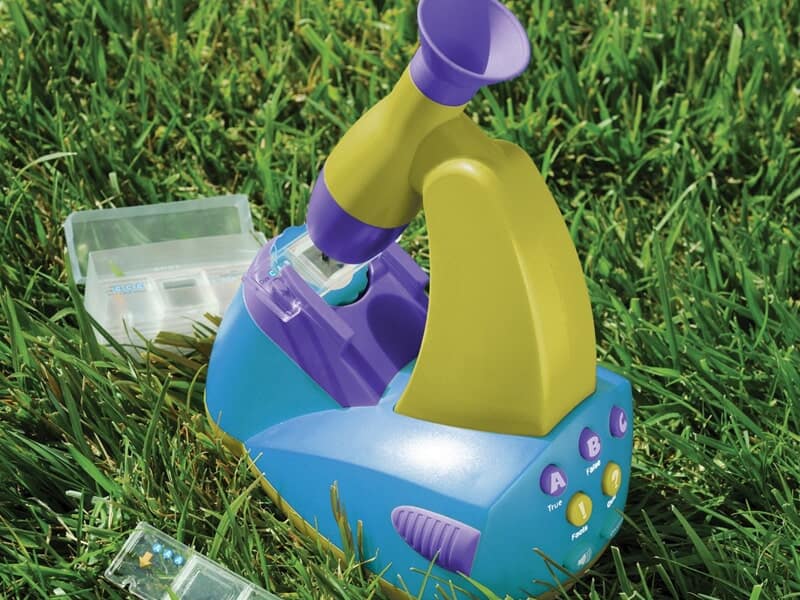 Like its proverbial little brother, the My First Telescope, the Geo Safari Jr. Original is intended to educate and excite even the youngest little scientists with bright colors, exciting activities, and simplistic operations. The biggest difference is that the Original (this model) also has a built-in talking feature that can tell you about some of the stuff you are looking at.
This microscope also comes with a pretty extensive accessory kit, the main part of which is a collection of 12 insertable slides that allow your kid to examine one of 12 bug images, up close and personal. While this does mean that you want to make sure the child in question actually likes bugs, it is also possible to get some additional slides from the manufacturer for even more exciting science discoveries.
This is another product that falls into the "picture viewer" category as opposed to a real microscope, but the kid that you are getting it for is likely not going to know the difference at that age. But who knows? Their imagination might light up for science, and they'll start asking you for something with a bit more magnification.
Critical Specifications:
Magnification Range: 5x
Accessories: 12x slides with real bugs for close up viewing
What we love: A well-designed talking microscope with 12 informative bug slides
What we don't: Not a "real microscope", just a picture viewer
Complete Buyer's Guide: How To Choose A Microscope For Kids
It goes without saying that all children are different, but there are a few things that seem to attract their universal attention. Activities that captivate, inspire, or make the world feel a little bit bigger tend to be popular with children from all educational and cultural backgrounds.
Introducing your child to the wonders and excitement of science is something you can do when they are actually quite young. The microscopes and toy microscopes that we looked at here represent only a fraction of what is available in the STEM-related toy industry, so it helps to know a little more about what you are looking for before you make a purchase.
What follows is a brief guide on how to shop for microscopes, and more specifically, how to find the perfect microscope for your own specific child.
Recommended Age Requirement
Every microscope that is intended for children is going to have a recommended age requirement. These are put in place to protect the child from certain unavoidable hazards, such as breakable components that are made of glass, or small pieces that could pose a choking hazard to children.
In the first section of our article, we took a look at 5 of the best microscopes for students, each one of them with different sets of features and accessories. In general, the microscopes listed in this section have some glass and metal components, as well as small moving parts that might be unsuitable for toddlers and younger elementary children. However, for the middle-school to high-school-aged kid, the microscopes listed here would make for an effective and exciting gift & study tool.
In the second section of our article, we provided three exemplary items that we feel are more appropriate for children who are perhaps too young to operate their own "real" microscope, or simply not interested enough to require something that is that expensive. The products in this category feature reduced magnification capability, and two of them only operate through the use of included slides with pre-loaded pictures in them. This makes them closer to a picture viewer in technicality than an actual microscope, but for the preschooler in your life, the difference is sure to go unnoticed.
Low Power vs. High Power ("Compound") Microscopes
While there can be a world of difference between one microscope and another, every model can be basically broken down into one of two helpful categories.
Low Power Microscopes are sometimes referred to as stereo microscopes and they can be utilized to take a close look at slightly large, opaque 3D objects like rocks and intricate jewelry. Stereo microscopes are often the ones that utilizes two separate light sources that blend together in the column to create a realistic 3D view.
High Power Microscopes are more formally known as compound microscopes, and are the traditional type of microscope that you will find in any science lab or high school classroom. Compound microscopes are designed to view samples that are translucent and can therefore be lit from the bottom, like cells and bacteria. Everything that you see from a compound microscope is prevented in a flat-plain view, as opposed to the 3D images that are possible with stereo microscopes.
Microscope Magnification
Since the whole point of a microscope is to magnify the world around us, it makes sense that the magnification range of any particular microscope is perhaps the most important element. While there is a lot that can go into how clear of an image you can achieve with your microscope, it is true that you are only going to see so much if you don't have adequate magnification.
The microscopes and toy microscopes on our list range from 5x magnification (ideal for toddler-aged toy microscopes and picture viewers) to a full 1000x, which is enough to see inside of cells and in some cases even see the nuclei.
Deciding how much magnification your kid actually needs isn't hard. You should start by examining what the microscope is being used for and then go from there.
Here is a brief guide to age level vs. magnification requirement:
Ages 1 to 3: No more than 10x magnification is required for this age level. The purpose of microscope toys for kids this young is to simply introduce them to the basic idea of a microscope and what kind of fun it can offer.
Ages 4 to 8: With a bit more cognitive capacity under their belts, children in this age range would be interested in seeing the world even more closely. There are quite a few microscopes for this age range that go as high a 100x, though it is important to note that the dedicated science student, no matter how young, might be interested in something more powerful as long as there is some adult supervision around.
Ages 9 and up: There is really no definite age level here, but at some point towards the beginning of middle school or end of elementary school, kids are likely to require further challenges to keep them engaged. This is a good time to upgrade to a microscope that can provide higher levels of magnification. The upper level here is usually around 1000x, though models like the AmScope Beginner Microscope can hit as high as 1200x.
Basic Accessories: Slides, Covers, & Samples
There is a wide degree of variation in what may or may not come included with your microscope, so it is important to thoroughly check the package or online product info before making a purchase. The last thing that you want is to end up with a microscope and no way to see anything with it!
If you are buying an optical microscope, that is to say, a "real" microscope that utilizes standard size slides, (see the AmScope Portable Student Microscope towards the top of the list to see what we're talking about) then you are going to want to make sure that it comes with some slides and covers so that your kid-scientist can get right to work collecting vibrant samples from the world around them.
But slides aren't the only thing that you could use on your next science adventure. Here is a list of some of the items that you can often find inside a microscope kit:
User Manual or Experiment Guide
Petri Dish
Dropper
Shrimp Experiment (hatchery, brine, & eggs)
Graduated cylinder
Collecting vials
Slide labels
Pre-prepared slides
Bottle
Tweezers
Batteries (AA or AAA)
LED bulb (not always included)
Microscope Illumination
You aren't going to be able to see very much without a significant addition of light, which is why the illumination function on any microscope is essential for prover viewing. The light source can be any number of different kind of light bulb, including LED, halogen, or fluorescent.
In recent years LED lights have become the standard for microscopes in this price range because of their brightness and ability to last for a very long time.
When you select a microscope for your kid, pay attention to these important bulb-related points:
How many bulbs it has – some of these microscopes use a single bulb, while others use two, one on top and one on the bottom. The number of bulbs will tell you how many backup bulbs you need to purchase.
What type of bulb it uses – LED is most common, but other types of bulbs are still being utilized by a number of scientific manufacturers. Because these bulbs are not always super cheap, you want to make sure that you know for certain what kind of bulb is required.
If any replacements come included – Some products come with a spare bulb or two. This is an excellent little bonus feature that can really add to the value of the product, so check the specifications to see what's inside the box.
Frequently Asked Questions (FAQ)
Q: Are microscopes safe for kids?
A: Generally speaking, microscopes are very safe products and do not have a whole lot of moving parts or sharp edges that can injure a child. Some of the more advanced models to have components made of glass, which means that if the microscope is dropped, some shattering might occur. This is why it is important to make sure that the microscope that you've selected is appropriate for the age of the child you have in mind.
It also helps a lot to make sure that the kid has some adult supervision during their experiments. It's a good way to see for yourself what kind of hazards exist, not to mention spend a bit of quality time with your little one.
Q: How are cheaper microscopes for kids different from the more expensive ones?
A: There are a few elements that will determine how much you end up paying for a particular microscope.
The first and most obvious element is the optical technology. Bigger, better lenses and lens housing costs a lot more to manufacture, as does the metal housing that is required to hold it firmly in place.
Brand name do doubt has a role to play in price modulation. Sometimes, buying a brand name means having the security of a limited warranty or satisfaction guarantee. Other times it means that you might be paying slightly more than you need to, just because of the brand.
Q: How much do I have to pay for a microscope for children?
A: The answer to this question is entirely dependent on which model you go with, and that is going to depend on what features you decide that you need for your kid.
The simplest microscope kits are the ones for younger preschoolers, and these are quite affordable in the $20 to $40 range. Slightly more advanced models (but still considered toys) are about $100, and scientific models still designed for kids top out at around $200. Above that mark and you are in the territory of real, "grown-up" microscopes.
The Verdict: What's The Best Microscope For Kids In 2023?
If you're looking for a STEM-based gift for the special kid in your life, a Microscope is absolutely the way to go. There is no limit to what can be explored by simply taking a closer look at it, and teaching your child about the value of the scientific process is absolutely invaluable.
For our money, the best microscope for kids in middle school or high school would be the AmScope Portable Student Microscope. It has the best magnification of any microscope on our list and is designed for a slightly more advanced study of the biological world.
The best microscope for preschoolers is the Geo Safari Jr. It is an affordable, durable, and colorful way to introduce your kid to the wonders of the microscopic world.