In the age of iPads and smartphones, it can be a difficult task making sure that your kid is being properly engaged. Video games, while a lot of fun, don't always provide the kind of intellectual stimuli that the growing brain requires.
The best science kits for kids are not only educational, but can be just as enthralling as the best video games out there. They also can provide the inspiration and foundation for a lifetime love of science, which can lead to more than just a hobby.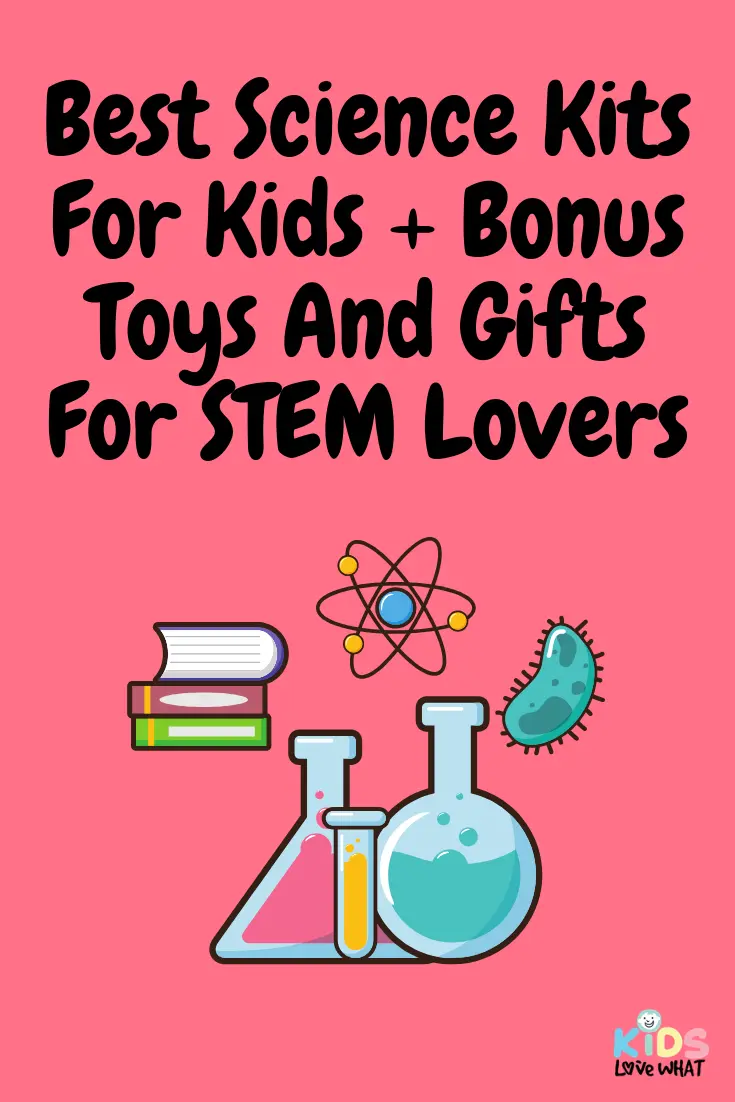 In fact, according to the Pew Research Center, STEM-related jobs have grown by a staggering 79% since 1990. That means that setting your child up for success with STEM skills is something that they may thank you for down the line.
The VERDICT: Best Science Kit for Kids in 2023
It's actually a lot easier to get a kid interested in science than an adult. As we grow up, our minds become more and more set in their ways, to the point where learning new things becomes something of a snore.
Kids, however, have beautiful little minds that act like sponges to the realities and mysteries of the world around them. The best science kits for kids are the ones that take advantage of this mental openness to instill not only a passion for science, but a dedication to scientific thinking and principles.
In terms of overall STEM value, we absolutely love the Big Bag of Science Works by BeAmazing! Toys. It has a lot of components to keep the kids busy and is super portable and easy to work with.
However, if your child is becoming more interested in science and you think that you'd like to encourage them further, the AmScope Beginner Microscope is a great way to help them along their scientific journey.
Buying Guide: How to Choose a Science Kit for your Kids
The 20 science kits for kids that we have reviewed here constitute only a small fraction of what is available on the market. In fact, the business of kids science toys is actually experiencing a big boom, which is a good thing for any parent concerned for their child's intellectual development.
The hard part is finding the right kit for your own child. We're taking a closer look at what exactly it takes to make a great science kit, and the things you should consider before you make your purchase.
Recommended Age Rating
With science experiment-based kits, it is very important to double check the recommended age for each product before you buy. The reasons for this are twofold.
Firstly, some young children should not be exposed to the small parts and chemicals that are often included. Because many things are hazardous to younger children, it becomes very important to keep certain things away from them.
Secondly, you don't want to go too far the other way, either. A child who is not challenged by their science experiments will likely not be engaged with them, the the chances that they abandon science altogether goes up.
Ages 3 to 6
Kids at this are more likely to be engaged by activities that grab their immediate and physical attention. They like to smell, hear, taste, and touch, so getting them a kit to go along with that is a good idea. Baking soda volcanoes and slime kits are both easy to enjoy and safe for even youngsters, and with adult supervision, some basic crystal experiments as well.
Ages 7 to 10
At this age, you're going to want to find a science kit that helps prepare your child for the science classes that they will most certainly be taking in middle school, high school, and beyond. Generally this means looking for experiment kits that teach things like the scientific method, or that have included educational workbooks that help explain the concepts behind the experiments themselves.
Ages 11 and up
When your kid reaches this age they might need some slightly more advanced projects in order to keep them engaged with the material. Things like electronic kits are a good option because they require increased hand coordination and dexterity, two things that are in development in the brain during these years.
Other Materials You'll Need
You should be advised that many of the science kits listed on our review do not come with 100% of the things needed to complete the experiments. For instance, many kits require common household items like baking soda, distilled water, cups & plates, or even lemons & potatoes to get the experiment done properly.
You don't want to wait until play day to find out that you're missing something important, so be sure to check the product specifications, and if available, the experiment handbook to see what it is that you'll be needing.
The Different Types of Science Kit
As you have probably picked up on by now, there are more than a few different areas of specialty that are available with science kits. Whether you're looking for an all-around science kit that has a bit of everything, or you need that perfect kit for the kid that knows exactly what they want, it helps to know a bit about what kind of experiments are available.
Geology
For the rock & mineral oriented youngster, there are a few different popular experiments that you can choose from. The most popular include crystal kits in which simple salts are blended with solutions to create a self-growing crystal formation. These are great for kids of all ages. And rock candy, of course, is delicious.
Astronomy
Our favorite astronomy science kit of the year is the Solar System Planetarium from 4M. It lets the kids build and decorate a scale model of the solar system, or, if they prefer, create an entirely new solar system of their own.
In addition, there are a lot of stargazing kits out there that teach about constellations, navigation, and more.
Biology
Children are natural born biologists. They have a built-in curiosity for all things slimy, creepy-crawly, and wild. A biology based science kit is a great way to stimulate and encourage your child's natural wonder for the world around them.
Butterfly kits, jar gardens, and simple aquariums are a great place to start, though be mindful if you are ordering any live insects through the postal system … they often times do not survive extreme temperatures.
Chemistry
You'll be hard pressed to find a young boy or girl who isn't interested in seeing explosions, and that (to a safe extent) is what you get through the magic of chemistry. Everything from foaming volcanoes to fizzy rocket launchers are available to teach about simple chemical principles and reactions.
For the slightly more advanced youngster, a beginner's microscope is a heck of a gift indeed.
Frequently Asked Questions (FAQ)
Q: What is a good age to introduce children to science?
A: It is never too young to start teaching your child about science! While there are certain experiments and toys that are not appropriate for very young children or infants, there are products designed especially for this age range that do not feature swallowing hazards or anything like that.
Q: What's a good science kit that both boys and girls will like?
A: It used to be common thought that what would be popular with boys would not be popular with girls, and vice versa. However, this mode of thinking has become outdated, and it is likely the reason that girls have been less interested in pursuing STEM-related careers for so long.
In fact, in most studies on the subject, girls performed as well or better than their male counterparts in math & science, despite the discrepancy.
Q: Can kids use these science kits without adult supervision?
A: While some of these experiments and kits are much simpler than others, it is always best practice to review the experiments and materials yourself before allowing your child to perform them unobserved.
Generally speaking, these kits are made to be as safe as possible and rarely have any toxic or dangerous chemicals. Still, kids can be kids, and they can make a mess of just about anything if you're not paying attention.