Kids love robots. That's just one of those age-old axioms that is sure to endure through the centuries. Maybe it's because robots represent a whole universe of opportunity. Kids, after all, are dreamers more than anything else, and following a robot off on an intergalactic adventure might be about the coolest thing ever.
But that's not all that robots can be for children. The best robot toys can also be excellent educators, helping our kids develop the skills, know-how, and most importantly, imagination to solve the kinds of complex creative problems that they will be facing throughout their lives.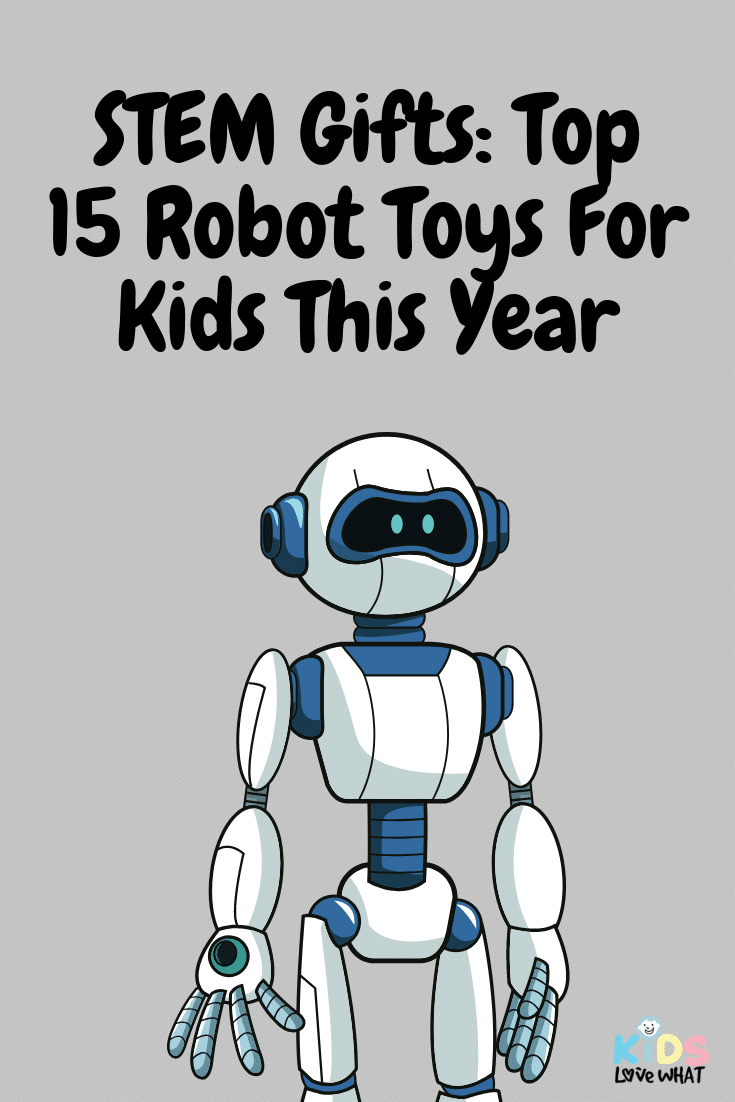 The newest fleet of robo-companions are also programmable and feature computer and smart phone integration, offering your youngster with an effective introduction to computer coding. And believe us, if you want your kid to grow up and buy a beach house for you one day, you're going to want to get them into coding and programming ASAP.
Today, we're having a look at 15 of the Best Robot Toys for Kids, breaking it down by unique features and qualities. Afterwards we've got a bonus buyers guide that can help you through the robot buying process, so be sure to stick around.
The Best Toy Robots For Kids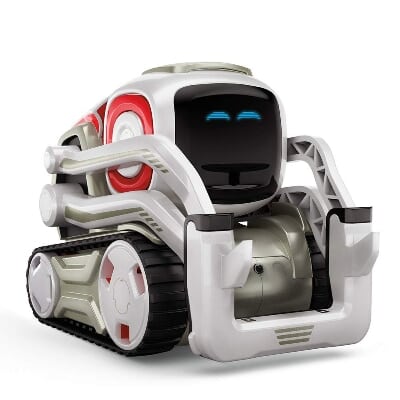 How cute is this little fella? ANKI COZMO, the newest addition to the robot family from Anki, is a real-life robot with personality and intelligence like you have only ever seen in the movies. He's a pretty small little dude, but he is packed with programming that facilitates all sorts of games and challenges that are sure to keep his owner engaged. The Anki system also utilizes a remarkably simplistic software platform, which provides both youths and adults with an easy introduction to computer coding.
The best feature though is Explorer Mode, in which you can see and record things from Cozmo's perspective. Cozmo might look like a frail little friend, but in truth he is built pretty strong, and is likely to be one of the most durable sidekicks you have ever had. Available colors include the classic red & white combo or limited edition interstellar blue.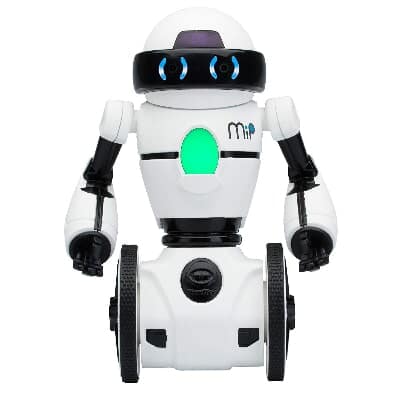 There is a reason that MiP, the newest robot from the engineers over at WowWee, has quickly become one of the top selling robot companions on the internet. With a unite 2-wheel balance system and interior programming that will make your eyes go wide, MiP is as surprising as he is stylish.
One of the coolest things we see here is MiP's gesture-based control system. Because he is actually seeing you with his digital eyes, MiP can register different hand gestures from us humans and respond to them appropriately. Not only does this make him more lifelike, but it expands the programming opportunities that are already quite considerable.
There are four different operation modes here, which include Roam, Dance, Stacking, and Programming, the last of which is based on your own coding input. So MiP is not only an entertaining companion, but an educational one at that!

If you're looking for a toy robot that isn't just fun and games, but rather provides some serious educational opportunities in an exciting way, then look no further than DASH. This is a robotic companion that comes with a lot more than meets the eye.
In what they're calling an open ended learning platform, DASH and the various applications and programs that come along with it are totally upgradeable, programmable, and connectable. These little robots are so effective at teaching beginning coding principles to young ones that it is actually used on over 20,000 schools across the world and that number is increasing rapidly.
A nice little bonus here is that every DASH unit comes fully charged right out of the box, pre-loaded with a series of simple programs and activities that you can get started with immediately, as opposed to some electronic toys that take a lifetime to set up.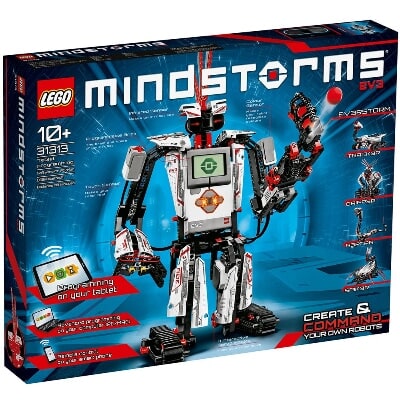 There aren't a whole lot of companies that have as much experience creating engaging toys for kids than LEGO. Since the beginning, their play blocks have encouraged children to rely on their own imaginative powers of creation as opposed to the narrow guidelines provided by some other build kits and video games.
It feels natural for LEGO to move into the programmable robot arena. Their MINDSTORMS series of toys has been entertaining children for over two decades, but only recently has it gone robotic.
The EV3 31313 Robot Kit is a code-teaching STEM companion. It includes plans for about 17 different robotic designs, though really the sky is the limit in terms of what your kid will be able to make with it. It's also worth mentioning that all of the Mindstorms series of toys are fully compatible with Lego's classic building bricks, so the possibilities really are endless.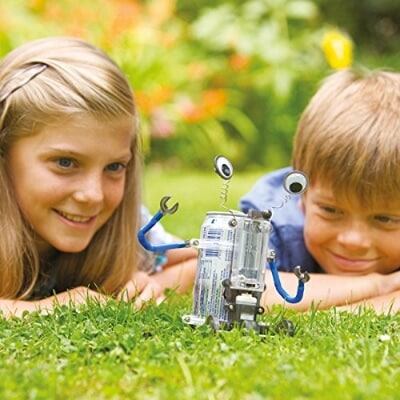 It's hard not to have a chuckle just looking at this little tin can robot. Though it doesn't come close to some of the other robots on this list in terms of programming capabilities, but it also costs less that your lunch likely did.
The real purpose behind the Tin Can Robot is to raise awareness about recycling. Even right on the front of the packaging is important facts about aluminum can recycling, and the simple activity of turning a used soda can into a robot is an enlightening experience for the young eco-focused robo-kid.
All it takes to operate is the kit, a Phillips head screwdriver, and a single AA battery. The assembly is a piece of cake, but nonetheless is an educational experience and one that the child is not likely to forget. At this price point, the Tin Can Robot is a great idea for stocking stuffers for every child in your family.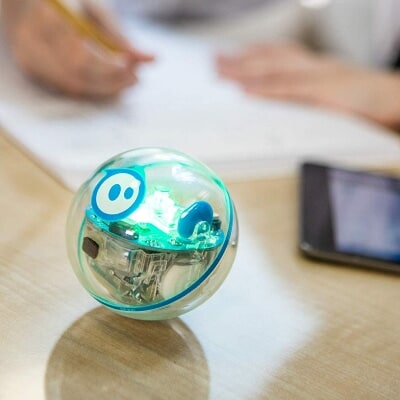 Unlike the highly anthropomorphic robots on this list, the SPHERO App-Enabled Robot is just a simple gyroscopic sphere … no more complicated looking than your average toy ball. Except this toy ball has got something special on the inside: a totally programmable top-of-the-line robot brain that can do all sorts of fun things.
Take SpheroEDU for instance. It's an app that is approachable for just about every skill level, and it is designed so that beginners can use it just as easily as intermediate users or advanced users. The more you play with it, the more you will learn about programming, which makes this one of the most user-friendly STEM gifts of the year.
While this robot comes pretty much assembled and ready to roll (unlike some of the more complicated kits we looked at above) it's actually nice to have something that is just ready to go for a change. It does take a few minutes to download the app and pair it with your phone, but once you do, it works great.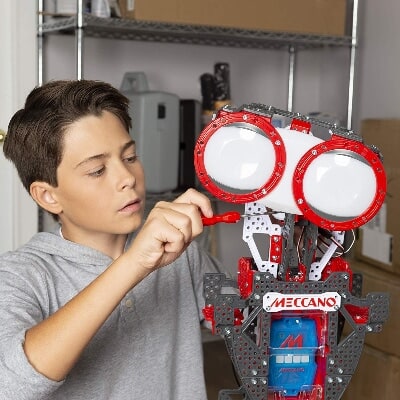 While Legos have long dominated the age 3 to 8 age range, there comes a time in every child's life when they might become more interested in the actual mechanics of learning. They want to build more complicated things … things with moving parts and things that are dynamic and cool.
ERECTOR sets aren't new on the scene by any means, but their new MECCANOID personal robot kit is one of the best ways to continue to encourage your child's passion for building by providing them with something that is a bit more challenging.
MECCANOID stands a full 4 feet tall after construction is completed, making it the largest robot on our list and certainly the only one that we would call "life sized". Its coolest feature is probably the voice recognition system, but any kid is going to be delighted by a robot that has a whopping ten different motors for movement.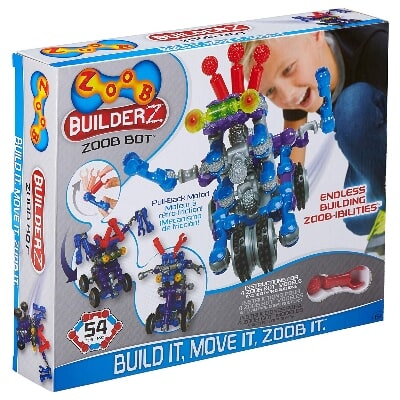 So far we have looked at some robot kits that are slightly more advanced, and geared towards a 10 years and older age range. The ZOOB BuilderZ Bot on the other hand, is the perfect beginning robotics kit for children as young as six years of age. It works like a lot of robot building kits in that you are given a whole bunch of pieces that you can snap together in different arrangements around a central motor.
The actual motor is quite simple. Instead of operating on batteries it is a simple pull-back motor which drives a set of wheels. Those wheels can also be made into gears, allowing for the motion of robot limbs and big robot antennae.
This is one of the most affordable robots on our list, and as such, we highly recommend it as party favors for birthday parties or holidays, as kids can match their ZOOB bots against one another and battle for ultimate victory.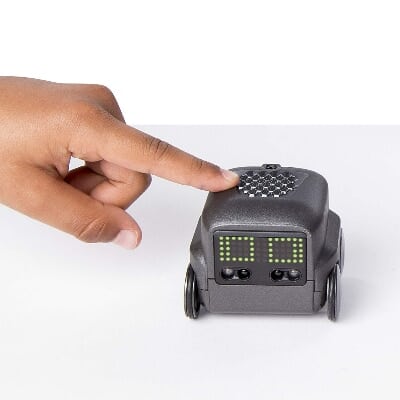 Some robots are just bells and whistles, with a bunch of extra features that you r child won't likely use anyway. BOXER is just the opposite. This little robot buddy has a heck of a lot of personality, and you'll know it from the moment you switch him on. 10 different games come preloaded on Boxer's hard drive, including things like Bot Bowling and Paddle Bot.
There are a number of different ways to play with Boxer. He comes equipped with motion and touch sensors so you can use hand motions to play games. Or, use the included remote control to take the wheels and race Boxer around the room.
The included ball accessory is a lot of fun for Boxer, probably because it's directly linked to the little robot. This makes playing games with him a lot of fun. It's true that it's one of the simpler robots out there, but we dare you to pick one up and not fall in love with the guy.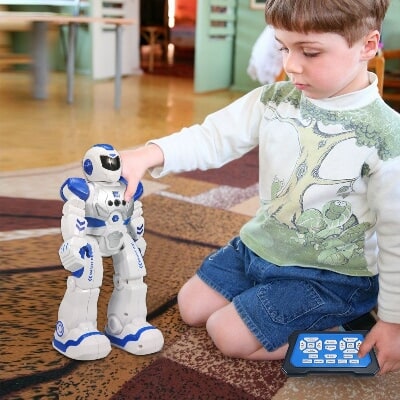 Here's another great starter-level robot for ages six and up. This RC SMART ROBOT comes with an infrared remote control that can direct it's movement, or alternatively, kids can use the built-in hand sensors for a controller-free playtime. By that we mean singing, dancing, and sliding, all in a way that is delightfully funny and totally engaging.
The fact that the RC SMART ROBOT is totally rechargeable via USB means that you are going to save a lot of money on batteries in the long haul. It doesn't have a greatest battery life, but the fact that you can simply plug it into any nearby power strip means that you won't have to spend very long without him.

Everyone's favorite little intergalactic robot sidekick is back in a slightly miniaturized form. No longer out saving the galaxy, R2D2 is ready to settle down into your child's life and provide countless hours of entertainment, education, and companionship.
R2's motions and gestures are surprisingly life like, and by that we mean they look just like they do in the movies. Speaking of the movies, this R2 unit makes the best companion for watching Star Wars films. In fact, if you set him down in front of a Star Wars movie, he will watch right along with you and react at all the best parts. He especially likes seeing himself up on the screen.
Another built in thing that Star Wars fans are going to like is R2's holographic simulations which he will beam right to your phone or tablet as long as you are in range.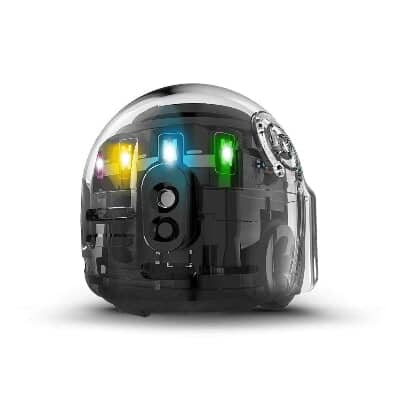 A great introduction into the world of robots can be found through the EVO App-Connected Coding Robot. With a lot of potential and character enough to match your own mood, this little one will quickly become your kid's favorite toy.
App connectivity is pretty much a standard on these kind of robots now days, but the OxoBlockly program that EVO uses is one of the easiest and most kid-friendly code-teaching programs that we have seen.
One unique feature that we haven't seen on any other robots is the ability to program EVO using colored strips, meaning that it's still possible to play with this robot without having to use your screen. Because let's face it, we're all probably getting too much screen time as it is.

The Robo Explorer is one of the most charming electronic companions that we have ever met, if for no other reason than how simple it is to build and how fun it is to operate. Unlike a lot of the robots on our list, Lego's Robo Explorer doesn't have much in terms in inner circuitry or motor systems. In fact, the only electronic element is a pair of special light-up bricks. This means that this is one of the more accessible robot kits for kids, and is appropriate for youngsters that are five years and older.
Not a fan of the classic robot look? Robo Explorer has three different guided build styles. Not only can you make the robot shape pictures above, but you can also choose from a dog with a light up jetpack or a bird with light up eyes. Or, strike off into the depths of your imagination and make something entirely form your head. Either way, Robo Explorer is going to provide endless hours of creative entertainment.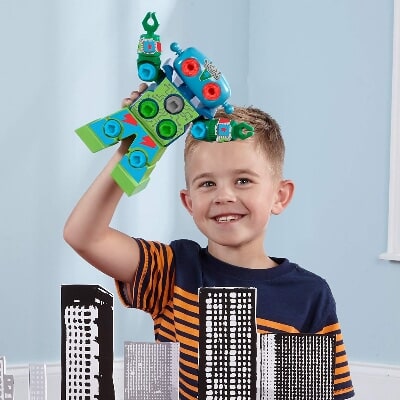 Sometimes it can be difficult finding STEM-focused toys that are geared to a younger audience. And by that we mean too young to get into the programmable aspects of the robot kits that we looked at above. The DESIGN & DRILL Robot is appropriate for children as young as 4, and introduces valuable STEM-related education through the introduction of tools.
Your kid will be able to snap this robot together from its multiple pieces, then tighten everything down using the included screwdriver and screw set. The idea is to encourage an interest in science and engineering, and we can only imagine that this would be an incredibly effective way to do it.
At just under ten bucks, it also happens to be one of the best values on the toy market.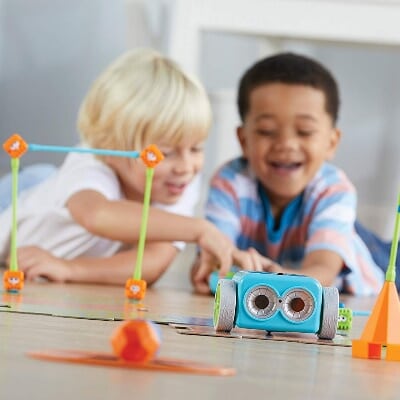 When shopping for a new toy for your kiddo, it certainly wouldn't hurt to start this winter with a robot that recently won Innovative Toy of the Year Award. BOTLEY the Coding Robot is one of the most well-made introductory toy robots in its class, and since its release earlier in the year it has made friends with hundreds of thousands of kids across the country.
Screen-Free programming means that everything you need to control your new robot is right there in the package, no apps, phones, or tablets required. BOTLEY also has built-in smart logic that gives him the ability to follow commands, detect and avoid objects, and follow black –line paths.
A 77 piece activity set is what really makes this robot worth its weight in robot parts. This includes everything that your kid needs to make an obstacle course to try and challenge BOTLEY. But don't get too cocky … this little robo-buddy might be a lot smarter than he looks!
Why Your Kid Should Have a Robot – The Benefits of STEM-Centered Toys
Everyone knows that kids and robots go well together. There is something inherent in the idea of a self-created machine that can also act as a friend that has always drawn children to them. They are imagination machines, and as such, they are exactly what a kid needs to prepare for success in the modern world.

That's because these robots and robot kits are what you would call STEM-related toys. STEM stands for Science, Technology, Engineering, and Math. These collective disciplines represent an ideal rounded education for the modern child … a sort of shared goal for how we want to educate our children in the face of changing economies and industries.

Many of the robots on our list are fully programmable. While they vary greatly is just how this programming is done (most of these robots have their own apps that need to be downloaded) they all have one thing in common. This is the ability to act as more than just a buddy, but also an educator, encouraging interest in not only robotics, but science in general.

Robot kits aren't just a lot of fun. They can also teach things like:

Hand-eye coordination
Dexterity
Computer coding

So if your kid asks you for a robot, no need to worry that it's too 'nerdy' a thing to get for them. Turns out that for this new generation of curious, strong-minded children, science is in, and there is no better time to start them on it than right now.
What to Look For in Robot Toys for Kids – A Buyer's Guide
We brought together a mere 15 of the best robot toys, but no doubt there are hundreds of other products out there. How are we supposed to choose the robot that will be the right companion for our kids?

Robot toys come in a lot of styles and shapes these days, ranging from advanced, fully programmable kits to much simpler robot-shaped figurines that are more appropriate for the younger kiddos. There are a number of factors that you can consider to determine which is going to be best for your own kid, or whichever youngster you have in mind.
Construction Material
Generally, most kids toys are made from plastic, and a lot of these robots are not exceptions. After all, it is a cheap material that is easy to mold, and generally quite safe. But the fancier kits you buy, the more likely that you are getting into the metal territory. While metal robot kits are by no means the norm, they can sometimes indicate a superior (read = more expensive) toy.

Aluminum is a common material used in the robot toys of yesteryear, but you probably won't be seeing it much around these days.

Polycarbonate is another choice in the more high-end robot toys, but plastic is still far more common.
Programming Functions
The real benefit of getting a STEM-geared toy for your kid is that it also serves as an educational instrument. Many of these robots can actually teach computer programming, which is perhaps one of the most valuable skills that they can get for the world to come.

Not convinced? Find out why Fast Company called Coding "The Most Important Job Skill of the Future."

The robot toys and robot kits that appear on our list have widely different programming languages and apps, so it's important to know what you're getting into before you purchase.

App Connectivity is one of the most popular venues for robot programming. Toys with this feature will utilize a proprietary app that allows the user to both control and program the robot from the screen of a smartphone or tablet. This is considered one of the most effective ways to teach computer coding to young ones, and in fact there are several apps that are designed specifically for this purpose.

Remote Programming is a far simpler form of coding, but effective nonetheless and teaching your youngster about the basics of programming. Usually this involves a remote control that looks something like a video game controller. The controller has a bunch of buttons that correspond to different movements, and the order in which these buttons are pressed will determine how the robot moves and operates.

Generally speaking, remote controlled robots are designed for slightly younger children who might not be ready for the intellectual challenges of on-screen computer programming.

Analog Programming is perhaps the rarest kind of coding that you will see on toy robots these days, but very steadily it is becoming more popular. The basic gist of it is that a robot can use light sensors to follow shapes and colors. For instance, BOTLEY the Robot from Learning Resources can follow direct black line paths, which is a very simple yet effective form of programming.
Conclusion: The Best Robot Toy For Kids In 2023
Unfortunately, the only way to come to an agreement on what is actually the best robot toy of the year would be to let me play with each and every one of them for as long as it took to get a solid idea of who each robot was on the inside. Because, you know, character counts.

Unfortunately the job of robot toy tester does not yet exist in a fully-paid form, so for now we're going to have to offer you our team's suggestions based off a few broad categories.

For us nostalgic folk, the R2D2 App-Enabled Droid is one of the coolest toys we've seen, and not just because we wish that we had that kind of toy when we were young. It happens to be one of the most well-designed companion robots with an array of features and abilities that you would not expect from its size and price.

However, if your child is a bit younger, the Design & Drill Robot from Educational Insights is probably a better call. It uses pretend tools and screws to give the kid a sense that he or she is building the whole thing from scratch, which is an intentional feature to teach kids about how fun engineering can be.
Frequently Asked Questions (FAQ)
Q: Are Robot Toys dangerous in any way?

A: While certain dangers exist in all electronic toys, none of the robot kits listed on our guide has any significant hazards. After all, these toys have been designed for children, and as such have been exposed to rigorous safety testing.

However, if you are concerned that you have purchased a toy that might be beyond the recommended age limit of your child, simply stick around and supervise how they play with it and see what dangers you might notice.

Q: How old does my kid have to be to start learning computer programming?

A: You know, this kind of all depends on the child. There are big differences in how one child's mind develops versus another child, so the most important thing it so pay attention to how your child is progressing and try to anticipate when it's time to add a new level of challenge and/or difficulty to their play routine.

Q: How worried should I be about the oncoming Robot Uprising?

A: While there is a lot of negative press out there about how the Robots are going to rise up and cause the extinction of all humans, we can assure you that this kind of rhetoric is not just exaggerated; it's actually a bunch of hogwash.

Robots, and their tiny robot toy counterparts, are not harbingers of doom and destruction like the movies will have you believe. They are actually quite nice once you get to know them. In fact, most robots would be happy to teach the children of planet Earth about the joys of computer programming, so if anything, we should welcome them into our homes with open arms.

Chances are, the next robot toy that you bring into your house is going to start to feel more like a family member than an artificial life form.