Of all the wonderful types of toys that we have the pleasure of reviewing, there are none that have been around quite so long as the classic dollhouse. In fact, the oldest dollhouse ever found can be traced all the way back to ancient Egypt if you can believe it.
So why have dollhouses remained so popular among children over the millennia? Maybe it is because they provide an unrestrained mode of play without rules or boundaries … a place where the imagination runs free. Or perhaps it is because children are drawn to activities that naturally develop their cognitive & social abilities.
No matter what the reason, the best dollhouses are loved by children all the world over. In celebration of the fact, we have prepared a guided real estate tour through the best wooden dollhouses of 2023, comparing this years top models by floor plan, construction, and ease of assembly.
Afterwards we're going to tell you everything you need to know about how to choose a wooden dollhouse for your child, so stick around!

We're kicking things off with one of the biggest, most full-featured wooden dollhouses on the market. The Majestic Mansion Dollhouse is not only made from sustainable materials and constructed in the USA, but it also has more rooms, more furniture, and a couple of features that you simply aren't going to find anywhere else.
Take the functional sliding elevator for instance, or the swinging garage doors. Multiple viewing angles give greater sense of realism, and a complete set of accessories (34 pieces in total) means that there is no upper limit to how big their imagination can get.
Wood composite construction is something of a double bonus. Not only is it more sustainable than oil-based plastics, but it is also sturdier, and chances are that it is going to last a lot longer. This means that the KidKraft Majestic Mansion might be in your household for a lot longer than you think, growing with your children and becoming something of a family keepsake.
This is a huge dollhouse … in fact we were somewhat surprised by just how big it turned out to be. It's almost 5 feet high! With this much size and scale it is perhaps no surprise that it takes a couple of hours to setup. The instructions could be a bit more helpful in this department, but once you get it assembled it stays together wonderfully.
What We Love: A massive doll mansion with 8 rooms and 34 pieces of furniture and accessories
What We Don't: Expect assembly to take a few hours (but know that it is worth it!)

We've always been big fans of the toys made by Melissa & Doug, a company that has firmly established itself as a reliable producer of wooden toys for children. Their products are sustainable, durable, and completely non-toxic, which makes them one of the top choices for parents that are gearing up for the holiday season.
The Modern Wooden Dollhouse by Melissa & Doug continues their tradition of quality craftsmanship. This is a dollhouse that isn't going anywhere anytime soon, and in fact is likely to be passed down in your family for many years to come.
While not as colorful or as flashy as some of the deluxe dollhouses on our list, this one still manages to be a simply great toy for encouraging creativity and imagination in your child. A 19 piece accessory kit includes tables, chairs, couches, and things like that, but you aren't going to see as many bells and whistles here. This is more about good old fashioned imagination time, and Melissa & Doug know full well that all imagination takes is a little push.
The fact that all the pieces come in solid wood means that you and your child have the opportunity to paint them, as well as the walls and exterior, any colors that you would like! The flip side of this is that it can take days to get everything completely painted.
What We Love: Solid wood construction is non-toxic, sustainable, and durable
What We Don't: All the pieces come as raw wood, so some tedious painting is required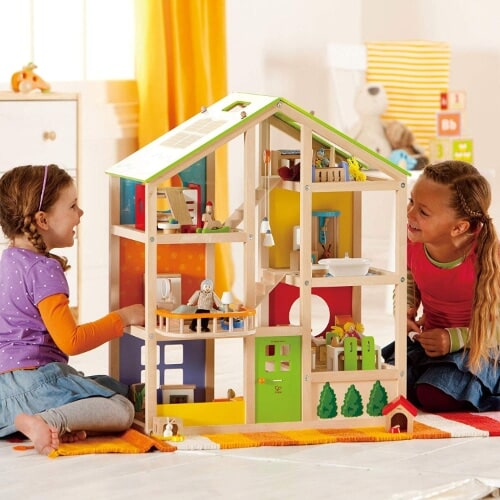 Although it is a bit smaller than the dollhouses we have looked at so far, the Hape All Seasons Wooden Dollhouse manages to set itself apart from the competition by offering a full 360 degrees of viewing and playing access. By leaving most of the exterior walls open, Hape has manages to create one of the first dollhouses that can truly be played with by a circle of children, such as a group of girls enjoying a sleepover party.
What we love most about the Hape dollhouse is the furnishings. They're more detailed than the ones you will find in the Melissa & Doug dollhouse, and yet a bit more modern & aesthetically pleasing than the ones you will find in the KidKraft dollhouse.
The house itself is pretty cool, and a good deal more gender-neutral than some of the entries on our list. This makes it a good option for boys and girls alike, especially if they are going to be playing together.
We should go ahead and mention that the Hape All Seasons Wooden Dollhouse is also the recipient of the 2001 Oppenheim Toy Portfolio Platinum Seal Award. These awards only go to toys that present an original and cost-effective way to encourage healthy playtime in children while offering educational value and access to cognitive development.
What We Love: A modern-style dollhouse that is great for both girls and boys alike
What We Don't: It's made with thinner wood than its closest competitors

The Hi-Rise Wooden Dollhouse is Melissa & Doug's second entry into the marketplace and it offers many of the same fun features that can be found in their Multi Level Dollhouse (scroll up to read our review). However there are a few key differences that set these two dollhouses apart, even though they are from the same company.
For one, the Hi-Rise is bigger in just about every way. It is almost 3 feet in height, which seems to be perfect for the growing toddler or youngster. Secondly, it utilizes a lot more open walls than the Multi-Level, giving your kids even easier access to every room in the house. This is a feature that we like more and more these days, as opposed to the original design of dollhouses which features an entire side of the house being closed up.
Another difference is going to be in the thickness and color of the wood. Unlike the Multi-Level Dollhouse, the Hi-Rise comes with lots of pre-colored and "wallpapered" segments, meaning that it is much more ready-to-go after assembly is complete. Speaking of which, assembly is some degree easier than it is with the other model, with more of the elements sliding into one another without too much effort. Still, expect it to take at least an afternoon.
What We Love: Great access to all rooms … no painting required
What We Don't: Not as sturdy as the Multi-Level Dollhouse from the same company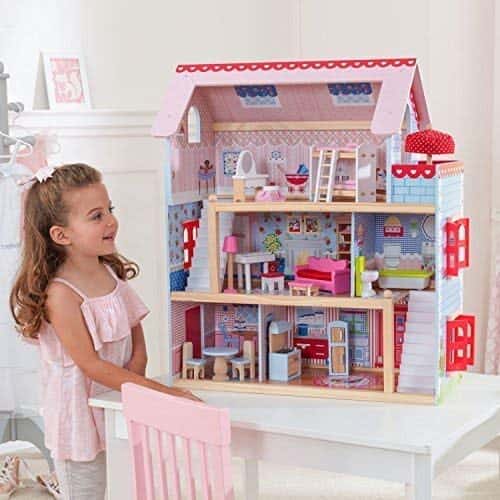 While not as big or comprehensive as the Magic Mansion (also by KidKraft), the Chelsea Doll Cottage is still one of the brightest and most exciting dollhouses on the market. Each room features its one unique design and color scheme, and all of the furniture is brightly painted and easily movable.
The reduced size might actually be a benefit here, as the Chelsea Cottage is small enough to tuck into the corner of a playroom and not be in the way. The biggest dollhouses that you can get are actually quite humongous, to the point where you almost need an entire room dedicated to them. The Chelsea however is compact and somewhat narrow, making it the perfect easily-storable play house.
It is true that the composite wood construction is not as thick as it is on the other dollhouses that we reviewed. While still sturdy, the Chelsea will not be able to stand up to nearly as much wear & tear as, say, the Multi-Level Dollhouse by Melissa & Doug. Still, it is a lot sturdier than the plastic Barbie houses that you see all over the place.
It's worth mentioning that this is one of the most affordable dollhouses that we looked at. When it comes to real wood dollhouses, they can get real expensive real fast. This one is about half of the average price.
What We Love: A more compact dollhouse that costs about half as much as others
What We Don't: Thinner composite wood materials are not as sturdy

This is one of the only dollhouses that we encountered that came with its own figurines. This is a nice touch because it means that the dolls are going to be the right size for the house, instead of having to guess which dollhouse is going to suit the dolls that your kid already has.
As for the design, the Pidoko Skylar Dollhouse is very similar to its competition. The open access walls have been becoming more and more popular in recent years, so it is no surprise to see them being utilized here. The furniture and accessories are certainly a bit skimpier with this kit, but the inclusion of the doll figurines more than makes up for it.
A unique feature that Pidoko has that we have not seen much elsewhere is movable stairs. The staircase pieces can simply rest between one floor and another, allowing the child to slide them back and forth as they please, giving them ultimate control over the floor plan and design. After all, that kind of control is the real draw of a dollhouse, is it not?
We should mention that a lot of users have reported receiving bad screws and slightly misaligned holes, so we recommend putting this together well in advance of that holiday or birthday so you have time to get replacement parts if needed.
What We Love: Comes with its own doll figurines, including a little dog!
What We Don't: Some of the pieces don't fit together easily when assembling

Leave it to Melissa & Doug to create one of the most detail-oriented dollhouse kits, with meticulously designed exterior details and some of the coolest interior flooring patterns that we have ever seen in a kids' dollhouse. The Victorian style is proudly on display here, making this one of the most unique kits on our list. It would make an especially great gift for the doll lover who is looking to upgrade from their "entry-level" dollhouse into something a little nicer. (I'm sure home owning parents can relate to the idea).
You know what we really like about these Melissa & Doug dollhouses? They not only come with a detailed instruction booklet, but you can also access an online instructional video that takes you through the process step-by-step. We can't stress enough how much time this saves when trying to assemble a dollhouse as intricately detailed as the Wooden Victorian.
Anyone interested in the Victorian should know that while you are getting a great dollhouse, the kit doesn't come with any furniture or accessories. This is another reason why the Victorian would be a great gift idea for the kid who already has a bunch of doll stuff, or, alternatively, you can just get some accessories in a separate order. (Be sure to get 1:12 scale accessories, as that is what this dollhouse was designed for.
What We Love: It's just beautiful …. Seriously, we would move into this house if we could
What We Don't: Complicated setup, and it doesn't come with any accessories or furniture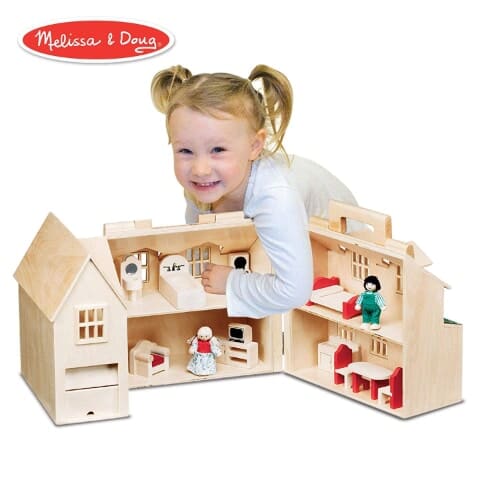 Some dollhouses are so detailed and intricate that they are not actually all that well suited for the younger crowd, in this case the 2 and 3 year olds. Toddlers aren't going to care much about the wallpaper design or sconce details … they just need something sturdy and accessible in order to stimulate their growing imaginations.
This is where the Fold & Go Dollhouse really excels. Melissa & Doug seemed to have designed it with toddlers in mind, and if so they did a pretty good job of hitting the mark. The accessories are large (not a choking hazard) and colorful, making them more suited to younger kids than some of the other kit accessories featured on this review.
The tri-fold construction of this one is a real treat. Six rooms are split between three "panels" that fold into one another. This makes the Fold & Go the only truly portable dollhouse that we looked at. Instead of having to leave the fun at home, you can simply fold it, latch it, and pick it up by its easy-carry handle and take it with you wherever you go.
We haven't mentioned it yet, but Melissa & Doug also offers a Happiness Guarantee … meaning that if for any reason your kid isn't having fun with the dollhouse, you can simply send it back for a refund.
What We Love: 100% Happiness Guarantee with Melissa & Doug Products
What We Don't: Furniture pieces aren't very sturdy

A relative newcomer to the dollhouse game, Top Bright is swinging for the fences with their flagship dollhouse. While the floorplan and overall construction design of this dollhouse kit are not particularly original, they have been executed well to the point that there isn't much to worry about in regards to durability.
The walls are printed with images of windows, furniture, and decorations, giving this somewhat small dollhouse a much larger vibe to it. Three separate stories are split into about 6 rooms if you include the master balcony. Overall the feel of the interior is quite luxurious, which means that you kid is going to love playing make-believe inside its beautiful walls.
We love that it's only 11 inches wide. This makes storage a breeze, as you can simply push it up against the playroom wall and not have it taking up too much floor space.
One thing we observed that is backed up by a few online reviews is that the staircase is not particularly well glued in its place … you might find it coming loose at some point requiring you to glue it back together.
What We Love: A compact & affordable starter dollhouse
What We Don't: The staircase has a tendency to come loose; re-gluing it is an easy fix
Review & Buyer's Guide: How To Shop For Wooden Dollhouses
While we did our best to assemble a list of the most popular and best-selling wooden dollhouses on the market, our research is by no means comprehensive. There are quite literally hundreds of different dollhouses to choose from, both wooden and plastic, from dozens of different toy-makers.
Finding the right one for your kid doesn't have to be a chore. By paying attention to the following points of comparison, it is easy to find the perfect dollhouse for you and your child:
Dollhouse Sizes And Scales
The first thing that you need to know about any given dollhouse is its scale. This refers to the ratio of the size of the dollhouse to the size of its real-life counterpart. This scale is expressed by two numbers, separated by a slash or colon.
As an example, a dollhouse with a scale of 1:12 or 1/12 would be exactly 1/12th of the size of the real thing. Because the first number is almost always 1, you can rely on the second number to give you a quick idea of how big it is going to be.
To put it simply, the bigger the second number, the smaller the dollhouse is going to be. The reason this is important is because all dollhouse dolls and accessories are made to certain scales. If you are buying new furniture for a 1/12 scale dollhouse, then you want to make sure that the furniture is also 1/12 scale.
1:4  OR  1:6 Scale
Also known as Playscale, this size of dolls & dollhouses are large and easy for toddlers and younger children to play with. Because of the increased size, they are sometimes less detailed and not as appropriate for collecting or display.
1:12 Scale

Sometimes called one-inch scale, this is a popular way to size dollhouses because of the simple coversion of one inch to one foot. In other words, a one foot item in real live would scale down to one inch in the dollhouse world.
1:12 scale is obviously more appropriate for some countries over others due to the metric system. In these countries, a scale of 1:10 is sometimes used instead.
1:24 Scale
Certainly more rare than most of the other scales, 1:24, or half-inch scale, has been enjoying a recent uptick in popularity, though it is still quite hard to find, and not usually seen in kids' toys.
1:48 Scale
This is actually much more popular for diecast metal models and plastic model kits like the ones you would find in a craft store. It is not usually used for dollhouses.
1:144 Scale
This is the smallest scale that we know of, but honestly we have never seen a 1:144 dollhouse up close. They are popular among some collectors from what we understand, but tend to be pretty expensive due to the rarity and difficulty to produce.
Construction Materials: Solid Wood vs. Fabricated Wood Material
Before we began researching dollhouses for our review, our team had decided that every finalist needed to be made of wood. One reason for this is the rapidly growing popularity of wooden toys. The other is because wood is both more sustainable and less toxic than some of the oil-based plastics that kids' toys have been made out of for so long.
But not all wood construction is the same. When it comes to dollhouses, there are two basic varieties:
Solid Wood Construction means that the dollhouse components are carved from whole pieces of wood. This usually means that they are sturdier and sometimes less toxic than manufactured wood. Melissa & Doug are known for making lots of great Solid Wood toys.
Fabricated Wood is the more common type of construction. This is when real wood scraps are broken down and processed into re-formed shapes. It is still real wood, though some other elements may have been added in the process. Fabricated wood is non-toxic and also a lot cheaper than solid wood.
Furniture & Accessories
Any home designer will tell you: it's all about the accessories.
Whether it is scale-sized fancy furniture or miniature toy dogs, it is the accessories & add-ons that are going to really bring your kid's dollhouse to life. Fortunately for the both of you, these days there are quite literally thousands of different scale-sized accessories that are available for your dollhouse.
The best part? As long as you buy accessories that are the same scale as your dollhouse, then you don't need to worry about getting the right brand.
Beyond the furniture and decorations, the dollhouse isn't going to be much fun without a few dolls in it. It is important to remember that with a few exceptions, most dollhouses do not come with dolls included, so you are going to want to ass a few of those to the shopping cart while you're at it.
Size & Layout
Dollhouses come in a lot of different dimensions. Before you choose one, take a moment to consider where the dollhouse is going to be set up and where you are going to store it when not in use. These wooden dollhouses can take a while to set up and most of them are not easily broken down, so it is best to have a place picked out.
The front-to-back width of these dollhouses is usually not greater than 24", so no matter what you don't have to worry about them eating up the entirety of the playroom.
Frequently Asked Questions (FAQ)

Q: Aren't dollhouses just for girls?
A: Contemporary culture might have you believe that dolls and dollhouses are just for girls. While this has certainly been the prevalent mode of thought for a long time, it doesn't seem to be the case with today's kids. Toymakers know that every child is unique, and that playing with miniature figurines doesn't have to be reserved for girls.
One way that the toymakers have responded is by making beautifully designed, neutrally-colored dollhouses that are just as appealing to boys as they are to girls. Unlike the bright pink plastic dollhouses that used to be everywhere, these are more realistic and tend to be less gender-oriented in terms of accessories and furniture.
Q: Are dollhouses hard to put together?
A: One of the most common complaints that you will see about modern dollhouses, even the good wooden ones, is how difficult they can be to put together. While they usually come with assembly instructions, the steps can sometimes be so convoluted that they are difficult to understand.
Some toymakers like Melissa & Doug have responded to the criticisms by including access to online assembly how-to videos, which significantly speeds up the process of assembly.
Pro Tip: No matter how simple your dollhouse may look, it is a good idea to put it together right when it arrives, as opposed to waiting until that birthday or Christmas morning to put it together. This will allow you to set it up at a more relaxed pace, and if any pieces are missing you will know about it ahead of time.
Conclusion: Our Favorite Wooden Dollhouses In 2023
While it is true that some of the dollhouses on our list made us want to shrink down and move right in, we had a lot of fun looking at all the dollhouses on our list. Not as much fun as your kid is going to have, but a good amount of fun nonetheless.
We'll start by naming our pick for the best dollhouse for toddlers. Because Toddlers require larger, safer toys and have different ways of engaging, they might require something a bit more simplistic. For these youngsters we have no better recommendation than the Fold & Go Dollhouse by Melissa & Doug. Its 1:4 scale is perfect for toddlers and it is thick enough to stand up to lots of playtime.
The Victorian Dollhouse, however, boasts one of the most beautiful floor plans that we have ever seen in a dollhouse. Slightly older children (5 & up) will appreciate the added freedom of an open floor plan where they get to play the designer. Just don't forget to buy some furniture, as it doesn't come with any on its own!