Though we generally try to not paint with a broad brush, it is perhaps safe to say that almost every child goes through a secret agent phase when they're little. And if you are a parent sitting at home reading this and thinking, "Well, my kid has never been into spy stuff…", then brace yourself. Chances are it just hasn't happened yet.
The best spy kits for kids are not just toys. They are gateways to another world … a world of intrigue and espionage, of missions and investigations. With things like binoculars, fingerprint sets, and hidden-ink markers, today's spy kit toys provide everything that is needed for your kid to embark on a mission of their own.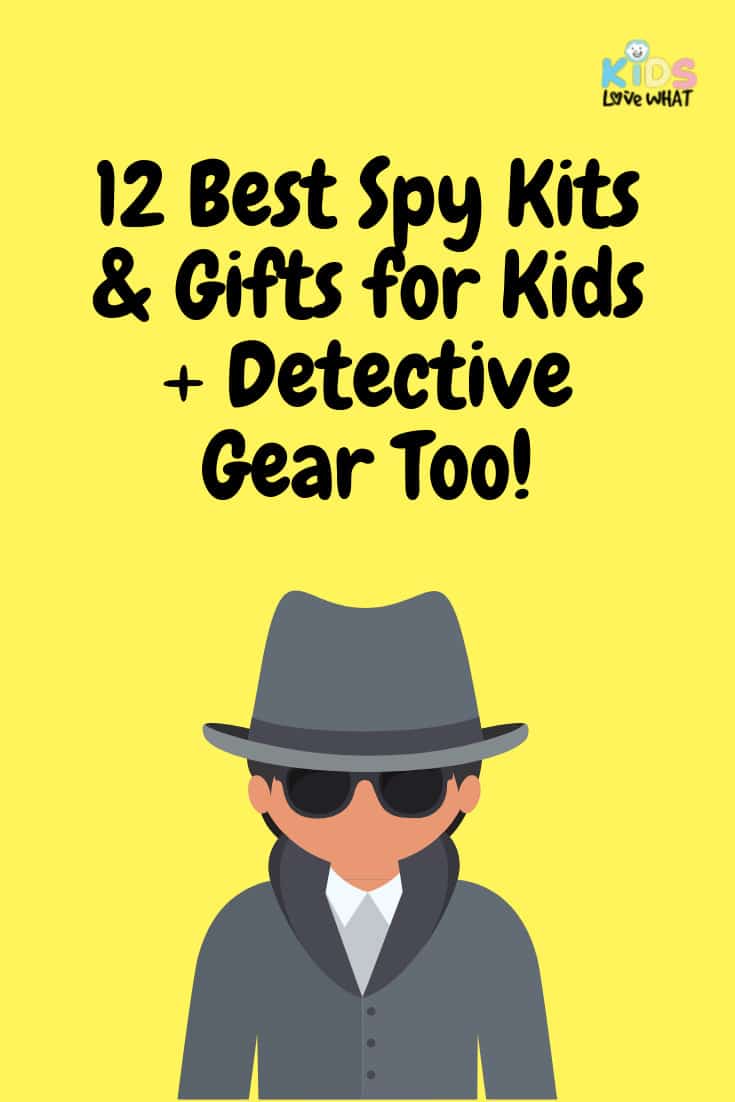 We've scoured the web for the finest in make-believe spy technology, all in an effort to bring you a definitive list of the 12 Best Spy Kits for kids, and along the way, we're going to take a look at some detective gear as well, as they seem to go hand in hand.
Though not designed specifically for spy-craft, these 8×21 binoculars offer high powered magnification and excellent resolution, especially for a pair of binoculars for kids. They're wrapped in a durable rubber coating that will absorb the bumps, scrapes, and impacts that are sure to befall it over the course of your little spy's next adventure. Not into spying so much? These binoculars are also great for camping, birdwatching, and hiking, making them the perfect all-around science toy for boys and girls alike. And with the added durability you know you'll be getting them something that isn't going to break on the very first day of use.
Everybody knows that any spy that's worth their salt needs to know how to write secret messages. That's like, spying 101. Whether it is directions to the secret hideout or highly classified information about who likes whom, the best way to stay sneaky is with this pack of invisible ink pens. Each one writes totally invisibly, that is, until you use the built-in black light installed in the pen's cap. Then the message becomes clear and easy to read, and in the meantime, no enemy eyes have been able to decoded the information. The low price and high novelty of a spy toy like this make it the perfect goodie bag addition for parties.
Encouraging your child's interest in STEM-based activities like science and math is not always easy, especially when they'd rather be out on the town, sleuthing around like the little detective they are. Well, now it's possible to stimulate both their intellect and their imagination with the Crime Catchers Spy Science Kit. Inside, you'll find everything your child needs to solve 2 different exciting mysteries, each with 8 separate activities that will have them thinking like a real life forensic scientist. And since it's all put together by the folks at Scientific Explorer, you can count on the fact that you're getting a thoughtful product that keeps your child's education in mind.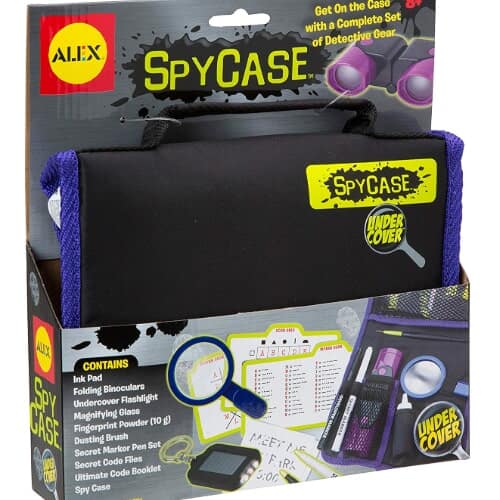 Becoming a professional sleuth is not as easy as it might seem. Part of this is that real super-spies carry gadgets, and not a small amount of them. Whether it's a high-quality magnifying glass for spotting clues or a pair of discreet folding binoculars, the best spies don't leave home without their gear. Now, you can get your kid cracking cases like a pro with this Spy Case by ALEX Toys. It has everything they are going to need to jump right into a world of scientific investigation, all in one well-packed travel case. In fact, it happens to be the winner for Dr. Toy's Best Vacation Products Award for its awesome portability.
The best spies don't only own the best gear and gadgets, but they also usually have pretty cool ways of carrying it around them. In fact the utility belt might be one of the most highly-revered pieces of hero technology since it was popularized by the one and only Batman. The SpyX Micro Gear Set comes with some of the most advanced detective gadgets that we have ever seen in a kid's toy. It's the real-deal James Bond type stuff, like a motion alarm, a micro listener, and a compact, high-powered light, all of which connects to the included utility belt with ease.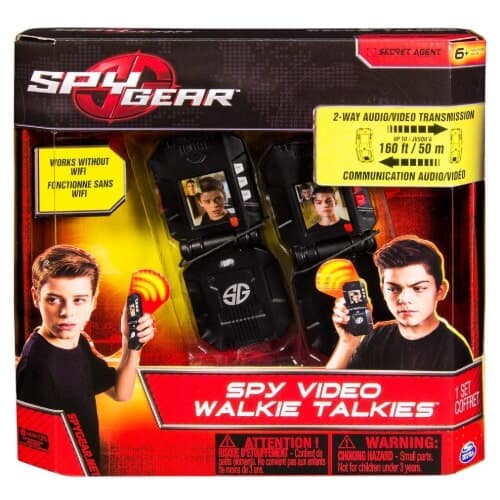 Here's a little something that even the great 007 didn't have back in his heyday. The SpyGear Video Walkie Talkies are a modern update on one of the most popular spy toys of all time, the walkie talkie. Now, with the simple press of a button, a pair of super-spy agents can communicate with both audio and video. They've got an effective range of about 140 feet, which is far enough for any standard household spy missions. If they really want to go incognito, they can plug some headphones into the included jack and keep the incoming audio as protected as it needs to be.
We have always been big fans of Melissa & Doug, one of the best toy companies when it comes to making products that contribute positively to your child's education. Of course, the best toys aren't only educational … they have got to be engaging for the child or they are essentially useless. The Melissa and Dough On-The-Go Deluxe Activity set is designed to encourage problem solving and critical thinking through a series of over 50 included activities. It is also recommended for children as young as 7, unlike some of the more advanced spy toys. If you're looking for a beginner's sleuthing toy, this is it.
When the time comes for your young super spy to graduate from greenhorn to master investigator, they are going to need an ungraded to their spy kit. This mini briefcase-style Master Detective Toolkit by Thames & Kosmos is leading the pack when it comes to comprehensive spy toys. Inside you'll find over 26 different scientific experiments, each one with valuable lessons to teach about science, forensics, critical thinking, and every-day problem solving. Each experiment will bring your child closer to solving the crime as they learn all about how real-life investigators rely on logical thinking and forensic science in their everyday jobs.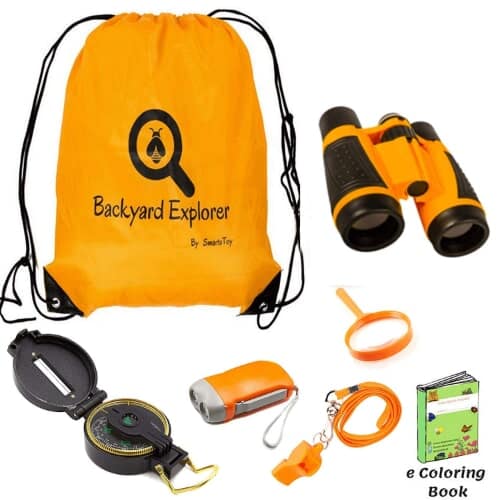 Not every hard-boiled investigation takes place in a dark alley on the mean streets of New York. Some spy adventures require the close observation of the natural surroundings, and there is no better way to get a closer look at it all than with the Backyard Explorer kit. A compass, an emergency light, a magnifying glass, and a pair of quality binoculars are only a part of everything that is included here. While it is really more of a backyard safari kit than a spy kit, most of the included tools can perform just as well in covert operations. And besides, what better cover does a superspy have than to look like a simple nature explorer?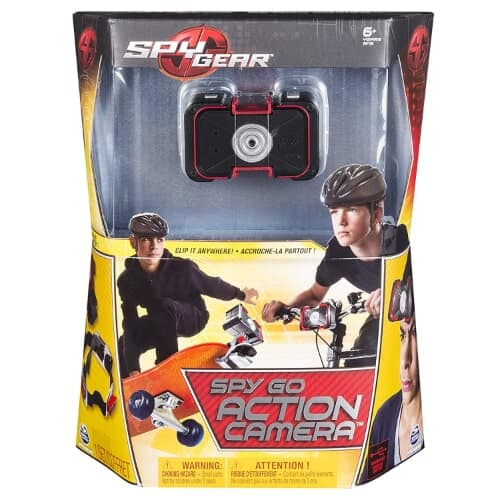 Detailed surveillance is a big part of any super spy's job. Being able to take both still snapshots and continuous video might be the only way to capture the evidence needed to bring down that evil crime syndicate once and for all. The Spy Go Action Camera can do all that and more. It comes with multiple mounding methods, including a headstrap and a clip-on action mount for things like bikes and skateboards. Take over 1500 still frames of evidence, or about 15 minutes of continuous video. All the material can then be transferred easily and quickly to the spy headquarters mainframe, or your moms computer, whichever is closer.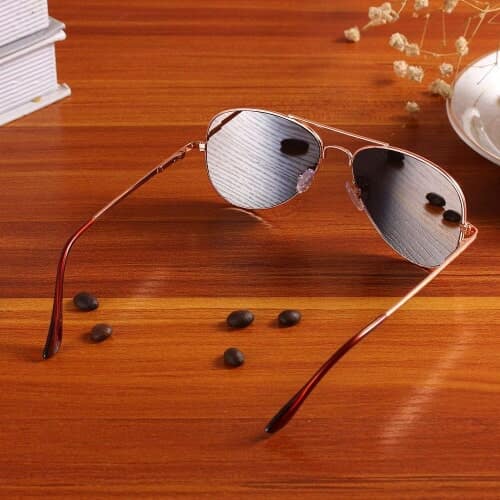 We've all been there … navigating the streets of Berlin, hot on the tail of those stolen jewels that the President has asked you to retrieve. You hear footsteps behind you. The hair stands up on the back of your neck. You get the feeling that you're being followed but you don't dare turn around and give yourself away. What's the solution? Slap on a pair of these Rearview Mirror Sunglasses, a nifty spy tool that allows the agent to keep an eye on their six, so to speak, and do so while looking super stylish (as any good spy should).
A good detective needs to keep their minds sharp, especially when they're not working a case. This Secret Agent Activity book by Pauper Press provides a big collection of brain-sharpening agent activities to keep your child's mind as sharp as a tack. Work through challenges like mazes and word search mysteries, or read up on the stories of famous real-life spies and spy terminology. Kids will love the punch-out code ring, just like the ones used in the Civil War. 128 pages of full-color activities means that this isn't one of those toys that is only good for a single afternoon before it becomes boring.
Why Spy Kits are Good for Your Child's Education
When you become a parent, it becomes increasingly easy to assume that because your child wants particular thing must mean that there is something inherently bad about it. Like violent video games, for instance, or big sugary drinks. But sometimes the best thing for your kid could be the same thing that they're craving.
In the case of Spy Kits, that craving is for meaningful play time.
Spy Kits and detective toys are not only a mechanism for good old fashioned make-believe, though they can be quite good at that as well. These toys go a few steps beyond most traditional toys in that they are secretly working to increase your child's imagination, brain power, and potential.
Problem Solving Skills
Most of these kits include some kind of built-in storyline, which usually consists of a problem to which a solution needs to be found. The clever spy or detective can use the contents of the spy kit to try to come to that solution.
This is basic practice in creative problem solving, and it is never too young to start introducing these kinds of challenges to your kid.
Science Principles
Some Spy kits come with scientific experiments, like fingerprinting sets and DNA matching activities. These kind of things are great at introducing basic scientific concepts to children as young as 6. They can also provide a look at what real-life forensic science is like, expanding their professional horizons and widening their worldview.
Creativity & Imaginative Play
According to a number of studies, pretend play is one of the most important things that you can encourage in your child's daily life. This kind of imaginative play is vital because it helps teach language skills, tense skills, and what some philosophers call "theory of mind", an awareness that one's thoughts may differ from another's.
Another way to put it is that pretend play, such as pretending you are the next 007 or maybe a detective in an old black and white movie, can create cognitive flexibility, which is also known as creativity.
Buyer's Guide: How to Choose the Best Spy Kit for Your Kid
There certainly are a lot more spy kits on the market than our short list had the time to evaluate. If you are embarking on your own secret adventure to find the perfect kit for your boy or girl, then you're going to need to know a little more about how, exactly, these toys should be evaluated.
Recommended Age
Like all toys, these kits come with their own Recommended Age based on what is included in the kit and how hazardous the items are. While you will generally not find anything toxic in a spy kit, it is possible that some smaller items might pose a choking threat to younger kids.
If you have a toddler or younger child that you'd like to introduce to the world of spy toys, there are large pretend magnifying glasses out there that should be able to scratch that itch.
Contents
There is a great deal of variation in what each kit includes, partially because some of these kits are doubling as explorer kits or adventure kits. They actually have a lot of the same things in them, like binoculars and magnifying glasses.
Beyond the normal spy fare, you're going to want to take a look at how many activities is included in the kit you are looking at. Some spy toys are quite simple and can be enjoyed in an afternoon, while others come with large spy books complete with multiple engaging missions, activities, and experiments. These will help your kid stay engaged and increase the overall value of your purchase.
Here are some of the more common items that you might find in a spy kit:
Binoculars – A spy game classic. How can you track down the enemy target without a good pair of spy binoculars at your side?
Spy glasses – Specialty made glasses with rearview mirrors so you can see behind you!
Fingerprint kits – For the advanced super-sleuth interested in forensic science
Invisible or disappearing ink – Secret messages are Spyvcraft 101, so these are a common inclusion in spy kits
Clue cards – For many included missions as activities, small cards will be included to help guide the storyline along
Spy outfits – What kind of clothes does a spy wear? It's really more about the gadgets.
Cameras – Still frame of full video cameras are a great way to set up a surveillance perimeter or confer via video messaging with home base
Missions & Activities
As we mentioned above, some of the more complete spy kits include one or more activities designed to utilize the included elements in a complete way … the full spy experience. These are helpful because they can teach the child how to play with the spy toys.
Then, after they've has a little practice, they will be able to let their imagination wander into the world of super spies, embarking on their very own adventures.
It is also possible to help your child create new activities using your new spy kit and your collective imagination!
Full Spy Kits vs. Single Item Spy Toys
As you may have noticed, not every toy listed on this page is an actual spy kit. Some products, like the MaleDen Invisible Ink Pens, or the SpyGo Action Camera, are individual items that don't come with anything else.
These items work really well as an addition or "upgrade" to the spy kit that you are thinking of purchasing.
For instance, imagine gifting your little one a briefcase-style spy kit, only to follow it up with a real-life pair of rearview spy sunglasses. The look on their face will be priceless.
The downside of getting a standalone item with nothing else is that it does not come with the creative story structures that many of the kits do. These can come in the forms of missions, mysteries, or puzzles that utilize the included spy gear for some slightly more structured play time. This allows the kids to familiarize themselves with the equipment and keeps them engaged in the material.
However, as I am sure many of you know, some kids wouldn't bother with the included missions anyway, and instead set off onto a secret mission of their own creation.
Conclusion: The 12 Best Spy Kits … Which is Number One?
It would take forever and a day to review each and every spy kit on the market. While that would certainly be a lot of fun, we somehow doubt that we would be able to score that many free spy kits from the toy companies. Oh well. A child-at-heart can dream.
The point is, choosing one Spy Kit to crown as the ultimate best-buy would be pretty difficult considering the wide spectrum of what kinds of spy toys there are out there.
For instance, some are meant for younger kids, and some for slightly older. Some are complete kits that allow you to take the whole spy experience on the road with you, while others are singular one-off products with no accessories.
We'll take a stab at listing a few champions, but it won't be without a few qualifiers.
Best Full-Featured Spy Kit for Kids
In a small and un-assuming black case, the Thames & Kosmos Master Detective Toolkit is one of the sleekest and sneakiest spy kits on the market. It has everything the young spy or detective will need to root out the bad guys, including invisible ink pens, a quality magnifying glass, fingerprint power, crime scene tape, and much, much more.
It also comes with a full-color manual that guides kids through the process & equipment, teaching them a little something about forensic science in the process. In this capacity it is the perfect STEM-related toy for a boy or girl, and one that is sure to delight as well as captivate.
Best Single-Product Spy Gadget or Detective Tool
This one has got to go to the Spy Gear Video Walkie Talkies. This is one of the coolest updates to kid's walkie talkie toys since, well, ever. The unit's ability to broadcast both audio and video to a range of up to 140 feet means that the spy game is no longer a game for one. Now, a secret agent partner can join in on the fun.
Frequently Asked Questions (FAQ)
Q: Are Spy Kits Too Violent for Children?
A: Actually, the spy kits featured on our list are anything but. As opposed to the brawling and gunfights seen in popular spy movies, these kits tend to focus on the intellectual side of spy work, as well as the sneakier side of it. There are no weapons included, but rather a series of scientific tools that make it closer to a science toy than an "action" toy.
Q: What About Spy Kits for Girls?
A: While spy kits made especially for girls do exist, they usually are just pink and purple versions of the kind of toys that we looked at here today.
The truth is that most if not all of the spy toys we looked at would be just as appropriate for a young girl who might have an interest in forensic science. Other than the fact that some packaging features boys but no girls, there isn't a whole lot of other gendering involved in these products.
They are spy kits, plain and simple, for whichever girl or boy might be interested in them.