Super Mario Brothers has been a staple in the video game world in households worldwide for years. What started as a video game soon became an animated television series, big-screen movies, and more. Today, Mario is still going strong in new and exciting games on various platforms. The feisty plumber and his brother Luigi battle Goombas, Piranha Plants, King Boo, Bowser, and many more foes with friends Toad, Princess Peach, and Yoshi.
When you have a franchise that includes so many classic and unforgettable characters, it's easy to come up with the perfect theme for your birthday. You can focus everything on Mario, have all the characters, or go with a strictly Princess Peach vibe. Ask your kid their favorite part about Super Mario, and let that be your starting point.
Another option is to model your theme after your kid's favorite Mario game, like Mario Kart, or perhaps they're a fan of the original. Depending on your child's age, you can make this theme more little-kid-friendly or work for an older or pre-teen kid. Let these fun ideas for a Mario birthday party be the first place you start your planning.
Super Mario Brothers Birthday Party Invitation Ideas
After spending your time, creative talents, money, and energy planning an amazing party, you want people to show up to enjoy it. Grab people's attention with an eye-catching invite that tells them what they can expect from your celebration. You can find Mario invites at party supply stores since it's a popular theme. But most people today look for more customized designs they can print or even send digitally. You can create your own unique invite or let someone else design it for you.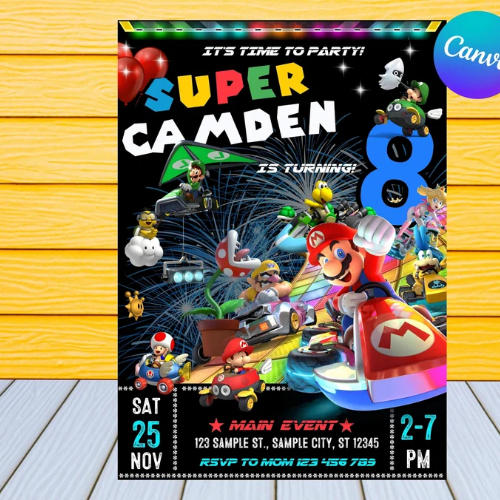 Etsy is a great place to find tons of options or party invitations in one convenient place. Type in any theme you can think of, like Super Mario, and you'll get lots of possibilities, like this one from PixelDeStudio. Choose your favorite, plug in your unique party info, and then download and print after your purchase. For some sellers, you purchase the invitation first, send them your information, and they handle all of the work for you. They'll send you the finished product so you can download it, print it, etc.
Super Mario Brothers Birthday Party Decorations & Supplies
When you go to a party, the odds are high that one of the first things you notice is the atmosphere. The decorations at a party help set the mood and overall vibe, make things fun and festive, and add an extra-special touch to the event. How little or much you want to decorate is up to you, of course. You can DIY some fabulous décor items, buy everything you need, or hire someone else to handle it for you. As you figure out the details, check out these ideas for setting the stage for your child's Mario party.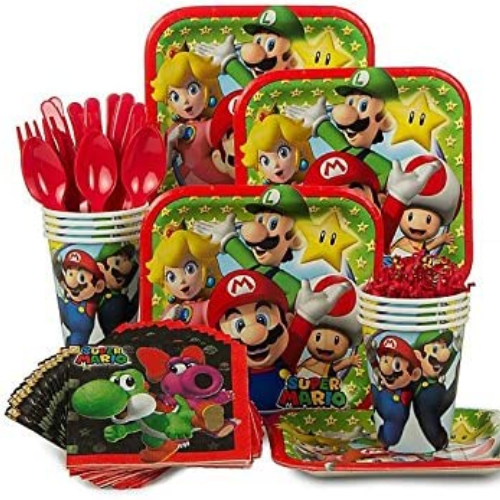 Every party has food, which means every party needs some basic tableware, like plates, napkins, and utensils. If you plan to serve drinks out of two liters or pitchers, you'll also need some cups for your guests. This dinnerware set features Mario and his pals and has everything you need for eight guests. You can pick up multiple packs or mix and match them with solid colors. There are 16 napkins, eight plates, and eight cups.
Add some large, shaped balloons into your party decoration plan to ramp up the festive flair. This 12-piece balloon set features letters that spell "Power Up," two stars, the birthday kid's age, and Mario and Luigi. You can choose from several ages, from 1 to 9. The letter balloons are roughly 13 inches tall, and Mario and Luigi stand an impressive 27 inches tall. The number balloon is 28 inches, and each star is 17.7 inches.
Super Mario Bros. is a colorful game, so your decorations should follow suit. This decoration party pack is full of colorful, vibrant decor pieces that help you create a Mario party in minutes. It has 20 red, yellow, green, and blue balloons, a birthday banner, 16 cupcake toppers, a birthday flag, and a cake topper. It's a great way to decorate a party on a budget and with minimal effort.
A large backdrop is an easy way to make a big statement with one decoration. It also serves as the perfect background for your cake table, in a photo booth, or just as a general scene setter. It features Mario and Yoshi making their way through a classic game scene. The backdrop is approximately 6 feet by 4 feet and is made of durable polyester fabric. You can reuse it for another party or even let it double as a tablecloth.
If you're throwing a party at home, don't forget about your front yard, porch, entry door, etc. Let your guests know right away that this is where the party's at, and they're about to have some fun. These door and porch banners are a great way to create a vibrant entryway that invites guests into your home and sets the perfect first impression. Each banner features five Mario characters and bright colors. You can also use them inside or anywhere else you want to add a dash of Mario fun.
Party Favors For A Super Mario Brothers Birthday
Don't forget to add some party favors to your cake table or on a special table near your party exit. Not only is it a nice way to say thank you to your guests, but it also adds to your décor. Typically, favors match the party theme in some way, but they don't have to be complicated or expensive. You can buy favors, make them, bake them, or assemble a combination of store-bought and DIY goodies. In a pinch, tossing several trinkets and candy into a Mario loot bag works well too.
If you don't want to spend a lot of brainpower coming up with a party favor, go with a multi-pack. You get tons of fun, themed trinkets in one place, and you can toss them into a treat box or loot bag. Other options are to put items in a themed drawstring bag, cup, or similar container. This all-in-one pack already comes with 20 loot bags. So if you have 20 guests or fewer, this is everything you need in one pack. More than 20? No problem, just grab two packs, etc. You also get noisemakers, masks, bracelets, stickers, and six mini-toy figures, which could double as cake toppers.
Stamps are always a fun addition to a party favor goody bag. Kids can stamp their hands, create pictures, and more. The set includes 24 self-inking stamps featuring various Mario characters and symbols. Some of the designs include Mario's face, King Boo, a mushroom, a star, a mystery block, Goomba, and Yoshi egg. They come in many bright colors, and the ink color matches the outside of the stamp.
You can create your own party bags with these Mario gift bags featuring Yoshi, Mario, a mushroom, and a star. The bright red, green, yellow, and blue colors are in keeping with a classic Mario color scheme. Place them in rows on your party favor table to add a colorful splash to the décor. The bags are sturdy and can hold a good amount of candy, small trinkets, or some baked treats.
Slap bracelets are fun to wear and also fun to play with. Lots of kids know how to do all sorts of tricks with them and even collect them. This set comes with 40 bracelets featuring a variety of colorful designs. You also get 50 stickers with Mario-themed characters and images. They make great additions to a party favor bag; you can give them as-is or add them to a piñata. The bracelets are about 8.3 inches long, and the stickers are large, measuring two to three inches.
Character PEZ make an excellent favor for older kids, especially if your kid and their friends love to collect the classic candy holders. PEZ has been around for decades; today, many children still have collections and like to trade different ones. This 12-pack includes characters from Nintendo, including Peach, Donkey Kong, Yoshi, Luigi, and Mario. Each holder is individually wrapped and comes with two packs of PEZ candy.
Frequently Asked Questions (F.A.Q.)
Can you have Mario come to your birthday party?
Depending on local party entertainment companies near you, you might be able to find one that features a Mario option. Mario can come to the party and help lead games, serve cake, mingle with guests, or do other activities. If you have a willing family member and the party is for a younger kid, you could convince them to wear a Mario costume and add a little special touch to the festivities. When hiring professional characters, expect to pay anywhere from $100 to over $200 an hour.
What are some good color schemes for a Mario birthday party?
The most popular color scheme for a Mario party is red, green, yellow, and blue. But you can pull colors from different aspects of the game to create any detailed theme you desire. For example, your daughter might want to focus more on a Princess Peach theme party, where Mario only makes a small appearance in the décor. So you could use a pink, peach, and yellow scheme, or pink and gold, etc.
What are the best ages for a Mario party?
Super Mario Bros. resonates with people of all ages. Parents remember it from their childhood, so they might pick the theme for a child's first birthday party. Young kids will enjoy it too, especially if they like the movies. Older kids into the Mario games could ask for a Mario-themed party as old as 9 or 10. Since it offers so many flexible options, you can make this theme go as young or old as you want with how you decorate and plan for it.