If your kid loves superheroes, there's no end to the birthday party ideas that you can find. Spiderman birthdays are especially popular, with the famous web-slinger showing up on plates, banners, napkins, party cups, balloons, and invitations. Whether you throw a party with a collection of superheroes or keep it strictly Spiderman, you don't have to worry about running out of ideas.
Start with a general theme, narrow it down to a more focused vision, then start to build your party. You'll need invitations, decorations, food and drinks, a birthday cake, and entertainment for your guests. You don't have to spend tons of money to throw a memorable party (but you can if you want to). It's all about how much you want to DIY and what you want to hand over to somebody else.
No matter how you decide to plan your party, it starts with an idea. If you're not sure where to start, don't worry. You've come to the right place. We've rounded up some fantastic ideas for a Spiderman birthday party and put them all in one place. So you can use this as your jumping-off point, find some great inspiration, and start planning an unforgettable celebration.
Spiderman Birthday Party Invitation Ideas
After you nail down the specifics for your party, like where, what, and when, it's time to decide on your invitations. Coming up with an eye-catching invitation helps set the mood for your party and gives guests an idea of what they can expect. The perfect invitation might even be the deciding factor for guests on the fence about coming to the party. The popular trend nowadays is to design invites on your computer and print them or send them digitally. If you're not much for graphic design or editing, check out sites like Etsy to choose from hundreds of downloadable designs.
Etsy features thousands of birthday party invitations in various styles, colors, and themes. You can even find digital versions that are animated or video options to email or text to guests. If you have some editing skills, you can opt for a design you can download and edit yourself. Otherwise, look for sellers that will gladly do the customizations for you. Then all you need to do is download or print. Look for fun options like this comic-strip style invitation from ClipzandSnipz, grab more dramatic designs, or keep things subtle with the Spidey symbol and webs.
Spiderman Birthday Party Decorations & Supplies
You don't just have to hang up a bunch of webs for a Spiderman party. (Although that could look really cool). DIY decorations are great for saving money and getting creative. But if you're not up for it, many options are available at party supply stores and online. Spiderman is a popular party theme, so you can find many different decorations and party supplies to fit your specific Spidey style.
This fun backdrop features comic book elements and Spiderman in action. He looks like he could come swinging out of the picture at any moment. The bright red and blue are eye-catching, and the pop of yellow makes sure the "Happy Birthday" message stands out. The backdrop is available in various sizes, including 5 x 3, 7 x 5, and 8 x 6. Choose the size that best fits your party space and set it up to create the ultimate photo booth background or make an impact behind the cake table.
What birthday kid wouldn't want a giant Spiderman balloon at their superhero birthday? The balloon's designed to crouch on the floor or tabletops (so keep in mind it won't likely float). The package includes six different balloons that you fill and assemble to create Spiderman. Add him to your cake table for some extra pizazz, or have him greet guests at the door. Another option is setting him up near your party favor table so he can bid guests farewell as they grab their goody bags.
Party supply packs are great when you want to get a bunch of stuff you need without spending hours poking through individual items. This Spiderman supply set features everything you need to set the stage for 16 guests. You get 16 plates, cups, and napkins, one large tablecloth, 12 birthday candles, and a happy birthday banner. There's also a birthday pin for the guest of honor and a sheet of Spiderman tattoos.
Set your tables in style using some themed table decorations featuring the famous web-slinger. Honeycomb table centerpieces are a classic party décor item that makes it easy to add a pop of color to your food table, cake table, and other areas. The set comes with seven pieces, each featuring a different Spiderman design and measuring six inches wide. The decorations sport a classic Spidey color scheme of red, blue, and black, with some pops of yellow.
Your party decorations don't have to start at the door. Bring them out into the front yard to start putting guests in the party mood before they even cross the threshold. The colorful signs are also a great way to make it easy for guests to spot your house. The set includes eight yard signs featuring different Spiderman characters standing approximately 14 inches tall. They're durable and waterproof, so no worries if you get a little rain.
Party Favors For A Spiderman Birthday
Before your guests leave the party, make sure they have a chance to grab a great souvenir to remember the fun. Party favors tell your guests thank you and show them you appreciate them celebrating with you. You don't have to go wild buying expensive items or creating extravagant treats. Often, a clever thing to match your theme will leave a great impression and make your guests smile. Check out these ideas for Spiderman party favors to help you decide which is the right way to go for your kid's party.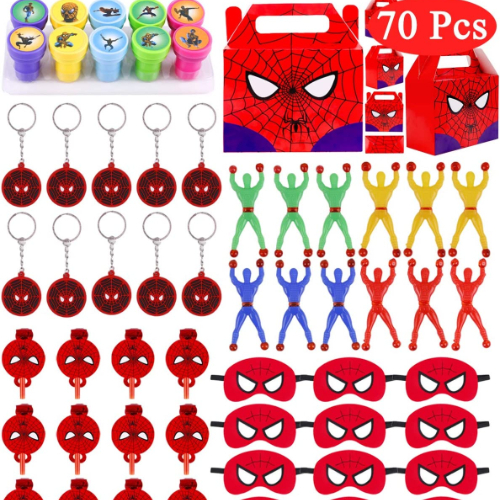 Grabbing a party favor multi-pack makes creating fun party favors a piece of cake. This set has 70 pieces of Spiderman-themed goodies. You get masks, keychains, self-inking stamps, whistles, and wall climbers. And it comes with 12 Spiderman treat boxes for you to put everything in and hand out to guests. It's everything you need for creating festive favors, all in one convenient pack.
These candy holders are like the PEZ dispensers of the lollipop world. They make it easy for kids to enjoy their suckers without having sticky, messy hands. This set includes 12 Spiderman holders, complete with lollipops, and is sure to put a big smile on your young guests' faces. Pass them out on their own, add them to a goody bag, or you can even use them as piñata fillers.
Goody bags are a tried-and-true party favor option that makes it easy to assemble souvenirs for your guests. This pack comes with 30 Spiderman bags perfect for filling with stickers, candy, tattoos, and various trinkets and surprises. Attach a special thank you message to add a personal touch, and your favors are all set.
If you prefer to give kids a party favor that provides something useful, consider giving some pen and notebook sets. Kids can use them to jot down ideas, take notes, or draw pictures. This set has 12 mini notebooks highlighting various Spiderman designs and 12 ink pens. But wait, there's more! The ink pens feature invisible ink and have a built-in UV light so you can reveal your secret messages or pictures.
Kids will love sipping on their beverage of choice when they get to use these quirky straws. These squiggly Spiderman straws are super cute and reusable, making them eco-friendly. The set includes 24 straws in 8 different colors and features various Spidey characters, including Ghost Spider. Pass them out with your party drinks, or fill a themed cup with Spiderman trinkets and top off with a snazzy straw.
Frequently Asked Questions (F.A.Q.)
How much does it cost to have Spiderman come to your kid's birthday party?
Different party entertainment companies charge different prices, but on average, a character will come to your event for about $100 an hour. However, it depends significantly on what you expect the performer to do. This $100 price likely covers basics like mingling with guests, taking pictures with kids, giving autographs, and helping with the cake. If you want the performer to do more, like tell stories, perform tricks, or do a specific show, you can expect the price to increase.
What are the best colors for a Spiderman birthday?
The most obvious colors for a Spiderman birthday are red, blue, and black, courtesy of Spidey's classic costume. Usually, the primary colors are red and blue, with a little bit of black to help ground everything. But you don't have to stick with this scheme if you want to go in a different direction. You might want to focus more on one color over the other, or maybe you're including one of the main Spiderman villains, like Green Goblin.
What are some different ways to throw a Spiderman party for girls?
If your daughter is the one asking for a Spiderman party, ask her if she has any particular ideas in mind. She very well might want a typical Spiderman party, complete with red, blue, black, webs, and Spiderman himself. Or maybe she's a fan of Ghost Spider, in which case you can go with white, blue, and pink. There are also party supplies featuring Spiderman symbols in a pink color scheme. So see what your daughter has in mind, and then go from there to choose your décor and other items.