LEGOs are probably some of the most recognizable and loved toys of all time for both kids and adults. They've been around for ages and, over the years, have turned into quite a big deal. People collect them, endeavor to engineer amazing masterpieces, and more. There are even TV shows and theme parks dedicated to the magnificent building bricks.
If your kid loves to play with LEGOs, a birthday party highlighting the colorful blocks is an excellent idea. You really can't go wrong no matter what your kid's age, as long as they're a LEGO fan. You can tweak your party plan to fit a wide range of ages, from toddlers to pre-teens and beyond. There are also various collections within the LEGO brand that might help you narrow down your party design, such as Ninjago or LEGO Friends.
You can find decorations, games, food ideas, and more to help you plan the ultimate party for your child. If you're not quite sure how to get started, you already have! Check out our list of top LEGO birthday party ideas to take the guesswork out of your planning endeavors.
LEGO Birthday Party Invitation Ideas
When it's time to send out birthday invitations, you can buy some premade ones or design your own on your tablet, laptop, or smartphone. Many people these days opt to go entirely digital and send out invites via text, email, or a Facebook event post. No matter how you decide to let your guests know about your party, make sure it's fun and inviting (no pun intended). If you aren't up for designing your own invitations, you can find lots of people willing to do the work for you.
Your birthday invitations should reflect your party theme, provide useful information to guests, and entice them to come to the party. Send out invitations that your party guests won't be able to resist with creative, colorful creations from Etsy. This design from HorvathPaperCo recreates a classic LEGO set box, substituting the birthday information in a clever way. There are different styles available from many sellers, so you can find an invite that's the perfect match for your specific LEGO theme.
LEGO Birthday Party Decorations & Supplies
Get the party started on the right foot with some fabulous and colorful themed decorations to put everyone in the LEGO mood. Gather supplies from party stores featuring LEGO bricks and popular sets, or use LEGO creations as decorations. Place various mini figures on your cake table and food tables to add a friendly touch. Hang balloons, banners, garlands, and more, and use tableware that shows off the LEGO logo.
Make things easy on yourself with a party supply pack that gives you the basics for creating a fabulous LEGO party. Getting a bunch of decorations and tableware in one place simplifies things, which is always a plus when you're planning your kid's birthday party. This pack features cups, napkins, utensils, and large and small plates for 25 guests. You also get a tablecloth, 12 balloons, and a LEGO Brick banner, all in super vivid colors.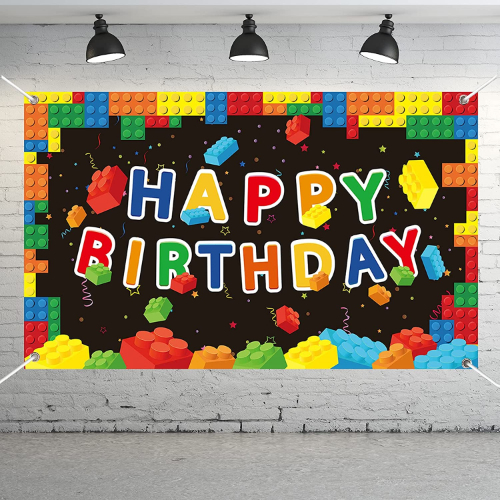 A "Happy Birthday" banner is a classic decoration that's easy to hang and sends well wishes to the guest of honor. This banner is two pieces that you can hang side by side or one on top of the other. Having two individual pieces gives you flexibility with spacing and your available hanging space. When hanging the words side-by-side, the banner stretches an impressive 7 feet. It's sturdy and easy to fold up and store, so you can reuse it or pass it along to someone planning a LEGO celebration.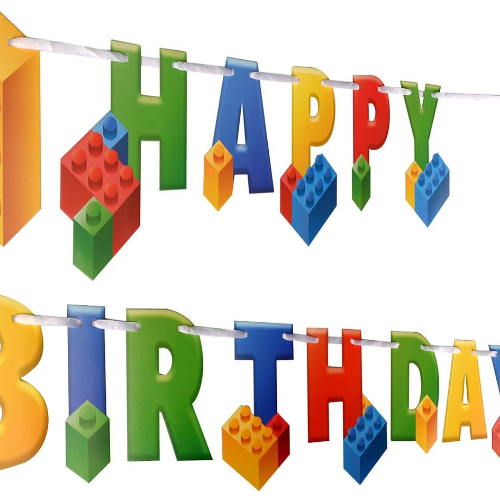 If you want a way to make a huge statement without spending a ton of time or money, consider a large backdrop. Using a large piece like this helps fill a significant area of your party space and catches people's eyes. This birthday sign is a great fit for a LEGO Party, with a block brick frame that pops against a black background. If you want to brighten things up, you can also get it with a white background. It's 71 by 43 inches and makes a great photo booth or party entrance piece.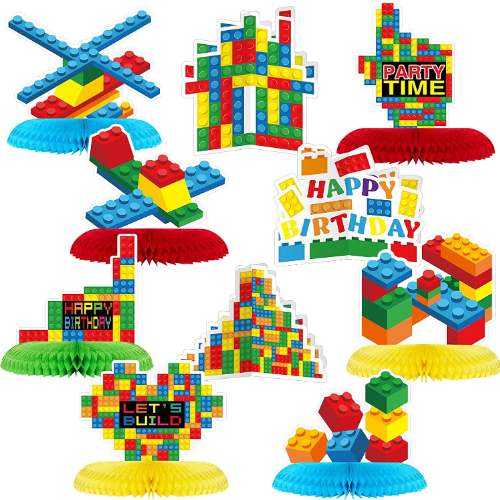 Table centerpieces are an easy way to brighten up your party within a matter of minutes. They're easy to set up, and you don't have to worry about hanging or taping things (great for party rooms that don't let you hang decorations). These honeycomb table displays feature bright greens, reds, yellows, and blues and features various designs. You'll get ten pieces, including a LEGO plane, a Happy Birthday sign, LEGO bricks, and more.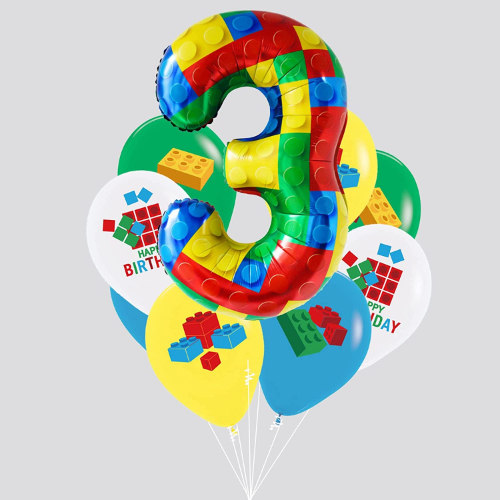 Liven up your LEGO party with brightly colored balloons featuring LEGO bricks and your child's age. The 32-inch foil balloon comes in ages one, two, and three, but you can also find other ages available online. There are 20 latex balloons in the set that are 12 inches each and come in white, blue, green, and yellow. Tie them to chairs, tables, or trees, or use balloon weights to set them anywhere you want to add a splash of color.
Party Favors For A LEGO Birthday
It's always nice when friends and family come to celebrate a birthday. Let them know how much you appreciate their company with a special souvenir from the party. Favors are a nice tradition that provides your party guests with a little memento and a sign of gratitude. You can buy them at party supply stores, online, or make DIY treats for everyone. These awesome LEGO party favors are sure to get kids excited even though it's time to say goodbye.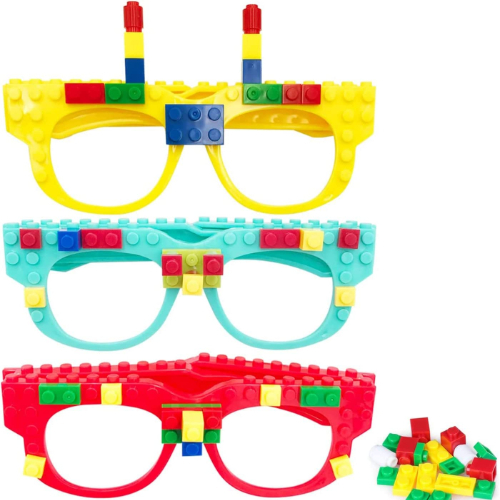 Costume accessories make fun party favors because you can pass them out to guests before the event so they can wear them during the festivities. With these quirky LEGO glasses, your guests add to the decorations and overall party vibe, making things extra fun. The pack includes 12 glasses in different colors. For an added activity, set out a bin of small LEGOs so kids can personalize their glasses with a unique design.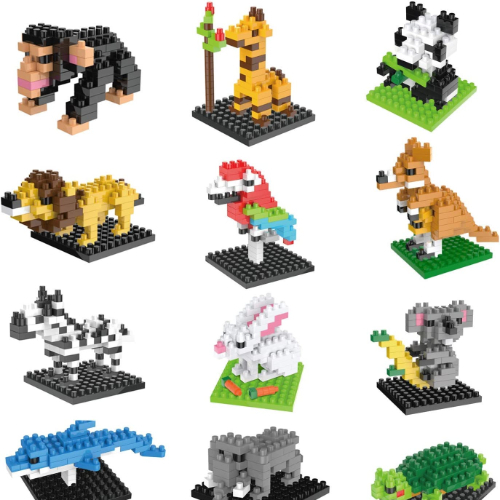 What better favor to give guests after a LEGO party than their very own set of LEGOs to bring home? These mini animal kits are super fun to build and come with instructions. There are 12 sets to a pack, featuring six different animals. You get giraffes, parrots, rabbits, elephants, sharks, and monkeys. This could also double as a LEGO build station activity, then kids can take home their animal creations.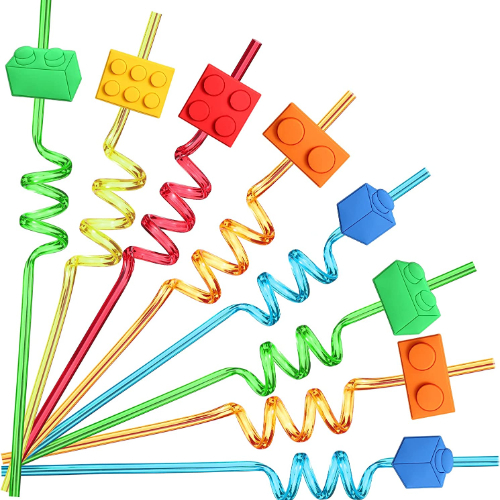 These squiggly straws make drinking your favorite beverage even more enjoyable. Kids will love the swoopy-loopy design and bright colors, and the LEGO brick on top makes them a perfect match for your party theme. They come in five different designs, including yellow, red, orange, blue, and green, and you get 25 straws in a pack. These reusable straws are a great party favor and are better for the environment. Add them to a party favor goody bag, or use them in your drink cups.
Mini notebooks are great for drawing, doodling, jotting down notes, or sending secret messages. Kids can use them at school and home, bring them on road trips, and more. They come with fun LEGO designs and vivid hues from every color of the rainbow. The pack contains 32 notebooks with four different designs, perfect for a party favor addition. Add them to a loot bag full of other trinkets and treasures, or stack them up near your party exit for kids to take as they leave.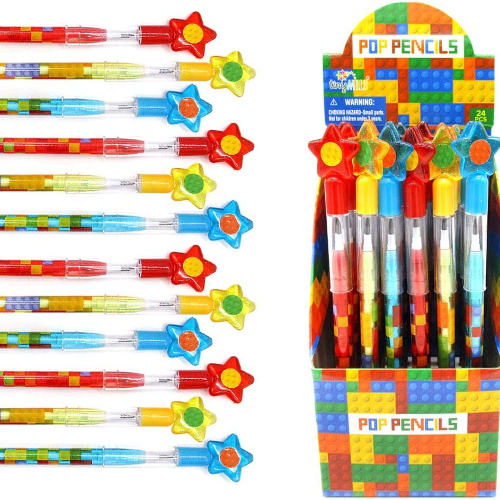 These push pencils will add tons of vibrancy to your party favors with their bright colors. You get 24 pencils in one pack, each with nine refillable #2 leads, so kids can keep using them for a long time. Plus, with the push design, there's no need to worry about sharpening your pencil. Put these with the mini notebooks above to create a fun favor that kids will love to use. The star-shaped cap adds an extra-special touch.
Frequently Asked Questions (F.A.Q.)
Does LEGO do birthday parties?
LEGO stores no longer do in-store birthday parties. But if you have a store near you, ask them about any upcoming LEGO Club events. Many locations offer monthly workshops where they open the store an hour early for members to come and build, try out various challenges, and more. This might work out well if you plan to invite just a small group or a few of your kid's close friends. Otherwise, you can seek out local party companies that might offer building or engineering activities that you can incorporate into your party.
What should you get a LEGO lover for their birthday party?
If you're trying to find the perfect gift for the LEGO-obsessed birthday kid, the options are endless. A new LEGO set is always a pleaser, but which one? Go for your child's favorites, for example, a Harry Potter set if they're a fan or a LEGO Technic kit for the budding engineer. If you don't know what sets they already have, opt for a gift card to the LEGO store or some cool LEGO storage that allows them to take creations on the go.
What are good color schemes for a LEGO party?
The most popular colors for a LEGO party are red, yellow, green, and blue. You'll find these in a lot of decorations and supplies for this theme, and sometimes just the primary colors (red, yellow, and blue). If you're going with a LEGO Friends theme, then pink, purple, and white take center stage. If you want to get even more colorful, you can do all the colors of the rainbow and decorate with LEGO bricks and solid color decorations.