It would be hard to find a family with a toddler who has never heard of CoComelon. The popular television show is full of bright, colorful images, upbeat songs, and constant movement. No matter where you stand on the CoComelon debate (is it too much or just right?), you can't deny that many little kids are into it. One thing is for sure, the vivid colors and lively atmosphere of CoComelon creates an ideal backdrop for a toddler's birthday party.
Whether you use various characters from the show in your décor or go with a rainbow theme, it's typical to use lots of color for a CoComelon party. Another option is incorporating watermelon into your theme and pulling colors and patterns from the fruit. So you have some flexibility when it comes to choosing exactly how you'll design your CoComelon birthday.
Even if you aren't super familiar with the show, you can find plenty of CoComelon supplies and decorations that make it easy to throw together a successful bash. These colorful, fun ideas for a CoComelon birthday party are a great place to start.
CoComelon Birthday Party Invitation Ideas
If you like to design and create, you might want to customize your party invites using various online design tools, like Canva or similar programs. You could also purchase invitations at a party supply store, although the selection for CoComelon-specific invitations could be a little slim. If you want to have a lot of options to choose from, your best bet is to look online for customizable invitations that you can download and print or send digitally. A great one-stop shop for downloadable birthday invitations is Etsy.
Sellers on Etsy feature some of the most popular characters in various birthday invitation designs. You can also find more unique choices that you can change up a bit to add your personal touch. You'll find a lot of ideas for CoComelon invitations on Etsy, like this one from ArtsyOwly. It's easy to add your specific party info to download and print, or some sellers will handle all of the customization for you, making things even easier.
CoComelon Birthday Party Decorations & Supplies
To decorate for a CoComelon party, the biggest thing is to keep things bright and colorful. It gives you the same vibe as the television show and is happy and fun. If you love lots of colors, rainbows, and cheery décor, then this is the party theme for you. You don't have to go overboard using character images or other pictures from the show. Instead, you could do a healthy mix of specific show decorations and solid, colorful pieces.
Serve your party guests in CoComelon style with this cute set of themed Dinnerware. It also features a few colorful decorations, giving you everything you need to lay the foundation for a vibrant atmosphere. It has all the pieces necessary to serve 16 guests, including 16 large and small plates, 16 napkins, and 18 forks. There is also a tablecloth, a backdrop, eight balloons, and a sticker for the birthday kid.
Cupcakes make a perfect treat for young kids (well, everyone, really). So include some tasty treats on your party menu and stack them on this sturdy, three-tiered cupcake stand. It sports a watermelon color scheme, reflecting the CoComelon logo and a colorful rainbow topper. It can hold 24 cupcakes or use it to display other goodies or your party favors. When the party's over, you can disassemble it for easy storage to reuse later.
When people see balloons, they instantly think of fun and happiness, and it's a party. If you want to make a big statement at your kid's birthday, check out this bright balloon arch, which you can configure in various ways. It also features a foil rainbow balloon and small white balloons to create clouds. The vivid red, orange, yellow, green, blue, and purple hues really stand out and look fabulous.
For those who don't want to go with the rainbow color scheme, this party pack is a great fit. It features lots of pink with white polka dots and just a few extra colors thrown into the mix. The CoComelon characters stand out against the monochromatic background, and pops of yellow keep things lively. The set includes 15 latex balloons, six hanging swirls, a tablecloth, a backdrop, a cake topper, 20 cupcake toppers, a happy birthday banner, and 50 stickers.
Make it easy for guests to find the party with these vibrant yard signs spell out "Happy Birthday. " The letters stand approximately 16 inches tall and feature different characters from the show. A school bus sign and a CoComelon character sign add an extra fun touch to the display. Altogether, the signs total roughly 10 feet in length, and bright yellow makes them super easy to spot.
CoComelon Birthday Party Activities & Games
It might seem a bit challenging to come up with activities for a toddler party. But you definitely don't want to push this part of your party plan to the bottom of your to-do list. It pays to put in the planning and have a few games and activities ready to go. This way, you have some entertaining ways to occupy little hands and minds. Luckily, there are several easy options that young children can do, either on their own or with minimal help.
1. CoComelon Bingo Game
Image source: Peri Foi
Everybody loves to play Bingo! And this CoComelon Bingo game is simple for kids to play since they match pictures and letters. They can focus more on the images if they don't quite know their letters yet. The goal is to get a row of rainbows, play blackout, or any other style you want. There are 20 cards included, but if you have more than 20 guests, you can play in teams.
2. CoComelon Piñata
Image source: LetsParty365
A piñata is always fun at a party. It can also double as your party favors since you fill it with all sorts of trinkets and goodies. Give kids some themed bags after the CoComelon piñata breaks so they can scoop up a few handfuls of surprises. If you have a party with younger kids, a pull-string piñata is a great option since littler ones might struggle with the traditional method. Find a style that works with your CoComelon theme, and that's large enough to accommodate enough treats for your number of guests.
3. Colorful Shape Race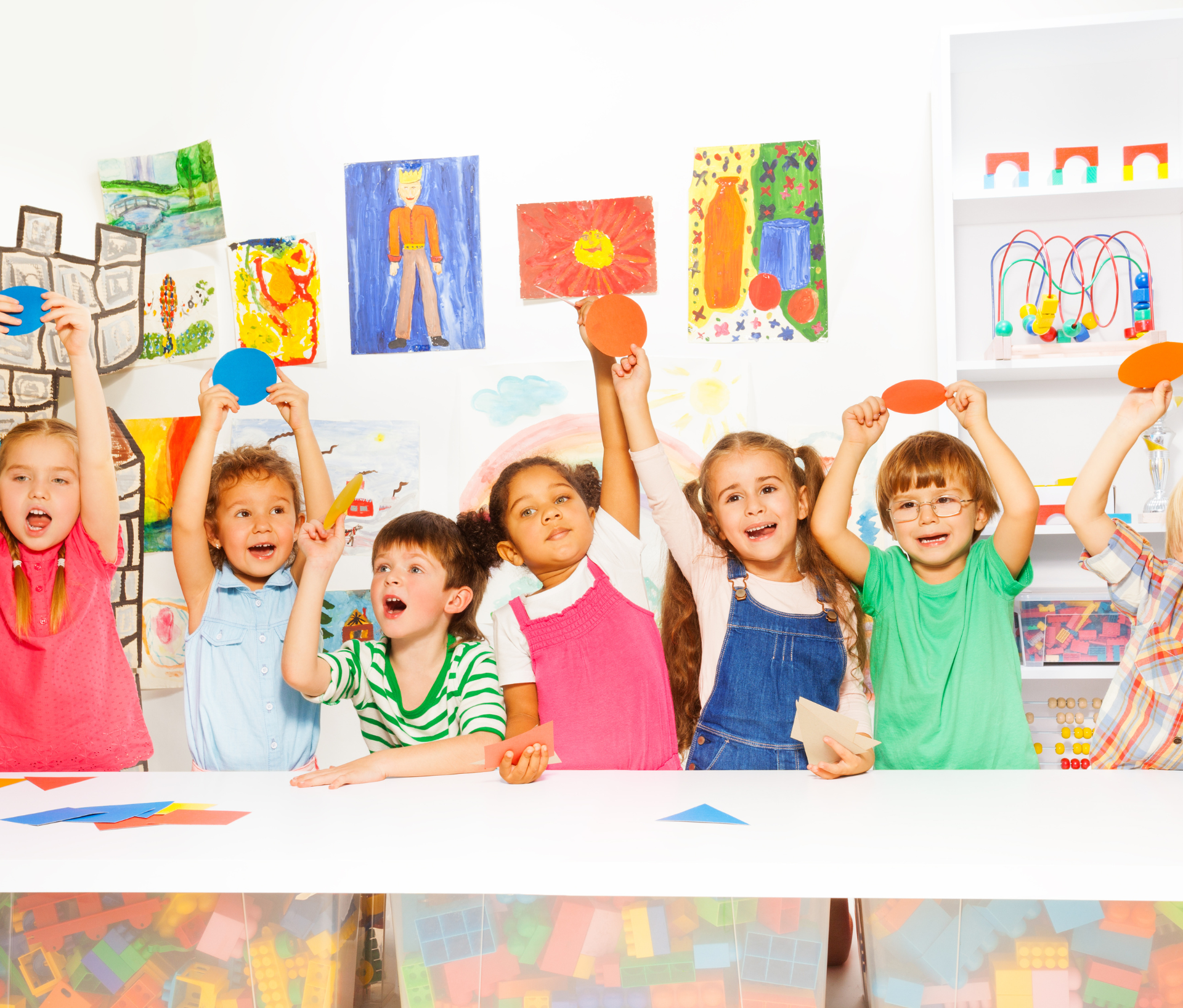 Image source: KREVEROY
It's important to organize some simple, fun games that younger children will understand and be able to play. One of the things that the kids do in CoComelon is learn about shapes. So having a Shape Race is a great fit for this party theme. Cut out a bunch of colorful shapes and place them in a few piles or lay them out on a flat surface. Call out a shape and have kids race to grab it.
4. CoComelon Bean Bag Toss
Image source: KREVEROY
A bean bag toss game is another simple activity for young children that's lots of fun. You can also get creative with how you set it up, using a CoComelon backdrop, tossing bean bags into buckets, or trying to get them inside a hula hoop. Larger targets make it easier for the little kids. You can find CoComelon bean bag games available for purchase or easily come up with a DIY version that works for you.
5. Jump And Play In A Rainbow Ball Pit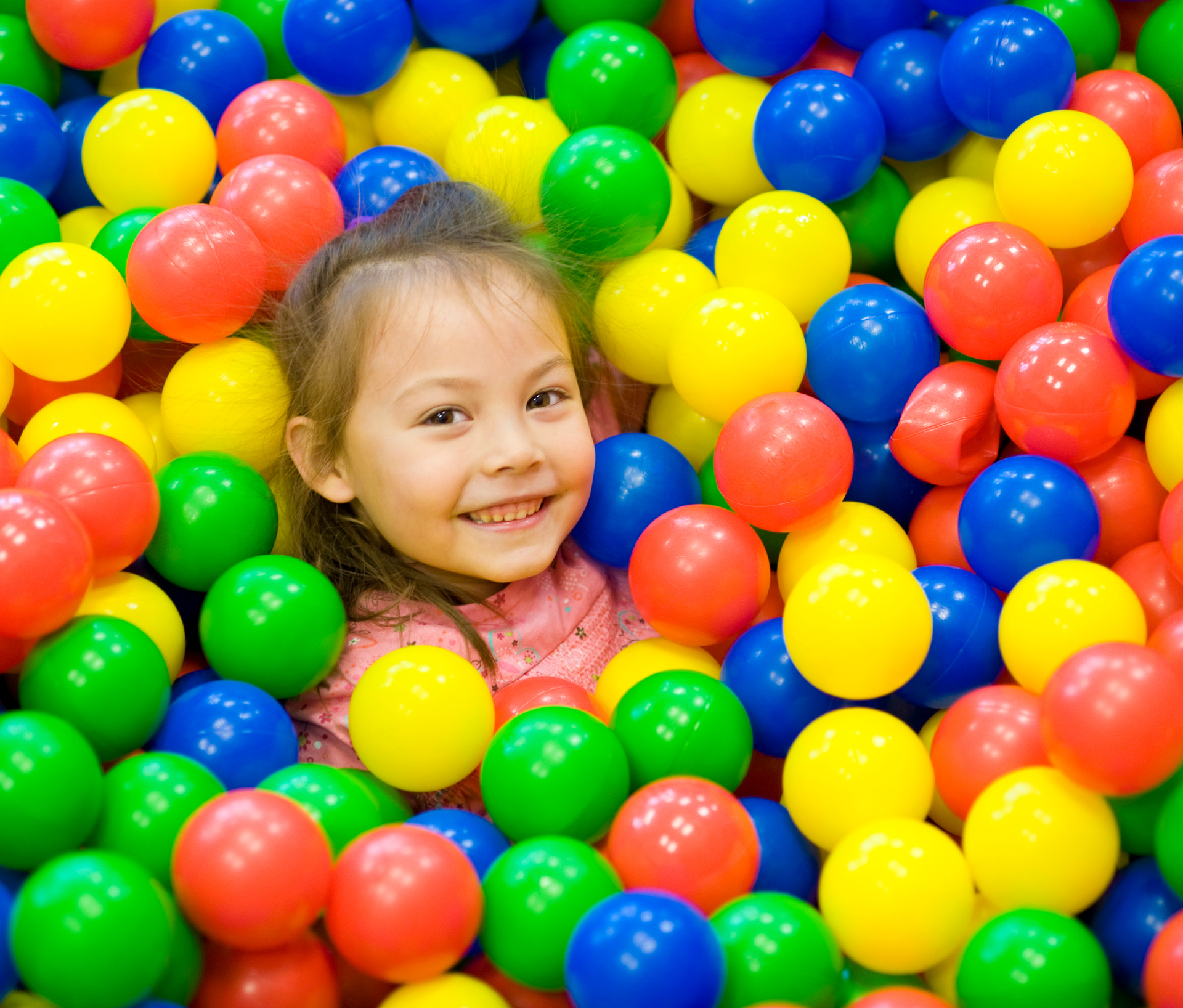 Image source: RonTech2000
Here's an easy way to keep kids engaged and having a ball, literally. Fill a kiddie pool with colorful plastic balls to create a DIY ball pit for your little guests. Keep it set up for the duration of the party as an ongoing activity and fun place for kids to jump, play, and roll around. It also is sure to set up some cute photo opportunities, so make sure to keep the cameras ready.
Party Favors For A CoComelon Birthday
You don't have to break the birthday bank on your party favors, so don't let the fear of spending too much stop you. It's nice to give guests a little something before they leave to say thank you. Guests always like to feel appreciated and enjoy getting a little surprise. But you can DIY some goodies, fill loot bags with candy, or buy CoComelon trinkets and various items you can pass out at the end of the party.
These loot bags are perfect if you plan to have a piñata at your party. Kids can fill their bags with tons of goodies to take home. Or use the bags to hold special surprises you send home with kids after the celebration. Great fillers are candy, stickers, small bubbles, tattoos, and similar items. The bright colors also make a festive statement on your party favor table and keep the theme going strong.
This party pack not only features things you can use as favors but also a few decorative items too. There are enough favors to create 12 gifts for guests. You'll get 12 CoComelon gift boxes, 12 pins, 12 bracelets, and 50 stickers. There are also 15 balloons you can either give out with your favors or use as extra decorations for your party. All the items are full of colors and keep things bright and happy.
Kids love to color, and parents love when kids are coloring because it means they're occupied and engaged in something creative. So when you give out these mini coloring books and activity sets as your party favors, everybody wins. You get 24 Grab 'n Go Play Packs, which include stickers, coloring pages, and more. They make a great favor on their own or can be a part of a larger goody bag.
These cups make a great favor because they can hold lots of goodies kids will love, then parents will appreciate having the cup to take on the go. The lids and straws help prevent spills, and the take-and-toss design makes it super easy to bring with you at a moment's notice. The set comes with two four-packs, so 8 cups total. You might need to purchase two or three sets depending on how many guests you plan to invite.
This set of jumbo chalk holders feature JJ and his fellow CoComelon characters, bright colors, and matching chalk. The box has five holders, which you can split up and put with other treats in a goody bag or container. Or you can wrap up two and give the chalk holders as your sole favor. Another option is to have them in a large bin, let kids draw and do sidewalk chalk as one of the party activities, and take home a chalk holder afterward.
Frequently Asked Questions (F.A.Q.)
Is CoComelon a boy or a girl?
Many people think CoComelon is the baby's name who serves as the main character in the popular show. But the baby's name is actually Jacob Jingleheimer Schmidt (J.J. for short), and he's a boy. The show also features many girl characters, and as a birthday theme, it works well for both boys and girls.
What is the best age for a CoComelon party?
CoComelon is definitely more for young children, four and under (although even four might be too old for most kids). The most popular age group would be one to three-year-olds who are familiar with the show. But the theme works for babies, too, thanks to its colorful nature and cute characters. You'd be pushing it to try and work the theme for your five-year-old. If your older kid really wants a colorful birthday party, go with a rainbow theme or art party.
What are the best colors for a CoComelon birthday party?
Every color! Think of every color of the rainbow and incorporate it anywhere you can. You can't go wrong with red, orange, yellow, blue, green, and purple. If you don't want to have so many colors, stick with red, blue, yellow, and green. Or another option for fewer colors but still keeping things bright is to let watermelons guide the fun. If that's your pick, go with green, red, and pink.