Nothing says "spring" quite like a colorful bouquet of fresh flowers. And while it's nice to pick your own or buy some from the supermarket, there's something so joyful about handmade flower crafts, especially those made by children. Keeping some basic crafting supplies on hand — craft sticks, paint, glue, scissors, construction paper, and paper plates — will ensure you always have what you need when your child wants to make something very special for a very special person (maybe you!).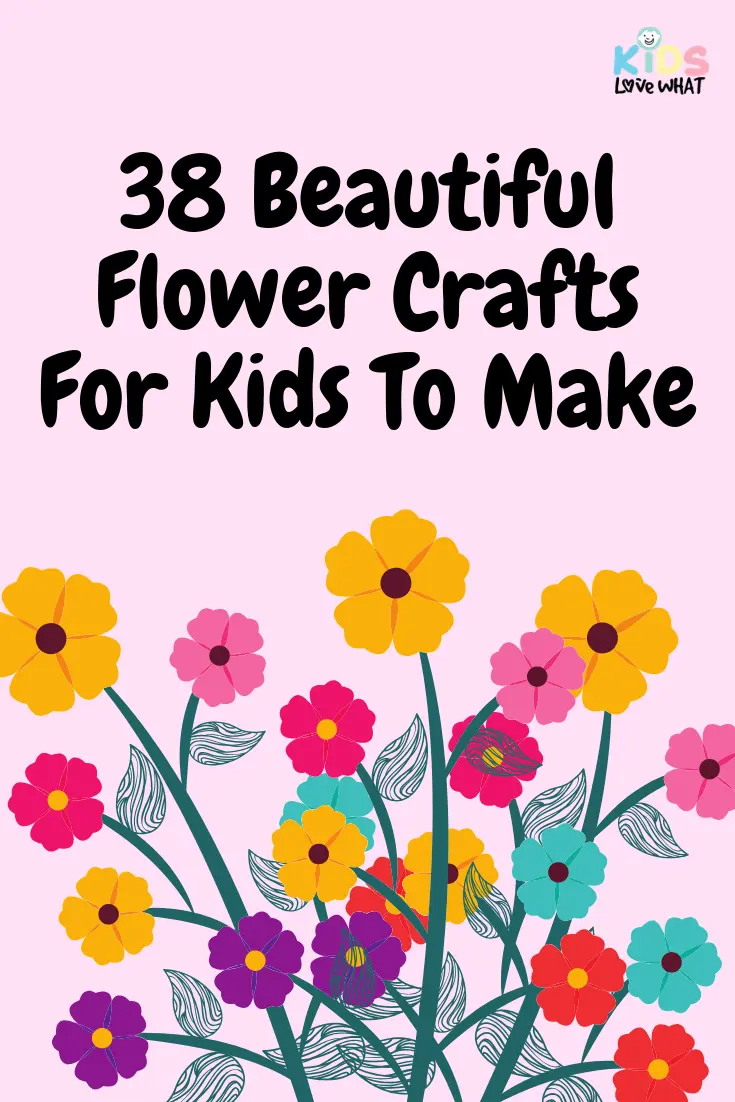 Many of these crafts are designed to mimic real-life flowers, such as the Hyacinth Bottle Cap Craft, the Elegant Paper Flower Craft, and the Good Day Sunflower Craft. But there's no need to worry over whether or not the flowers look exactly right; for a more relaxed, all-purpose flower craft, try the Sunshine After The Rain Flower Craft, the May Flowers All Year Long, and the Scissor Skills Flower Craft.
Even if spring is still months away, these brightly colored projects will cheer up any gloomy day. Plant an entire inside garden, collect a bunch in a vase or mason jar, or spread them all over the house like shiny, happy wishes. Whether pastels, primary colors, or a tie-dyed swirl of all the colors of the rainbow, there's certain to be a flower craft on this list that makes you and your child smile!
1. Potato Stamp Flower Craft
Image source: A Little Pinch Of Perfect
Inspired by the Eric Carle book, "The Tiny Seed," this flower craft is designed with little hands in mind. A Little Pinch Of Perfect keeps things simple with potato stampers and construction paper to replicate the flower on the cover of the book. Potatoes are great for dimpled little hands still working on those fine motor skills. The construction paper stems and leaves don't require an M.A. in Fine Arts to trace and cut out, so go ahead and give it a try. Best of all, clicking on the link will take you to the instructions for this craft as well as to free printable educational activities.
2. Hyacinth Bottle Cap Craft
Image source: I Heart Crafty Things
I Heart Crafty Things has a project dedicated to the distinctive hyacinth flower that blooms from March to April. First, you cut out the stems and long leaves from green card stock; then have your child dip a bottle cap into some paint and stamp up and down the sides of the stalk to create that eye-catching hyacinth effect. Real-life hyacinths come in all shades of pink, purple, and red, so there are plenty of hues to choose from (or mix yourself). Of course, the laws of nature don't necessarily apply to kids' crafts, so feel free to bust out the glitter glue!
3. Give Me Your Answer Do
Image source: The Pinterested Parent
Here's one of the softest flowers you'll ever craft! With cotton swabs, some Play Dough, and pipe cleaners, this daisy flower craft over at The Pinterested Parent feels as sweet as it looks. Cut up the cotton swabs while your child rolls some yellow Play Dough into a ball; they can then insert the stick ends of the cotton swabs around the perimeter of the ball to make the daisy's center and leaves. When the craft is done, mount it to some bright blue paper for cheerful springtime art!
4. A Colorful Bouquet Of Flower Crafts
Image source: Red Ted Art
No green thumb needed for this garden of paper plate flower delights from Red Ted Art! No matter what kind of climate you live in or what time of year it is, you can make bright and colorful flowers with paper plates, paint, and straws. The site has just a few ideas for designing gorgeous flowers that will brighten up a grey winter day or a rainy summer afternoon. Children can really express their creativity with all the different colors and patterns at their fingertips. Make a special bouquet for a grandparent or teacher, or make these to decorate a spring fling party!
5. Independence Day Fireworks Flower Craft
Image source: The Inspiration Edit
The Inspiration Edit's free printable template is the secret to creating the gorgeous and patriotic paper flowers in this project. And while it may seem at first like there are lots of complicated steps, don't panic: it's all very easy once you read through the instructions and get an idea of what order everything goes in. These bright and colorful flower crafts can be taped to a picnic table outside (so they don't blow away!), clipped to a string and hung up in a row, or glued to the outside of mason jars with tea lights inside.
6. A Truly Eggs-cellent Flower Craft
Image source: I Heart Arts And Crafts
Upcycling egg cartons has never been as much fun as with this flower from I Heart Arts And Crafts! There is an infinite combination of colors to choose from; pastels look especially lovely for early spring. And with a pom-pom center and a straw stem, these flowers are just fantastic for party or classroom activities where kids can pick their own paints and materials. Stick a few of these in a vase with a bow tied around the neck for a handmade Mother's Day gift or give them out to friends just to say "I love you."
7. Cardboard Tube Flower Craft
Image source: The Best Ideas For Kids
While you're crafting some beautiful flowers, why not make a few butterflies to go with them? Over at The Best Ideas For Kids you get a two-for-one crafting project! By painting, cutting, and bending an empty toilet paper or paper towel roll, you get the perfect shapes for creating sweet butterflies and colorful flowers. Help your child learn how butterflies help make new flowers through the process of pollination. Make matching or complementary flowers and butterflies. Paint the cardboard your school's colors, or make them to go with a birthday party theme!
8. Here Comes The Sunflower Craft
Image source: I Heart Crafty Things
This project from I Heart Crafty Things takes ordinary art supplies and household objects and makes them into something as brilliant as the sun. It's so easy to make, and because it involves bubble wrap, your children will automatically be thrilled to help out. This is an ideal craft for teachers to keep in mind for those long winter days when outdoor recess simply isn't going to happen for a few more weeks and the students need something bright to cheer themselves up. Educational bonus: teach them about how tall sunflowers can grow (6 to 10 feet).
9. Sunshine After The Rain Flower Craft
Image source: Twitchetts
If your child is obsessed with rainbow-colored everything, or if you're still teaching them the ROY G BIV way of learning the colors of the rainbow in order, Twitchetts' paper flower craft will be a huge hit in your home. The absolute best part of this craft is that you can customize the size of the flowers quite easily by simply using different sized circles for tracing the petals. These rainbow flowers look beautiful on cards or PRIDE signs, too!
10. Flower Craft Keepsake
Image source: A Little Pinch Of Perfect
The only thing better than receiving a bouquet of real flowers is receiving a bouquet of flowers made from your children's handprints and footprints! While this sweet craft from A Little Pinch Of Perfect might be a slightly too messy and involved for a classroom craft, you can always "accidentally on purpose" leave the blog page open at a strategic moment when you know your significant other will see it and get inspired. If that's a big ask, then make these with the kids yourself and give them out to grandparents and teachers (and maybe keep some…).
11. May Flowers All Year Long
Image source: Easy Peasy And Fun
Enjoy the colors of fresh spring flowers all year long with a simple craft from Easy Peasy And Fun. Have your child choose a variety of colors to start with; make the flowers monotone, or go wild with different colored petals for a single flower. A large hole punch makes easy work of the flower's center, and again, can be whatever color your child is drawn to that day. Click on the link for some helpful tips on aging this project up or down depending on your children's or students' abilities. 
12. Craft Stick And Button Flower Craft
Image source: The Resourceful Mama
Over at The Resourceful Mama the name of this crafting game is simplicity. If you have young children around — at home, at school, or at daycare — you probably have some craft sticks hanging out in a drawer or bin just waiting to be made into something adorable. With a little paint and glue, those simple wooden sticks magically turn into bright and beautiful flowers! Make sure to buy a bag of mismatched buttons for the centers, or use orphaned buttons you may have from old clothes. Toddlers and preschoolers will adore this fun craft that's right at their level!
13. Tiptoe Through The Tulip Crafts
Image source: I Heart Crafty Things
Don't you just love those photos that pop up all over the internet every spring, of the rows and rows of tulips in Amsterdam? If you find yourself inspired by those bright colors that seem to go on forever, I Heart Crafty Things has just the project for you. With a free printable template, the effort required to make one single paper tulip is minimal, allowing you the time and energy to make your own Dutch field of flowers. For teachers, this is a great craft for students, as they can make as many as they want; when they're done, hang them up and transform your classroom into a delightful spring garden!
14. Bright Sunshine Flower Craft
Image source: Paper And Glue
After the December holidays have passed, and you and your kids are looking down the long tunnel of the remaining winter days, brighten up everyone's moods with a flower craft as big as the sun! Doilies make natural flowers, as you can paint the plain circle inside a nice, bright yellow and leave the outside lace white like petals. Paper And Glue offers some fantastic inspiration to get you and your kids going on those gloomy winter afternoons.
15. Touch-And-Feel Flower Craft
Image source: Buggy And Buddy
No matter what your child's favorite colors are (this week), or whether you need certain colors to go with a party theme, Buggy And Buddy's tissue paper flowers will work perfectly for your needs. Part of the fun of doing this project with your kids is that it's more than simply cut-glue-done; you can finally get some quality family time by having everyone sit around the table and cut the tissue paper into squares, crinkle them, and glue them on one piece at a time. Encourage your children to make up their own patterns on their flowers, and then tape the flowers up on the wall like a family garden!
16. Flowers That POP
Image source: About A Mom
Bubble wrap is a perennial kid favorite material to play with. There's just something so deeply satisfying about popping those bubbles! If you have some at home — from a recent move, package delivery, or just because it's your child's favorite fidget — check out this flower craft from About A Mom. And if you don't have spare bubble wrap, don't sweat it, as most office supply and hardware stores sell it by the package or the roll. With the painting and stamping, this cute craft will be as fun for your toddlers and preschoolers as popping the bubbles!
17. Flowers By Science
Image source: Left Brain Craft Brain
Inevitably, your child will graduate from paper plate crafts. Before they hit that milestone, have plenty of #6 recyclable plastic on hand for a psychedelic, Warhol-esque flower craft from Left Brain Craft Brain. This particular flower craft utilizes scientific principles — click the link to see how to turn this into a STEAM learning project. It's just wonderful for older kids who think they're too cool for arts and crafts but might actually have fun watching the plastic melt in the oven. Then high-five yourself for a huge parenting win!
18. Q-Lips
Image source: Happy Toddler Playtime
Stuck in a crafting emergency? Kids unexpectedly home for the day? Surprise play date at your house? Click on over to Happy Toddler Playtime for this flower craft that's made with items you very likely already have. Cut out some nice big tulip shapes from white paper to give the tots plenty of room to create. Instead of handing them paintbrushes, grab a few cotton swabs out of the bathroom and let them get messy! (Have the crafts placed inside a shallow baking tray first to minimize the mess.) These are great for a quick classroom activity, too.
19. Elegant Paper Flower Craft
Image source: Mess For Less
Calla lilies are an elegant, understated flower that's become popular with brides for their bouquets. If your kids have outgrown big, flashy flowers, steer them towards this craft over at Mess For Less. These are not little kid flowers and look absolutely stunning when wrapped together as a bunch with some pastel washi tape. Great for end-of-school-year gifts, spring decorating, or just as a lovely surprise on your child's pillow. The site contains a free printable template to make your life just a little bit easier.
20. 3D Hyacinth Flower Craft
Image source: The Inspiration Edit
While you've got hyacinths on the brain (see #2, above), make sure you check out The Inspiration Edit's own take on the distinctive flower. The site has a free printable template to help you and your children get the shapes right. With so many rectangular strips of paper, this is a perfect craft for letting your child practice those budding scissor skills (and reinforcing shape recognition). If you're feeling particularly sassy, go ahead and glue different colored strips onto each flower base.
21. Handprint Keepsake Flower Craft
Image source: Glued To My Crafts
This sweet card from Glued To My Crafts hits the trifecta of crafting with kids on a budget: it's easy to make; it doesn't require anything special beyond colorful paper and glue; and it makes a perfect keepsake. What more could you ask for? Whether your child is just old enough to "lend a hand" for tracing, or is able to glue the pieces together on a sheet of construction paper, or can finally use new scissor skills to cut out the pieces, they can take plenty of pride in helping to craft this simple but adorable card for Mother's Day, Father's Day, birthdays, or just because.
22. Good Day Sunflower Craft
Image source: Easy Peasy And Fun
Once again, here is a lovely flower craft that's both easy to create and doesn't require any special tools or materials. The clever minds at Easy Peasy And Fun show you how to use a fan fold to add texture and depth to a simple piece of yellow paper in order to turn it into a bright sunflower. The stems and leaves are straightforward for tracing and cutting out; if you have older kids, they might enjoy lending a hand to that part. Once your flower is done, the blog recommends gluing sunflower seeds to the center to make it a teensy bit more realistic.
23. Delicate Flower Craft
Image source: Preschool Inspirations
Graduate beyond the traditional yellow, blue, and pink packs of cupcake liners and stock up on some colorful, printed designer ones for this flower craft from Preschool Inspirations. There are so many beautiful options out there that your only problem will be which ones to buy! The ease of this craft makes it a great idea for a classroom lesson on springtime and how things grow. With their craft stick stems, these 3D flowers also look dainty when you bunch them together in a mason jar, adding a splash of color to any room.
24. Dots Of Color Flower Crafts
Image source: The Kindergarten Connection
Over at The Kindergarten Connection they've got a craft that's super fun for preschoolers and kindergarteners to make! Do A Dot markers come in packs of rainbow colors, so kids can really flex their creative muscles. This art project can easily double as an educational activity by asking the kids to name the colors they are using or teaching them about alternating patterns (early math skills!). To hang these up, simply punch a hole in one edge of the paper plate and loop a length of string through. Now you can have fresh flowers in your home or classroom all year long!
25. Flower Collage With Yarn
Image source: The Resourceful Mama
Even if you don't knit or crochet, yarn is a great material to have on hand for doing arts and crafts with young children. It's easy to find, inexpensive, and comes in an endless variety of colors, textures, and sizes. Once you have some yarn, click over to The Resourceful Mama for this fuzzy and fluffy flower craft. Kids can have an absolute blast making messy "yarn spaghetti" on a paper plate already covered in glue! Encourage them to use different colors to make even more unique flowers, and leave some buttons out for the flower centers.
26. 2-lips, 3D-Lips
Image source: I Heart Crafty Things
Older kids who are ready for slightly more advanced arts and crafts can make these stunning 3D tulips from I Heart Crafty Things. Not only do the tulip bulbs pop off the page in a dazzling display of paper work, but even the leaves are bent at the tips to become 3D. Bright, natural tulip colors in reds and yellows are highlighted with a pale blue background that reinforces a sense of spring and sunshine. Hang this up wherever you need a reminder of nature's beauty and color.
27. Water Your Garden
Image source: Kid Friendly Things To Do
Just like the other recycled plastic flower craft on this list (see #17, above), Kid Friendly Things To Do shows you how to make flowers while feeling good about upcycling and staying green. Before you start the project, make sure you have scissors tough enough to cut through plastic water bottles. Let the bottoms of the water bottles dry completely before the kids start painting them; the blog has a few excellent tips for choosing which paints will work best here. With the water bottle bottoms naturally forming the shape of a flowerhead, all kids need to do is paint the petals!
28. Crowning Glory Flower Craft
Image source: Paper And Glue
Forget fancy camera filters and help your little woodland prince or princess make a real-life flower crown from Paper And Glue. If you feel like cutting out dozens of paper flowers in lots of colors ahead of time, this can easily become a birthday party craft in which guests can make crowns to wear home. In classrooms, this would be great for a spring craft party, or to go along with stories about elves and fairies that live in the woods. Or, just make matching ones at home for yourself and your child!
29. Mixed Media Flower Craft
Image source: Toddler Approved
Why choose only one material for making flower crafts when you can take a cue from Toddler Approved and use all of them? Check out this anything-but-basic creation and let it inspire you to use up all those extra sheets of paper, aluminum foil, ribbons, cardstock, paper bags, and paint you have on hand. This is a super creative way to jump start your child's imagination on a day stuck at home, or at the end of the school year when you have all those scraps laying around. 
30. Extra! Extra! Flower Craft!
Image source: Easy Peasy And Fun
While you are teaching your children to go green by upcycling and recycling household materials into crafts (see #17 and #27, above), make sure you bring old newspapers in on the action. Easy Peasy And Fun has a way to turn ordinary newspapers into absolute works of art that will brighten your child's day. The beauty lies in layering the pieces of the flower together in different colors. When you're finished and the project is dry, it will look absolutely amazing on your fridge or in a window.
31. Thumbprint Flower Craft
Image source: Glued To My Crafts
Rather than using your child's entire handprint to make a flower, try this idea from Glued To My Crafts. A free printable template is included at the link, so all you need to do is dip your child's thumb in some paint and make a colorful dandelion. (For your sake, remember to use washable paint!) The thumbprints don't have to match up exactly with the stems, just make it colorful and full. Then blow on it and make a wish!
32. Scissor Skills Flower Craft
Image source: The Resourceful Mama
For little hands just learning how to use scissors, or for bigger hands that need some fine motor skills practice, The Resourceful Mama has this delightful flower craft. This project works so well because the children can use regular safety scissors, and they don't need to follow a pattern or cut along any lines. In fact, the less perfect the cuts, the better! With a little bit of paint and construction paper, you can help your child make something that'll build confidence and muscle memory. 
33. A Spoonful Of Flower Craft
Image source: Kid Friendly Things To Do
Add plastic spoons to the list of recyclable items you can turn into flower crafts (see #6, #7, #17, and #27, above), thanks to Kid Friendly Things To Do. Get some really colorful plastic spoons for this one; most party supply stores have sections divided by color, so you can easily find a few you like. Recycled paper stuffing adds to the eco-friendly stamp of approval for this project. Little hands may need help taping the spoons together in the correct arrangement, so stick close and be ready to lend a helping hand if needed.
34. Sun's Out, Flowers Out
Image source: There's Just One Mommy
With the coming of spring, the flowers bloom and daylight sticks around a little bit longer. Make a flower craft that captures the essence of this rebirth of nature's cycle with a captivating suncatcher. Click on over to There's Just One Mommy to find out how to make this ethereal, stained-glass effect on a simple coffee filter (hint: squirt guns!). When it's ready, hang it up in the window of your child's bedroom so that every morning they can wake up to sunshine and color — just like the world outside!
35. A Flower Craft For My Valentine
Image source: Fireflies And Mud Pies
Scrapbook paper isn't just for scrapbooks; collect some brightly colored sheets from your local craft store to make a bouquet of "love"-ly flowers. While you're there, pick up a heart-shaped hole puncher, as that is Fireflies And Mud Pies' secret to this delightful craft. And why wait until spring to make paper flowers? These can be a wonderfully unique and fun valentine for your child to give out at school, or to bunch into a bouquet for their teacher.
36. Roses Are Red, And Violet, And Blue
Image source: CBC Parents
Over at Happy Hooligans (via this link to CBC Parents), these paper towel roses look so realistic that you'll immediately want to put them in a vase and display them on a prominent shelf or table. They're creative, clever, and so beautiful. Hosting a slumber party? Bust out this craft and watch your child's friends ooh and aah over the lovely roses they made! Got a class Valentine's Day party coming up? Have your students make these to bring home to Mom and Dad. Or make these for Mother's Day! Roses are such a timeless classic that they're a joy to give and receive any time of the year. 
37. Just Add Tissue Paper
Image source: Mess For Less
Once again you get a free printable template to use so that you can make this flower craft from Mess For Less. Don't feel like cutting millions of squares of tissue paper? The blog contains an affiliate link where you can buy a box of multicolored tissue paper squares, pre-cut and ready for crafting. Once your child is all set up with the paper, glue, and printed out template, this should take at least a little while for them to put together, which means this craft is one to keep in mind when you need some screen-free time at home.
38. Water Bottle Stamper Flower Craft
Image source: Crafty Morning
Wrapping up the list is one more upcyclable flower craft using water bottles (see #17 and #27), this time from the clever minds at Crafty Morning. No cutting or baking with this one; all you have to do is dip the bottom of a water bottle into some paint and let your child stamp it onto a clean sheet of paper. Little buttons make cute flower centers, and the stems and leaves are easily drawn in with green markers. With such an easy stamp, you're child will be making their mark on everything that crosses their path!