It doesn't matter where in the world you live: sports transcends cultures, languages, and generations. Whether you are a lifelong fan of your local football team, you coach your kids' tee-ball, obsess over the Olympics, or enjoy kicking a soccer ball back and forth with your kids, sports bring families, friends, and even strangers together.
Some kids love to play sports; others prefer watching. Either way, being into one sport or another helps kids learn the value of hard work, doing your best, and being a gracious winner or loser. In some cases they also learn how to be an effective part of a team.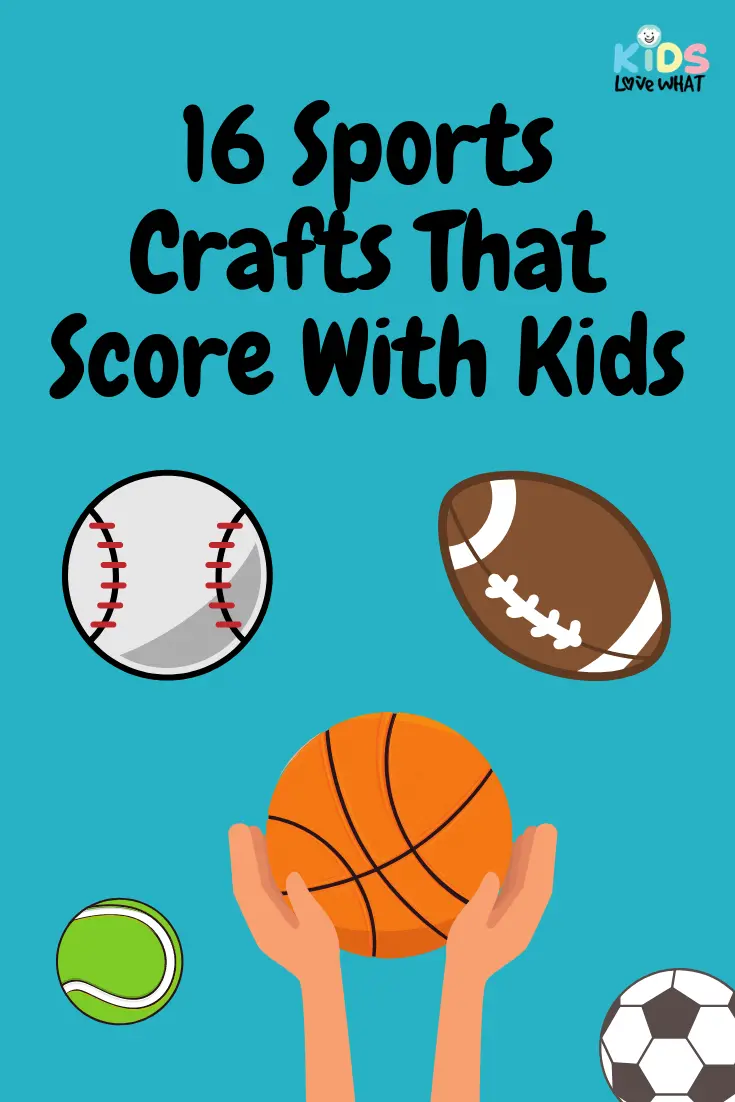 So whether your mudroom looks like a sporting goods shop, or you only care about the Olympics every four years, there are sports crafts below that everyone can enjoy. These 16 projects are especially designed for toddlers and preschoolers who may not be able to hit a ball with a bat yet. Use these crafts as a tool for helping them learn shapes and colors as well as sports. These are all pretty easy to make, and don't require a lot of special materials, making them ideal for birthday parties as well as afternoon arts and crafts time.
1. Any Team Sports Craft
Image source: My Creative Life
Here's a sports craft that pulls double-duty as a cool way to cheer on your favorite sports team while also looking like you bought this professionally made. And while My Creative Life admits that this might take a while to complete, it's not that hard or complicated. If you have access to a regular computer printer, you can do this. Tissue paper is easy to find at a store near you, or order your team's specific colors online. Put the kids to work cutting up the tissue paper and gluing it into place. That's all that's required, and when you're done it looks absolutely championship game-worthy!
2. Quick And Easy Baseball Craft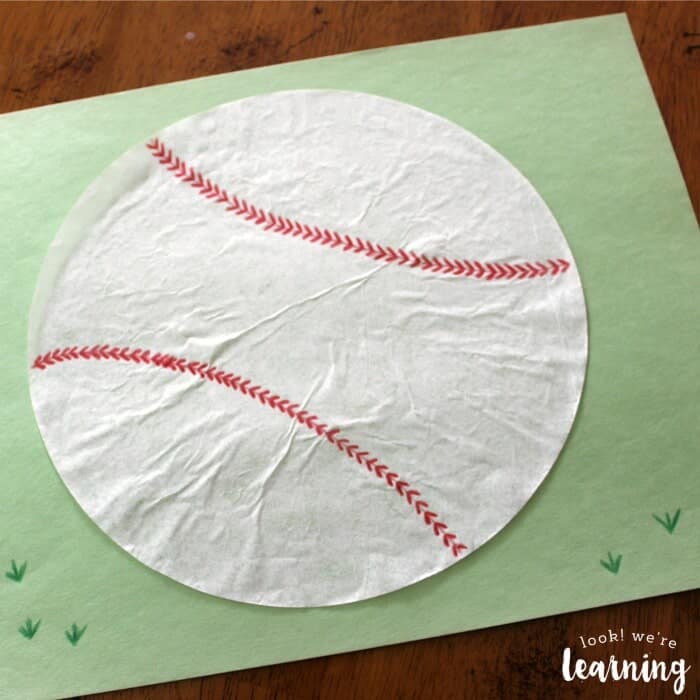 Image source: Look! We're Learning
If your family follows the boys of summer, here's a cute baseball craft to try. Look! We're Learning has this project that's so easy, you'll want to make one for the whole team. A white coffee filter is perfect shape and color for the body of the baseball, and even toddlers can help by gluing it onto a piece of construction paper; choose a color based on your favorite team, or go green for grass. This sports craft is so simple and quick that it's fantastic for a baseball-themed birthday party, as you can make as many as you want and use them as decorations.
3. Extra Point Football Craft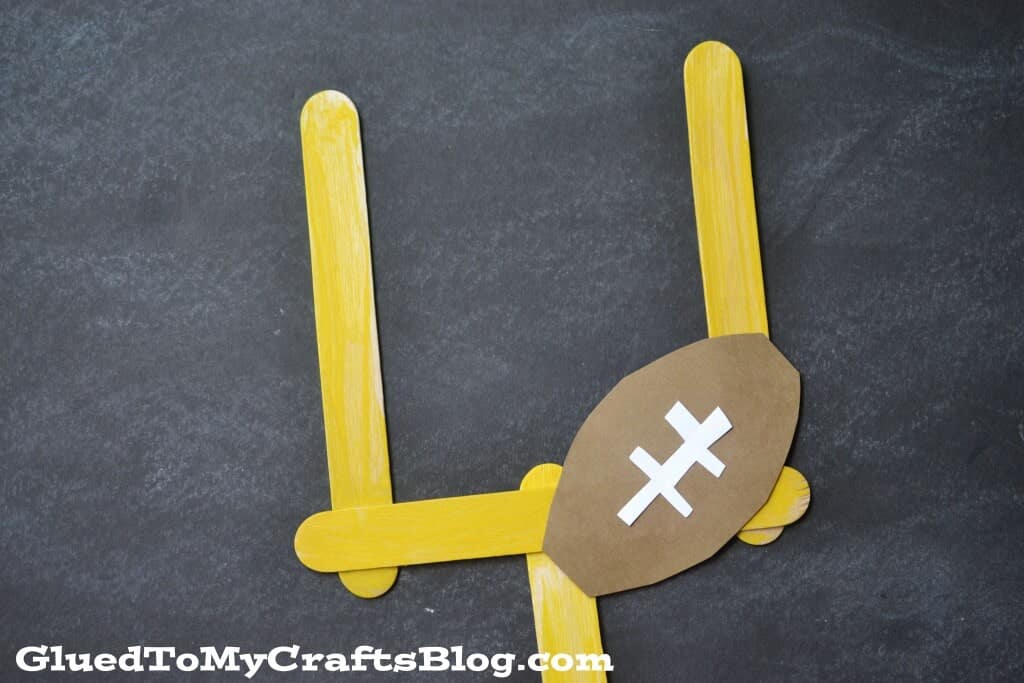 Image source: Glued To My Crafts
For the very little football fans in your home, check out Glued To My Crafts' adorable goalposts made from craft sticks. This is an delightful way to encourage your child's creativity while also bringing them into the family fandom fold. On game day when everyone is gathered around the snacks and television, your child can hold this up whenever your team makes that extra point after an exciting touchdown! For a football birthday party, these are a great craft for your child's guests to make and take home.
4. Hang Ten Surfboard Craft
Image source: Play Trains
Here's a fun and unique craft from Play Trains that will be a hit at any beach party! The free printable template comes with surfboard outlines of varying sizes so that you can customize your crafts to whatever suits your needs: smaller ones to stick onto cupcakes with toothpicks, medium ones to use as table cards, or extra large ones for the kids to color themselves and take home. Or, keep them at home, fill up the bathtub, and let your children experiment with seeing which of their toys can catch a wave — and which ones wipe out. 
5. "Q"-B Football Craft
Image source: Dolen Diaries
The "Q" in the QB for this football craft from Dolen Diaries comes courtesy of the Q-tips you'll use to paint. Any cotton swabs will do, really; they are the perfect size and shape for creating that textured look you see on real life footballs. Make sure you do the paint before adding white paper laces so that there's no chance your child accidentally textures those! Toddlers and preschoolers will love this project because it's pretty hard to do it wrong. All they have to do is dip their swab in brown paint and dab it all over. 
6. Fingers On The Seams Baseball Craft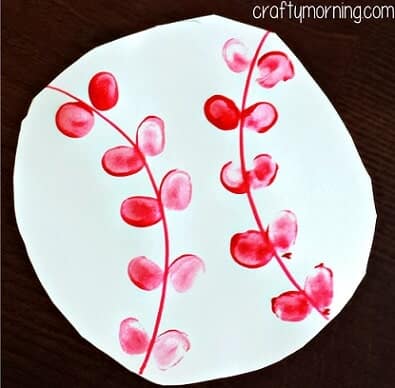 Image source: Crafty Morning
Even if your children aren't old enough for tee-ball, you can help them get ready for baseball season with a sweet project from Crafty Morning. Nothing about this has to be perfect, not even the circle you cut out of white cardstock or paper to make the body of the baseball. Part of the joy in helping your child make simple crafts like these is in their imperfection — that's what makes them unique! And, since you are using your child's fingerprints as the stitches in the baseball's seams, this piece of art becomes an instant one-of-a-kind keepsake.
7. Blades Of Glory Ice Skating Craft
Image source: The Pinterested Parent
If your child is the next Kristi Yamaguchi or Scott Hamilton, help them celebrate the sport they love with a personalized, 3D craft. Click on over to The Pinterested Parent for a free printable template (in either ice skater girl or ice skater boy) and instructions for creating this delightful project. When it's complete, your little gold medalist can move their paper avatars back and forth across the ice. (Sorry, no triple-axels or Lutz jumps here.) It's a winter sport craft that can be made all year long!
8. Knock 'Em Down Bowling Craft
Image source: The Pinterested Parent
Bowling is a fun family activity that helps teach children the value of healthy competition and good sportsmanship. After an afternoon of strikes, spares, and the inevitable gutter balls, The Pinterested Parent shows you how to make a footprint keepsake bowling craft. It's both easy and fun, and will tickle your children's tootsies after they've spent a day wearing bowling shoes. You don't need fancy materials to make this, and the result is an adorable keepsake that will forever remind you of when you took your child bowling for the very first time.
9. Full Court Basketball Craft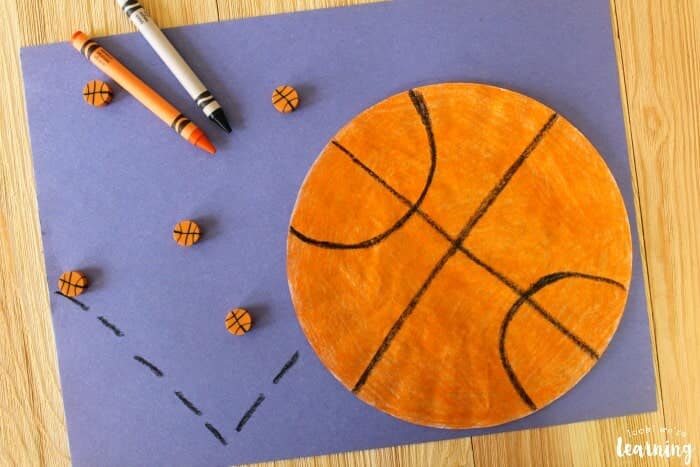 Image source: Look! We're Learning
Just like Look! We're Learning's baseball craft (see #2, above), this basketball craft is based on the simple concept that a flattened coffee filter makes a perfect ball shape. It's super quick and easy, and you don't need to stock up on special materials to make it. For those rainy afternoons when you don't want your preschooler to spend too much time in front of the tv, or playing on devices, simply get orange and black crayons, one coffee filter (any color), and let them scribble their little hearts out! 
10. Fingerprint Sports Craft
Image source: Crafty Morning
For kids who are a little bit too young and uncoordinated to toss a pigskin back and forth, there is still a lovely way for them to get acquainted with football. As with the other fingerprint project from Crafty Morning (see #6, above), you'll not only bond with your child over your favorite sport, but you'll create an instant keepsake. You cut out the football and draw the seams; your child creates the stitches with their sweet little fingerprints. (This also doubles as a way for enthusiastic parents to teach children where to put their fingers when throwing a spiral!)
11. Love-Love Tennis Craft
Image source: Kids Activities Blog
Tennis, anyone? Thanks to charismatic superstars like Serena Williams and Roger Federer, tennis is rising in popularity and is no longer considered merely a country club sport. But what do you do when it's raining or snowing outside, or your Wimbleton-bound tot isn't big enough to swing a racket yet? This tennis craft from Kids Activities to the rescue! Even if no one in your family knows a forehand from a backhand, this craft is easy to make and fun to play for all ages and definitely gets everyone up and moving around.
12. Are You Ready For Some Football Crafts?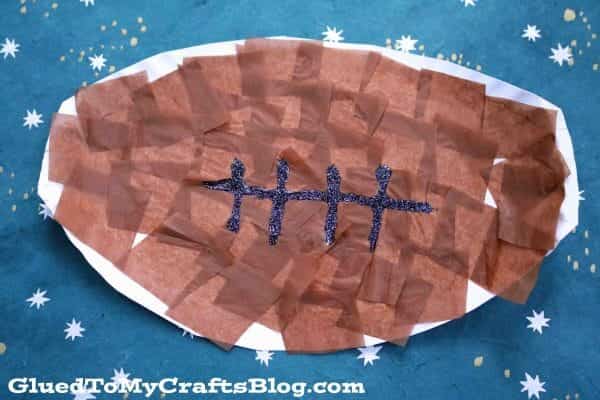 Image source: Glued To My Crafts
Score an extra point with this championship football project from Glued To My Crafts! In the touchdown of paper plate crafts, you don't need to do a whole lot more than cut out squares from brown tissue paper. Easy enough for even a rookie to do! A little glitter glue for the seams adds a Superbowl celebration vibe. If you have a lot of guests coming over to watch a game, this is an adorable way to let your child get in on the action, and perhaps make some take-home treats for everyone. 
13. Slap Shot Sports Craft
Image source: Creative Family Fun
For families with kids that hit the ice hard and ready to go, Creative Family Fun has a cardboard hockey stick that's easier to do than a hat trick. Let your pint-sized Wayne Gretzky pick out their own washi tape and paint colors to customize their stick. You'll definitely need some hardcore scissors to cut the cardboard into shape, or use an Xacto knife on a padded surface. For field hockey, simply cut a rounder shape at the bottom. By pre-cutting the stick shapes, you've got an instant and fun craft for a team party!
14. Homemade Stamper Football Craft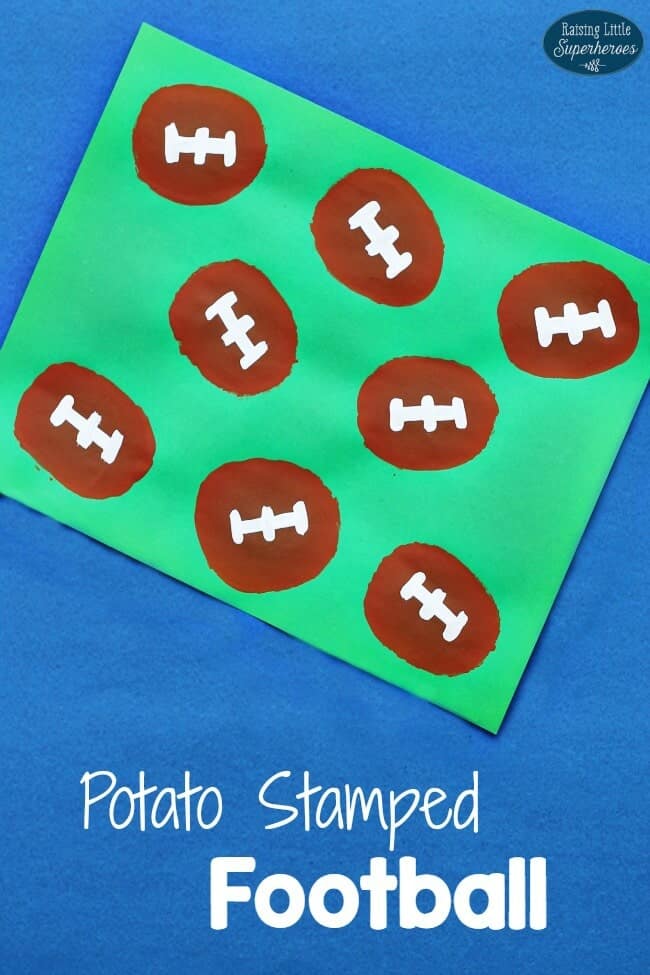 Image source: Raising Little Superheroes
As Raising Little Superheroes shows you, a cut potato works great to make the shape of a football for this stamping craft. Because you need to let the brown football paint dry before doing the white laces, this is a two-day craft you'll need to plan for ahead of time. When the paint is dry, you and your child can customize each football with the name or logo of your favorite team, or with the colors of each team in the NFL. These look great hanging up in your office or on the fridge!
15. Root For The Home Team
Image source: Glued To My Crafts
This project from Glued To My Crafts looks like it belongs in the majors, but it is made with minor league effort and materials. Take a regular old paper plate and do it up right with tissue paper and construction paper. The seams of the baseball work perfectly for kids who need to practice their scissor skills. But even children with limited fine motor abilities can help out by gluing the tissue paper squares into place. It's a home run for kids of all ages and ability levels!
16. Cheerleader Craft Ready? O-K!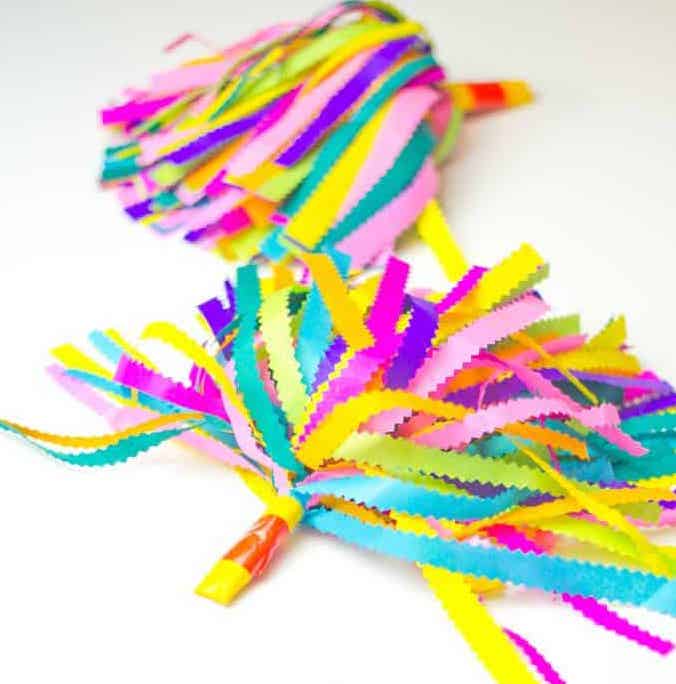 Image source: Kids Craft Room
Whether or not one of your children is on the cheer squad at school, these pom-poms over at Kids Craft Room are ready to shake! Easy to craft with tissue paper, you can customize these for a local team's color, a rainbow, or your child's favorite colors this week. The site recommends using pinking shears to cut the paper so that you get fun textured strips. No human pyramids or backflips here — just a fun craft to shake at home or in the bleachers during the next big game!