There is something majestic in the spirit of the horse that has captured the hearts of human beings for so very long. Perhaps it is because their wild galloping represents a sense of freedom, or maybe it is because they make us feel more connected to an earlier time in human history.
No matter how you break it down, it is true that horses are a cultural icon.
This attraction is particularly potent for children, whose imaginations are usually working overdrive. In fact, nearly every child, especially girls, are almost guaranteed to go through a 'horse phase' at least once in their life.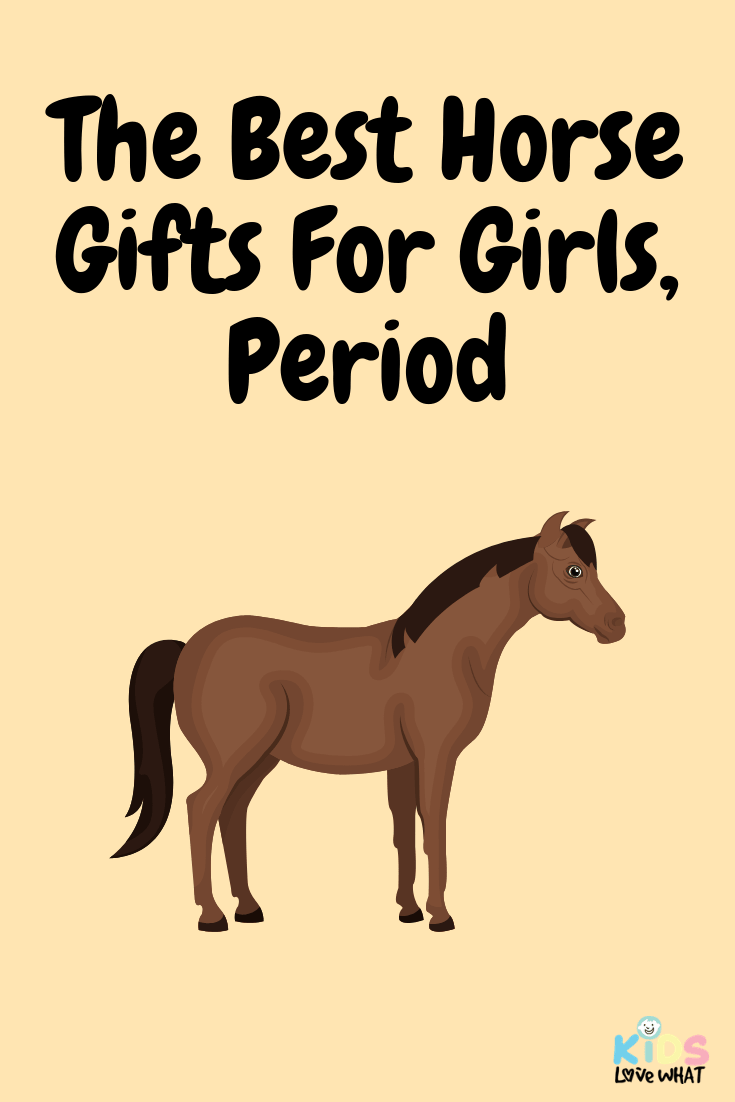 The good news is that toy manufacturers are well aware of how horse-crazy some kids can be. The result is a dizzying array of horse themed toys … everything from paint-your-own horses to horse themed activity books.
The best horse gifts, however, are those that not only entertain but also stimulate both the imagination and the intellect. After taking a look at over 30 of the most popular horse toys, we've narrowed it down to the top 13. Here they are, in no particular order.
We're kicking the whole thing off with one of the most massive combination diary and scrap book collections that we have ever seen, and it just happens to be absolutely loaded with horse stuff. Every page features beautiful horse imagery alongside patterned writing pages so your child has the ability to use this book in whatever way she wants. Included are a ton of adhesive-backed stickers and jewels for decoration, as well as a fancy pink feather pen and a roll of craft tape so that she will be able to add her own pictures and cut-outs. And if she happens to have a little brother in the house, she will appreciate the 4 digit passcode lock.
Sunny Days Entertainment makes some of the best animal toys around, and their Champions Deluxe Toy Horse series is no exception to the rule. This champion beauty comes with everything she needs to keep winning at all the horse shows, including accessories like brushes, trophies, a feed bucket, and a detachable saddle. For an added touch of realism and excitement, simply press the horse's head downward and you will hear one of a series of realistic horse sounds. Or, use one of the included brushes and clean up that mane and tail, both of which are actually brushable with the included accessories.
This elegant horse pendant is only one of a wide number of colors and styles that are available from the jewelry makers at Godyce. While winged horses and rainbow horses are also available, there is none quite as striking as this silver tone beauty. The restrained silver shine makes it the perfect accessory for almost any outfit, and is sure to provide a touch of personal expression to your child's day. No matter who the horse lover is in your life, you can bet pretty safely that one of these Godyce horse pendants is going to be a real delight. Not really the necklace type? Simply remove the chain and use the pendant on your favorite charm bracelet.
If your little girl is anything like the rest of them, then there is a good chance that they have already accumulated an impressive amount of necklaces, bracelets, brooches, & earrings, all of which are likely littering the top of her dresser. If only there was a way to keep all her treasures safe and secure while expressing her passion for all things horse. Can you see where we're going with this? The Dashing Horse Musical Jewelry Box opens up to a lovely soft storage area, complete with a small oval-shaped viewing mirror and a miniature horse that spins happily to Beethoven's Für Elise. A secure pink latch keeps everything buttoned up tight.
If your child has a horse collection of any size, then it is fair to say that the Horse Club Riding Center by Schleich would make the perfect upgrade and addition. This thing is a hyper-realistic horse playhouse with an indoor stable, real windows that open and shut, and a collection of faux wood fencing that snaps together in any way you can dream up. The detail on this thing is pretty incredible, and will no doubt be all anyone talks about at the next pretend horse show. Beyond the impressive riding center, this set also comes with two horse figurines, an Arabian mare and her "lively foal". Your daughter's existing horse collection will appreciate the added company, and you will appreciate an awesome toy that provides ours of imaginative entertainment.
From the acclaimed author Cindy A. Littlefield comes a jam-packed collection of riddles, jokes, games, and puzzles, all of which are perfectly themed to your child's very favorite thing in the whole world: horses. All in all there are over 102 activities inside the book, making it one of the most feature-stuffed kids' books to come along in quite a long time. And it's not just for fun, either. Your kid will learn more about their equine companions as well as hone their logic and problem solving skills with engaging and challenging puzzles that will keep them busy for dozens of hours.
Even if you are not into horses, you can probably appreciate the desire to have your very own custom animal companion, straight out of your own dreams and imagination. The My Dream Horse activity kit by Breyer gives horse-loving children the opportunity to paint and decorate their very own horse from scratch. This creative and engaging painting activity not only stimulates the mind, but it's also great for honing things like hand-eye coordination. What we love most about toys like this one in particular is that while it is great for the younger horse-lover, it also provides a good challenge for more experienced artists and equine-enthusiasts.
For decades, lunch boxes have been one of the principal ways that children are encouraged to express themselves. While the big movie franchises have loved the attention, it's also possible to find stylish lunch boxes like this one. With its bright yet subdued color palate and adorable horse print fabric, it is the perfect way for your child show off their love and passion for the noble horse. The interior of this lunch box is both simple and spacious. One main compartment can fit well-more than just a lunch if needed, and a zippered front pocket is the perfect place for mom or dad to stick that note before they head off to school.
Another toy from the My Dream Horse collection by the horse-masters over at Breyer, this project kit gives horse enthusiasts young and old the opportunity to bring their own fantasy horse to life. Unlike the Thoroughbred customizing kit that we reviewed above, this one features a set of vibrantly colored paints. No matter how your kid goes about this one, their horse is going to be totally and completely unique to them. Chances are you'll never want to throw it away, and will end up saving it in a keepsake box for when she starts her own family. The best part about this kit, however, is that it features five horse figurines. That makes this a great group activity for sleep overs and birthday parties.
This LED horse-shaped lamp provides a hyper-modern touch to the nursery or kid's room, and is sure to stimulate their imagination as they drift off into peaceful slumber. That is if they ever get to sleep! This 2D horse night light utilizes a light-based optical illusion, making it look like a real 3D electric horse figurine when the lights are out. The LED bulbs cycle through six different vivid colors automatically, or you can change the color and toggle on / off with a simple touch of the base stand. For those who love this lamp and are thinking of getting another one, you should know that it is also available in Pig, Elephant, Wolf, and a few more.
The pure majesty of the wild horse is brilliantly encapsulated in a series of skillful drawings by artist John Green. "The Wonderful World of Horses" is a coloring book with some of the most beautiful equine imagery that we have ever seen … all of it in black and white, saving the fun part for your horse-loving kid. Coloring is a special kind of activity. Not only can it occupy a significant amount of your child's otherwise hectic afternoon, but it is also incredibly helpful of their continuing development. According to child psychologist Dr. Richard House, coloring can engage children's creativity and active enthusiasm, alongside a host of other benefits including coordination, handwriting skills, and color associations.
With its vibrant colors and energetic pose, this multicolor horse pendant by ELOI is one of the most exciting ways for your child to show their love and support of our equine companions, and for you to show love and support to your child. The price on this pendant makes it the perfect gift for any occasion at all, whether it is a horse themed birthday party or simply an off-the-cuff present to say 'I love you', it is sure to delight just about everyone. Oh, and it's nickel-free, so you don't have to worry about it turning your skin green like a lot of jewelry in this price range has a tendency to do.
For girls, perhaps the only thing that is nearly as popular as horses is stickers, and this activity book by the professionals at National Geographic has got them both in spades. With a stunning collection of over 1000 stickers it is unlikely that you child will run out anytime soon. Of course, we all know some kids could knock this out in a single afternoon. But it's not all just stickers. The activity book is packed with pattern and spelling games, mazes, drawing activities, and a lot more to keep your little one busy, engaged, and most importantly, always learning.
How To Choose A Horse Gift For Girls: A Complete Buyer's Guide
Now that you've seen some of the best that the industry has to offer in horse-themed gifts and toys, it might be valuable to learn a little bit more about how to select the perfect horse toy for your child.
What follows is a brief discussion on each of the aspects that we used to review the products listed above. As such, they should serve you well when it comes time to make a selection for yourself.
The Different Kinds of Horse Gifts and Toys
As you can no doubt tell from skimming our product reviews above, there are a number of different categories that horse gifts can fall under. Not all of them are horse figurines in the traditional sense.
Here is what you can expect from each variety.
Paint Your Own Horse Kits
The My Dream Horse kits by Breyer are a good representation of the increasingly popular paint your own horse kits. They generally include at least one "blank" horse, along with a set of colored paints and a thin paintbrush. Color schemes can range from traditional earth tones to vibrant fantasy colors.
These kits are particularly well-suited for a girls' horse-themed birthday party. Because some kits come with as many as four horses, it is possible to let every girl at the party paint their own without having to spend a fortune.
One of the lesser known advantages to a project like this is that it is by no means limited to children. Advanced artists and old-hand horse lovers will both be able to take joy in the simple process of bringing your dream horse to life.
Horse Coloring Books
Horses are no doubt the subject of a great many coloring books, and why shouldn't they be? They are often pictured riding through wide, pristine landscapes and beneath cloud-skimmed skies. What could be a better setting for a coloring book?
Horse Activity Books
There is probably a bit of overlap between this category and the previous category, seeing as how many horse activities books do include a few coloring pages. However the real difference is that activity books are choked-full of other things to do, like mazes, mind puzzles, stories, and jokes.
The best horse books are not only engaging, but also offer some degree of educational material so that your kid can actually learn something in the process. The National Geographic horse activity book serves as a fine example of this concept.
Horse Jewelry
Miniature horse charms and pendants are hugely popular among young girls. For them, it is a way to express their individuality and make a statement about something that they are passionate about.
For more 'grown up' girls, the horse serves as a powerful spiritual symbol. Many women look to the horse as a sort of spiritual role model, many for reasons that they themselves cannot understand.
Across the various spiritualties and psychological disciplines, horses have come to represent vitality, freedom, and power. What growing child isn't looking for such things? Wearing the horse as a pendant is a way to personify those ideas and bring them into the real world.
Horse Figurines & Playsets
Perhaps the most popular kind of horse toy, collectible figurines have been around for centuries in some form or another. Today, these horse figurines can come in just about any shape, size, breed, or color that you can imagine. And it's not just real-life horses either … there are some pretty fantastic horse toys out there that certainly look as if someone was using their imagination.
One of the really fun parts about collecting horse figurines is also collecting the many accessories that are available to go along with them. Things like brushes, combs, saddles, and horse blankets are only the beginning.
Of course, a horse needs a stable. Large plastic playsets set the stage for all sorts of equine adventures, not to mention provide a good place to store the child's every expanding collection of horse figurines.
Collectible Horse Scales & Sizes
Model horses are not just a fun play toy, but over the course of the last century they have also become incredibly popular and sometimes valuable collectors' items. If you are thinking about purchasing a model horse such as a Breyer, it might be helpful to know what the differences sizes are, and what those little numbers mean next to the product title.
1/9th Scale – This is perhaps the most common size and scale for toy horses. The 1/9th means that for every 1 inches on the model, the actual horse would be 9 inches. However, all other size and length ratios are preserved.
1/12th Scale – This slightly smaller scale is ideal for the junior collector or someone who wants a toy that is a bit more manageable of a size. The 1/12th scale size is also one of the most popular for playsets and accessories.
1/32nd Scale – This is a great sized horse toy at only 8cm tall. That means you can have a whole bunch of these inside a collection or in a carrying case without it taking up too much room.
1/64th Scale – This is the smallest accurate scale size that we have encountered, though smaller varieties may exist. It is not very common as this size poses a choking hazard for some young children, and in addition, they are often considered too small by serious model collectors.
Choking Hazard Warning
It may seem like any horse-related toy is going to be perfectly safe for even the youngest of children, but this really isn't the case. Because some of the accessories are so small and easy to misplace, they can pose a hazard to your child, especially if they are age three or younger.
If you are thinking about getting a horse figurine or playset for a younger child, you might want to consider removing all of the small accessories and setting them aside just in case.
How To Encourage Your Kid's Love Of Horses (Without Buying Them A Horse)
While the majority of kids might grow out of their horse phase, a dedicated few will only become more and more interested, until it is a near obsession. It is at this point that you are going to have to decide the best way to keep your child's interest without having to sell the family car to afford the boarding fees associated with a real horse.
If toy horses aren't doing the trick anymore, then it might be time to introduce your kid to the world of living, breathing horses. Your local equine club likely hosts open house nights, and any professional riding instructor would be happy to introduce you a few horses.
Remember, some young kids might not realize just how big and dangerous a real horse actually is. Giving them the face to face experience is a great way to judge whether they're going to be the next Bob Baffert, or whether it's just a passing fad.
Conclusion: The Best Horse Toys of 2023
If you are online shopping for a horse themed gift for your kid or related youngster, then chances are you have already said "no" to getting them a real horse. And if they haven't asked yet … don't worry. They will. It's just a matter of time.
Until the day comes when they are big enough (and you are brave enough) for real horse-riding lessons, keep them tided over with one of these excellent horse gifts.
A surefire crowd-pleaser would be something like the Blue Ribbon Champions Deluxe horse model from Sunny Days Entertainment. It's a realistic horse figure with a ton of accessories, and it even makes realistic horse sounds when you press its head down.
However, the Godyce Horse Pendant Necklace is so elegant and affordable that we can't help but recommend it to anyone with even a slight interest in horses.