Whether they're rooting for the New Jersey Devils or the Minnesota Wild, your hockey-loving youngster is no doubt as wild and passionate at heart as the game of hockey itself, a sport that has captured the hearts and sticks of the most adventurous boys of every generation.
Anyone who has had to shop for a "hockey kid" will tell you how incredibly expensive the best gear can be, but the truth is, you don't have to spend all that much to please the young hockey connoisseur.
By popular request, we're skating through a list of the 15 best hockey gifts for boys, comparing everything by price, age relevancy, and good old-fashioned fun-factor. Afterwards we'll share a few puck-slapping tips on how to shop for hockey gifts on your own.
The Best Hockey Gifts For Boys
If your kid is getting serious about becoming a better hockey player, then you are going to need to help them find ways to train that don't require a coach, a team, or even a training partner. The Stick Handling Training Aid from Hockey Revolution is the gift that suits this occasion, offering an innovative and portable form of training and practice. From puck control and stick handling to overall coordination, this clever device challenges players-in-training to navigate their puck or ball through an adjustable gauntlet of barriers designed to improve skills fast. When utilized in conjunction with the Hockey Revolution Training App (download included) the skill gains will be even more noticeable.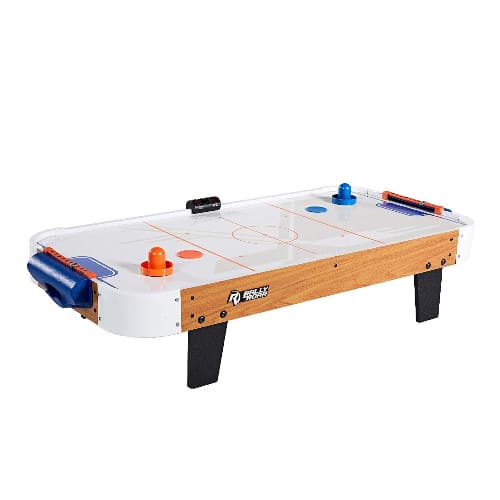 Okay, so while we are well aware of the fact that air hockey is not hockey, we think that this Tabletop Air Hockey Table from Rally and Roar is a great addition to our lineup of the best hockey toys for kids because of how much action-packet fun it offers for the competitive hockey fan, all in the comfort and convenience of a basement or game room. With a real battery-operated air pump that creates the iconic frictionless environment of an arcade-style air hockey table, this tabletop game provides legitimate arcade-style fun without all the hassle of having to go anywhere.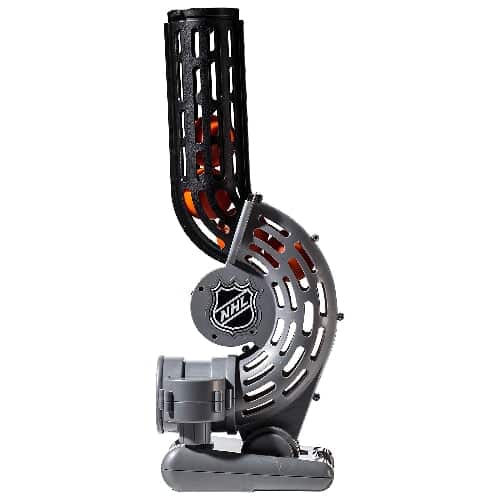 The only way to perfect that legendary slap shot is by practicing the motions over and over again, something that can be difficult without a training partner on hand. The Franklin Sports' Automatic Hockey Passer is a clever workaround for this problem, offering the wannabe street hockey pro an opportunity to practice their ball handling even when they are by themselves. Whether it is tuning up your ball control or simply learning how to slap one in, the Automatic Hockey Passer is a must-have for street hockey players who are looking for an edge up in their performance.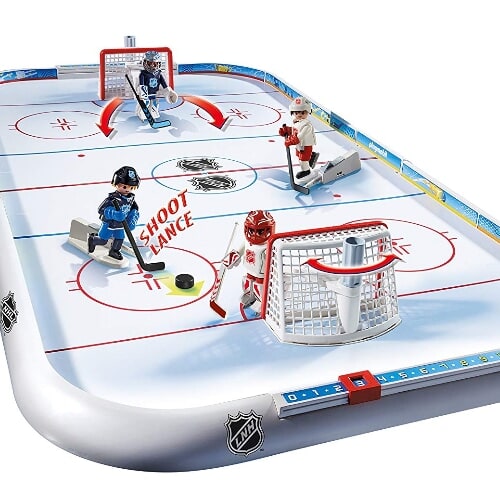 Because we realize that not every hockey-loving kid is going to be old enough to strap on the skates and head out for action, we thought we would include a few gifts for the slightly younger players who are looking for high-level goal-scoring action without all the unnecessary complications. The Playmobil Hockey Arena is a functional and adorable tabletop hockey game that pits two teams of two plastic hockey players against one another. Each player is removable and can be replaced with figurines that represent every NHL team, which is a great way to turn your kid into a lifelong fan while they're still young.
You don't need a skating rink or an ice rink in order to enjoy an action-packed game of hockey, which is one reason why the sport is so popular among kids in the summertime. The best games of outdoor street hockey are made possible by a good set of goals and sticks. The Franklin Sports' Mini Hockey Goal Set comes with absolutely everything needed for a game of 2v2 street hockey, including a pair of small portable nets, two goalie sticks, two hockey sticks, and a set of 4 foam hockey balls that are perfect for indoor play. Because of how small and lightweight everything is, the whole set can be easily stored in the garage or a closet until game time comes.
If you've got a young hockey player in your life or household, then you likely already know that there is a unique personality type that is attracted to the sport, and they're the kind of kids who want to make sure that everyone knows what they're all about. This 100% cotton kids' t-shirt features the awesome slogan 'Straight Outta Penalty Box', a clever riff on a popular rap album that also explains just how hardcore your little puck slapper is on the inside. This shirt is available in multiple colors and sizes, ensuring that everyone in the family will be able to find the perfect fit.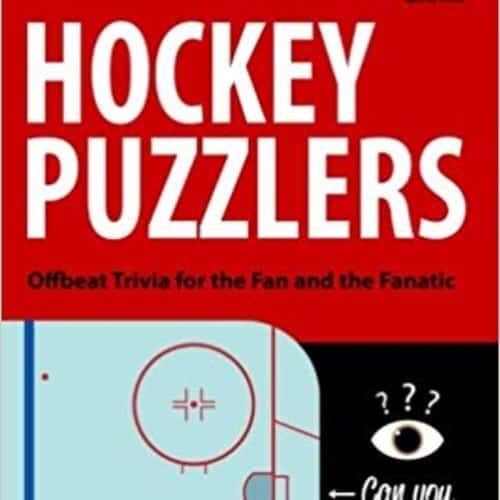 Whether it is the bus ride to the away game or simply some down time after practice, the best hockey players will always find the time to bone up on the history of their favorite sport in whatever way that they can. The Hockey Puzzlers trivia book offers 'offbeat trivia' for both casual fans and hardcore fanatics alike, dabbling in such topics as the history of hockey, the development of the rules over time, and the answers to some of the more intriguing lingering hockey questions that your kid may have. Because it's only about five bucks, this is perhaps the most affordable hockey gift on our list.
For kids who have truly found what they love, it seems impossible to ever get too much of that thing, and this is doubly so for hockey fans. The I Spy With My Little Eye – Hockey Edition is a clever book of puzzles, challenges, and poems that will have any kid engaged for hours at a time, much less a kid who is already in love with the sport. High-quality hockey photographs make up the scenery in this small hardcover book, and the fact that there are so many different challenges make this a fun book to read again and again.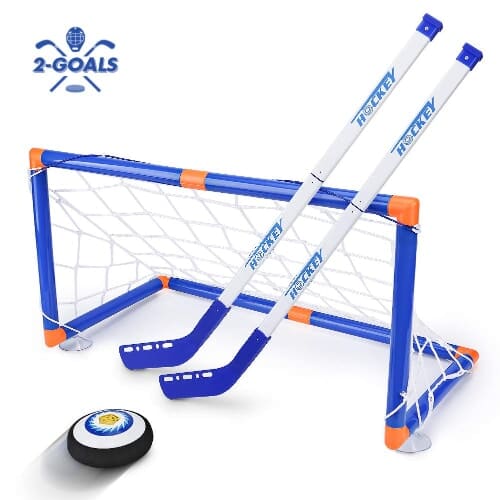 The game of indoor hockey just got a whole lot cooler with the LED Hover Hockey game from STREET WALK. This innovative take on street hokey utilizes a small hovering puck that uses air to float magically above the surface of the ground. This puck is also loaded with cool LED lights that change color as the puck is slapped around. Also included are two goals and two sticks, which means that your kid will have everything required to start up a rousing game of 1v1. At less than twenty bucks this one could very well earn our Best Value Pick Hockey Toy by the time all things are said and done.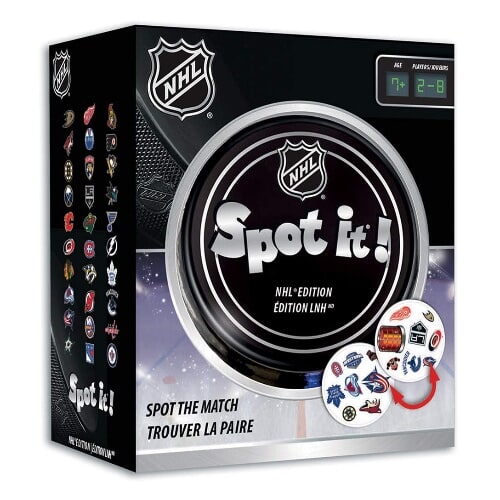 If you or your kid has never played Spot It! Before, then you are likely missing out on one of the most immediately enjoyable card games out there. Right out of the box, Spot It creates an atmosphere is fun and laughter as players will compete against one another in a number of different matching-based games. Kids will love the simplistic nature of the rules as well as the fast-paced nature of the gameplay, while hockey loving kids and parents alike will appreciate all the hockey and NHL-themes images and logos that are printed in bright colors on every card.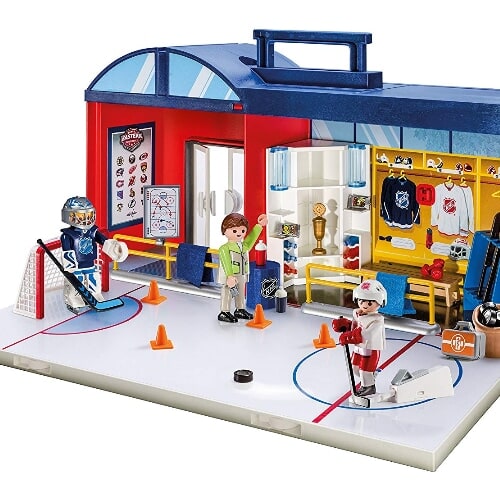 Another great gift idea for the slightly younger fan, the Take Along Arena Playset from Playmobil gives kids an easy way to get their hockey fix anytime and anywhere. This fully portable play kit not only comes with a cool ice rink, puck, and goals, but it also has the other rooms of the arena, such as the locker room and trophy room. Beyond all that, there are a ton of little accessories that make this playset a particularly entertaining toy, even for kids who might not be aware that they are hockey fans yet!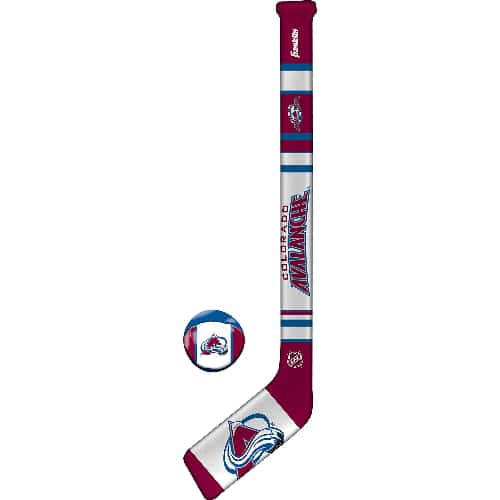 Whether your kid is a fan of the Colorado Avalanche or the Anaheim Mighty Ducks, you will love this set of Soft Hockey Gear from Franklin Sports. These jumbo stick & ball sets are constructed with a layer of foam cushioning that adds a level of both comfort and safety that younger hockey players will benefit from. Great for both costumes and around-the-house play, this is a great way to bring a kid into the world of hockey, even if they are as young as three years old.
The best gift for a street hockey players something that they are guaranteed to use regardless of personal style or preference. Instead of trying to make the right choice with a new hockey stick or set of pads, get the kid something that can't miss. This Bucket Of Street Hockey Balls from Franklin Sports has 15 different street hockey balls, each one more vibrantly colored than the last. These balls are also available in multiple construction styles, including warm weather, cool & cold weather, and a special new variety with a "no-bounce" technology that makes them more authentic for street play.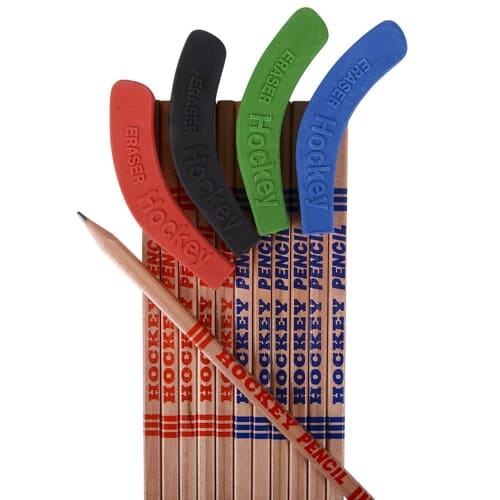 Contrary to popular belief, not every gift for a kid who plays hockey has to be expensive and heavy. This 12-pack of hockey stick-shaped pencils are the perfect anytime present for the young hockey fan, or better yet, to give out as party favors at the next victory pizza party. These pencils are not only made of real wood, but they are capped with colorful rubber erasers that are as quirky as they are effective. A 100% satisfaction guarantee backs up the purchase, but the best part is the epic games of desk hockey that are sure to ensue as a result.
There isn't always an ice rink around, meaning that hockey-loving youngsters will not always be able to get their fill of their favorite sport. The Tabletop NHL Stanley Cup Game from STIGA lets kids experience expertly crafted 3D hockey action in the comfort and convenience of the home. Kind of like a foosball table, this hand-operated game lets players take control of one of two Stanley Cup teams, the New York Rangers or the Boston Bruins. Each goal has puck ejectors to automatically keep the action going. Because all of the player pieces are removable, it's possible to sub-in any NHL team of your choice by upgrading with additional pieces.
Buyer's Guide: How To Shop For Hockey-Based Gifts For Boys
Hockey is not necessarily a 'sit back and smell the roses' type of game. In fact, it is very much the opposite, offering high-octane completion that can often become quite physical and aggressive. For this reason, the sport of Hockey tends to attract a whole different breed of child … the ones who are eager to get out there on the rink and prove their toughness, agility, and speed.
Shopping for a young hockey player is not as intense as you might initially think it to be. As it turns out, you don't need to march out and buy a set of expensive new hockey pads in order to make that hockey-loving kid happy. In fact, there is a whole rink of awesome hockey gifts and toys out there that are not only super affordable, but are also capable of doing what the expensive gear cannot, such as appeal to a younger audience, or allow for fun indoor play.
Whether your kid plays on the pavement or on the ice, the perfect hockey-themes gifts are only a few clicks away. If you've scrolled though our review of the top 15 hockey gifts for boys and you are still unsure with what to buy, we've got your back.
Here are a few things to keep in might when shopping for the young hockey player:
Target Age Level
From toddlers to teens, hockey players come in all ages and sizes. For this reason, the perfect gift for an older, more experienced hockey player might be too advanced for the smaller kid who is just getting into the sport.
For toddlers and younger kids, one of the Playmobil Hockey Playsets is a great place to start. These simple and kid-friendly Hockey Games feature brightly colored pieces and open-ended game play, making them enjoyable even by fans who don't yet understand how the actual game of hockey is played.
Once that little puck fanatic gets a bit older, though, they are going to be looking for ways to increase their skills to make them even more fearsome on the pavement or ice. For these passionate players, gifting them a training aid like an automatic passer or a stick-handling game is a great way to go.
Officially Licensed NHL Merchandise
One of the best things about looking for Officially Licensed NHL gear over the generic stuff is that it is often possible to get the toy or gift you are looking for in the style that matches your kid's preferences. Whatever team they love (or you love) can be printed along the sides of sticks, on the jerseys of plastic figurines, and much more.
Some toys even make it possible to alternate the styles, logos, and colors for new teams while keeping the base toy set the same. This is a great way to cover for the young hockey fan who is still trying to decide who his team is.
Gifts For Hockey Players
If your kid is not only interested in watching hockey, but also has a desire to learn the game firsthand, then there are a number of good gift ideas that can directly increase their skills while also providing some quality entertainment, both indoors and out.
Beginning players will need a set of practice nets and sticks as the bare minimum. Many toy hockey sets feature nets and balls that can be setup inside, giving kids the ability to practice their game even if the weather isn't cooperating. One tip that we have is that it is always a good idea to look for a set that has two goals as opposed to one, which makes it possible for more players to get in on the action.
More advanced hockey players will benefit from mechanical training devices, such as the Franklin Sports Automatic Passing Machine. This clever training toy shoots out hockey balls that your kid can catch, intercept, or simply fire off towards to goal to practice their slap shot.
Ice Hockey vs. Roller Hockey
Unfortunately for all of us hockey fans, we don't all have ice rinks in our backyard for an old-fashioned hockey match whenever we'd like. In addition, ice hockey requires all sorts of skates, pads, and protective equipment that can make it one of the most expensive sports for a kid to get into.
Fortunately, many of the gift ideas on our page feature Roller Hokey sets that don't need any additional gear to enjoy. Played with a rolling ball instead of a puck, street hockey is far more affordable and utilizes the same stick control skills of traditional hockey. This makes it an off-season must for training!
Frequently Asked Questions (F.A.Q.)
Q: How old does a kid have to be to start playing hockey?
A: When it comes to ice hockey, it is actually possible to start teaching a kid how to skate as young as two or three years old depending on their level of physical development. When they reach the age of about four they are ready to start learning the fundamentals of the game itself, though at this point they are still pretty fragile.
Whatever age you decide to get your little one out on the ice, just make sure they are wearing the right protective gear. Remember, helmets are an absolute must!
Q: Can street hockey sets be used on grass?
A: The ball hockey sets featured on our list vary slightly by construction and style, but for the most part, they all utilize the same ball & stick concept. Because of this, the balls are designed to roll on harder surfaces like pavement, wood, or even carpet. Grass however will likely not work too well depending on how long it is, but for younger kids it might be the perfect way to start slow.
Clearing The Ice: The Best Hockey Gifts For Boys
We set out to take a closer look at some of the highest rated and best-selling hockey gifts on the web, and along the way we learned a thing or two about what separates the best gifts from the mediocre ones. Whether it is for a game of backyard roller-ball or a legit skating session on the ice, the toys and gifts featured here are primed to please the young hockey fan.
When it comes to the youngest hockey hooligans (3-8 years) it is important to start with something that is safe and simple while also offering the full experience of a good game of hockey. For this reason we think the Mini Hockey Goal Set is the best one of the bunch, offering multi-age action and entertainment in a lightweight and portable way.
But even The Greatest cannot be slapping a puck around all the time. Taking a break from the action is a necessity to rest up those skating muscles, and the down-time is a great time to play tabletop games. The Tabletop Air Hockey Game from STIGA is a real crowd-pleaser, not to mention the perfect rainy day gift for hockey fans of every variety.