When the temperatures go up and school lets out, it's time to get the kids outside for summer fun! There's nothing that kids love more than getting wet in the summertime – unless it's getting each other wet! Here are 40 water games and activities for children from babies to teens that are great to play outside.
No pool? No problem! Most of these ideas require little more than a hose and some elbow grease. Whether it's setting up new activities in your toddler's kiddie pool, gathering the neighborhood kids for an epic team vs team game, or DIY water blobs and water slides, there's something to keep every kid busy from June through September.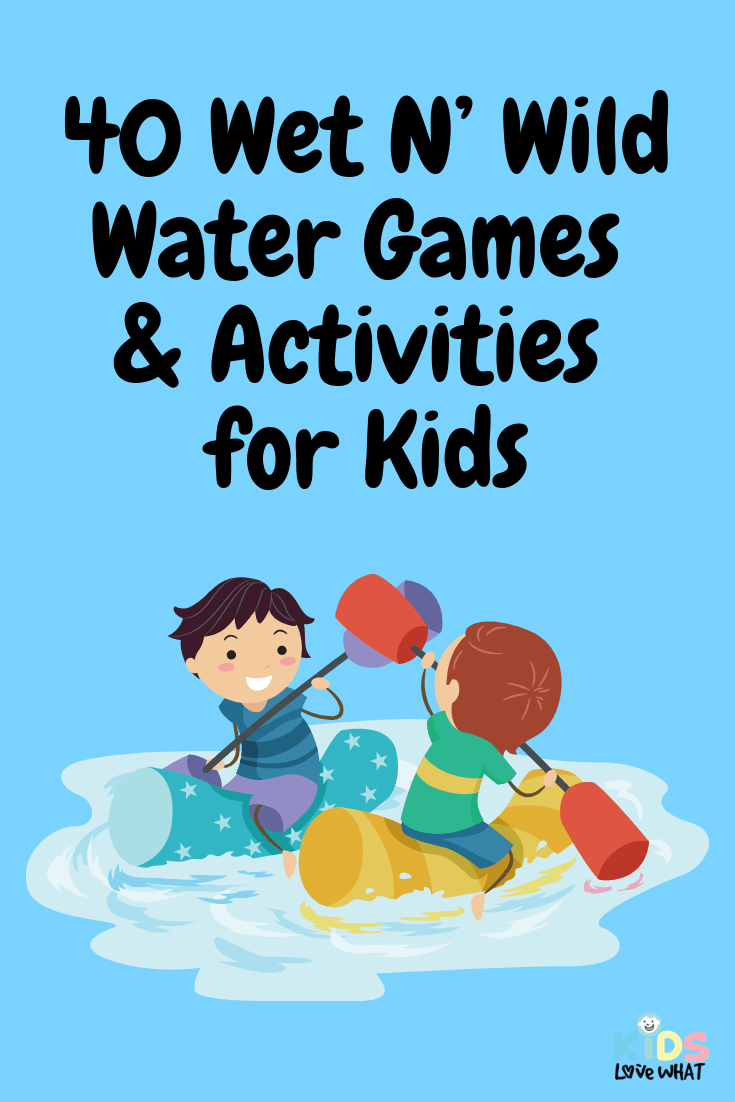 Some of the ideas listed below are easy, cheap, and can be set up in minutes. Others require a little bit more time and some additional hardware. If you don't have a backyard, don't worry! There are activities that can be done on an apartment balcony or in the bath too.
Feeling supercharged, or maybe getting ready to host a birthday party? Set up several of these projects and games in a row to turn your backyard into THE water park destination of the summer! If you have any other awesome water games for kids and think they would be a great addition to this list, reach out to us!
1. The Best Sponge Tossers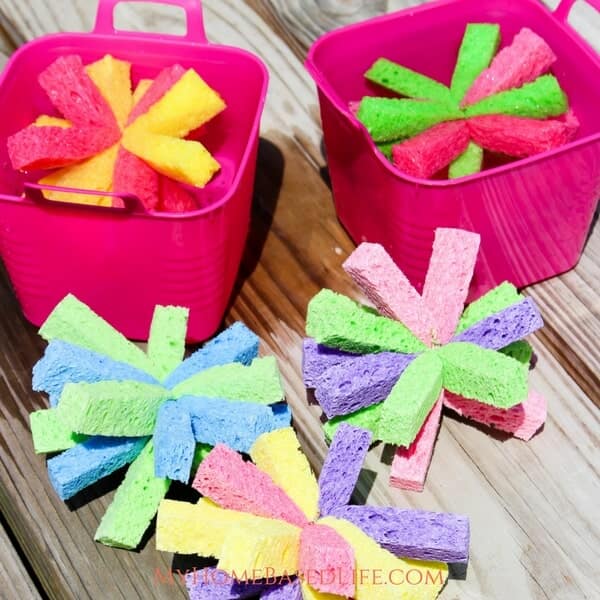 Image source: My Home Based Life
First things first: if the kids are going outside to play, they are absolutely going to need these easy DIY sponge balls from My Home Based Life. All you need are some colorful everyday sponges, string, and scissors. Let the kids help out in making them if you want, or fill a bucket with water, toss in a few of these sponge balls, and send the kids out back for an every-kid-for-themselves water battle!
2. Play Catch With Water Balloons And Towels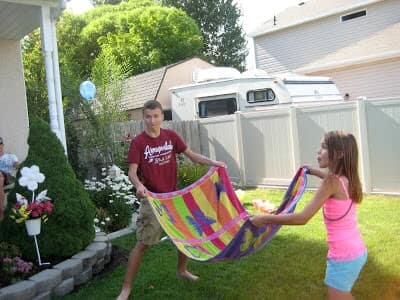 Image source: Love Play and Learn
Here's a variation on a regular old water balloon toss that requires teamwork. You'll need at least four people for this game highlighted at Love Play and Learn in order to make teams. This is a fantastic way to teach cooperation to younger children or for kids vs grown-ups time. Just make sure you have plenty of extra towels on hand, because tossing water balloons is never dry business!
3. DIY Water Mats
Image source: Hello Wonderful
These. Are. The. Best. They are cool. They are fun. They are shockingly easy to make. The geniuses at Hello Wonderful have step-by-step instructions for these kiddie water blobs that look absolutely amazing. Kids can lay on them, roll around on them, or sit on them. Once you make one of these, your kids' friends will beg you to make some for them, too. Customize the length for each child, add food coloring, even add little plastic fishies to swim inside!
4. Fishing For Toddlers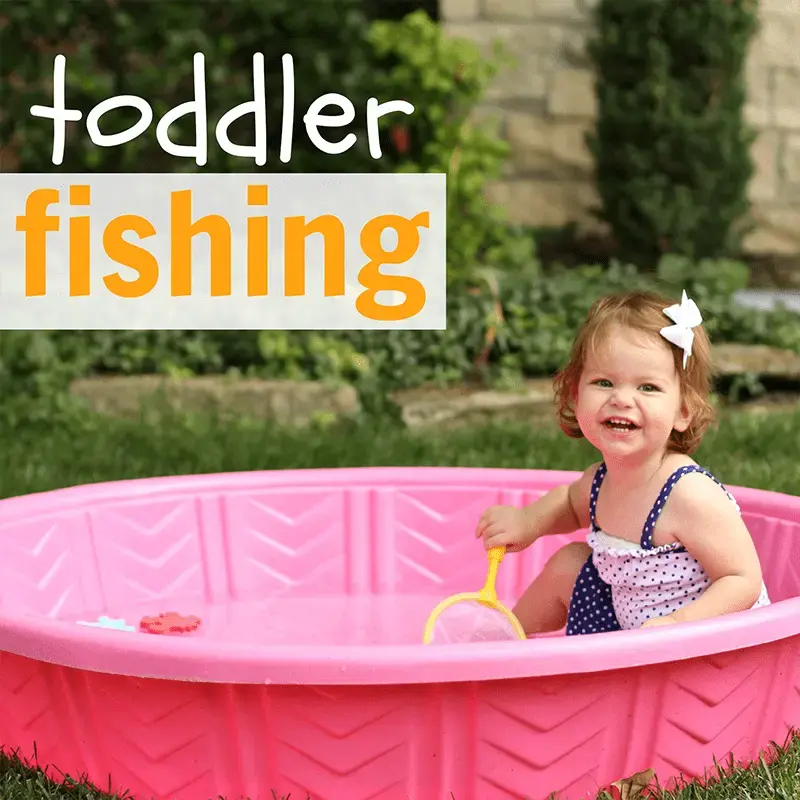 Image source: I Can Teach My Child
This simple idea from I Can Teach My Child is great for tiny people who are practicing hand-eye coordination and want to cool off while doing it. If you don't have a backyard – or if the forecast calls for thunderstorms – a bathtub will do. The foam fish and little net catchers can be found just about anywhere in the summertime, making this activity affordable and easy.
5. Water Balloon Colander Toss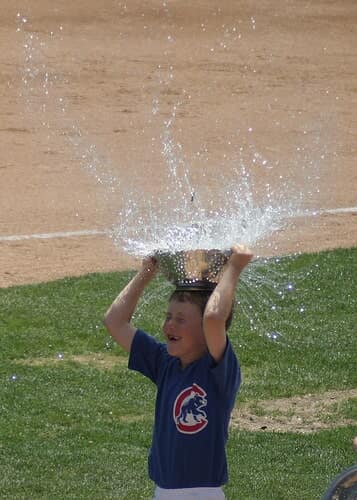 Image source: Youth Workin' It
Here's a fun way to cool everyone off on those long summer afternoons: a water balloon toss with colanders! This photo from the Youth Workin' It site pretty much says it all. The game can be played by a few people or a lot, young or old. The only real requirements are that everyone be able to toss a water balloon and hold a colander on their head! (Not at the same time.) Make sure you have plenty of water balloons stacks ready to go, because they will almost certainly (thankfully!) break on contact.
6. I'm Sailing Away
Image source: I Heart Naptime
The only fancy equipment you need here is a rain gutter, which you can find at your local hardware store. Everything else you likely already have at home. Got your rain gutter? Ready? Great! Now click over to I Heart Naptime for the inspiration to make these affordable tracks for boats carved out of soap. Even older kids can't resist the fun, especially if they are allowed to carve the soap themselves. Toddlers might have more fun putting the boats in and out of the track, but who cares? It's fun!
7. I Got Your Back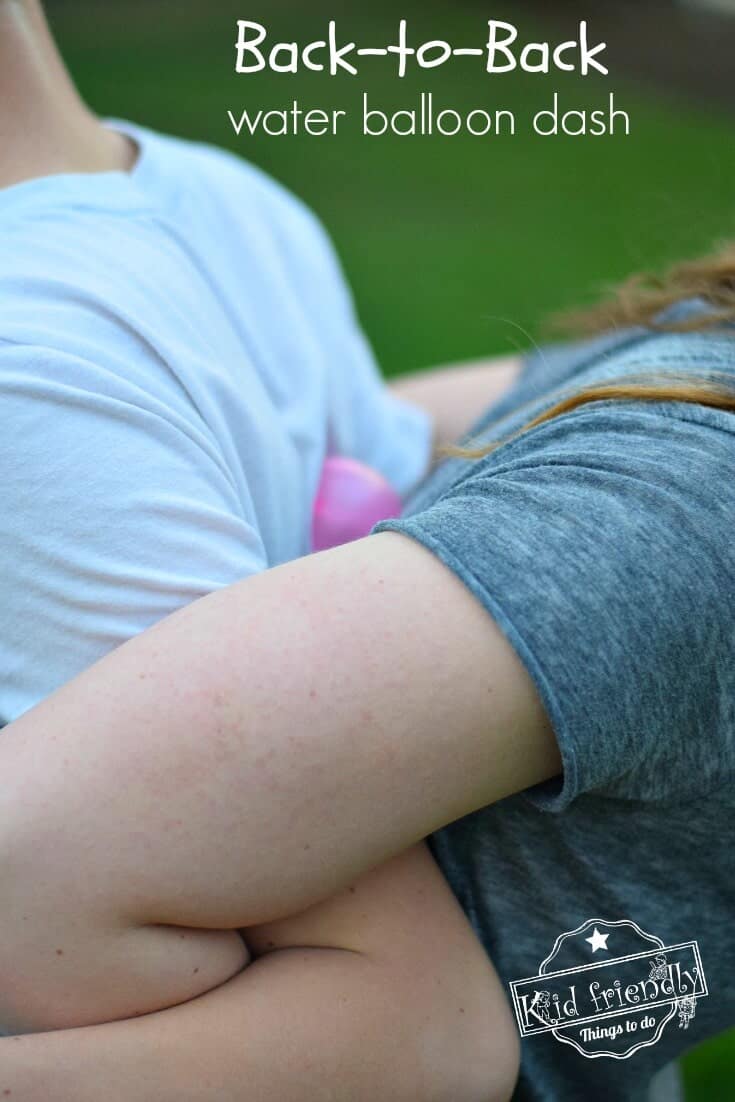 Image source: Kid Friendly Things to Do
Toddlers and preschoolers aren't the only ones who want to have fun all summer long while cooling off in awesome new ways. With this teamwork idea from Kid Friendly Things to Do, grade schoolers, tweens, and teens team up back to back to carry water balloons together. Make sure everyone gets along, because teams that drop their balloons are out! This activity works best when kids of similar heights team up together.
8. Chill Out Bowling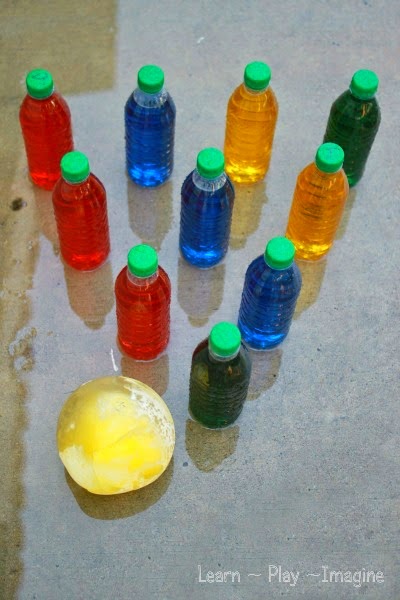 Image source: Learn Play Imagine
Prep this game from Learn Play Imagine in advance by freezing water balloons the night before. Raid your recycling bin for some empty water bottles, fill them up with food coloring and tap water, then let your kids cool off with this clever game! (Make sure you supervise and help really young children, though, so the block of ice doesn't get dropped on tiny, fragile toes.) Feeling ambitious? Have the space? Create bowling "lanes" for each child!
9. Shoot To Win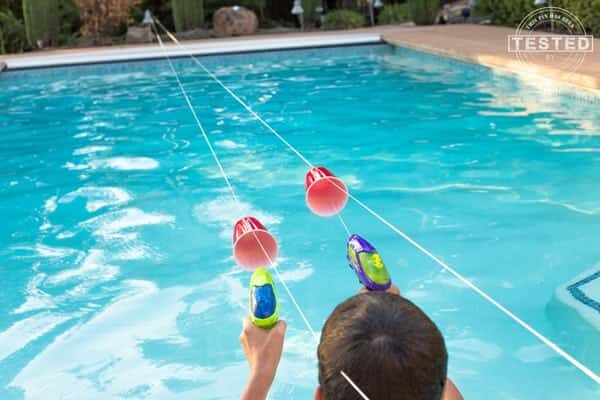 Image source: Design Dazzle
Here's a clever use for the stockpile of water guns that inevitably appear in everyone's homes all summer long: racing plastic cups along a zipline. With a few basic materials and just a tiny bit of effort, Design Dazzle has the instructions for a game that even adults won't want to pass up! This is also a great way to use leftover plastic cups after a big party. String these up between posts, across the pool, or from one tree to another and find out who's the quickest draw in your family!
10. A Watery Twist On A Classic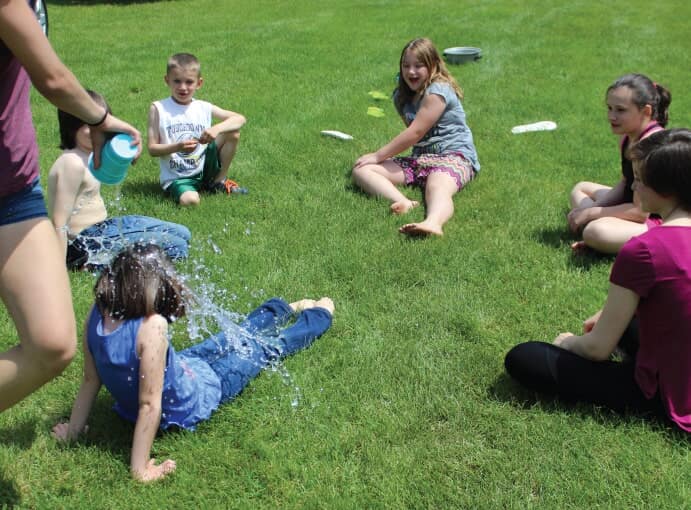 Image source: Inspiration Made Simple
Do your grade school-aged kids think they're too old for Duck, Duck, Goose? They won't think so anymore, with this summer fun twist on the classic preschool game from Inspiration Made Simple! The best part is that this is one of the easiest and cheapest games on the list because it requires a plastic cup and some water. That's it. You don't even need a big backyard to pull this off, just enough space for everyone to sit in a circle and then run around it.
11. Don't Spill!
Image source: Tip Junkie
Summer is full of team activities, especially relays. Here's a wet one that will keep everyone laughing and inspire healthy competition! Tip Junkie has this easy game for the whole family or for when all the neighborhood kids come over at once. Buckets, water, and cups are all you need to set up this game of cooperation and patience. The best part is that it takes a while to win, so this is a long-term activity that will keep the kids busy!
12. Easy DIY Sprinkler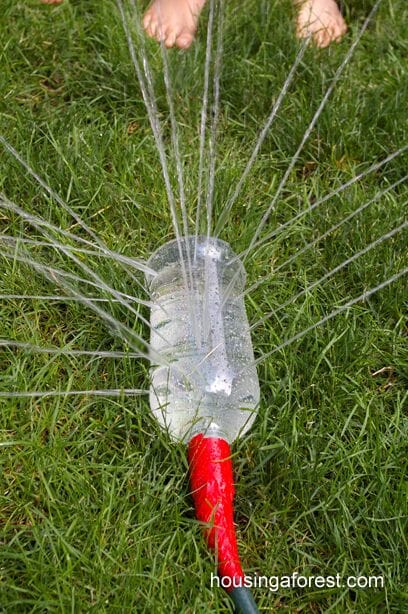 Image source: Housing a Forest
Sometimes the simplest ideas are the best ones, like this sprinkler at Housing a Forest. If your older grade schoolers or tweens are even a little bit handy (and responsible), they might try their hands at making this project themselves (with supervision, of course). It's a great way to upcycle an empty 2L soda bottle and a quick way for kids to cool off in the backyard. On days when it's too hot to even consider a more complicated activity, this one is just right!
13. Ready, Set, Go!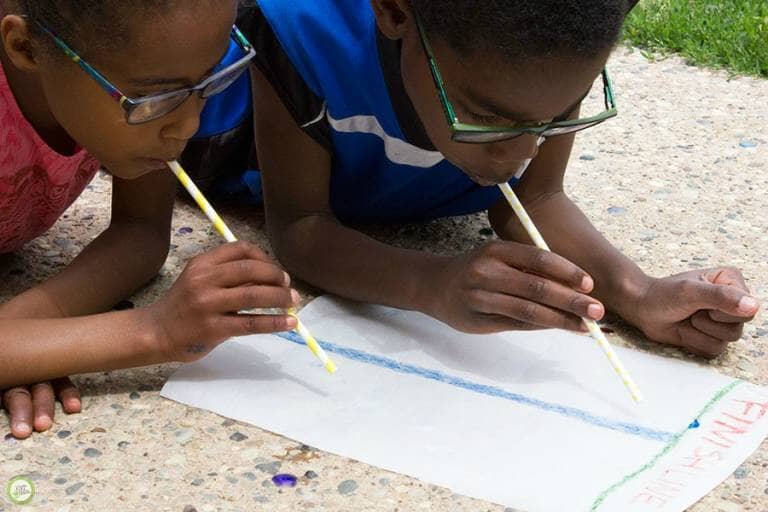 Image source: Green Kid Crafts
Most kids love to play with water, but not all kids like to get wet. With this activity from Green Kid Crafts, water-sensitive kids can still have fun outside in the summer! The materials are pretty standard and there's no complicated prep involved here. Little kids, big kids, those with special needs – they'll all enjoy racing their water drop down the track! And here's a secret just for parents: this game is secretly educational, as the kids learn how much force is needed for different sizes of water drops.
14. Pour Little Me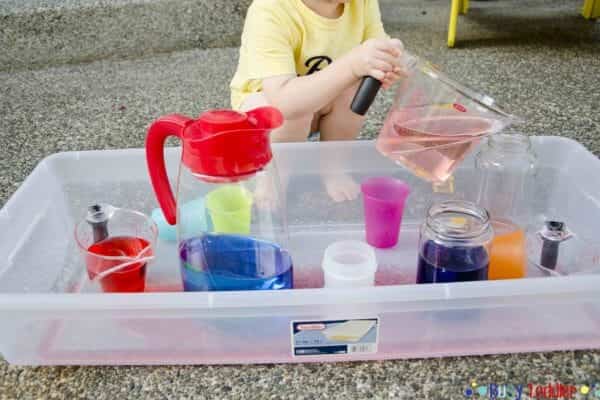 Image source: Busy Toddler
Toddlers love to pour and mix and see what happens when they dump stuff out of things. Let them indulge this instinct to their heart's content with a simple pouring station set up like the one at Busy Toddler. This can work outside on a balcony, terrace, or porch, or you can contain everything inside a really big bin. With a little food coloring and containers of different shapes and sizes, your toddler will delight in finally being allowed to dump stuff out of things!
15. Make It Rain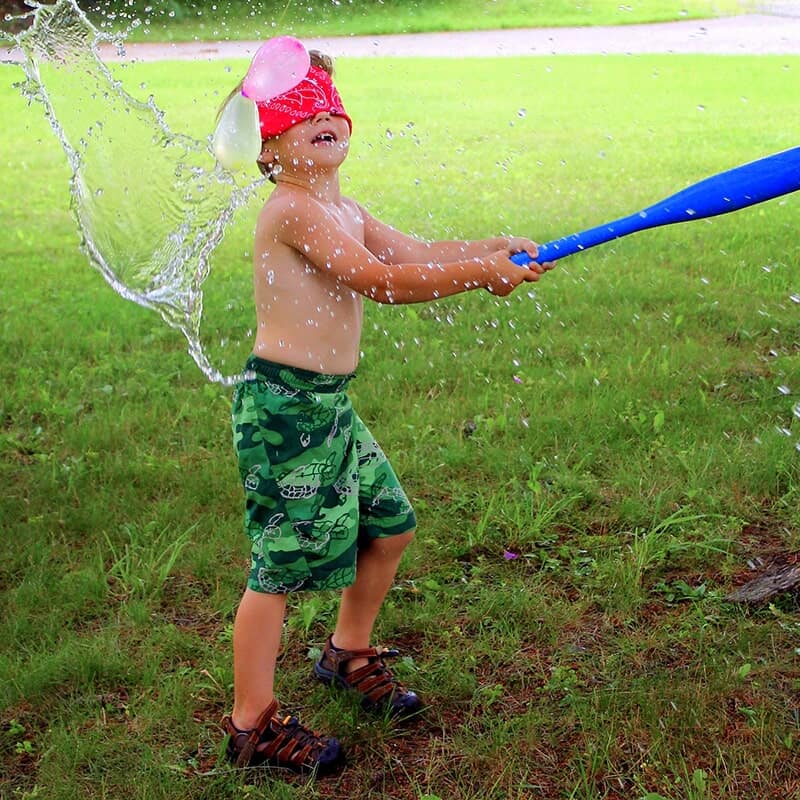 Image source: Fireflies and Mudpies
You don't need to host a party as an excuse for this super cool summer game! Water balloons, string, and a stick or lightweight bat will do just fine for this wet and wild backyard piñata. Check out Fireflies and Mudpies for inspiration and instructions on this hilarious activity. With no candy and no toys to clean up or worry about, it's the kind of thing you can set up with ease when the kids ask for it again and again.
16. Slippery Water Race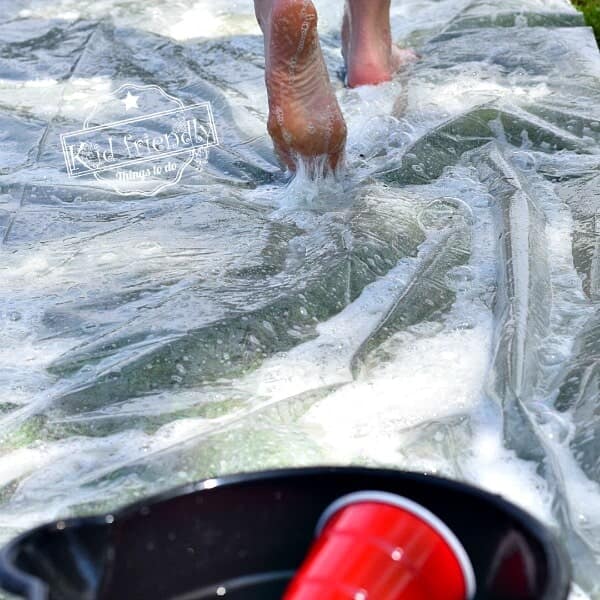 Image source: Kid Friendly Things to Do
The secret to this watery activity is dish soap. Yep, regular household dish soap. After watching the video on Kid Friendly Things to Do, even teens won't be too cool for this summertime relay that promises to be as fun to play as it is to watch. You don't even need a proper Slip n' Slide for this one, as regular sheeting will do – the dish soap does all the slippery work. This activity is a fantastic way to get siblings to work together, too!
17. Ice, Ice Baby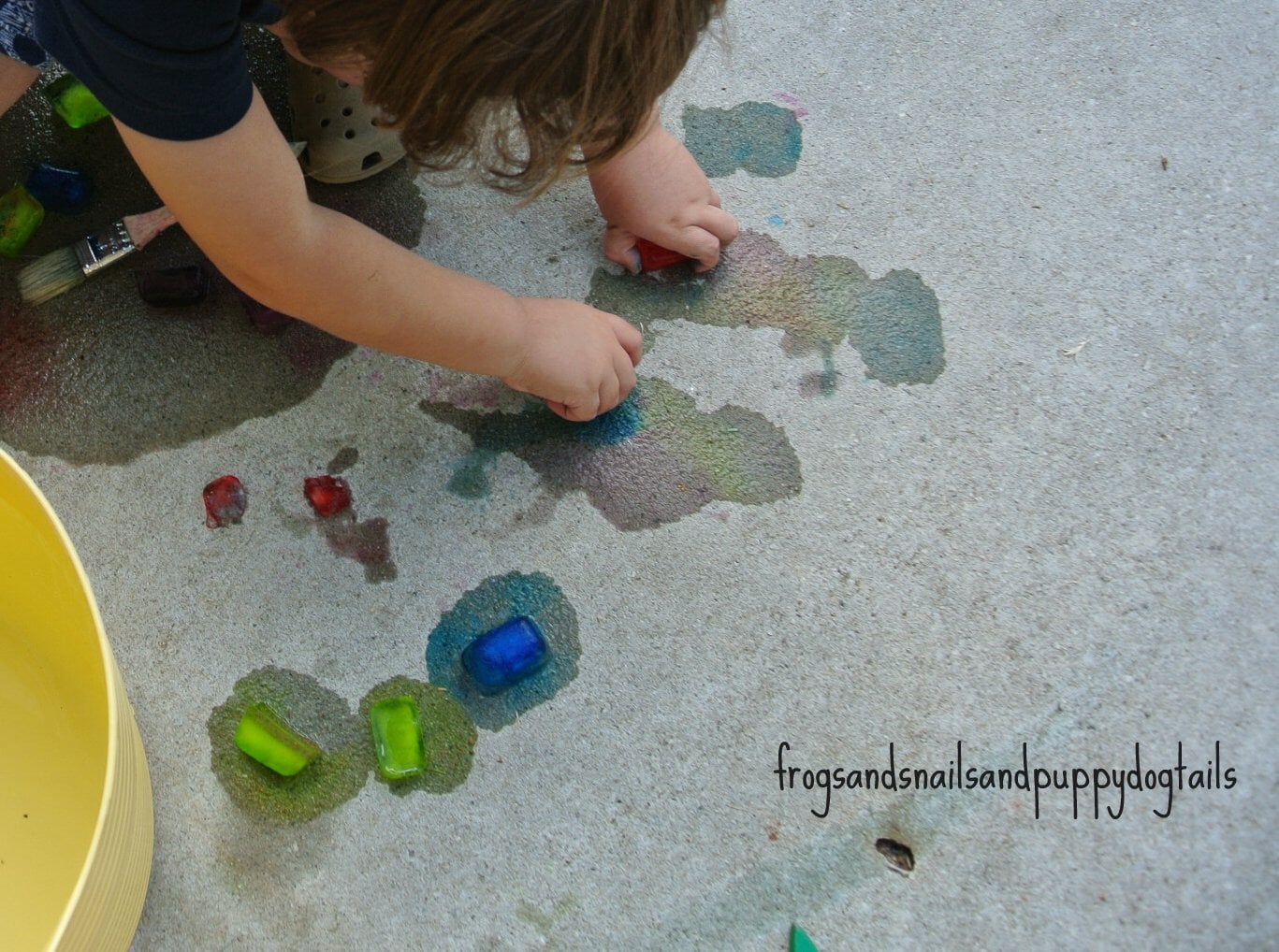 Image source: Frogs Snails and Puppy Dog Tails
This chilly activity is best prepped in advance, so check out Frogs Snails and Puppy Dog Tails for instructions and then stock up on ice cube trays especially for this. Toddlers and preschoolers will love cooling off with this creative alternative to sidewalk chalk! This is a perfect activity if you don't have a big backyard – or any backyard at all – since it can be done on sidewalks or at the playground (assuming you have one close enough that the ice won't melt in transit).
18. Alphabet Scavenger Hunt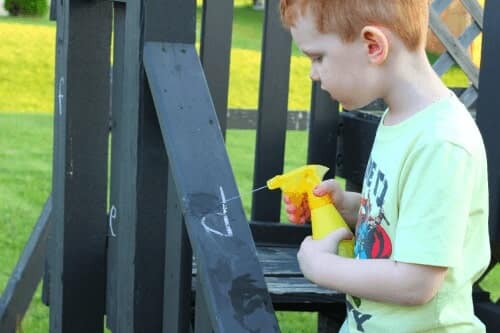 Image source: Fun Learning for Kids
On days when it's a little bit cooler and the kids don't necessarily want to get soaked – but you still want them outside for a while – this backyard scavenger hunt is as educational as it is fun to do. Kids can use water pistols or regular water spray bottles like they do over at Fun Learning for Kids. For kids who might have some level of vision problems, use brighter chalk to write the letters and make sure they are big and easily spotted around the yard.
19. You're My Water Wall
Image source: Teaching Mama
Pool noodles are to summer what craft sticks are to crafting: ubiquitous, versatile, and easy to work with. For a fun water activity that doesn't involve lots of splashing or water balloons, check out this simple activity at Teaching Mama. This is especially great for toddlers, preschoolers, and water-sensitive kids who might not like getting hit in the face with water pistols or water balloons. It's also great for hand-eye coordination among kids of all ages and abilities.
20. Fill It Up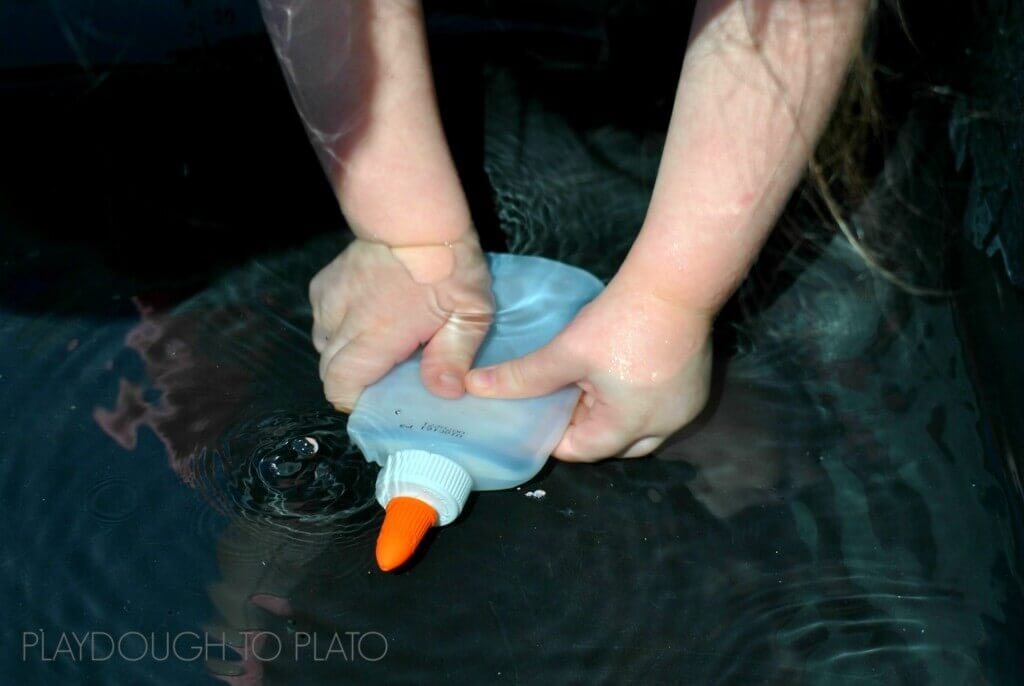 Image source: Playdough to Plato
Want a way to upcycle those empty glue bottles now that you've made gallons and gallons of slime? Playdough to Plato has you covered. From buckets to the bathtub, all you need to get started is some water. This activity is good for honing fine motor skills and is easy enough that even toddlers will understand what to do very quickly. And because this is so easy and requires very little in the way of materials, it's an activity that travels well, too.
21. Lego Water Engineering
Image source: Little Bins for Little Hands
Lest you think you'll get through the summer Lego-free, here comes this Lego-based water activity. Little Bins for Little Hands has a "Why didn't I think of that?" project that is educational, fun, can be done indoors, and requires no special materials. This is the kind of activity you can assign older siblings to help younger siblings with. Finally, a new use for all those mismatched Lego pieces you keep finding in your house!
22. At The Car Wash, Yeah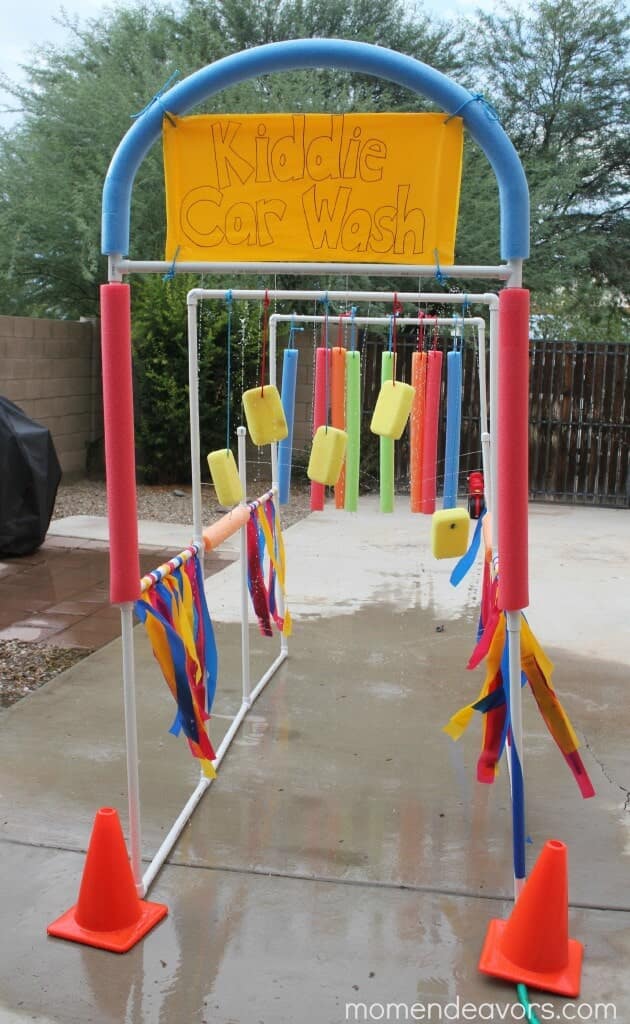 Image source: Mom Endeavors
This Pinterest favorite is not for the timid. Mom Endeavors has the instructions for a PVC pipe-based contraption that definitely requires a trip to the hardware store. The nice thing about this one is that it's easy to customize with extras like sponges, pool noodles, and ribbons, and once you make it – you've made it. While it might take a little more time to put together than some of the other water activities on this list, there's no doubt it will be your kids' summer favorite!
23. Dunkin' Do It
Image source: The Happy Housewife
Remember the 80s show, "You Can't Do That on Television," where anyone who said the word "water" got drenched from above? While you're at the hardware store and feeling ambitious, check out The Happy Housewife's DIY dunk bucket. Kids will actually WANT to sit under the bucket in order to cool off on a hot summer day. In fact, this one is so fun that every member of the family will want a turn!
24. Homemade Water Slider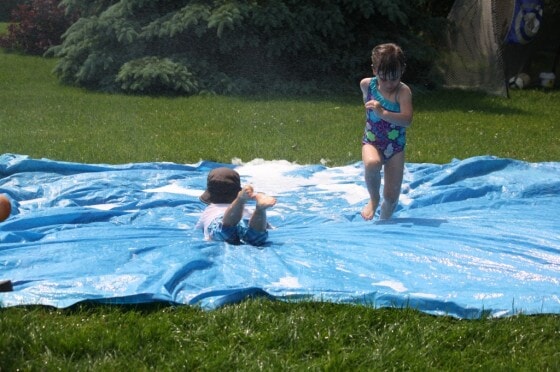 Image source: Happy Hooligans
If you're more "DIY" than "go out and buy," then this post at Happy Hooligans is for you. With two ideas for how to form the base, you don't have to wait for a shipment to arrive or drag the kids to a megastore to get them started slipping and sliding in the backyard. You can make this however big or small you want depending on the size of your yard, and it's suitable for kids of almost any ages and ability levels!
25. Water Balloon Catapult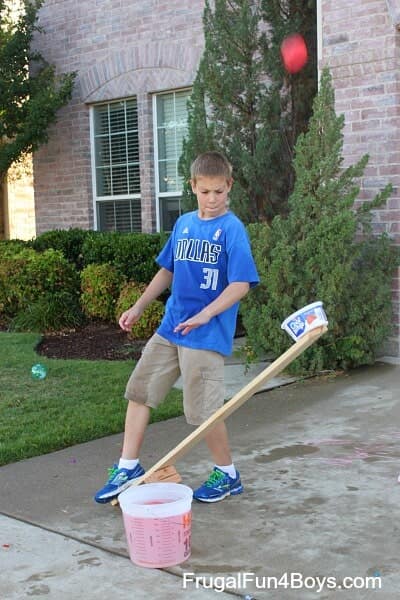 Image source: Frugal Fun 4 Boys
Level up your water balloon game with advanced weapon technology: the catapult. With only a little bit of effort on your part, Frugal Fun 4 Boys shows you how to build this instant kid favorite. Not only will this be a dab-worthy activity for older kids, but it'll be a fun physics lesson for you, too, as you try and test different wood lengths versus the force of various kid stomps. Make sure to clear the way and then watch out!
26. Water Balloon Sidewalk Art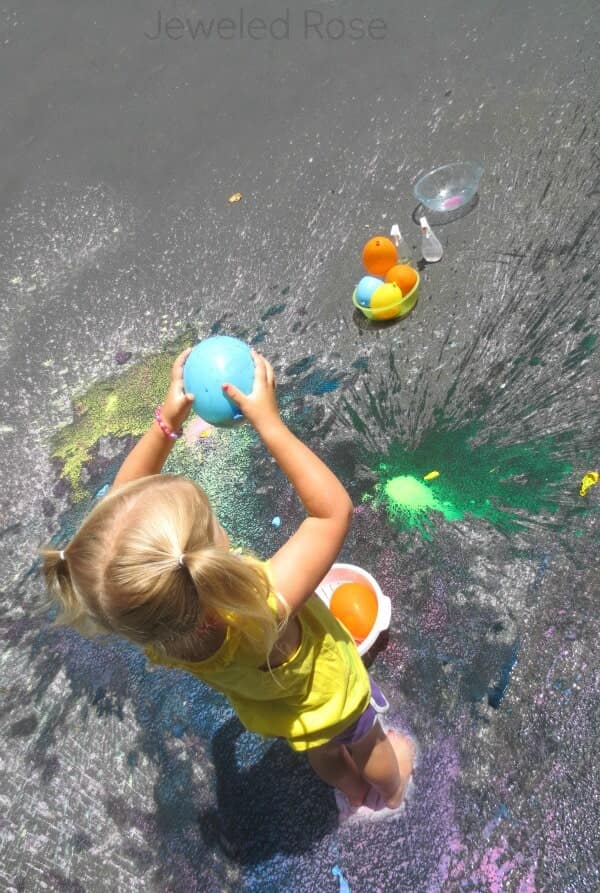 Image source: Growing a Jeweled Rose
Water balloons become artists' tools with this activity from Growing a Jeweled Rose that combines water fun with art. Once again, there is no backyard necessary: this project works best on hard surfaces like sidewalks, driveways, or the concrete at your local playground. It's a great way for all ages to release some stress while they make a beautiful, colorful mess! Sneak in a little lesson on responsibility by making sure your kids clean up balloon shards when they are done.
27. Slow Drop Water Balloons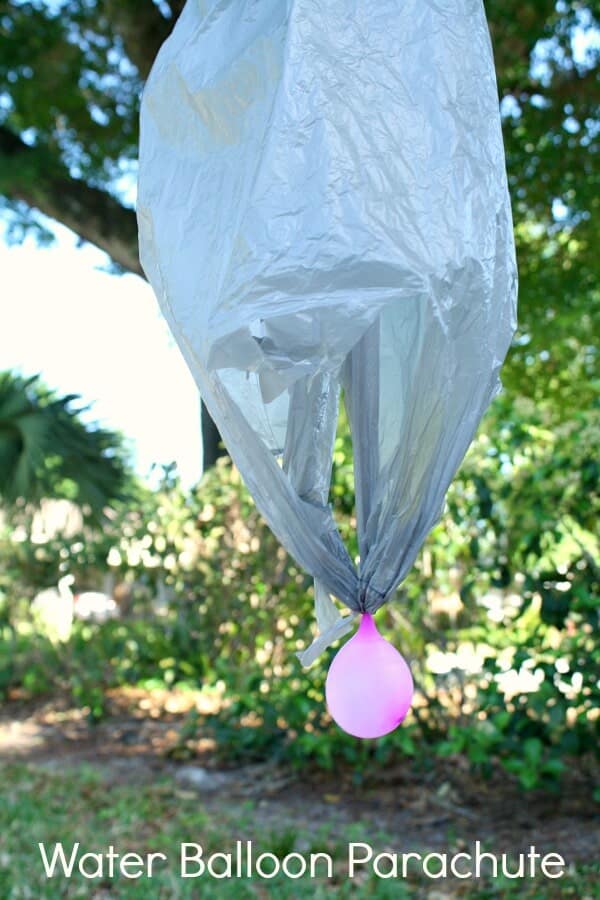 Image source: Fantastic Fun and Learning
With help from Fantastic Fun and Learning, kids can play with gravity by tossing up and then catching these water balloons attached to plastic bag parachutes. These aren't designed for massive, all-out water balloon fights in the backyard; they're too slow. But they make for an educational experience on the sly when kids see which ones fall the fastest, the slowest, go up the highest, etc. Since all you need is one hand to toss this up into the air, it's great for kids with limited motor skills.
28. Sliding Into Base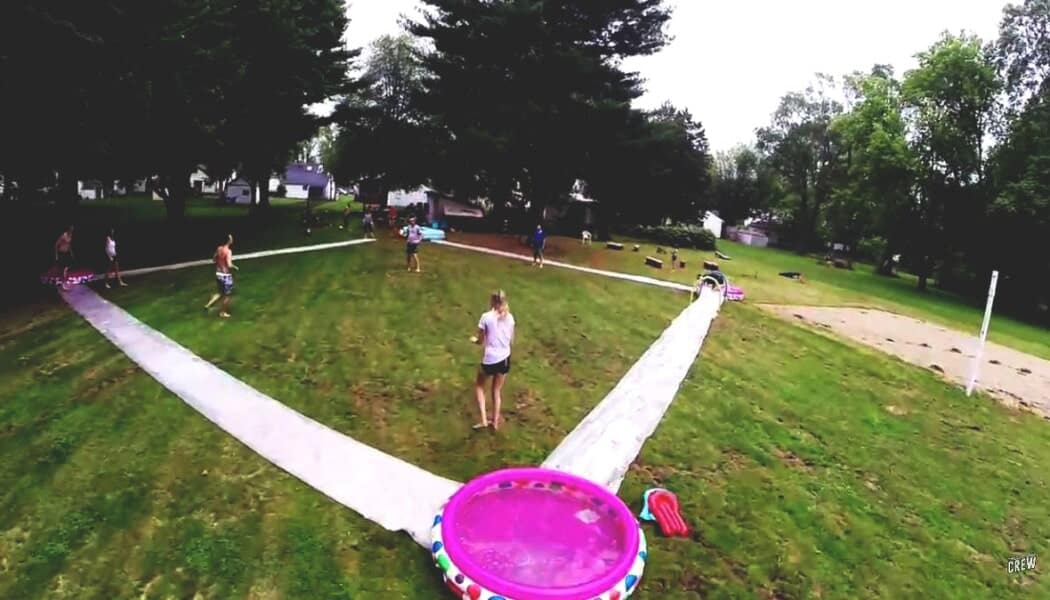 Image source: Playrsclub
If you have too much backyard – if that's even a thing? – or you have access to a large amount of park space, put it to good use with this massive game of slippery kickball. Playrsclub shows you what you need and how to set it up. This is an awesome game for older kids, tweens, and teens; or, scale it down for younger grade schoolers. It's a fun and active way to cool off on those extra hot days and will keep everyone busy all afternoon!
29. Down We Go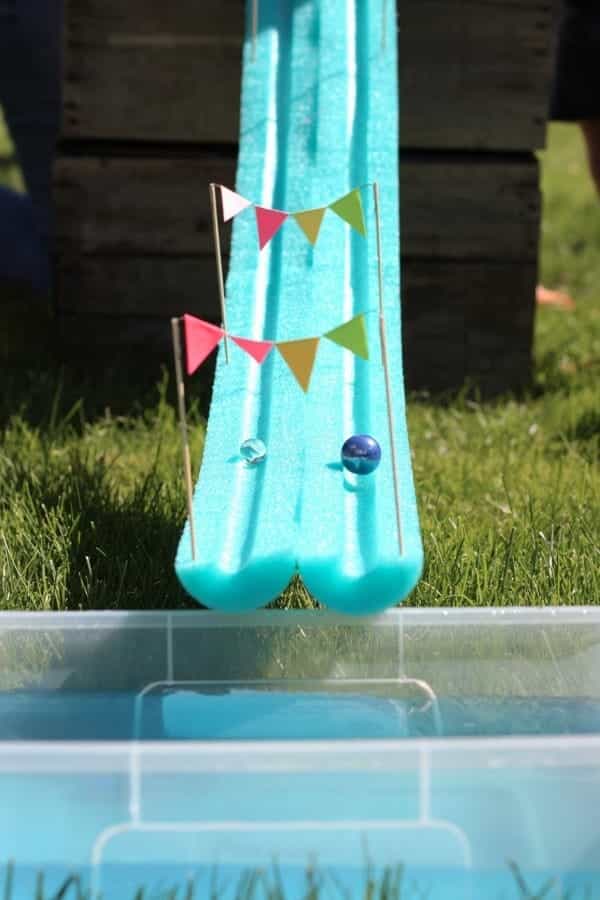 Image source: Mama Papa Bubba
If you've gotten to this point in the list and you still have pool noodles waiting to be put to good use, try this waterslide from Mama Papa Bubba. This activity is meant for little people – toddlers and preschool. At that age you don't need anything fancy to hold their attention and keep them fascinated. The set-up is easy, and you and your little one can have fun styling it up any way you want. Have races down each lane to see which marble is the fastest!
30. DIY Little Squid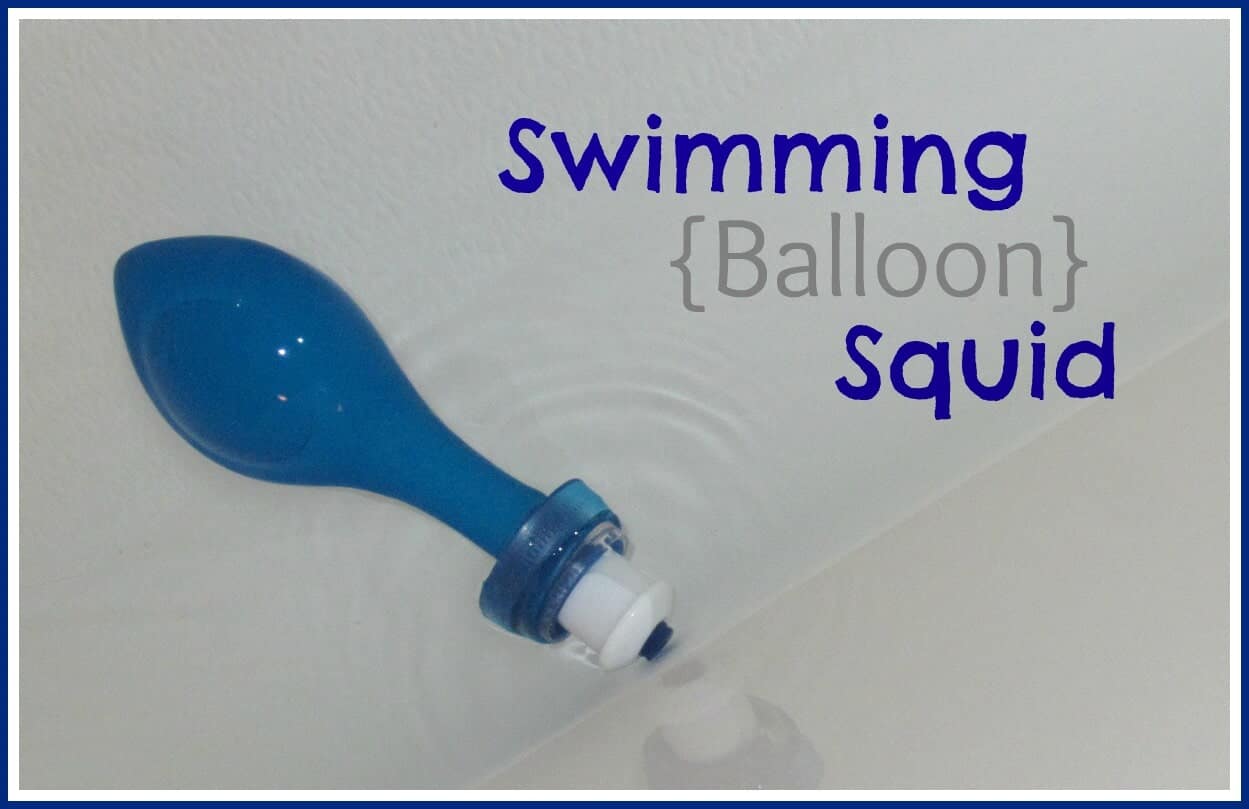 Image source: Deceptively Educational
For kiddie pools, wading pools, and bathtubs, try this craft from Deceptively Educational. All you need is a pop-up water bottle spout and a balloon. Use a regular balloon and fill it with air instead of water. No matter what, kids are bound to laugh when they watch this little thing "swim" all over the place! This is one of those super simple but super fun activities your kids will want to try again and again.
31. Bubbles, Bubbles, Everywhere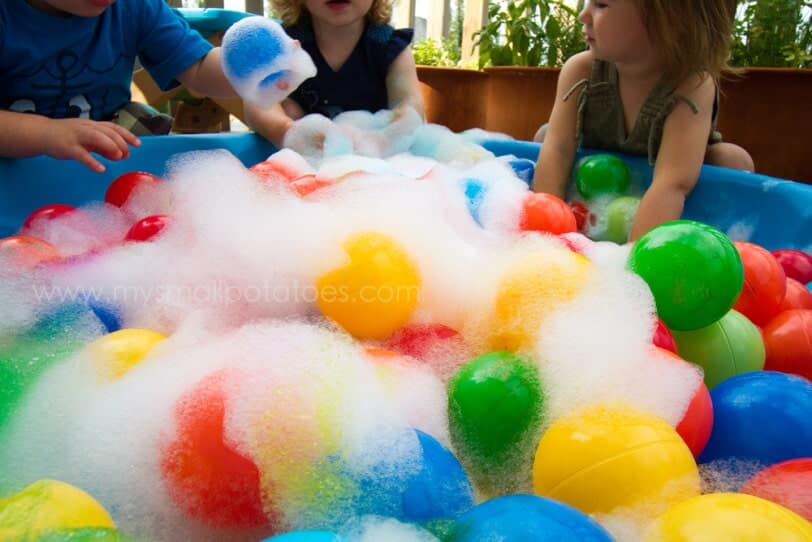 Image source: My Small Potatoes
There is absolutely no reason for the youngest summer cuties to be left out of any fun! If an infant can sit up, they can enjoy playing in this sensory delight. My Small Potatoes has all the tips and tricks you need to pull this off. Make sure to stay with your kids while they play in their bubbly little contraption! This activity works best in a backyard, patio, or spacious apartment balcony where little people can splash about and get bubbles everywhere.
32. Showboating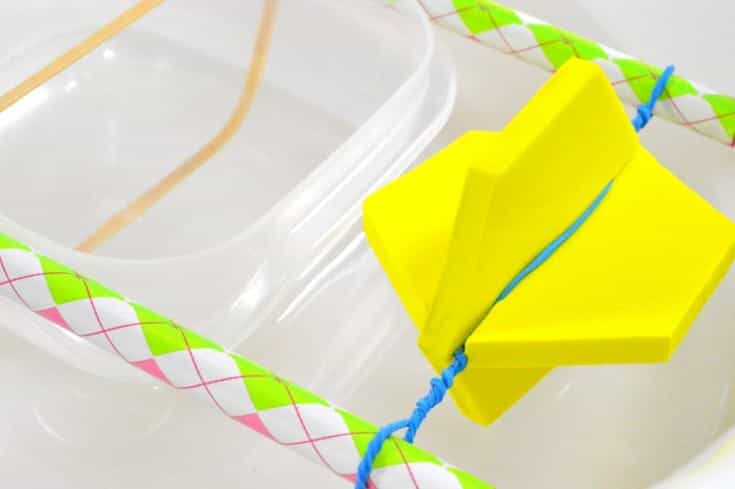 Image source: Rookie Parenting
You know those foam shapes you see at craft stores? Pick up a bag next time you're shopping and have them at the ready for this clever and STEM-based activity. Over at Rookie Parenting they have step-by-step instructions with photos, a quick history of paddle boats, and information to share with your child on how these boats move. It's a sweet little engineering project that preschoolers can play with in their kiddie pools during the day, and then bring inside for bath time later.
33. Words With Kids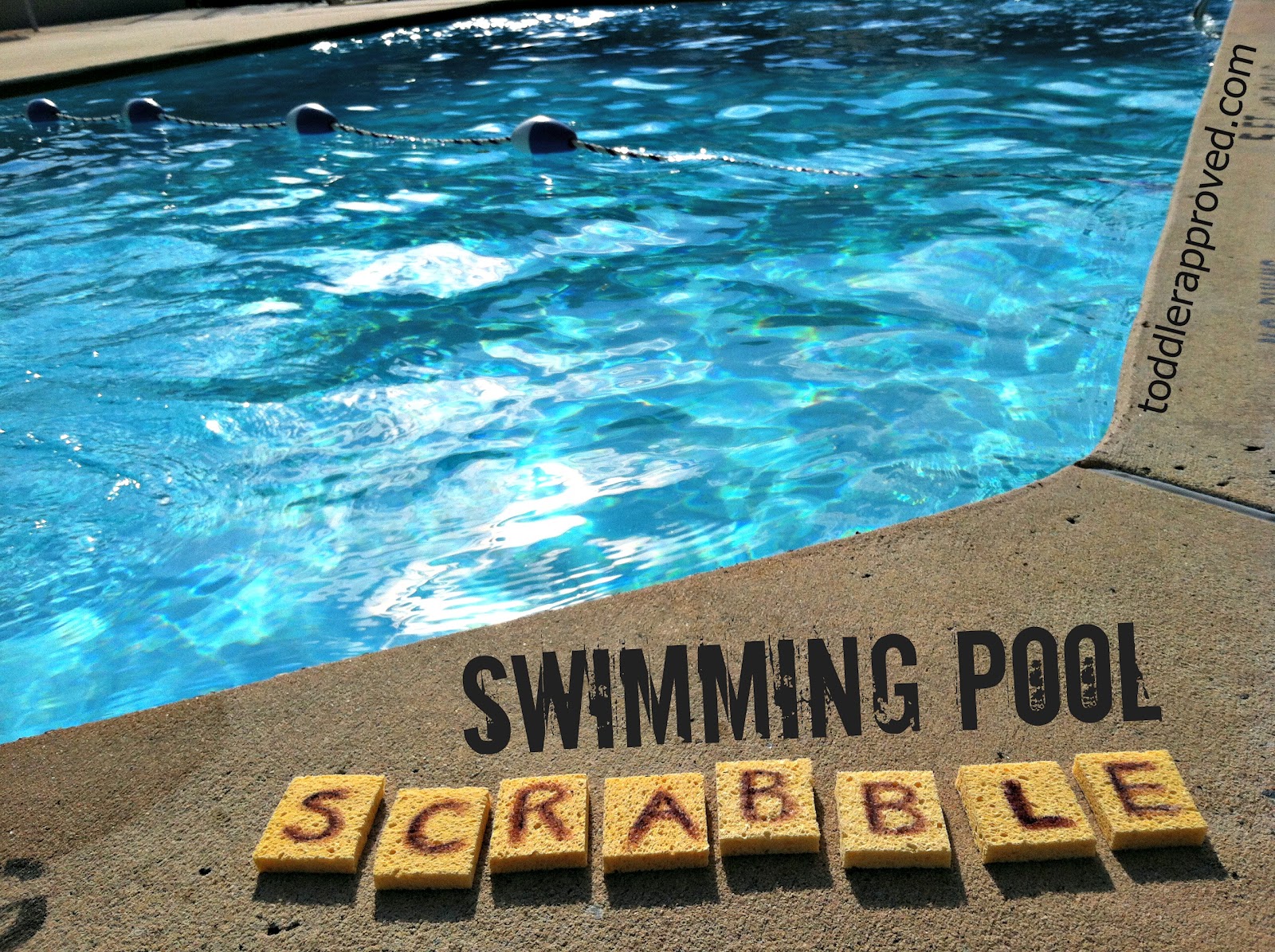 Image source: Toddler Approved
If you have access to a larger pool and your kids are at the age where they are learning how to read and spell, click over to Toddler Approved for this outdoor summer variation on a classic board game. The materials could not be simpler or easier to find – sponges, scissors, and a Sharpie. Keep your children supervised at all times, of course, and for kids who are not strong swimmers yet you'll need to go in and help them collect letters. This is how you spell F-U-N!
34. We Have Liftoff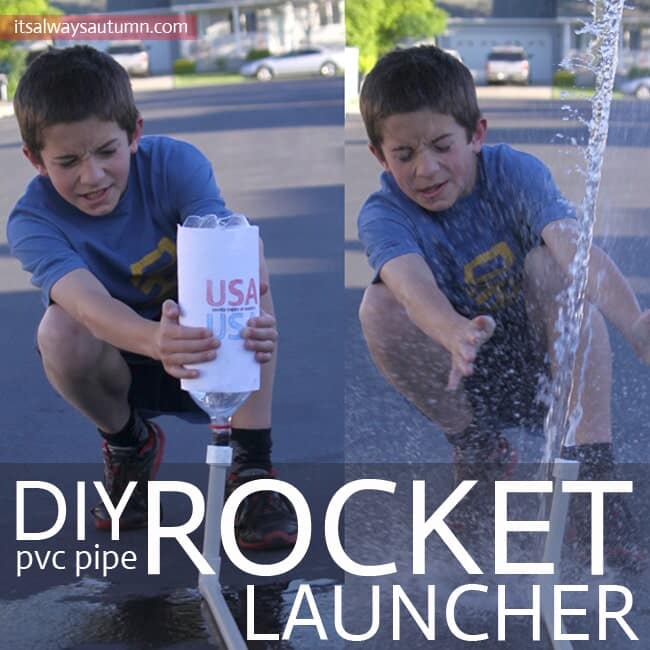 Image source: It's Always Autumn
At a certain point in their young lives, most kids will go through a phase where they are obsessed with space and rockets. With some PVC pipe and a manual tire pump, It's Always Autumn has a diagram for building a rocket launcher your future astronaut can enjoy – wet and wild style! This one is most definitely for older kids and tweens, but siblings can still have fun watching the rocket "launch" – and their big sibling get all wet!
35. DIY Water Cannon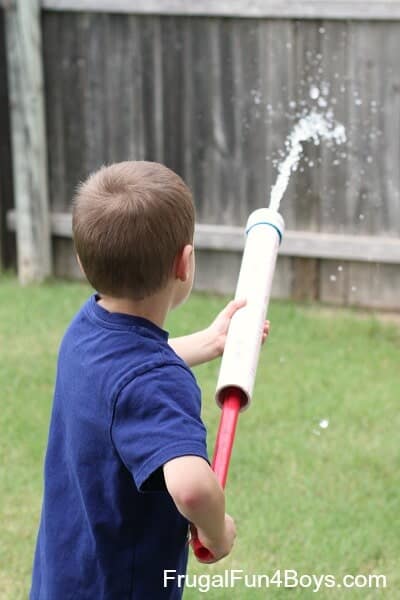 Image source: Frugal Fun 4 Boys
When squirt guns and water pistols aren't cutting it anymore, try making your own hand-held water cannon with some PVC pipe and a pool noodle. Grown-up tools and materials are definitely required here, so this isn't a quick-and-easy instant activity. Go over to Frugal Fun 4 Boys for a list of what to buy at the hardware store and what to do once you get home. And make sure when you do plan this, you make a few extra so everyone can get in on the fun!
36. Chill In To Chill Out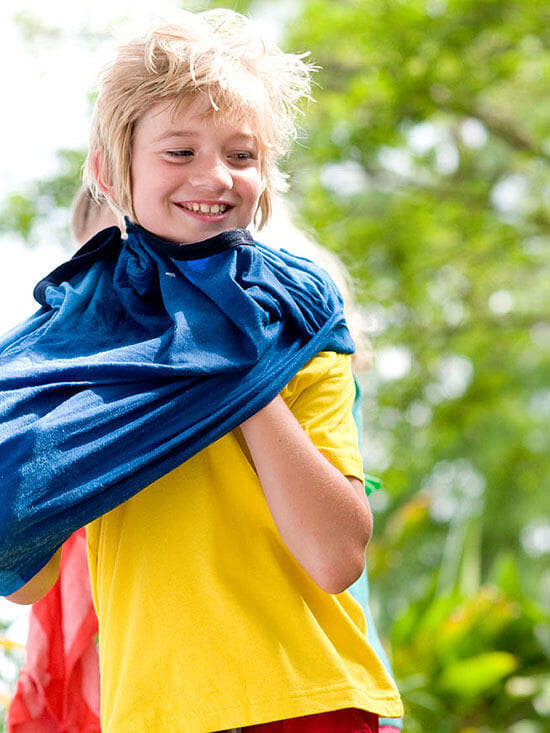 Image source: Parents
Absolutely zero extra materials needed for this cool-down activity from Parents. And the only instruction is that you prepare this ahead of time so the t-shirts can fully freeze. Kids who have mastered the skill of dressing themselves will love this hilarious way to cool off after playing outside in the heat all afternoon! Turn it into a friendly competition by offering small prizes for whoever can get into the frozen t-shirt first.
37. Take That, Water Balloon!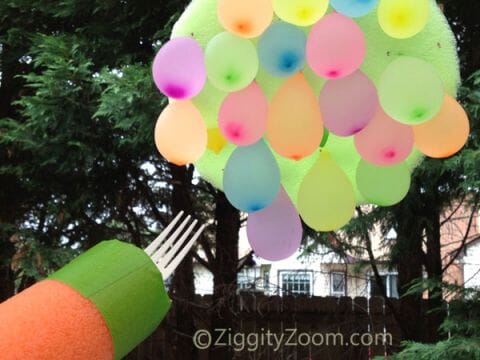 Image source: Ziggity Zoom
If you are absolutely D-O-N-E with water balloon fights in the backyard but you still want a creative way to let the kids get out their energy while they cool off, check out Ziggity Zoom's clever water balloon jousting game. Kids can go at this one at a time by taking turns. Make it competitive by crafting two of these and letting the kids go toe-to-toe with one another. Remember to have the kids clean up balloon shards before it's time to come in!
38. Avast Ye Mateys
Image source: Sweeten Your Day Events
Scroll down a bit when you click over to this page at Sweeten Your Day Events to see photos of this easy outdoor water game. Customize the game by going bigger or smaller in pool size or plank size, depending on how big the kids are and how much you want them to fall to the side and wind up getting wet. You might (definitely) need to make sure the kids aren't pushing one another into the water, or this silly game can quickly get out of hand. Pirate costumes optional!
39. Living In A Bubble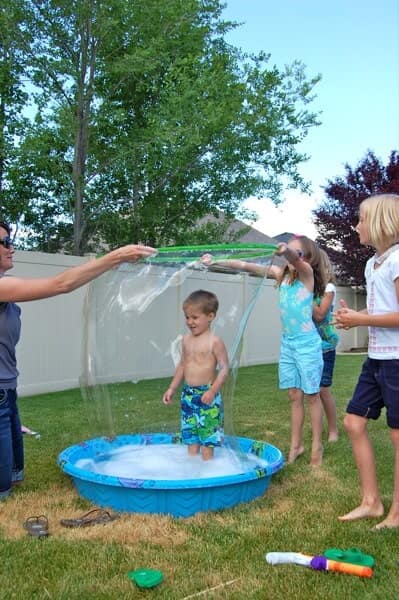 Image source: No Biggie
Bubbles are a classic kid favorite. Treat your kids to being inside one with this activity from No Biggie. Tips and tricks are included to make sure this activity goes off without a hitch. Make sure there are enough people to hold the ring around the kid being bubbled and then step back and enjoy! This is one of those activities that even adults will want to try out, making it fun for everyone in the family!
40. The Boys (And Girls) Of Summer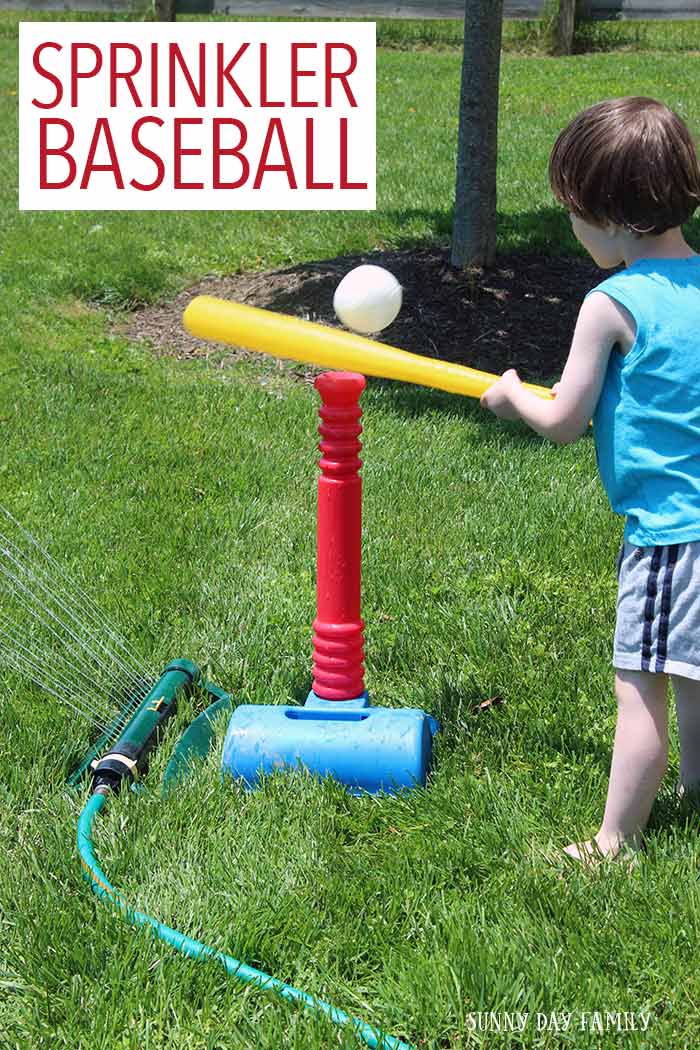 Image source: Sunny Day Family
The list wraps up with an outdoor activity for toddlers and preschoolers that combines two things they love: hitting things and running through sprinklers. Sunny Day Family shows how easy it is to add a little wet and wild fun to a laid-back game of t-ball in the backyard. Get your future Derek Jeters practicing their hand-eye coordination – even while they cool off and your lawn gets watered all at once!