Do you need a break from your busy family routine? Take the family camping for a budget-friendly escape from the city and electronics. Camping is a fun family activity with kids of almost any age. It takes a fair amount of planning, from finding a campground and planning meals to packing everything your family will need for the trip. One thing that often gets forgotten in the planning is entertainment for the kids. It might seem like camping is the entertainment, but after a few hours of hiking, swimming or exploring the area, your kids may decide that they are bored.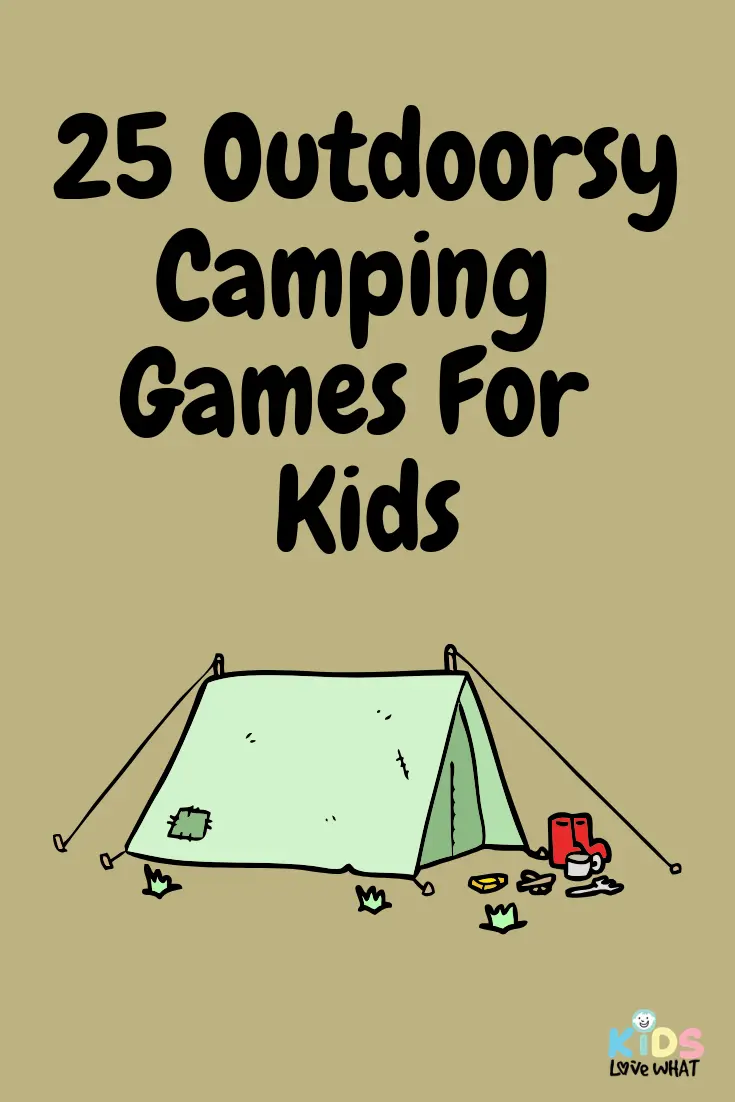 With more than two dozen camping game ideas below, you'll be sure to find several games that kids and adults will have fun playing. Most require little to no preparation. A few do need to be made ahead of time, but can then be used for many camping trips to come. Enjoy these 25 outdoor camping games for kids!


1. Campground Scavenger Hunt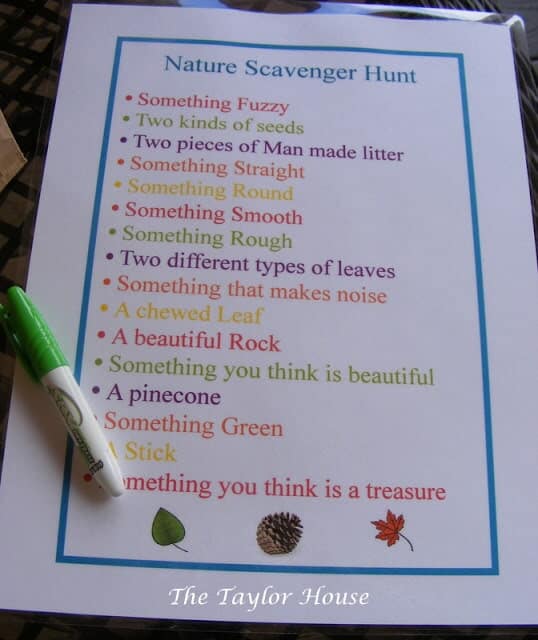 Image source: The Taylor House
Start your adventure by exploring the campground where you will be staying. It's a good idea to make sure you know where resources like portable water and toilets are, if there are any. You can also take a closer look at the plants, animals and other natural elements around you. A scavenger hunt is an easy way to get kids looking around and learning at the same time. Download this free printable nature scavenger hunt from The Taylor House. It's fun for kids in a wide age range.
2. Giant Ring Toss
Image source: Kid Friendly Things to Do
All you really need to play a game of giant ring toss is a couple of inflatable pool rings. This variation on the game by Kid Friendly Things to Do is a HUMAN ring toss game! Instead of throwing the rings over a tiny stake in the ground, you throw them over a person. To play, divide your group into teams and stand several feet apart. Decide how you will keep score, such as two points for a full ring or one point for hitting the target but not getting over their head. When you are ready to begin, toss the pool rings over the head of the target person.
3. Water Gun Races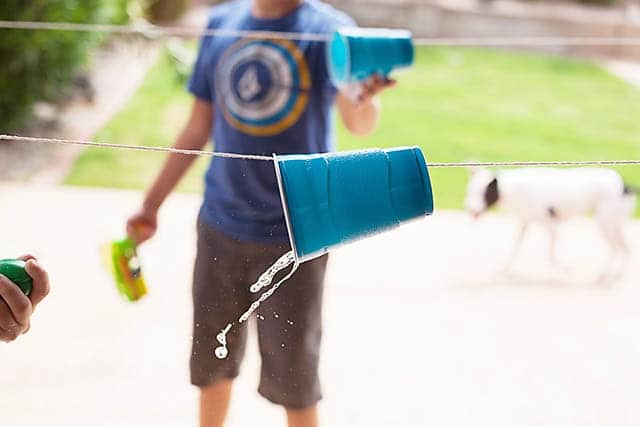 Image source: All For the Boys
Keeping cool when camping during hot weather can be a challenge, but this game by All For the Boys is a great alternative to jumping into the lake! You'll need a few plastic cups, string, and – of course – a couple of water guns. Punch a hole in two cups and thread the string through the hole. Tie each one off between two trees, poles or something similar. Fill up the water guns and "race" to push the cups along their strings from one end to the other. This game is more challenging than it sounds, so expect to get splashed a lot.
4. Water Bucket Relay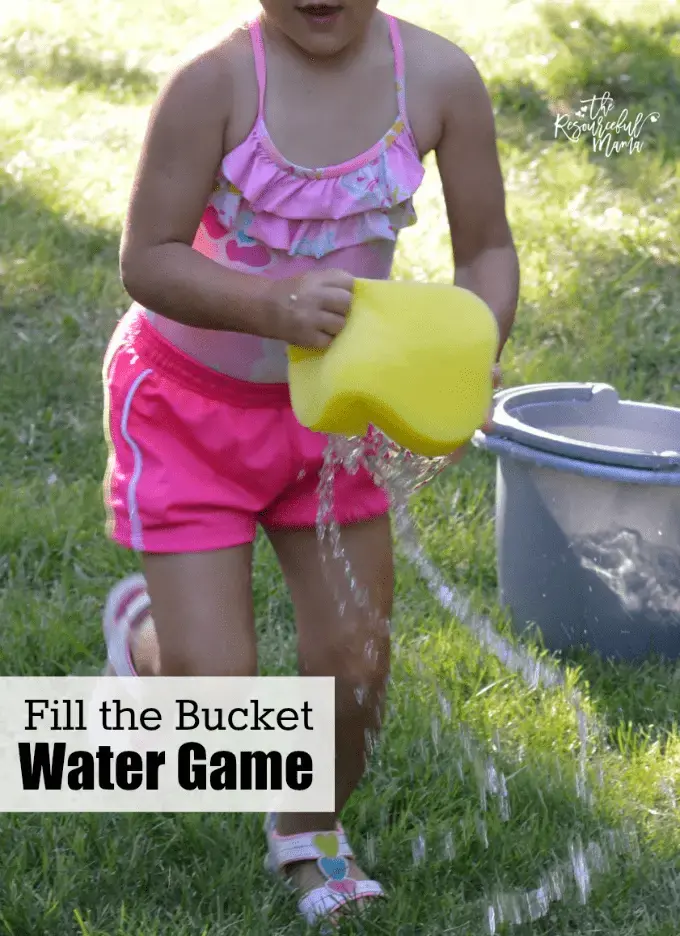 Image source: The Resourceful Mama
Another great water game for kids that's sure to leave them drenched is a water bucket relay. To set this up, The Resourceful Mama says you will need several empty buckets and a big sponge for each team. Fill a bucket with water for each team and place it several feet away from a second empty bucket. For gameplay, each person soaks the sponge from the full bucket, then runs and rings it out in the empty bucket. The team that fills their bucket the highest before the first bucket runs out wins.
5. Giant Tic Tac Toe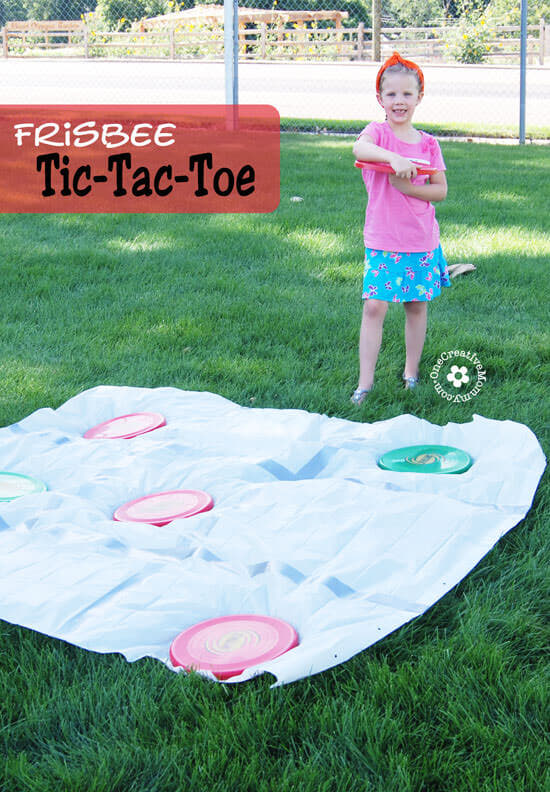 Image source: Occasionally Crafty
There's something about playing a giant-sized version of a classic game that is perfect for family reunions and other group camping activities. This giant tic tac toe game is easy to make at home with this tutorial from Occasionally Crafty and folds up small to take on your trip. Start with a large square tarp and use duct tape to make the gridlines to divide it into nine squares. You will also need several frisbees, at least four each in two colors. To play, take turns tossing the frisbees to mark the game board. Follow the traditional "three in a row wins" or create your own rules.
6. DIY Cornhole Game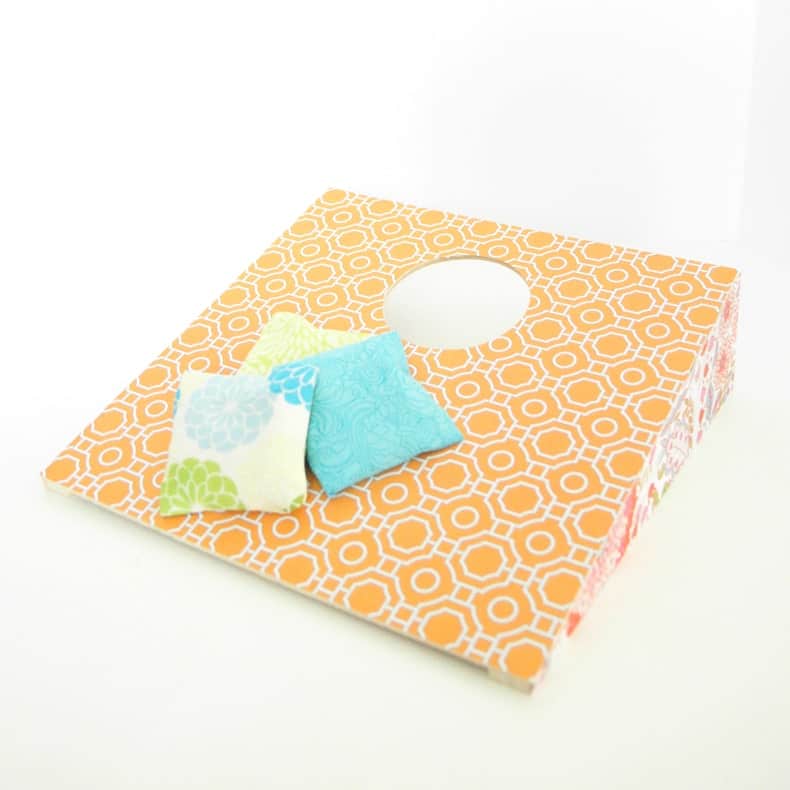 Image source: Consumer Crafts
Cornhole is a classic outdoor and camping game. While you can purchase a board and a set of beanbags from any outdoor store, it's easy to make your own. You'll need a mini tabletop cornhole board from Consumer Crafts and a few basic craft supplies like scrapbook paper and Mod Podge. First, use the Mod Podge to cover the board with paper. Next, for no-sew bean bags, cut fabric squares and iron them using stitch witchery and fill them with beans or plastic pellets. The whole game is quick and easy to make and can be played for hours of fun.
7. Camping Game Bingo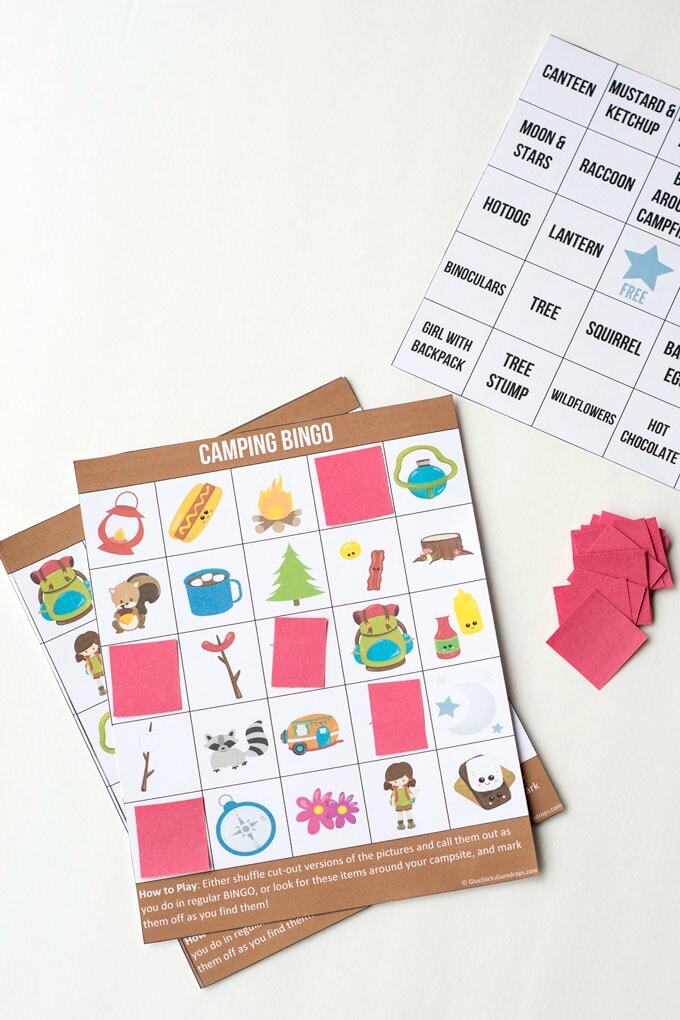 Image source: Gluesticks and Gumdrops
Play camping bingo to get the kids excited ahead of your camping trip. You could also save it for a rainy day at your campsite. Grab the printable cards, which include four different versions and a set of calling cards, from Gluesticks and Gumdrops. You can play by either putting the calling cards in a hat to draw out at random or by looking for the items around your campsite. This is a fun game for younger kids and preschoolers who might not be ready to read for more complicated board games.
8. Bowling After Dark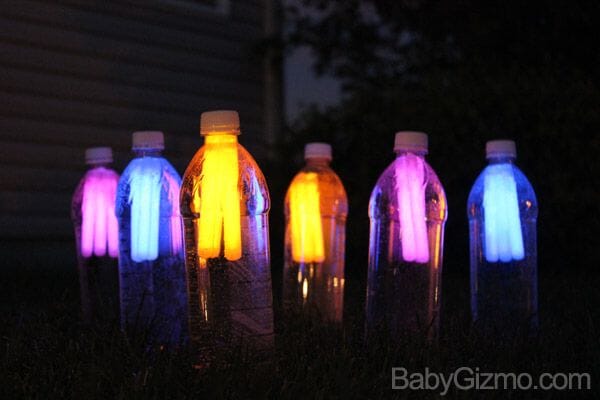 Image source: Baby Gizmo
Bowling is a pretty fun family activity, but once the sun goes down at your campsite, it gets even cooler. For nighttime bowling, Baby Gizmo suggests six bottles of water, glow sticks and a ball. To set up the game, crack each glow stick and drop it into a water bottle. Line up the water bottles in a triangle: three in the back row, then two, then one at the front. Take turns throwing the ball towards the bottles and knocking them over. You can follow traditional bowling scorekeeping rules or make up your own for a simpler option.
9. Ping Pong Shooters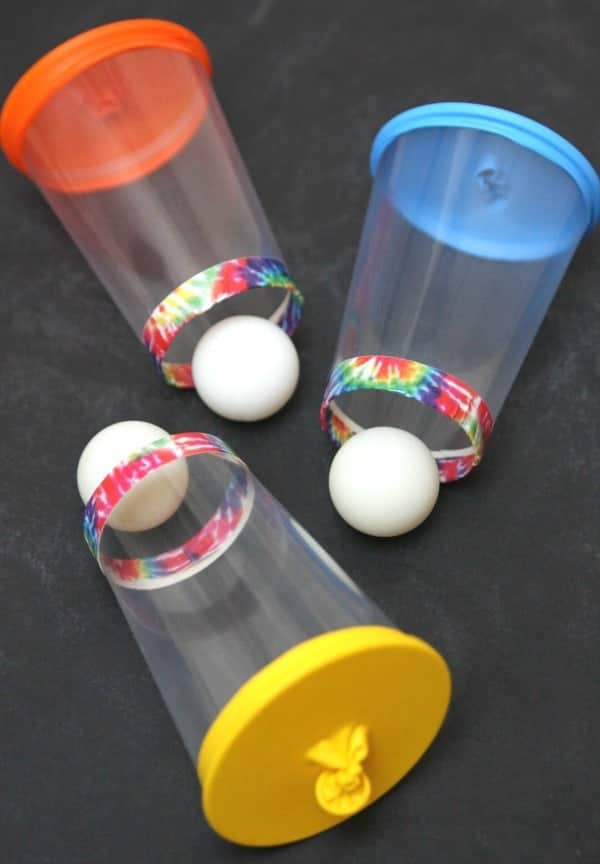 Image source: Happy Go Lucky
Your kids are going to instantly love this game from Happy Go Lucky and you will be happy they are playing it outdoors. Ping pong shooters are made with plastic cups and balloons. They can be used to launch a ping pong ball across the campground or at a target. To make each of the shooters, cut the small end off of a plastic cup. Tie a balloon closed, then snip off the large end. Stretch the balloon opening over one end of the plastic cup. Let the kids go wild or set up a course where they can score points for hitting targets, such as a tree branch or a rock.
10. Pretend Fishing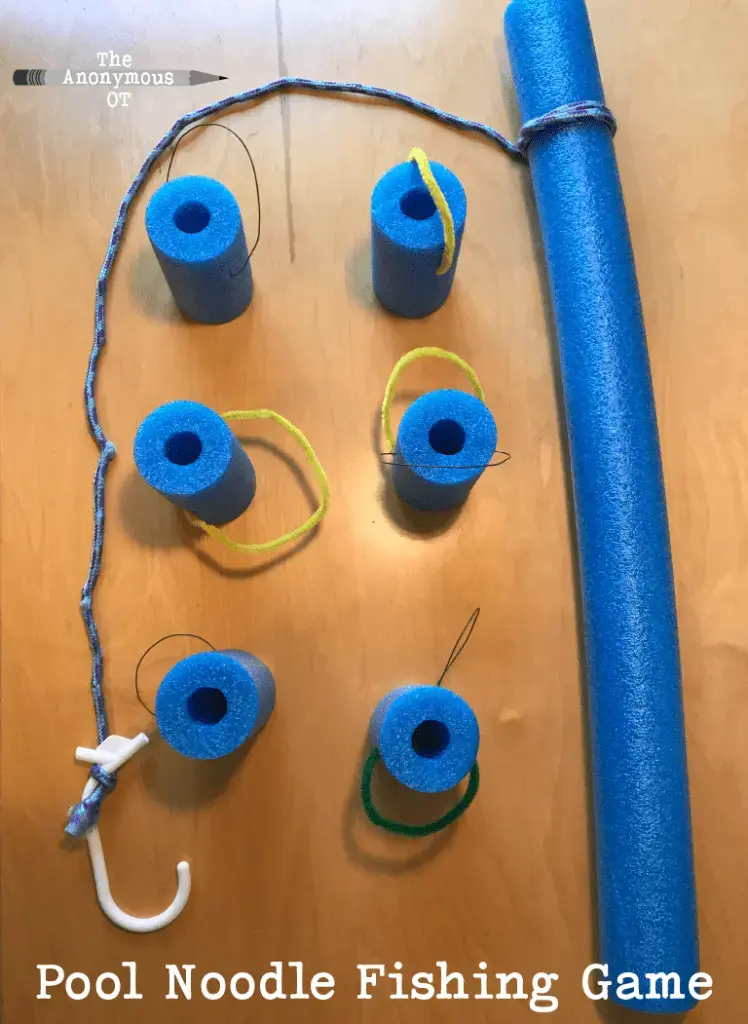 Image source: The Anonymous OT
If your preschoolers are interested in fishing, but are not quite old enough to participate, this easy pool noodle fishing activity from The Anonymous OT is a fun alternative. Take a pool noodle and cut off several smaller pieces from one end. The remaining large section will be the finishing pole. Tie a rope to one end of the pole and to a large plastic hook. Attach zip ties to the smaller pool noodles for easier hooking. Spread the pool noodle "fish" around an area and let your child try to hook them with the fishing pole.
11. Walk Like Bigfoot
Image source: Get Your Holiday On
What's a camping trip without a bigfoot sighting? This silly and short game by Get Your Holiday On was inspired by the furry beast himself. Before you play, you'll need to make a pair of giant feet from cardboard. Freehand the design, making it really large, and then cut out two feet. Hot glue a flip flop onto each foot. To play, add a piece of tape to each toe and stick a small plastic ball on each one. Designate a starting line and an end. Players must walk, wearing the feet, from the start to the end while losing as few balls as possible.
12. Nature Tic Tac Toe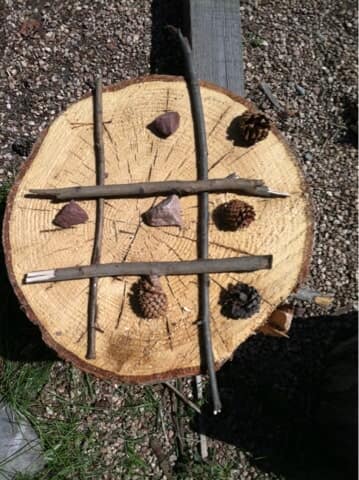 Image source: 86 Days of Summer Vacation
Tic tac toe is perhaps one of the easiest games to play almost anywhere. On a camping trip, you can play simply by drawing in the dirt with a stick. For something a little fancier, set up a game with sticks and rocks on a tree stump like Busy Mom did on 86 Days of Summer Vacation. First, lay out four sticks in a grid. Then, find several rocks for one player and pinecones for the other. You could also play with contrasting colored rocks, acorns or any other nature element depending on where you are camping.
13. Battle Dueling Sticks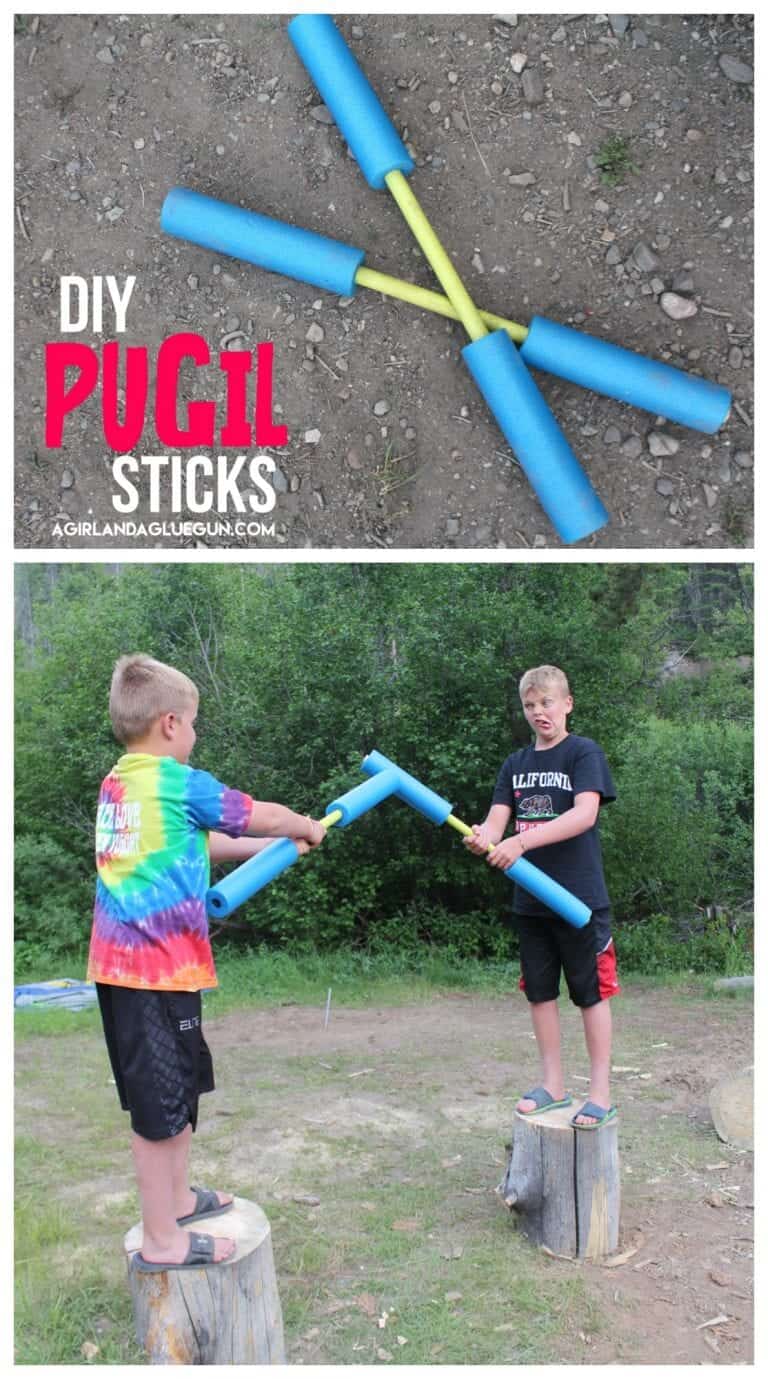 Image source: A Girl and a Glue Gun
A pugil stick is a type of quarterstaff that you might have seen on a modern gladiator show, but dates back to the 1940s. They're soft and perfect for letting kids duel one another. To make your own set, this tutorial from A Girl and a Glue Gun is simple. You need a couple of thicker dowels and a big pool noodle. Cut the pool noodle into four pieces and slip them over the ends of the dowels. Glue them in place. To duel, have the kids balance on a tree stump or something safe but elevated. The first person to lose their balance loses.
14. I Spy With Binoculars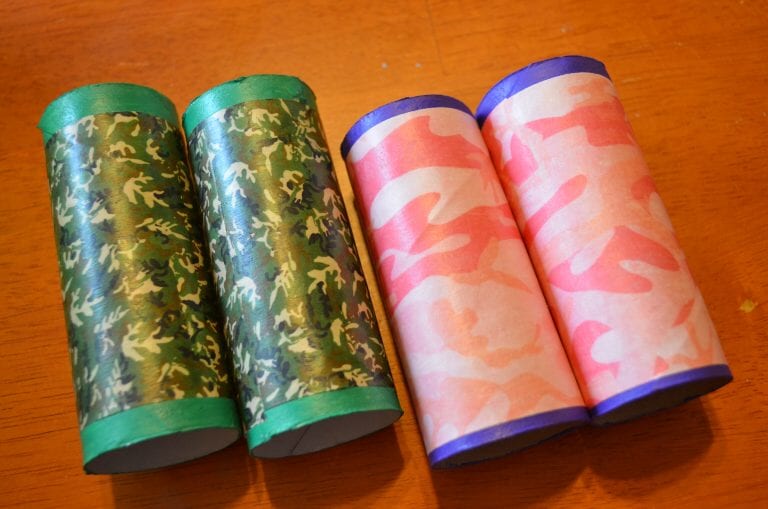 Image source: Surviving a Teacher's Salary
I Spy is a fun activity for kids in a wide age range because it doesn't require any special equipment or skills. If you want to create a variation for your campground, help kids make these paper binoculars from Surviving a Teacher's Salary. For each pair of binoculars, you need two toilet paper tubes, camouflage scrapbook paper, string and a hot glue gun. Start by gluing the paper to the tubes. Glue the tubes together and attach the string. To play I Spy, kids can look through their binoculars to search for items.
15. Baseball With Water Balloons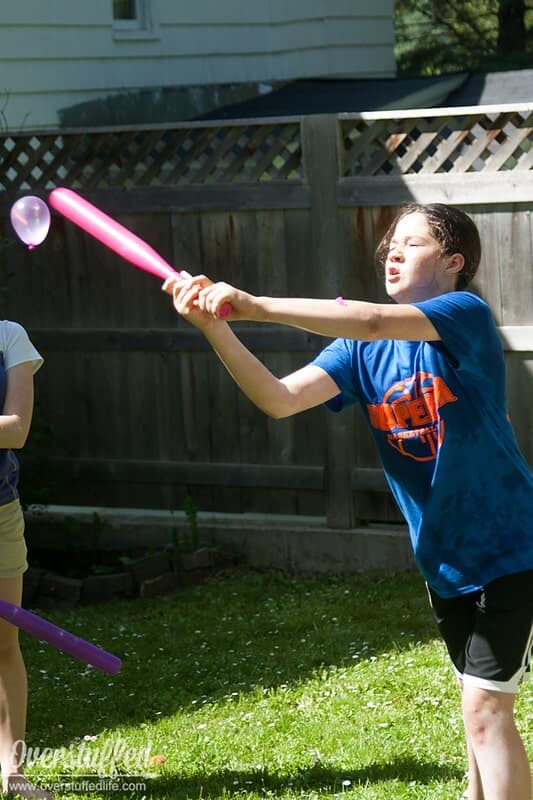 Image source: Overstuffed Life
Turn a game of baseball into a splashfest when you swap the ball for water balloons! Of course, you don't have to follow the regular baseball rules and can come up with your own way to play. Overstuffed Life recommends simply filling up a bucket full of water balloons and letting the kids line up and take turns hitting towards the rest of the group. At a camping site or any public area, be sure to pick up all the broken balloon pieces when the game is over.
16. Old Fashioned Potato Sack Race
Image source: Blissfully Domestic
Sometimes the best ideas are the ones handed down from generation to generation. Teach your kids to play some of these old fashioned games that can be played with kids of all ages in a big group or a smaller one. To hold a potato sack race, each participant needs some kind of sack to hop in. It could be a pillowcase or a sturdy trash bag. Line up the kids at the starting line and determine where the finish line will be. Then tell them to go and watch the kids try to hop to the finish line. Find more games like this at Blissfully Domestic.
17. Nature Boat Races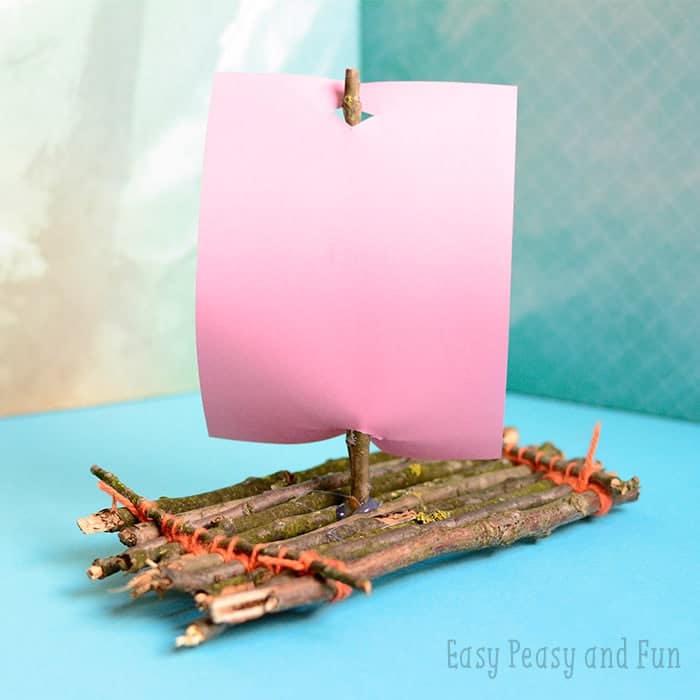 Image source: Easy Peasy and Fun
Take the kids on a walk around your campsite to collect small twigs for this adorable nature boat craft. After they have built a few of them, head down to the river or creek to race them in the water. To make the boats, you will also need yarn, glue and paper for a sail. You may also be able to find a leaf that will work as a sail. Line up several straight sticks and trim them to be about the same size. Use the yarn to loop them all together. Glue one stick to the center to serve as a mast and attach the sail. Find more detailed step-by-step photos at Easy Peasy and Fun.
18. Target Throwing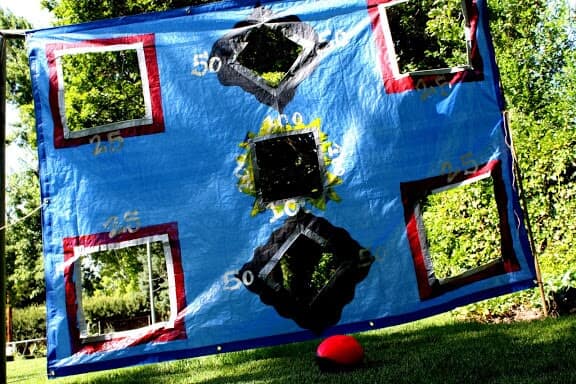 Image source: The Readheaded Hostess
This target throwing activity requires some advanced planning, but this idea from The Readheaded Hostess is worthwhile for the hours of fun it will create. Purchase a large tarp and draw out targets in the center and each of the four corners. Cut out the center of each target and paint a frame around it. When the paint is dry, use duct tape to secure the cut edges. Determine the value for each target and how you will keep track of the score. Hang up the tarp in your campground and let kids take turns throwing a football, basketball or other ball through the targets.
19. Classic Flag Capture Game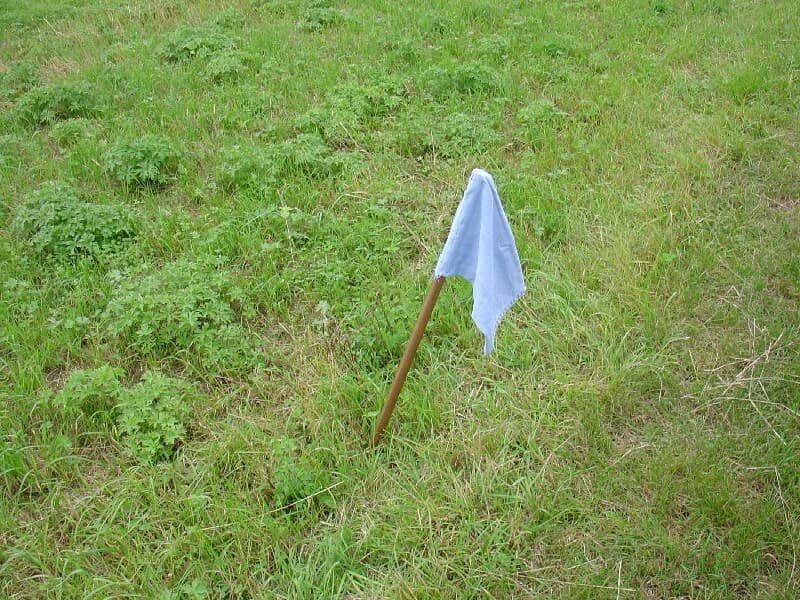 Image source: Kid Spot's
Capture the flag is a fun game for a larger group, especially if it includes kids who love to run. The only supply you need for Kid Spot's version is two flags. Divide the group into two teams and designate an area for each. Give the teams time to hide their flags, then each team searches for the other flag. If you get caught in the other team's territory, you go to jail until a teammate can rescue you (without getting caught too). The first team to capture the other team's flag is the winner.
20. Horseshoes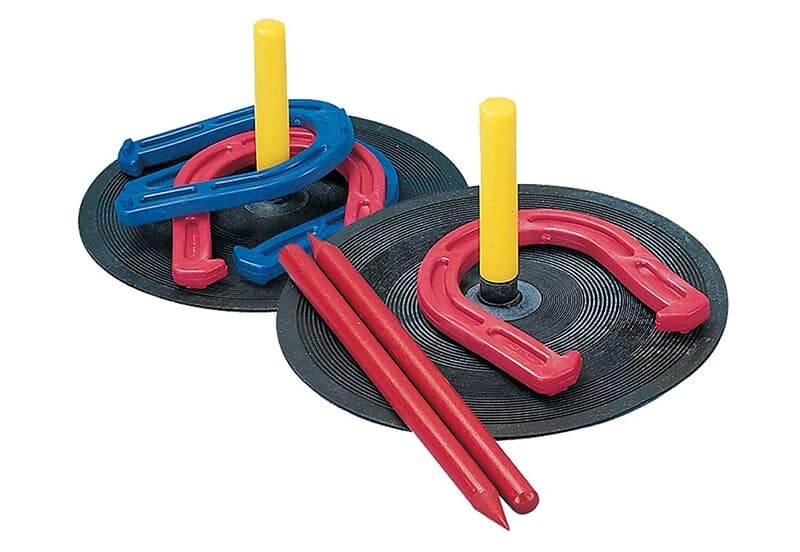 Image source: Amazon
Horseshoes is the perfect casual game for two and is easy to pack for travel when space is limited. The game setup includes two target pegs and four horseshoes. Place the pegs a distance apart. The "official" distance is 40 feet, but younger kids may do better with half that distance. Players take turns trying to toss their horseshoes around the opposite target peg. Keep track of points for getting it completely around the peg (2) or for touching the peg (1). The first person to 21 points is the winner. It is also easy to change up the rules to be age-appropriate for your kids if necessary. Grab yourself this awesome set of horseshoes from Amazon here!
21. Printable Camping Charades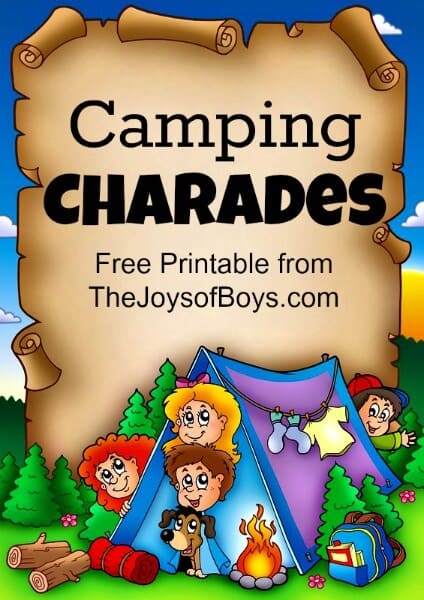 Image source: The Joys of Boys
Charades is an easy game to play without any prep or supplies — this printable version from The Joys of Boys will help you with lots of ideas. Sign up and print the cards ahead of time. To play, divide the group into two teams. Drop the cards in a hat and take turns pulling one out. Act out the word on the card and let your team guess what it is. You can set a timer so that players have to guess in a certain amount of time or give each person a certain number of guesses.
22. Simon Says Challenge Game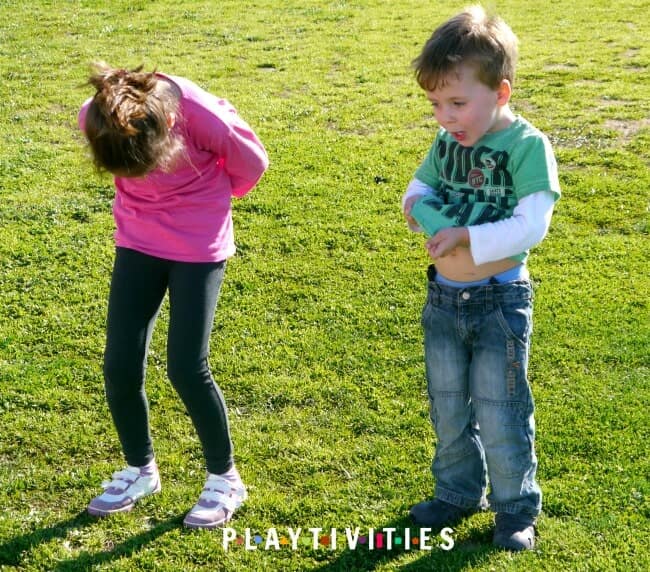 Image source: Playtivities
Simon Says is a classic kids game that doesn't need any supplies, making it perfect for a camping trip. One person is Simon and says what everyone else is supposed to do. The other kids should only follow instructions that begin with "Simon says…" or they are out. The last person in the game becomes Simon for the next round. Encourage kids to get creative with Simon's challenges. Playtivities has a list of 30 funny ideas, like playing air guitar, walk on your knees, or smell your feet.
23. Stacked Rock Towers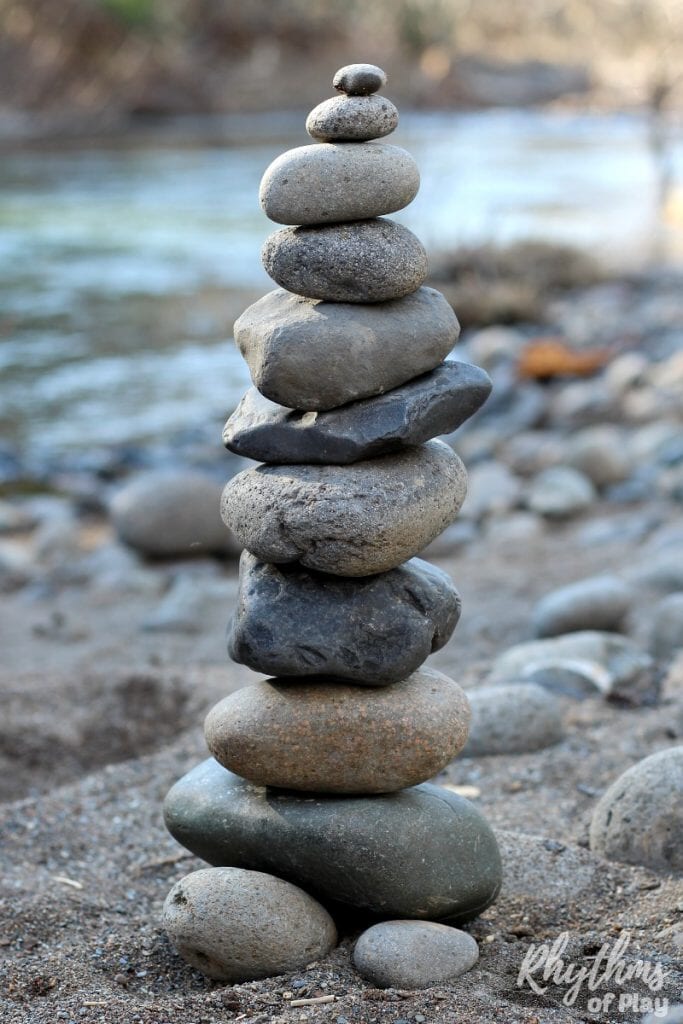 Image source: Rhythms of Play
If your campsite is near a river or beach that has a lot of smooth stones, Rhythms of Play has a fun idea for building rock towers. Challenge your kids to build tall towers from the stones and see what they come up with. Have them collect the stones and rinse them in the water if necessary. Turn it into a game to see who can create the tallest tower or the one with the most rocks included. Note that some natural areas may have rules against moving rocks, so check your venue before you go.
24. Hide And Seek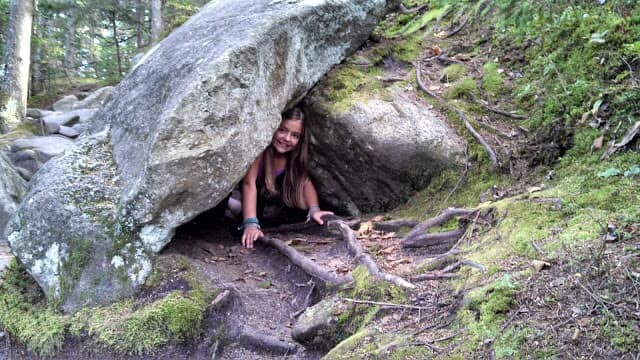 Image source: Outdoors.org
Hide and seek is a fun game to play at a campground because there are many more places to hide than at home. Before you let the kids take off and hide, make sure you set up ground rules to keep everyone safe. That might include setting boundaries for the play area or determining how long the seeker should count before coming to find everyone. For a fun variation, try roving hide and seek inspired by Outdoors.org. While on a hike, the hider runs ahead and hides while the rest of the group keeps walking. Whoever finds them first gets to hide next.
25. Mega Yahtzee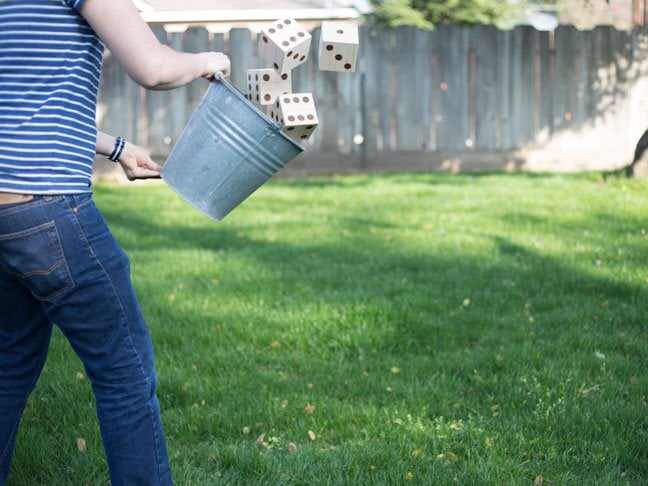 Image source: Momtastic
For one last giant-sized game that everyone will enjoy, Momtastic has instructions for making a set of giant dice to play Yahtzee. You will need five wood blocks, woodburning supplies and a few other small items. The tutorial shows how to mark the circles on each die and use a template to ensure that each one looks the same. If you need a refresher on the rules, the blog also has a printable Yahtzee scorecard too.