It is one of the most popular classic arcade games of all time, and now it is possible to bring the high-level fun and excitement of pop-a-shot basketball to your very own home. Believe us when we say that the whole family is going to get hooked.
The best electronic basketball games are larger than your average toy, but they provide levels of excitement and energy that no other toy can. They are durable, foldable, and believe it or not, you can get one for your own playroom or office without breaking the bank.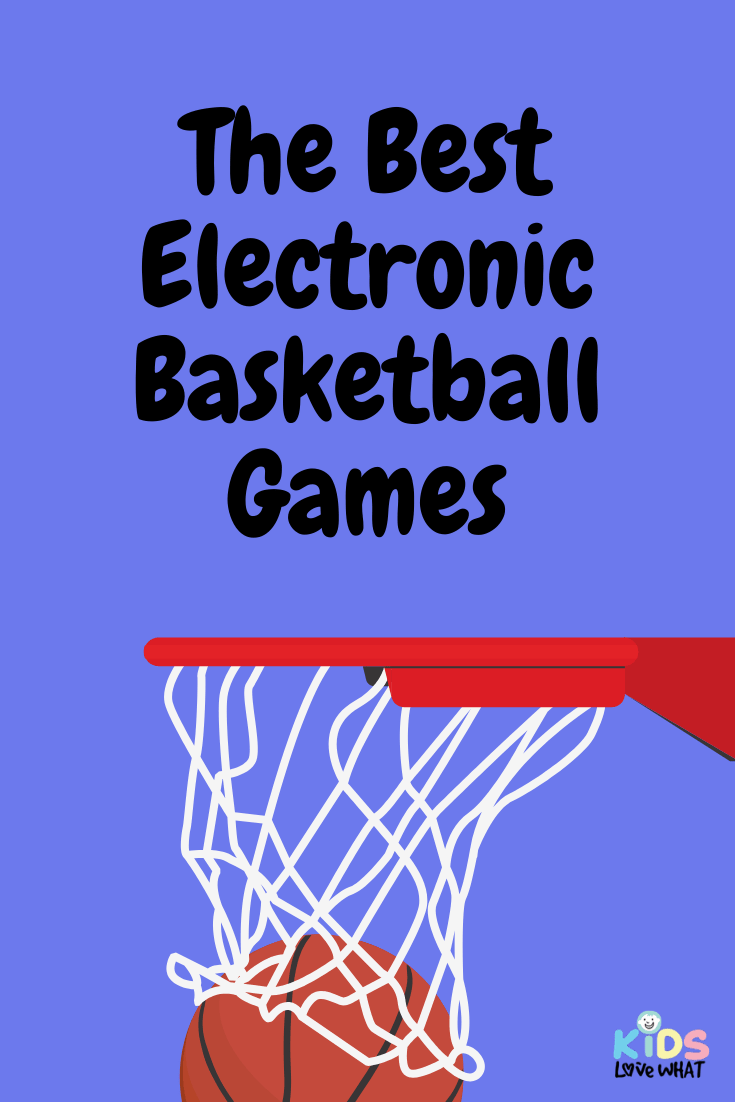 In anticipation of the holiday season, we've set out to compile a list of the best basketball games on the market, breaking it down by durability, functionality, and overall fun-factor. What follows is a close look at 6 of our favorites. Afterwards, we're going to share the review process that we used to arrive at our choices, as well as reveal our #1 pick of 2023.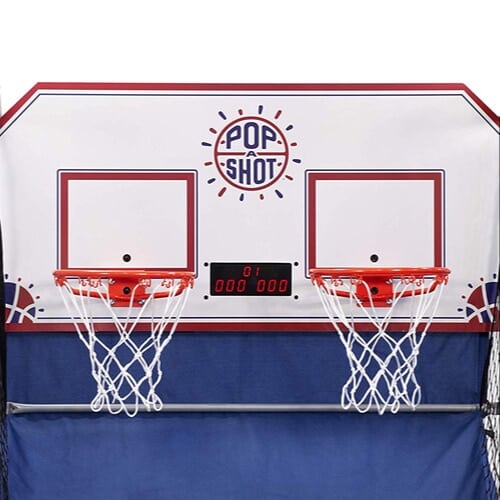 They're calling it the "Ultimate Basketball Arcade Game", and after looking into it, we think that they might be right. Pop-A-Shot is one of the leading brands when it comes to arcade-style basketball games, and their Dual-Shot home model is one of the best things they've made yet.
First off, this is one of the only home arcade games that comes with seven basketballs, which is enough for two players to go at it at the same time. Some of the other models we looked at only came with four or even less, which means that you would need to buy a pack of extra basketballs to just to get the fun started.
Multiple height options are a nice touch here, as they allow the baskets to be adjusted for kids of different ages and heights, or, more commonly, raised gradually as your kid gets older and bigger as they are certainly known to do.
An on-board computer holds a full ten electronic games, each one with its own goal. This is sure to keep any young hotshot occupied for hours at a time. And of course, in a birthday party situation this kind of entertainment would be hard to beat.
Assembly is a bit of a hassle with the Dual Shot Basketball Game, but once you get it up and running you won't have to worry about it. The whole thing folds up when not in use so it doesn't take up as much space.
What We Like: Accurate sensors and 7x basketballs make this one more than worth the price
What We Don't: Takes a long time to put together

Though we never thought that we would be buying toys from ESPN, there is really no other source that is better suited to provide this kind of high-tech basketball gaming within the comfort of your own home. The fully electronic EZ Fold Indoor Basketball game is electronically fitted with 8 built-in game modes and two hoops, which means that it has everything you need to keep your kid entertained for hours at a time.
One of the most common complaints made about this kind of basketball game is that the hoop sensors are not sensitive enough to register 100% of shots made. While this is a valid concern, especially when you remember how competitive kids can get, we can assure you that this is an issue that only crops up on low-quality basketball games. The one made by ESPN is not only one of the most well-built hoop games that we looked at, but it is also backed by a 30 day 100% satisfaction guarantee. This is not something that you will see with the cheaper models, and is a pretty good indicator of quality.
The assembly of this game wouldn't be very much fun without the included 3D assembly instructions. By simply opening the included App on your phone or tablet, you can access a detailed 3-dimensional walk-through pf every step needed to get the game setup.
The ESPN EZ Fold only comes with 4 basketballs (7") which is enough to get started, but serious ballers are going to want to invest in a few more if they want to keep the action at full speed.
What We Like: A well-built game assembly with 3D instructions and a 30 day guarantee
What We Don't: Only comes with 4 basketballs

It seems like the Lifetime brand is everywhere these days, but don't take that as a complaint. Lifetime is a company that has dedicated itself to bringing people together through quality gear, toys, and equipment. From fishing kayaks to folding tables, Lifetime is simply one of the best "molders" out there, creating high-density molded plastic goods for just about any occasion.
The Double Shot Arcade System is something of a divergence for the brand, as it is not made of plastic at all but instead utilizes a frame of powder coated aluminum with nylon webbing along the sides and a sturdy wood-panel backboard. Still, we are often drawn to products simply because of that little "Lifetime" logo, and we haven't been let down yet.
The electronic scoreboard is AC powered, which is pretty unique among the competition. A lot of the models that we looked at are strictly battery powered, though none of them were particularly ravenous battery eaters. The sensors themselves are well-calibrated, though the occasional rim shot might give a player an extra point every now and then. Some users have had luck in increasing the accuracy by moving the sensor a bit further down, though we can't vouch for that.
The real strength of the Lifetime Double Shot Arcade System is, well, it's strength. While there are plenty of $100 basketball games available at Wal-Mart or other big box scores, not a single one of them can match the sturdiness of the Double Shot. This thing can take a real beating without budging an inch.
What We Like: A very sturdy basketball game that won't wobble or wiggle
What We Don't: Only comes with 4 basketballs

Because we haven't really heard of them before, we decided to look a little more closely at the product line of A11N Sports, the maker of the Sharpshooter Dual Shot Basketball Game that we are about to review. It turns out that they are a company with a fairly narrow focus on home-based games and sport kids, like backyard tennis and golf kits. This focus only led us to feel more confident that the Sharpshooter Basketball Game would meet or exceed our expectations. After all there were a lot of hoop games to look at and only so much time in the day.
As it turns out, the Sharpshooter Dual Shot by A11N Sports is a quality entry into the field. It has some of the nicer bells and whistles, such and multiple game modes and a thicker canvas return ramp. The sensors are well-calibrated and don't seem to miss any shots. The frame is of a thick metal construction that snaps together in about 15 minutes if you have a little help from a friend. Overall, a great little pop-a-shot game for the office or game room.
The price is a bit on the high side compared to some of the other games that we looked at. It looks to us as if that extra $$ is going towards a more advanced on-board computer chip, as the whole electronic assembly looks nicer than some of the other ones. It also supports 2v2 play, which is one of our favorite game modes for office competitions.
What We Like: Great on-board electronics with multiple game modes including 2v2
What We Don't: A little pricey when compared side-by-side with its closest competitors

After having the pleasure of playing Air Hockey on a brand new Hathaway Air Hockey Table, I was more than a little excited to see how their other products would stack up. We had already heard a lot of good things about their billiards tables as well, though we haven't yet experienced them up close and in person. The Shot Pro Deluxe Basketball Game is Hathaway's answer to the classic pop-a-shot arcade game, and from the looks of it, it is going to have no problem living up to its namesake.
A translucent hard-plastic backboard is pretty unique. Most of the backboards we have seen have been either painted or made of opaque wood. There is something genuine about the clear plastic backboard that is simply exciting.
The score-keeping system is great because it utilizes physical levers built into the hoops to track baskets. This means that the ball actually needs to pass through the hoop to count as a point, where some hoop games use infrared sensors that can be triggered even if the ball bounces back out.
The assembled unit is a little light. While this is a bonus for portability and setup, it can lead to some slight movement on hard surfaces.
What We Like: Physical score levers are more accurate than infrared sensors for score-keeping
What We Don't: Lightweight aluminum construction makes it prone to slight wiggling with high activity

Not all electronic basketball games feature real basketballs, which can be a real relief for the loving parent who doesn't need to hear all the banging and bouncing of a full-size pop-a-shot tournament going on in the basement throughout the night. For the late-night experience or simply for something a little more personal, we recommend the Retro Basketball Game by Basic Fun. This throwback digital video game is just like the one that you might have had when you were a child.
An incredibly simple design and basic push-button controls are good reminders of why the video games of yesteryear were so special. Improved electronic sounds are a welcome update, but there is still something decidedly "retro" in how they sound.
2-player mode is one of the most exciting things about this updated classic. Simply pass the unit back and forth for a one on one scoring competition. Or play against the computer for a challenge that increases as the score does.
Three AAA batteries are required for operation and fortunately are included in the box. It doesn't go through the batteries that quickly, which is a welcome change for handheld electronics.
A slightly dim screen display makes it difficult to play this game outside in the sunlight. It is much better for indoor and evening play as it will be much easier to see.
What We Like: A nostalgic throwback to the handheld basketball games of yesteryear
What We Don't: The screen is hard to see in bright light … much better for indoor or evening play
Buyer's Guide: How To Choose The Best Electronic Basketball Game
Because even the most affordable electronic basketball games are still somewhat pricey compared to other toys (like a basketball, for instance) it can become quite intimidating to try and select the right one. Even from our narrowed down lineup, knowing which one will fit best in your home and be the most entertaining to your child and family can feel like something of a gamble.
You've come to the right place. In the process of reviewing all the products listed on this page, we learned a thing or two about Electronic Basketball Games that might make your shopping journey just a little bit easier. After we share, we'll be revealing our top pick, so be sure to stick around.
Dimensions: Folded & Unfolded
One ingenious innovation that all of the basketball games on this page have in common is a shared ability to fold up into a smaller shape, thus preserving valuable floor space in the home or office when not in use. On most models this is a simple pivot mechanism that allows the return ramp to simply fold upwards towards the basket, making the unit fit even more snugly up against the wall.
Because the return ramp is little more than a hollow metal frame and a ramp of vinyl or canvas, it is light enough for even kids to lift into place.
While most of these games are quite similar in size and weight, they vary significantly enough that it is worth measuring the destination floor space where you want the game to go and compare it to the given dimensions of the product that you are interested in. This was you can get a better idea of how much space it is going to take up, both in its folded and unfolded forms.
Frame Construction
For the purpose of rigidity and sturdiness, almost every one of these pop-a-shot basketball games utilizes a hollow metal frame. This also keeps the components light for shipping and portability, and also allows it to be light enough to be easily folded by even younger kids.
The type of metal varies from product to product. Powder-coated steel is available in some of the more expensive models, but generally you are more likely to find aluminum or some other kind of aluminum / steel alloy. These metals are more pliable than pure steel, but they are also significantly lighter and less expensive to produce.
Even a strong frame is going to require proper assembly to provide the highest level of support for a rigorous basketball game. Make sure all the nuts and bolts are tightened adequately to help prevent unnecessary back-and-forth wiggling and shaking.
Backboard
The backboard is one of the primary components of the basketball game. Made of wood, plastic, or other synthetic materials, this is simply a large rectangle that the hoops are mounted to. Somewhere on the backboard is where the score sensors are located. Usually, the backboard will have printed or vinyl-stick graphics on it.
Some of the more premium models have scoreboard built directly into the backboards. This makes it more exciting when you are watching a heated one-on-one shot contest in a group of people, but it doesn't provide any advantages beyond that.
Score Sensor: Infrared vs. Physical Levers
The primary reason that these basketball games need to be electronic at all is for the score-keeping function. Small sensors are mounted into the backboard or hoops somewhere, close enough to the action to know when a ball goes through the hoop. This sends an electrical signal to the game board, which counts the point on a readout display.
There are two main types of sensor that are utilized in these games, and we have some pretty specific thoughts on what makes them so different from one another.
The more common type these days is an infrared sensor. This is basically a small circular movement center that is usually mounted to the inside of the hoop. As a basketball passes through the basket, the sensor detects it and sends a point to the scoreboard. The benefit of infrared sensors is that they are small, inexpensive, and can last a long time. However, they can have trouble when multiple balls are passing through in quick succession. Although their overall accuracy is pretty impressive, some shots go uncounted, and every once and a while a shot that bounces out will be counted as well.
The second type of score sensor is a physical lever that is built into the inside of the rim. As a ball passes through the hoop, it pushes this lever all the way down, thus registering a point on the scoreboard. Because a ball needs to pass all the way through the hoop in order to count as a point, some of these mechanical levers can actually be more accurate than their infrared counterparts.
Return Ramp
Just beneath the baskets and backboard is the return ramp. This is one of the most simple parts of an electronic basketball games … the part that sends the basketball rolling back to the player without delay so they can have another shot.
Return ramps can be made of all sorts of fabrics, but the ones that we selected for our best-of list were either nylon or canvas. Either material is a good option for a return ramp, as they are both durable. The surface of the return ramp does not matter nearly as much as the angle if the incline when it comes to how fast the ball is being returned to the player.
Game Modes
Some of the basketball games we reviewed have more than just digital score readouts. These models use a simple computer to offer multiple game modes, immediately upping the entertainment value of these games without costing much more.
Though it will vary from model to model, these are some of the games that you can expect to find on models with multiple game modes:
Beat the time clock
3-point beat the time clock
H-O-R-S-E
"Battle Attack"
"Check Point"
Left & Right Shoot
1v1 time battle
Assembly Process
Electronic basketball games are going to be shipped in flat boxes containing all the parts you need to get started. No matter which model you buy, you should expect that the full assembly process might take upwards of an hour if you are doing it for the first time. The quality of included assembly instructions can vary my manufacturer, so it might help to browse YouTube to see if the model you are interested in has any online assembly videos to help with the process.
Frequently Asked Questions (F.A.Q.)
Q: How Much Ceiling Height Do You Need For One Of These Basketball Games?
A: Average ceiling heights of 8' or 9' will have no problem accommodating one of these hoop games. Lower ceilings might limit how much of an arc you can put into your shot, especially for taller individuals. Children however will be shooting from a much lower angle and therefore should not experience any roof-bounces, unless of course they are trying for just that.
Q: Can I Use Full-Sized Basketballs With These Games?
A: No. The electronic basketball games that we featured on our review all utilize a 7" mini-ball, which is pretty much the standard when it comes to home basketball games. It is usually only in large arcades that you will find models with full-sized balls, though some of these models are available online if that's what you are really looking for.
The amount of basketballs included with each game will vary, so be sure to double check before purchase. For a 2 player game, we recommend having 4 balls per player. Any less and your shot rate will go down. Any more and the return ramp might start to get a little crowded.
Fortunately, extra 7" basketballs are not expensive and can usually be purchased from the same manufacturers if you want to make sure the basketballs all match.
Q: How Much Noise Do They Make? Can You Turn The Sound Off?
A: Some of these electronic sound boards can make a lot of noise, and others seem to make no noise at all except for the rolling thunder of hastily tossed basketballs against a wooden backboard.
The electronic noise is usually controlled by a simple on/off switch on the back of the baseboard (or wherever the main electronic components are located). Not every basketball game has a sound on/off switch, so it doesn't hurt to do a little research if this is a concern for you.
The Free Throw: Our Favorite Electronic Hoop Game of 2023
Now that we've done enough dribbling, it's time to take a shot at the basket by revealing our top pick for the best electronic basketball game of the year. We looked at a lot of different models from different manufacturers to put this list together, and we are confident that what we have come up with is a good starting place for anyone looking to get one for themselves.
If you're asking us (and it looks like you are) then we are going to point you towards the Lifetime Double Shot Arcade System. While it does not have the most complicated on-board electronics, it is by a wide margin the sturdiest and most stable hoop rig that we looked at, and certainly the most likely to last a long, long time.
Not ready to take up all that space in your den or living room? Have another look at the Retro Basketball Game by Basic Fun. It's super affordable and is sure to give you that classic basketball fix while you continue to shop for the ultimate electronic basketball game.